Hey guys! I really hope this post finds you all healthy and safe ♥
During these crazy times our family is staying home and trying to avoid having any contact with others. It's sad and it's hard, but it's what we feel we need to do, in order to protect those we love, the vulnerable in our community, and our health care system.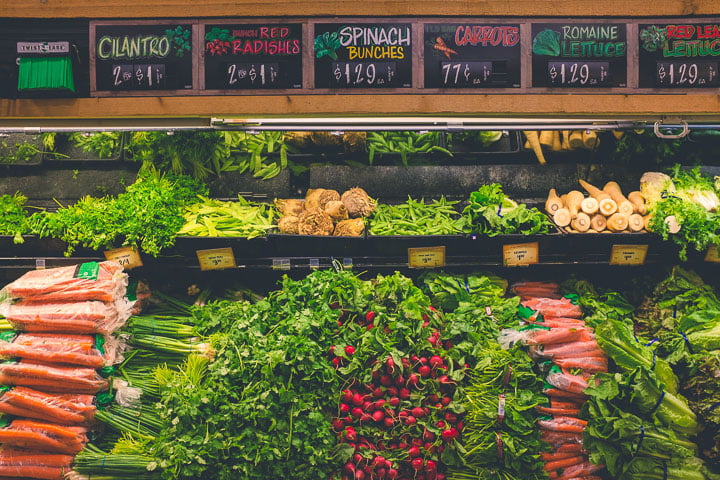 Aside from missing our extended family, we're finding the toughest thing is figuring out what groceries have the longest shelf life, and how to shop in a budget friendly way, buying things that will last a long time and feed our family healthy food.
Maybe you are in this situation too?
If you want to avoid unnecessary trips to the grocery store, here are some ideas to add to your household shopping list. Not everything will apply to everyone, and it's a long list, but hopefully it will give you some ideas for long-life foods and what to do with them!
Long Lasting Produce
It's time to go back to basics with a lot of your produce.
Fruit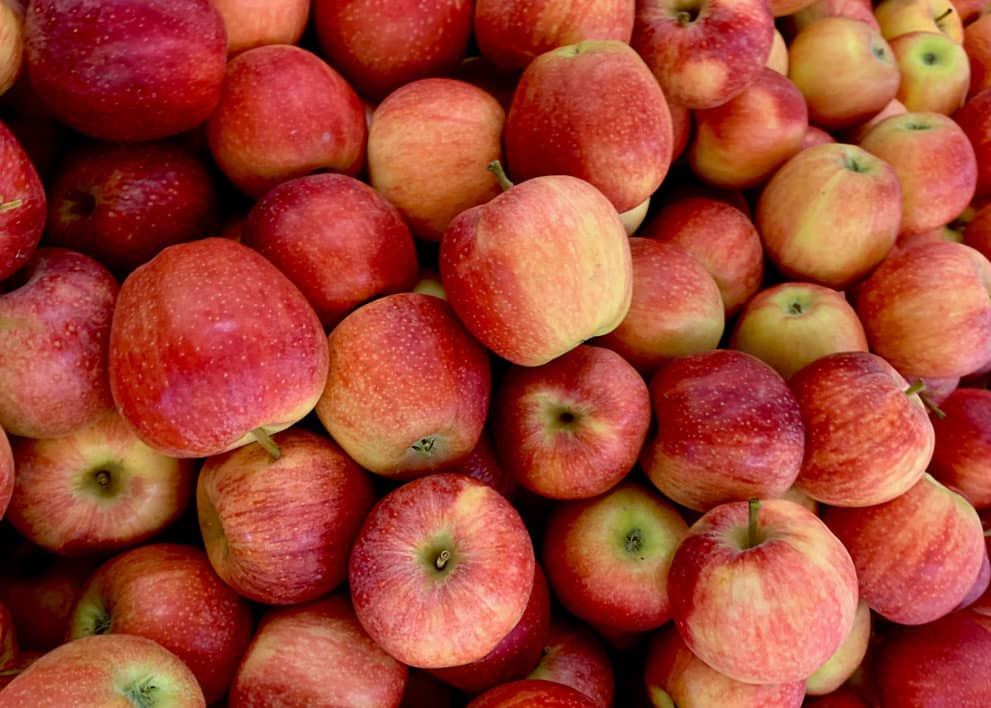 Apples – affordable, hard fruit that can last weeks or months stored in a crisper drawer of your fridge.
Eat them as snacks either whole or sliced, or add them to a salad or pizza like our Strawberry Chicken Salad with Creamy Maple Dressing (feel free to omit the strawberries).
When they start to get soft, cook them into applesauce or bake into muffins.
Oranges – Citrus are generally long lasting and you can keep the bulk of them in the fridge to make them last even longer.
Buy what's on sale, or opt for oranges, which have a thick rind and last longer than thinner skinned citrus.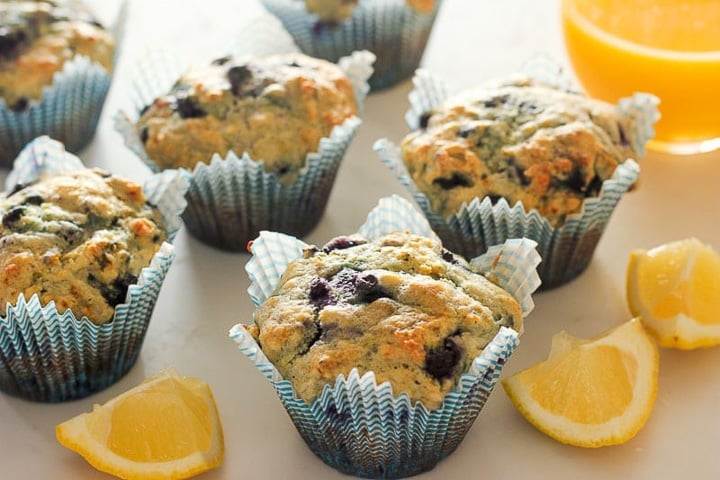 When they're on their last legs, you could make a yummy orange curd based on our Easy Lemon Curd recipe, or sub them for the lemons in our Healthy Lemon Blueberry Muffins (above).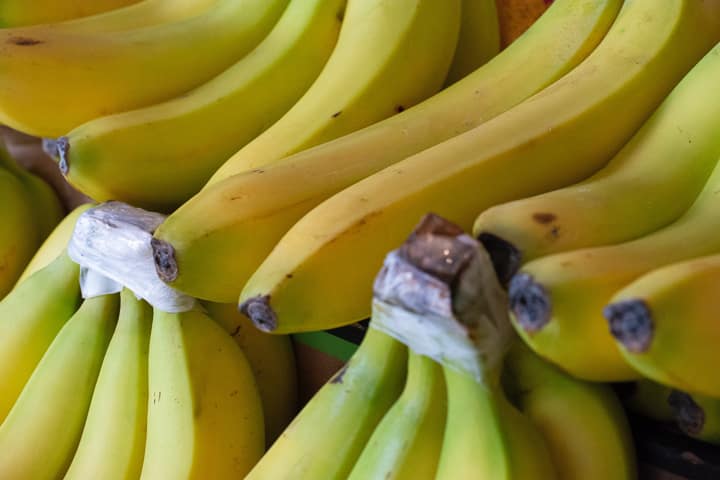 Bananas – SUPER cheap, great for snacking on, and almost everyone loves them.
Make banana peanut butter 'sushi' with tortillas for lunch, or start the day right with a Healthy Yogurt Breakfast Bowl (starring bananas, of course!).
I've read that they last longer if you wrap the end of the stem in plastic wrap, so I'll try that and report back to you! Good to know if they're ripening faster than you can eat them!
Also, I will sometimes buy a bunch that is very green and a bunch that is pretty much ripe – that way by the time we're done eating the ripe ones, the green ones are ready!
If they are getting past their prime, you could make Healthy Donuts with Banana and Chocolate Chips, or check out these awesome 25+ Overripe Banana Recipes, for the best ways to use them up!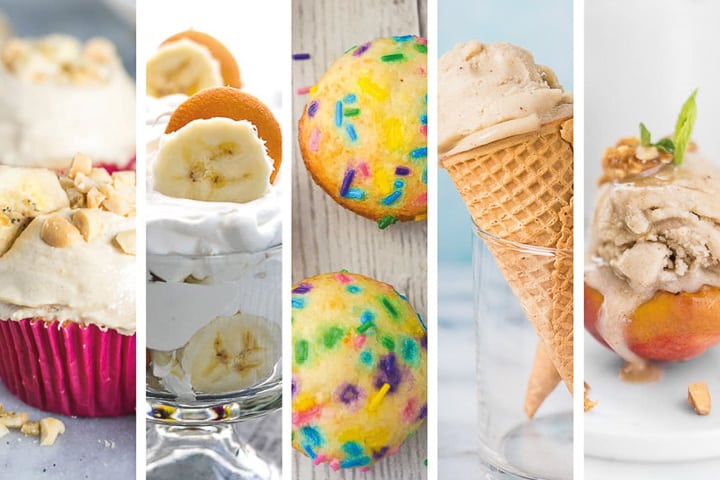 If all else fails, toss 'em in the freezer for another day!
Frozen and canned fruit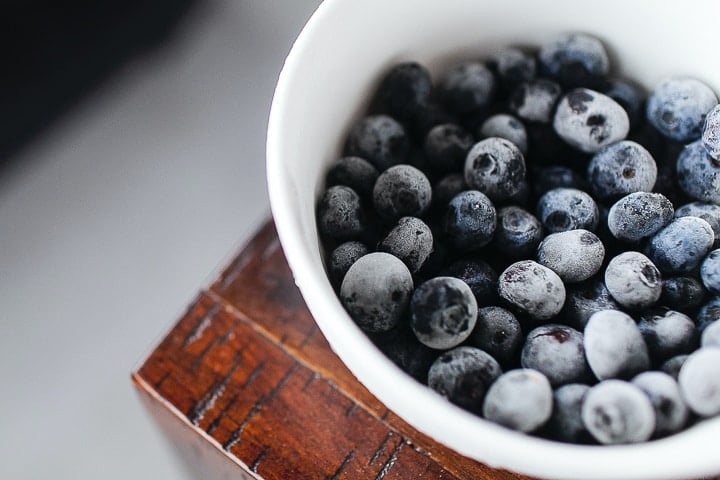 We usually keep lots of frozen food on hand (for smoothies, or pancakes), but lately we've introduced more canned fruit to our kiddos and they really like it! I love having a bunch of cans in the pantry, both for the sake of variety at the moment, and as a back-up in case we run out of fresh!
Vegetables
We are going back to basics here too, for the most part.
Potatoes – I've written about potatoes before, but they are an AWESOME, super cheap (think 10 pounds for $2.50), filling, long lasting vegetable.
Perfect for breakfast, lunch or dinner – cube them for our Potato, Bacon and Egg Sheet Pan Breakfast, bake them and stuff them for Easy Loaded Twice Baked Potatoes, or whip them into Smoky Bacon Potato Soup – even if they're going a little soft!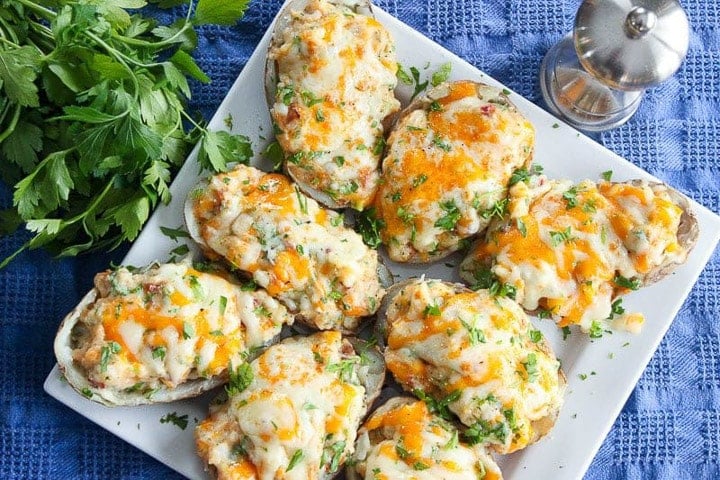 They also make a lot of great, easy side dishes, like mashed (or creamed) potatoes, scalloped potatoes, homemade french fries or hashbrowns, and of course, lots more.
Cold weather vegetables – Carrots, sweet potatoes, turnip, parsnip and squash are all affordable, filling, long lasting and versatile.

Keep them in a cool, dark place (the crisper works for most) and they will last weeks, or even months!
You can eat them as side dishes, of course, but you can blend them together too! Try our SUPER yummy Root Vegetable Casserole, or the always delicious Thai Curry Soup, which you can adapt to whatever you have on-hand.
If you're looking for something a little different, what about roasting sweet potatoes for our Mexican Buddha Bowls or Healthy Fall Salad with Maple Curry Dressing. SO GOOD!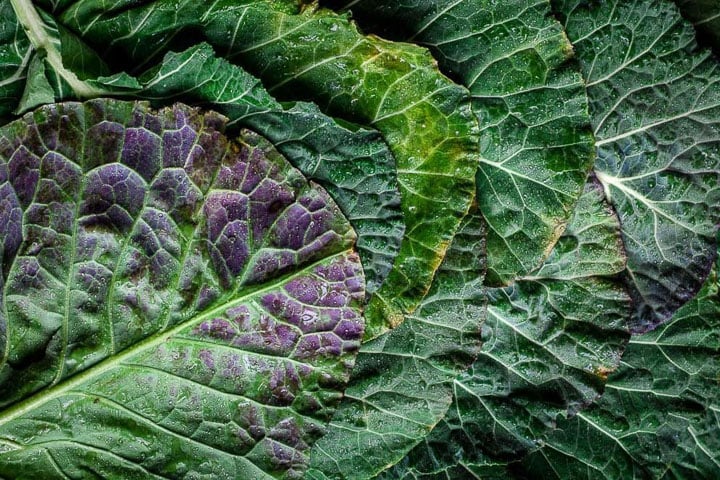 Sturdy Greens – At this point, I'd steer clear of dainty greens, unless you have a plan to use them right away.
Instead opt for romaine (much sturdier than iceberg lettuce), kale or even cabbage. Romaine and kale can keep super well in a ziptop bag in your crisper drawer, with a paper towel stuck in there to absorb any extra moisture.
Be sure to remove any bad leaves before storing, and any time you take it out to use some, and you'll find they'll last weeks.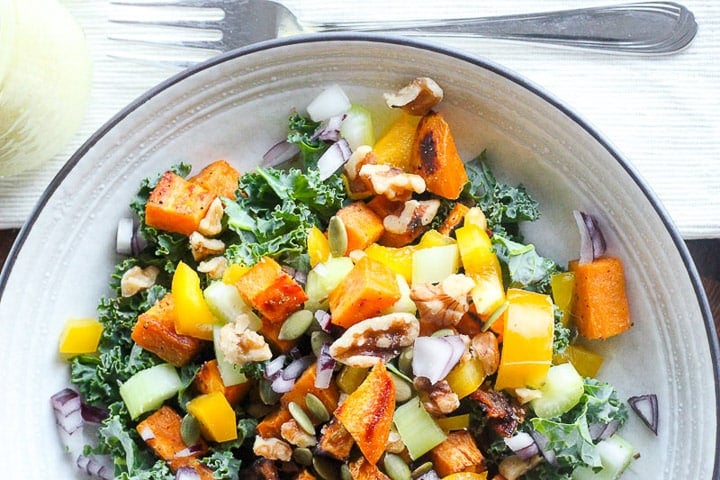 Our fall salad (linked above) and our Easy Winter Salad both use kale, and so does this Creamy Sausage Pasta. You can also chop it and stir it into a soup or stir fry at the end of the cooking time for a little added nutrition (same with cabbage).
Versatile vegetables
We still buy versatile veggies, like peppers (you can use them in SO many ways and even freeze them!) and broccoli. We love to have raw vegetables and dip with meals, and you can use them both in salads, stir-fry, pasta, on pizza, in soups and I'm sure lots of other ways too!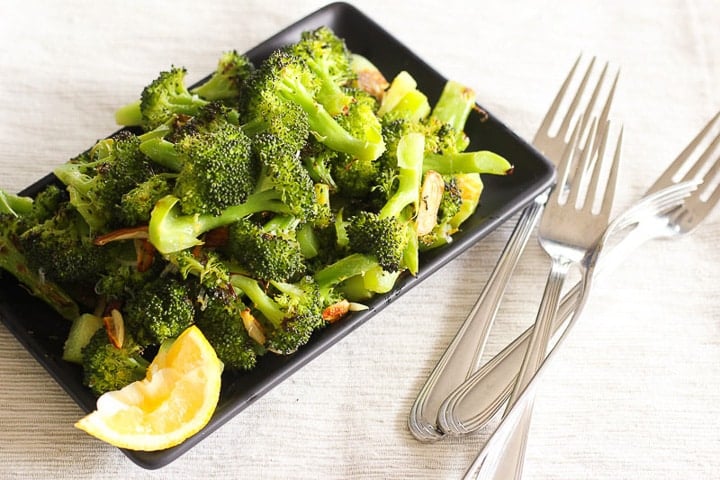 Try our Vegetarian Dan Dan (ish) Noodles, and if you've never had The BEST Broccoli You'll Ever Eat, now is the time 🙂
Onions and garlic – Honestly, I can't really function without this awesome duo. They form the basis of almost every recipe we cook, from stir-fry to pasta.
Store them in a dry, not too warm place and they should keep well. Plus they are awesomely cheap to buy.
Take your grilled cheese uptown with a little onion or treat yourself to some Homemade Garlic Fingers and Donair Sauce (if you're from the East Coast, like us 🙂 )
If you're looking for an easy, garlic-friendly pantry friendly meal, try this Brown Sugar Garlic Chicken.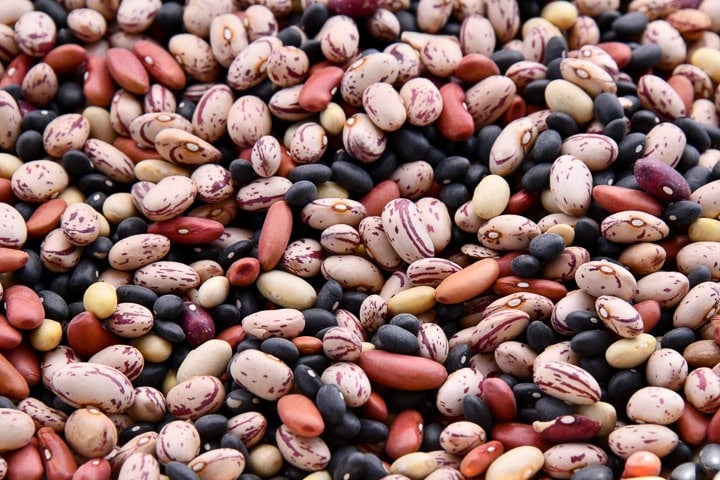 Beans, legumes & lentils – Beans and legumes are the workhorses of your pantry, budget and meal plan. They are super cheap, especially if you buy dried, and super nutritious.
If you're extra budget-conscious or good at planning ahead, opt for dried.
With beans, you'll need to soak them overnight before cooking them (OR if you have any Instant Pot you can bypass the soaking and just cook them in it – I've done it a few times with great results!).
If you're strapped for time and convenience is more important, opt for canned beans – then just open the can, drain, rinse and use.

You can almost always substitute whatever type of beans you have on-hand for what a recipe calls for. They are typically very mild tasting and take on whatever flavors you add to them.
Try black beans, pinto beans, cannellini beans, navy beans, great northern beans, or any of the many other varieties out there!
Recipes that use beans –> Healthy Buffalo Chicken Chili, Healthy Mexican Salad, Chile Con Queso Pasta Bake, Mexican Buddha Bowl with Cilantro Lime Sauce
Or to give lentils a try, make our Vegetarian Ranch Shepherd's Pie!
Frozen and canned vegetables – It probably goes without saying, but these are a great option at the moment!
When you can't get to a store regularly to buy fresh produce, frozen and canned veggies are long lasting and nutritious.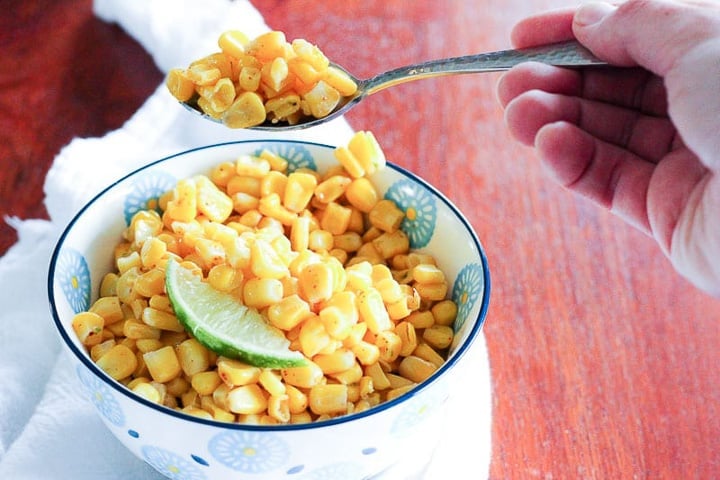 We always keep frozen corn in the freezer (try our Easy Mexican Corn), and usually have peas and carrots too.
** We have a post coming up on foods you can freeze, including mushrooms, peppers, citrus and more!
Canned tomatoes, tomato sauce, tomato paste – These are a lifesaver, when it comes to throwing together fast and easy meals. They are long-lasting, cheap to buy, contain few additives and are super versatile. Use them in chilis, pasta sauces, on pizza and much more.
Have leftover tomato paste? Here are 2 Easy Ways to Save Leftover Tomato Paste
Grains
Grains are pretty straightforward. Along with bread, English muffins and bagels, here are a few things to consider: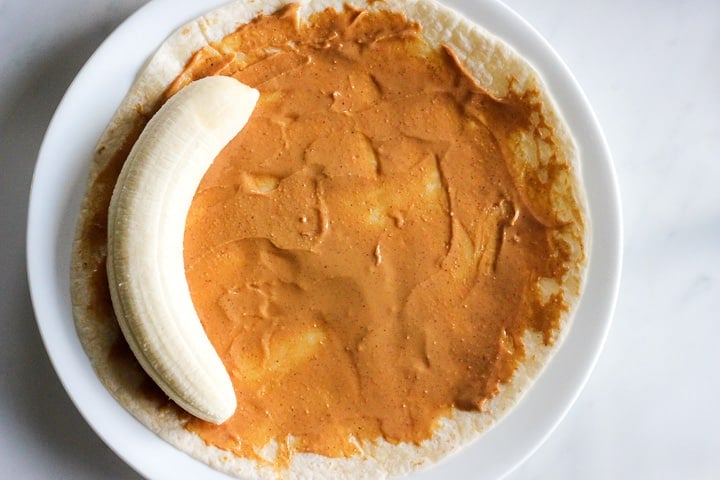 Tortillas – these are so versatile! Make wraps for lunch, or peanut butter and jam rollups (our kids love these).
We often make quesadillas as a quick supper, and they are easy to customize to everyone's tastes (we also make them for our freezer – like these Freezer Steak or Chicken Quesadillas).
We also really enjoy these Healthy White Chicken Enchiladas and they are yummy leftovers to have in the fridge.
Naan – great for sandwiches and wraps, freezes very well, and makes an AWESOME thin crust pizza dough in a hurry!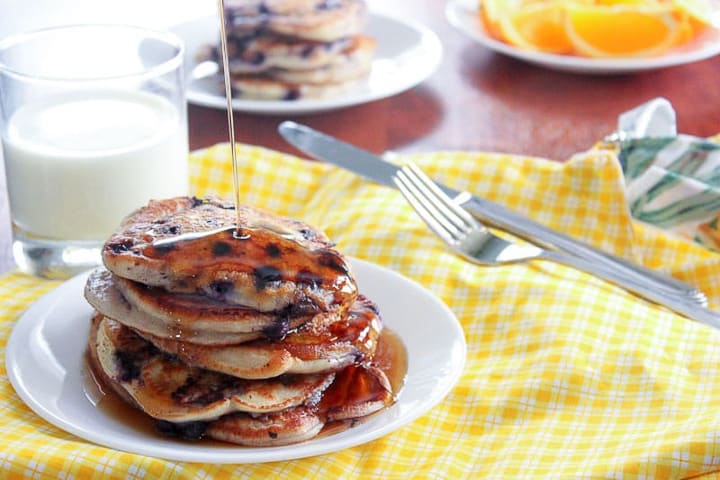 Also, if you can get your hands on flour and yeast, they are great things to have in the house.
With flour, you can make pancakes (Try Mama Cecile's Healthy Yogurt Pancakes) and add yeast to make all kinds of bread products and we're hoping to share some recipes soon.
We also developed a simple No Yeast Pizza Dough during last year's lockdown, for all our friends who couldn't get their hands on yeast!
Flour and a pinch of yeast can also make homemade pizza dough (check out our Simple Pizza Dough (regular crust) and Thin Crust Pizza Dough (No Rise).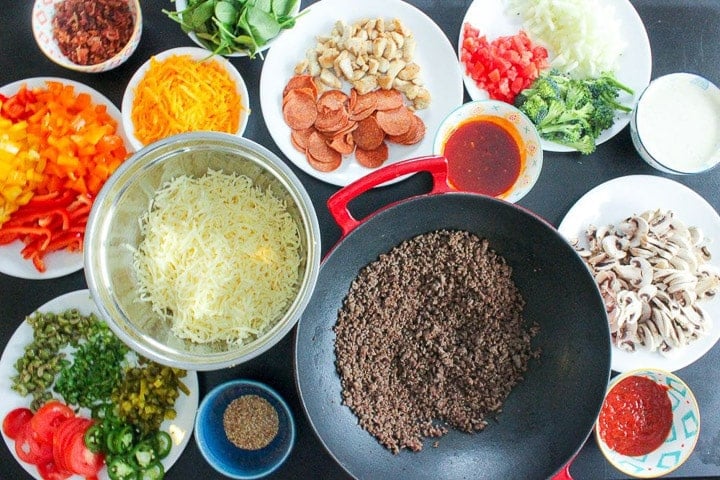 Pizza is one of the most versatile crowd-pleasers I can think of. Whatever little scraps are in your fridge can go on pizza – think half a pepper, a bit of onion, a handful of leftover chicken/chicken/bacon/sausage/hamburger, maybe some olives and cheese.
Don't overlook the meat + cheese + goat or blue cheese + sliced apple combo either. So yummy. If you don't have pizza sauce (or anything to make it with), try olive oil and garlic mixed together (YUM).
Pizza Inspiration:
Italian Salami, Apple, and Blue Cheese (or goat cheese) Pizza – a gourmet pizza recipe!
Homemade Bacon Cheeseburger Pizza
Asparagus Bacon Goat Cheese Pizza
How to Make Homemade Freezer Pizzas
Rice – We usually opt for basmati and I often buy jasmine as well. Whatever rice you like is best. It's easy to make and can be a simple side dish for a lot of different recipes.
I particularly love the rice in our One Pan Thai Chicken and Rice Bake.

Tortilla chips – are also very handy for quick meals that most people like and are versatile – doesn't everyone love nachos?
If you're looking for inspiration –> 21 of the BEST Nacho Recipes That Will Rock Your World (including our Jalapeno Popper Nachos with Garlic Cream Sauce – pictured above).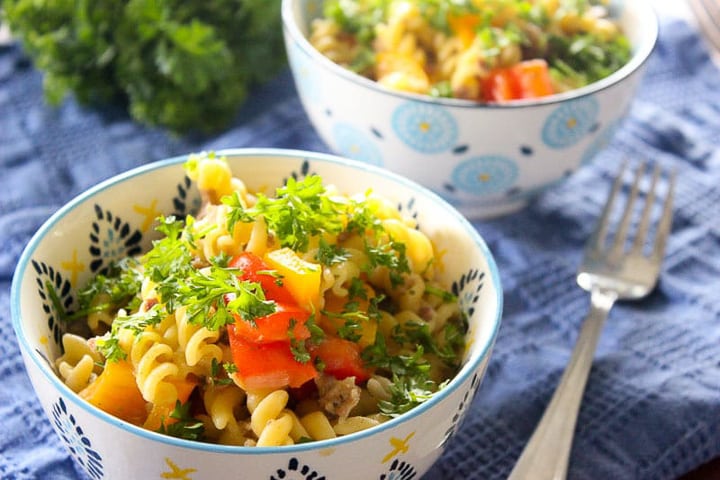 Pasta – whole wheat is extra filling and healthy, but honestly, buy what your people will eat.
It's nice to have some form of long pasta (spaghetti/linguine/fetuccine) and something short (penne/rigatoni/fusilli/egg noodles).
For something fun, try ramen, gnocchi or wagon wheel pasta. Also, rice noodles!
Pasta inspiration:
Chili Con Queso Pasta Bake

Easy Pasta Carbonara
Sriracha Ranch One Pot Pasta
Oats – in whatever form you use them, are great to have in the pantry.
Eat them for breakfast, make oatmeal bread or Healthy Banana Chocolate Chip Donuts, or whip up some granola with our Ultimate Guide to Easy, Healthy, Cheap Granola (bonus – it has a great shelf-life).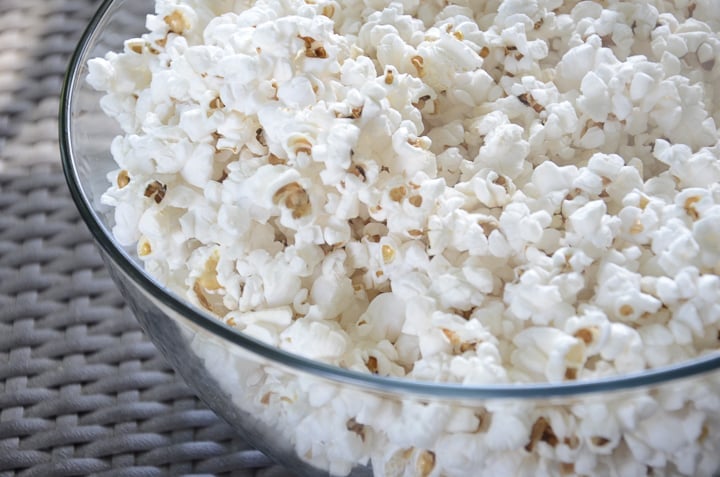 Popcorn – it's a whole grain and makes a great snack (although not for young children). If you don't have a popper, you can use a pot on your stove (please be careful and google instructions). Get creative with seasonings! It's healthy and super cheap, especially if you can buy it in bulk!
Crackers – I like to have things that are easy to eat when people are hangry. Crackers and cheese are classic. Buy what you guys like.
Did you know that original Triscuits only have 3 ingredients? Whole grain wheat, vegetable oil and sea salt.
Protein
Maybe you are already used to buying meat when it's on sale and freezing it. If so, awesome!
If not, I recommend starting with whatever is on sale that your family will eat.
We like to freeze our chicken breasts individually because we often only use one or two at a time (see how to freeze chicken breasts without touching the chicken much, if that turns you off).
For us, the meats I find most useful are chicken breasts and thighs, hamburger (ground beef), sausages, pork chops or pork tenderloin and bacon.
Here are a few recipes for inspiration:
Ground Beef Kebabs (Grill or Oven)
Sausage and Cajun Sweet Potato Sheet Pan Dinner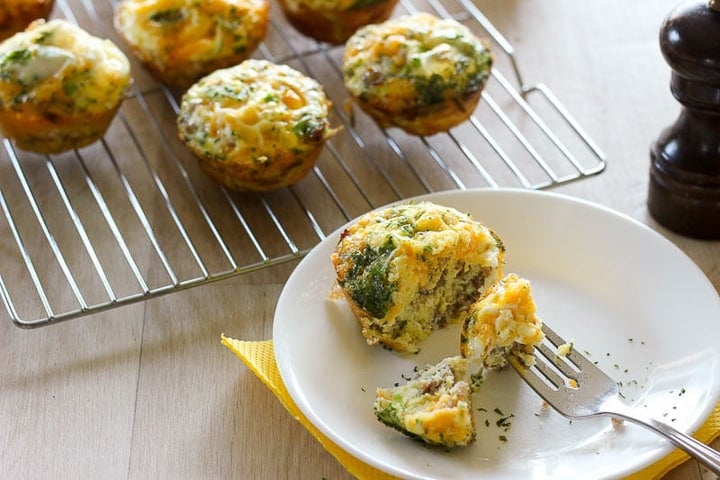 Sausage and Egg Breakfast Muffins
Easy Greek Meatballs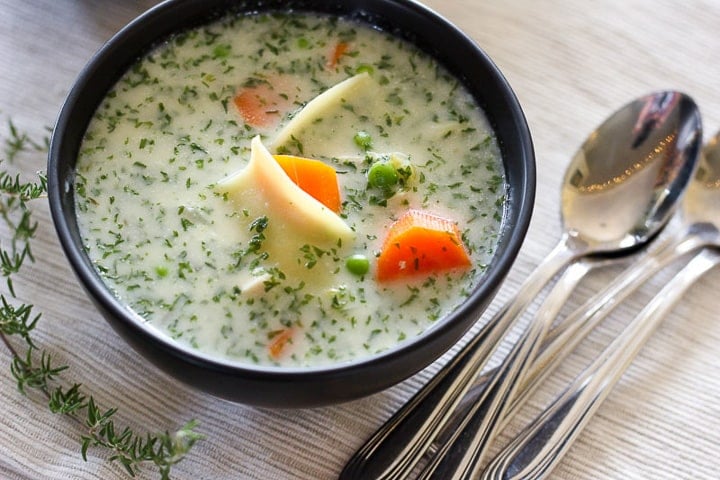 Creamy Chicken Soup with Egg Noodles
Healthy White Chicken Enchiladas
Seafood – If your family loves seafood, this is great to have in your freezer.
We mostly just eat haddock and pan fry it (some picky fish eaters in our household), although this Killer Lemon Butter Sauce for Fish is both SUPER easy and VERY delicious. We highly recommend it!
If you have frozen shrimp, try our Quick Cajun Shrimp Pasta
Canned salmon and tuna – these healthy, shelf stable foods are a great idea! We're working on a few recipes using these healthy fish, but think classic melts and casseroles! In the meantime, these Yummy Salmon Burgers with Slaw are on my list of things to try!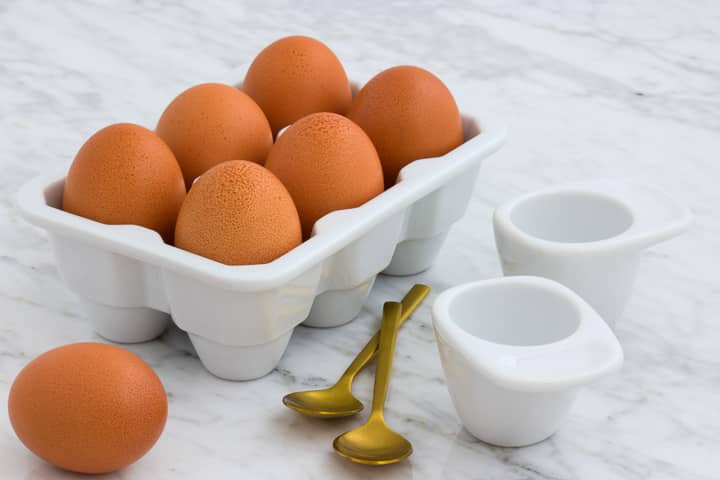 Eggs – Oh my. Do we eat a lot of eggs. Healthy, cheap, versatile and delicious.
I eat eggs almost every day, often in a breakfast sandwich type of situation, but also as omelettes, scrambled, fried, hard boiled, egg salad, and more. Love them.
They are long-lasting and a great thing to stock up on. Use them for baking too!
Try: Sausage and Egg Breakfast Muffins, Potato, Bacon and Egg Sheet Pan Breakfast, and Easy Lemon Curd (with whole eggs)

Peanut Butter – Is there anything more classic than a PB&J sandwich? Our kids love them and they're great comfort food. You can also use peanut butter in breakfast bowls –> Healthy Yogurt Breakfast Bowl and noodle dishes –> Vegetarian Dan-Dan(-ish) Noodles, in smoothies and in baking!
Dairy
Obviously if you drink a lot of milk it makes sense to stock up on it and keep extra in the coldest part of your fridge (if you have two cartons, use the one with the soonest date first).
If you use a dairy-free alternative, it's definitely easier to store it long-term.
Also, consider these dairy options:

Plain yogurt – I've written about plain yogurt before, because it's the best (Read One "Superstar Food" for your Health and Budget).
Incredibly versatile, we use a TON of this. It is healthy, can be used in cooking, baking, breakfast bowls, smoothies, dips, salad dressings, and more.
It keeps a LONG time. Stir a little spoonful of jam into it for instant flavored yogurt.
Check out all these recipes featuring plain yogurt: Mama Cecile's Healthy Yogurt Pancakes, Two Minute Yogurt and Berry Breakfast Bowls, Green Goddess Drip (or Dressing), Easy Loaded Twice Baked Potatoes, Healthy Jalapeno Mac and Cheese, Homemade Tzatziki, and more.
Cottage Cheese – We've been experimenting with cottage cheese, whipping it in our blender and using it in the place of some of all of the yogurt in many recipes – like pancakes and smoothies.
I'm happy to report you would never notice the difference in taste, and I like to add a little extra protein to these vegetarian dishes!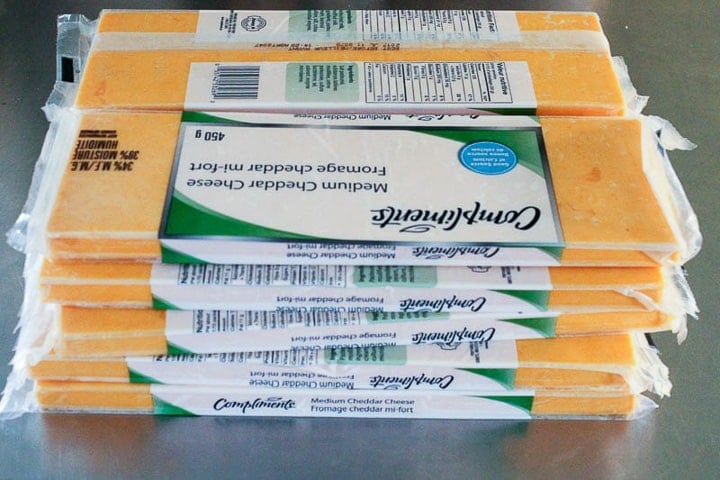 Cheese – We go through so much cheese in this house. I always watch for it to go on sale and try to stock up.
Did you know that unopened packages of cheese usually have a best before date that is months away!?
If you eat as much cheese as we do, on pizza, sandwiches, eggs, for snacking, consider stocking up.
With regular cheese we focus on old cheddar and mozzarella, and of course we love a variety of other types of cheese too, when we can get them 🙂 If you want to, you can freeze cheese too!
Evaporated milk – shelf stable (it's canned) and versatile, you can use this in chowder, soup, pasta, tea or coffee and more.
I think it's a great thing to have in the pantry at a time like this! Use it in our Smoky Bacon Potato Soup or BLT Ranch Pasta Salad.
Spices & Seasonings
Bouillon – I am a HUGE fan of Better Than Bouillon and ALWAYS use it in the place of broth in my recipes.
It is very affordable, especially if you're used to buying cartons of broth! I think it has a fantastic flavor.
You can often get big jars of it at Costco, but it's available at most grocery stores too. It's a great thing to have on-hand even if you don't make soups (use it in pasta pan sauces, stews, chili and more).
Salt – I've already written about salt (see One Simple Ingredient to Help You Become a Better Cook) but I have to say it again.
Salt it SO IMPORTANT if you want your food to taste fantastic, especially if you're cooking from scratch.
If you don't believe me, make a simple recipe without salt and taste it. Then add some salt and taste. The flavors will start to sing.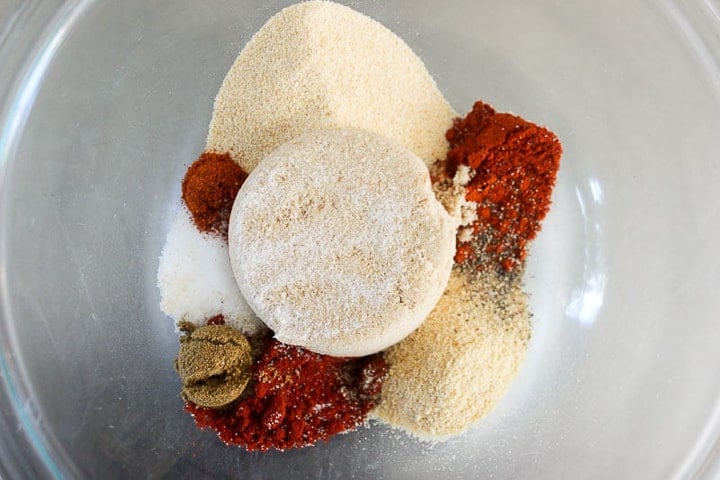 Spices – Spices are always important, but that's true now more than ever.
If it's tough to get to a grocery store on a regular basis, spices can add variety and flavor to your cooking. You can make chicken and rice ten different ways, with ten different spice blends.
Spices also allow you to make your own seasoning packets, so you don't have to shop for those. Much more affordable to make your own, and only takes a minute too!
Try Homemade Fajita Seasoning Mix, Sweet and Smoky Dry Rub Mix, Easy Homemade Taco Seasoning Mix, Homemade Ranch Dressing Mix and I make a cajun mix in this recipe. Also consider curry pastes if you're into that kind of thing.
Herbs – It's spring, so maybe it's a good time to buy or plant some herbs? Check out Fresh Herbs: Why They're Cheaper Than You Think.
Honestly. Try to buy food you will actually eat, and if your life is as busy as ours (three small kids running around), food that will be easy to prep.
We also make sure we have: coffee (duh), chicken nuggets, frozen fries and chocolate chips in the house at all times 🙂
If you (somehow) want to read even MORE extensively about what we keep stocked here, check out Stock Your Pantry On A Dime, Stock Your Freezer On A Dime, and Stock Your Fridge On A Dime for some more ideas!
Please let us know below: what do you stock up on when grocery shopping?

Check out our $5 Meals cookbooks, with five recipes for each season, that cost us around $5 (per recipe) to make!