Are you sick and tired of wasting half a can of tomato paste every time you need some for a recipe? Try these two easy ways of saving what's left over, and never throw out extra tomato paste again!
How many times have you made a recipe that called for 1 tablespoon of tomato paste? A million times? Me too!
So you get out your can of tomato paste, open it up, use 1 tablespoon…. and then what?
For years I would empty the leftover paste into a small reusable container and stash it in my fridge. A month later I would find it languishing at the back of the shelf, next to a shriveled up core of iceberg lettuce.
I would sigh and scrape it into the garbage.
Over and over again, every. single. time.
Eventually, I got annoyed enough that I started using a few quick ways of saving my leftover tomato paste. Both involve freezing. Both can be done in under 2 minutes.
2 Easy Ways to Save Leftover Tomato Paste
1. The IQF Method for Saving Tomato Paste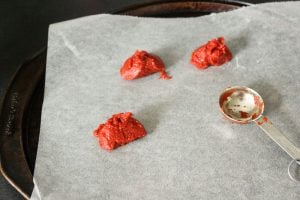 Now I'm not sure if this would technically be considered IQF (Individually Quick Frozen), but either way, that's what I'm calling it.
Using a tablespoon, drop spoonfuls of tomato paste onto a wax paper-lined cookie sheet.
Freeze.
Once they are frozen solid, peel off the tablespoons of paste and store in a freezer bag (in the freezer). Use as needed.
The advantage of this method is that you are freezing an already measured out tablespoon portion. If you're a really precise cook, or are fairly new to cooking, this would be a good method for you.
You just take a tablespoon of paste out of the freezer bag and add it to your recipe, knowing exactly how much you're using. There is usually no need to thaw it before using it (if you're cooking it, it will thaw pretty quickly).
I did this for years, until I read somewhere (I have no idea where) about method #2.
2. The Lazy Baggie Method for Saving Tomato Paste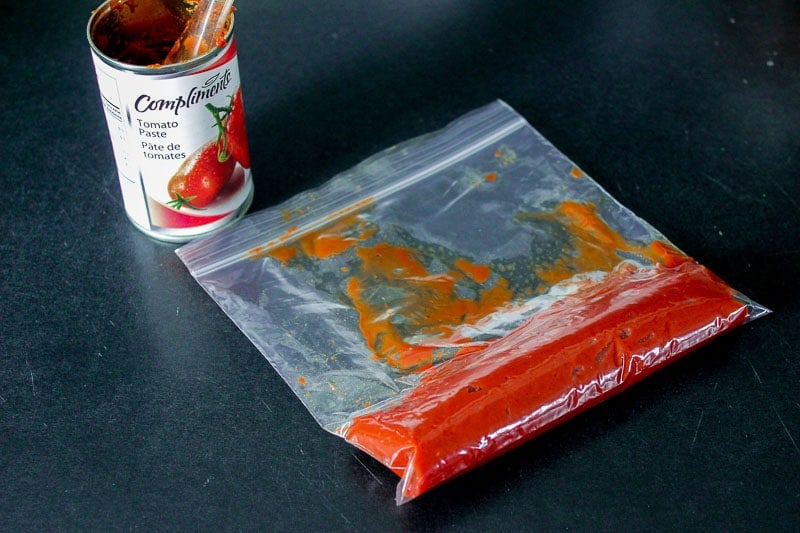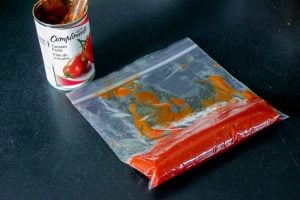 So I couldn't think of a better name for this method, but trust me, it's great.
Get a freezer bag and open it as wide as possible. Using a small spatula, scrape the leftover tomato paste into the bottom of the baggie.
Squish it down so it forms a roll of sorts along the bottom of the bag.
Freeze.
Anytime you need tomato paste for a recipe, get out your bag of paste and break (or cut) a chunk off the end.
This works best for people who are not really precise cooks, because you probably won't break off exactly 1 tablespoon, or whatever amount your recipe calls for.
It also works well for people who are in a rush. The first method of IQFing only takes a few minutes to do, but the baggie method only takes a few seconds.
An added bonus to saving leftover tomato paste using one of these methods is that you will rarely find yourself without it when a recipe is calling for it. As long as you remember to occasionally buy a can, you should have lots. Plus, leftover tomato paste becomes part of what I consider a well-stocked freezer!
Do you often find yourself garbaging leftover tomato paste? What about other partially-used ingredients? Let me know in the comment section below!
Save
Save
Save
Save