These Two Minute Yogurt and Berry Breakfast Bowls are healthy, fast and a great way to refresh your morning meal! If you're looking for an easy way to start eating plain yogurt, this might just be it!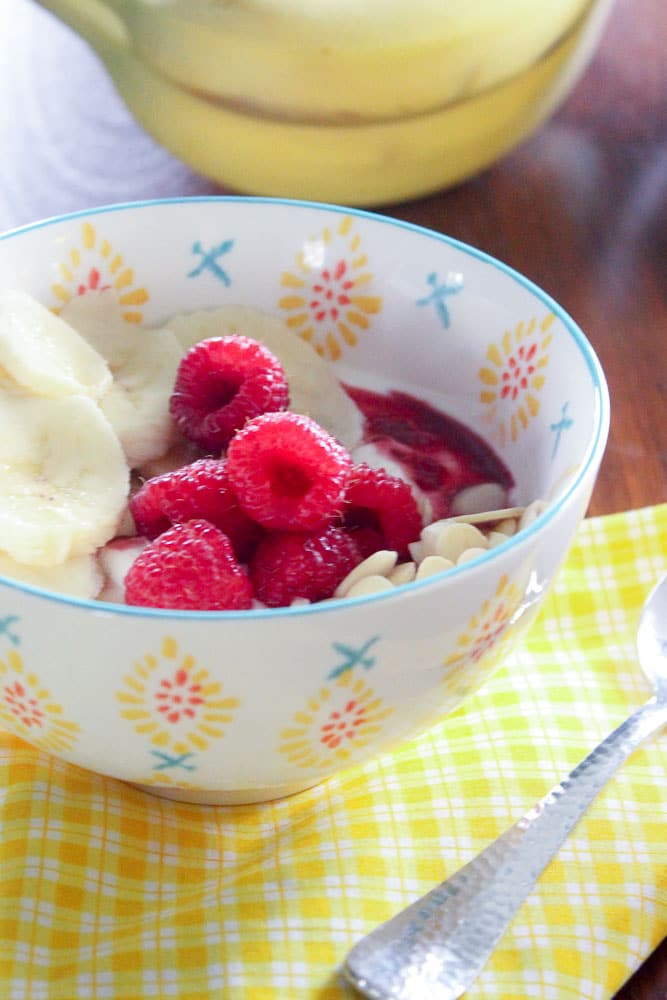 I hesitate to call this a recipe. It's really not. It's just an idea, albeit a delicious one.
Still:
If you're sick of eating the same things over and over for breakfast and looking for a change, this could be for you.
If you're looking for a way to introduce plain yogurt to your diet (perhaps for all these reasons), this could be for you.
If you just bought berries on sale and you want to do something fun with them, this could be for you 🙂
In fact, that last one was me this week.
We often eat breakfast bowls, and I'll share our go-to option another time. But this week, for some reason, all kinds of berries were on crazy sale where we live and after a long, dark winter I couldn't resist.
The girls love them and eat them like candy. So do I. But yesterday I fixed up a big, beautiful breakfast bowl with them, and guess what? I'll be making another one today.
Fresh, fruity, healthy and yes, even filling, thanks to the banana.
I use plain yogurt, and for this bowl I stirred a spoonful of jam into it. This is a great way to approach plain yogurt if you're wary of its tart taste. 100 Days of Real Food recommend their Berry Sauce for flavoring plain yogurt, and that's a great idea too!
You can, of course, use whatever yogurt you love. Add whatever berries you are lucky enough to get your hands on, a chopped up banana, and I like a few nuts or granola for some crunch.
Voila! Breakfast is served.
Two Minute Yogurt and Berry Breakfast Bowls – Step-by-Step Instructions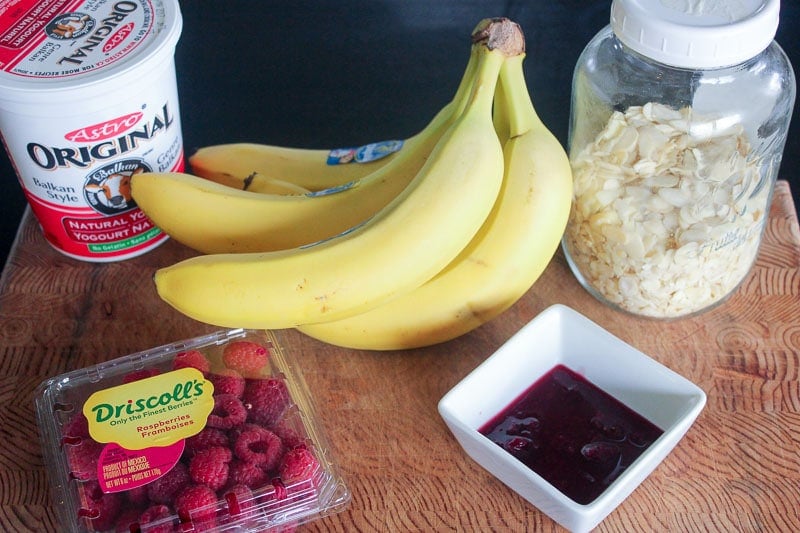 Two Minute Yogurt and Berry Breakfast Bowls – Ingredients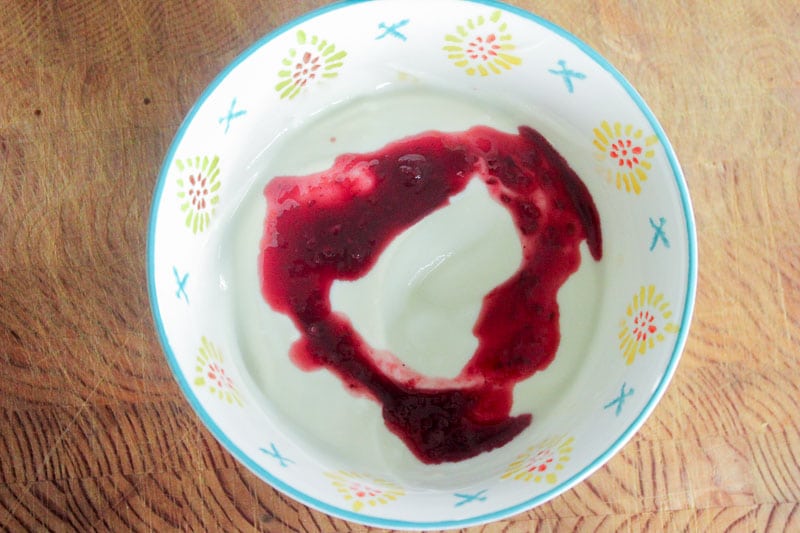 If you're using plain yogurt, add it to your bowl. If desired, drizzle with jam. I used raspberry and it was SO good.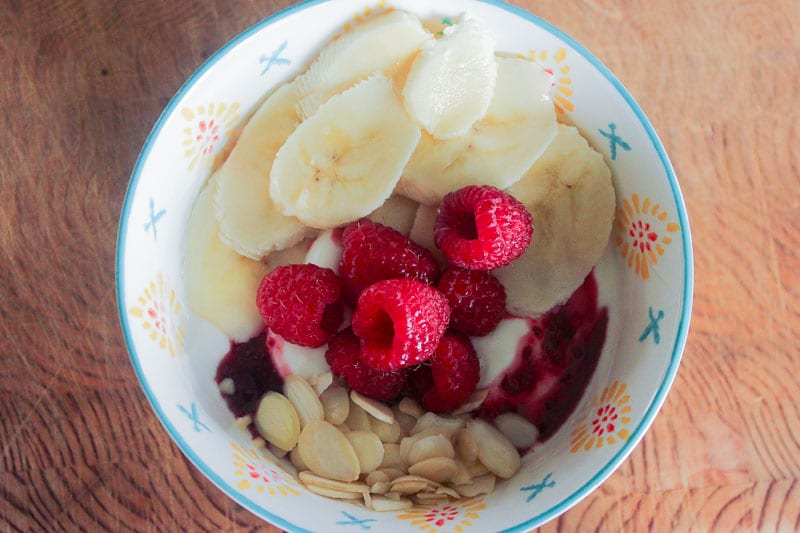 Add a sliced banana (I like to use a whole banana, because otherwise I'm hungry in 30 seconds), slivered almonds (granola would be so delicious too!) and fresh berries.
In a pinch you could even use frozen berries, although the texture wouldn't be the same.
Enjoy! 🙂

What do you like to eat for breakfast? Let me know in the comment section below! 🙂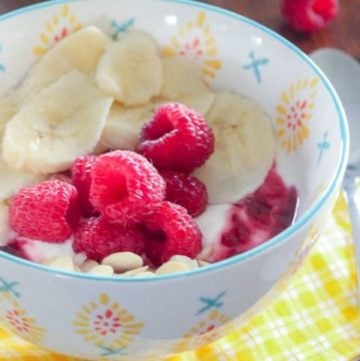 Ingredients
1

cup

yogurt

I use plain but you can use whatever you have on hand

1

tbsp

jam

to sweeten and flavour the yogurt

1

banana

sliced

1/4

cup

fresh berries

1/4

cup

slivered almonds

garnola would also be delicious
Instructions
Add yogurt to your bowl. If you're using plain, drizzle it with jam. If you're using flavoured yogurt you can skip this step (unless you want to use the jam anyway!)

Add a sliced banana (I like to use a whole banana, because otherwise I'm hungry in 30 seconds), slivered almonds (granola* would be so delicious too!) and fresh berries. Enjoy! 🙂
You might also like: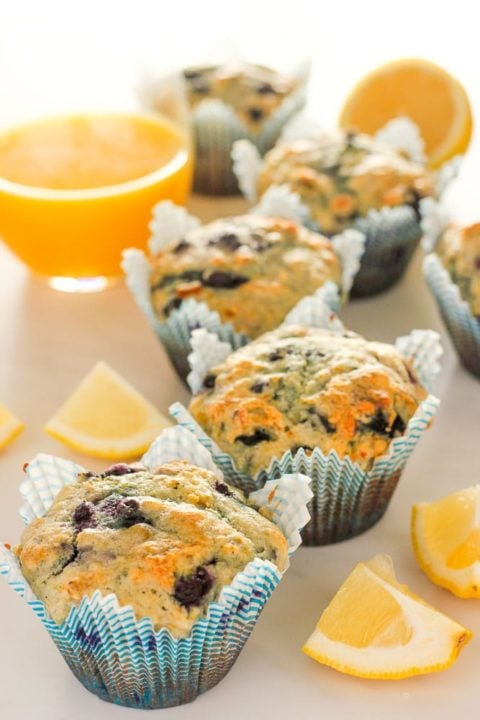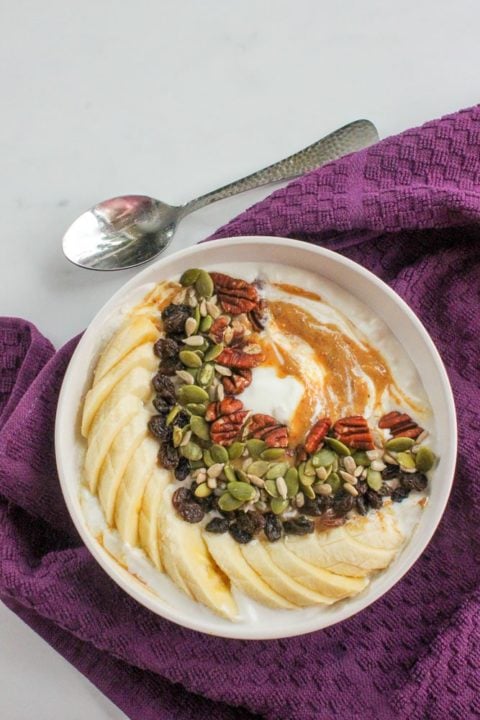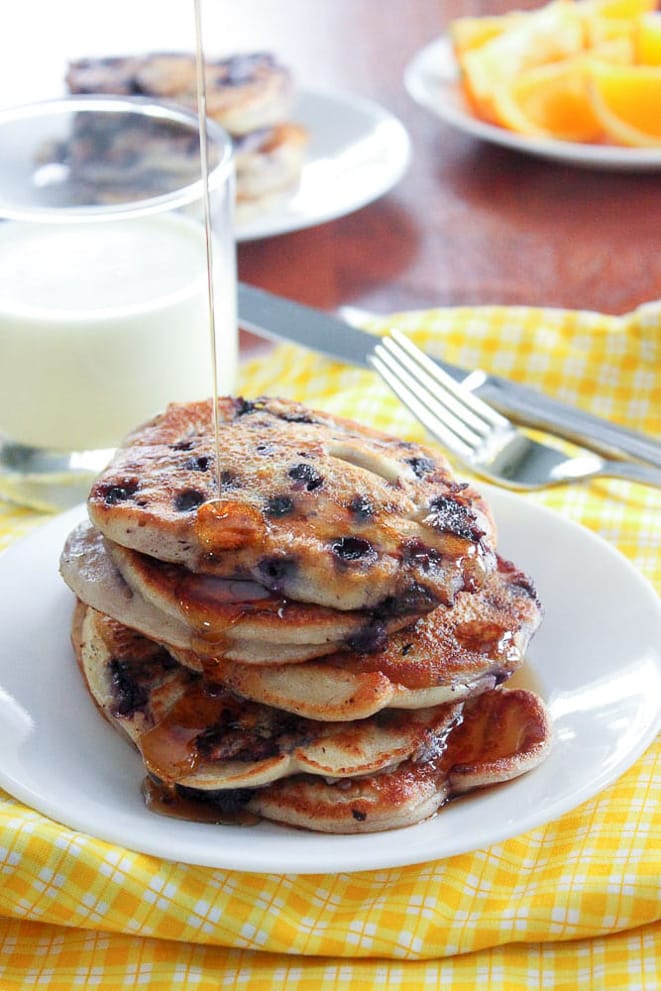 Save