It doesn't have to be hard to stock your freezer on a dime! This is the second part in a three part series on how to stock up on food in an affordable way.
You can get caught up with our Stock Your Pantry on a Dime post and Stock Your Fridge on a Dime post.

Once again, please don't stock up on all these things at once – it would be crazy expensive.
As always, my approach is to wait until things go on sale and then buy as much as you think you'll eat before the next sale.
If you do this strategically, you could save a significant amount of money! Take your time! Also, we have a big freezer, but even if yours is smaller you can definitely still implement some of these tips!
Our freezer is a gold mine.
It's stuffed to the gills with useful things that we can pull out and use to make a huge variety of meals and snacks. Your own freezer stock will depend on what types of meals you like to cook, and of course the size of your freezer. Here's a quick run-down of what we like to keep on hand and why. Maybe you'll get a few new ideas!
Stock your freezer – Vegetables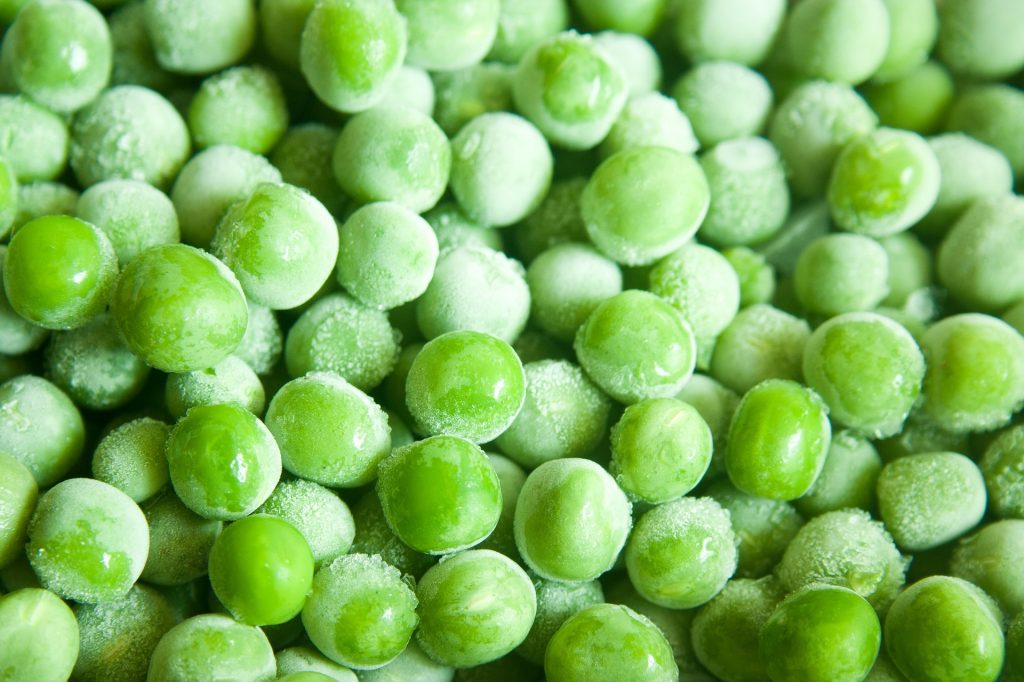 Frozen vegetables – We buy some frozen vegetables, especially corn, peas and sometimes edamame and green beans. We typically watch for sales and buy large bags when they're cheap. You can often get a 1kg bag for around $2, which is pretty great value. Frozen spinach is cheap too. We use these as add-ins for soups, stews, curries, pasta, noodle dishes, and also as an extra veggie side dish that we can add to a meal quickly (and inexpensively).
Several times a year there are great sales on two of our freezer staples, peppers and mushrooms.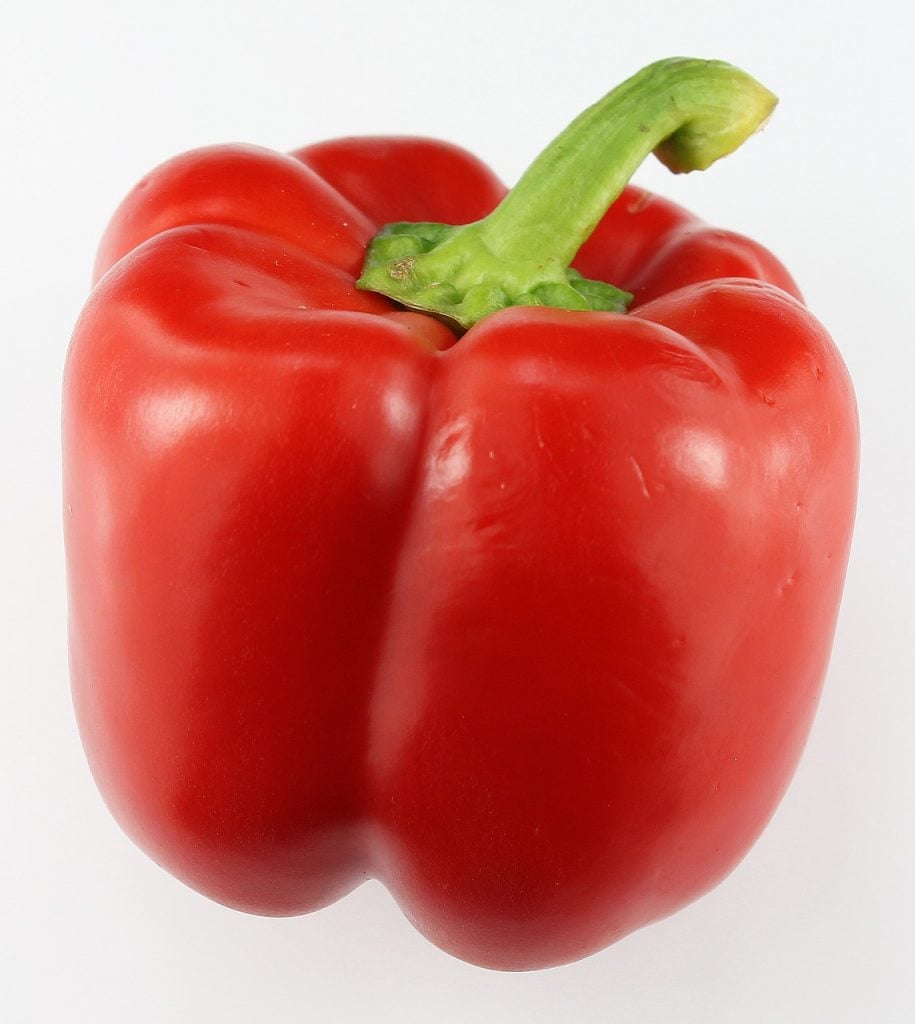 Have you ever noticed that peppers can be super expensive? Every summer Atlantic Superstore (and maybe other grocery stores as well) sells ½ bushels of red peppers for $10. I think they're meant for canning. But this is an absolutely INCREDIBLE deal.
We always buy a ½ bushel, wash them, cut them in half, remove the seeds and freeze them. These peppers are as good as fresh when used in any preparation except a salad (and maybe a stir-fry if you like your veggies super crunchy).
We use them in pasta, pizza, chili, spaghetti sauce, on nachos, and really anywhere you'd use cooked peppers. We save a TON of money this way.
Here's a post I wrote on how to freeze peppers!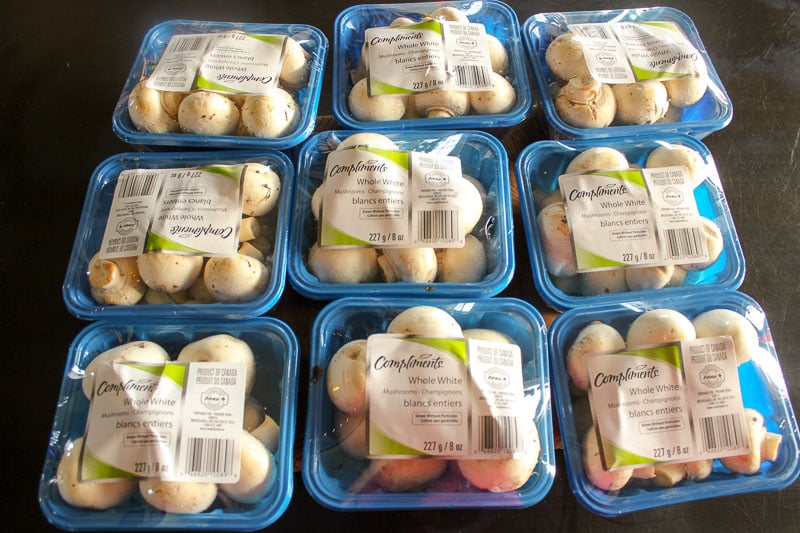 Mushrooms. I LOOOOOOVE mushrooms. For the longest time, Laurier didn't eat them and I almost stopped buying them because half the package would rot in our fridge.
Then one day I decided to experiment and see if I could freeze them. And…. You can! They freeze wonderfully!
So now I wait until mushrooms go on sale for $1.50 per package (even $1 if you can get it), buy 10 packages, clean them, slice them and freeze them (here's a post I did showing my exact method for freezing mushrooms).
Suddenly we had big bags of sliced mushrooms in our freezer and I could just put them in the food I wanted to! AMAZING.
Since then Laurier has totally gotten on board with mushrooms and we use them in pasta, stews, on pizza, spaghetti sauce, stir-fry etc. Once again, I would use them in anything but a salad, and I swear, you would NEVER know the difference.
We are lucky enough to have a garden (and to be honest, my dad LOVES to garden, lives next door and grows us lots of amazing organic produce…. spoiled much?).
But gardening can happen on a small scale too – you can grow tons of vegetables and even some fruit in a small 4×4 plot or even some containers (more on this later).
In any case, we're blessed with lots of garden veggies and fruit and every summer I freeze (sometimes blanching first, depending on the food) or can green and yellow beans, rhubarb, carrots, spinach, kale, peas, dill, parsley, tomatoes, onions, cherry tomatoes, shredded zucchini, hot peppers, garlic scapes and more.
We use the rhubarb for jam, pies, crisps, crumbles and muffins.
The spinach, kale and arugula we use in dips, soups, pasta and curry.
We have a few great pasta recipes that we use cherry tomatoes for and bag them in portion sizes that can go straight into the oven to roast for the sauce.
The rest we use in soups, stews, as quick side dishes and more.
Dill and parsley stand up well to being frozen and still give lots of flavor to dips, pasta salads, soups and pasta.
Even if you don't have a garden you probably have cheaper access to many of these things during the summer months and could stow some away to get you through the long winter.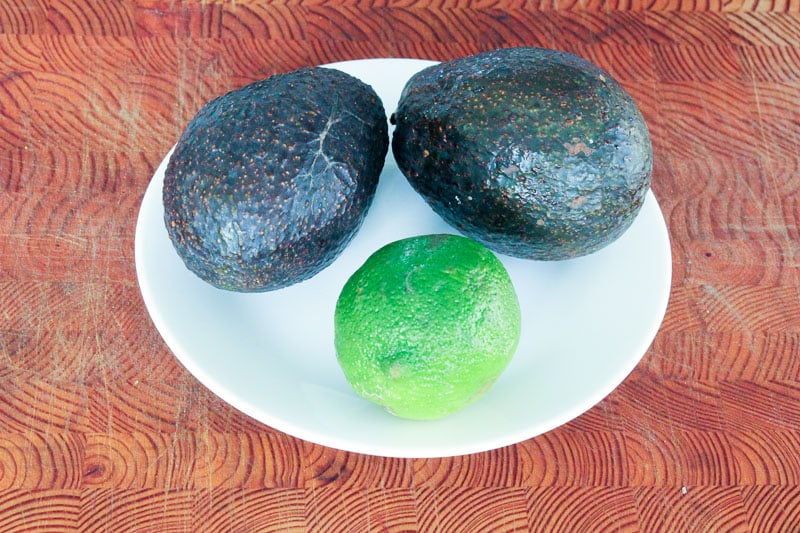 Avocado – avocados are expensive but I just love them so much! Did you know that you can freeze them? If you find a great sale, just scoop out the flesh, mash each avocado well with a tablespoon of lime juice or lemon juice and freeze in a ziplock baggie.
I wrote a post on how I freeze avocados here.
They're not perfect but they work well as a sandwich spread or quick guacamole with nachos or fajitas, or when there are only rock-hard $2 avocados at the grocery store.
Stock your Freezer – Fruit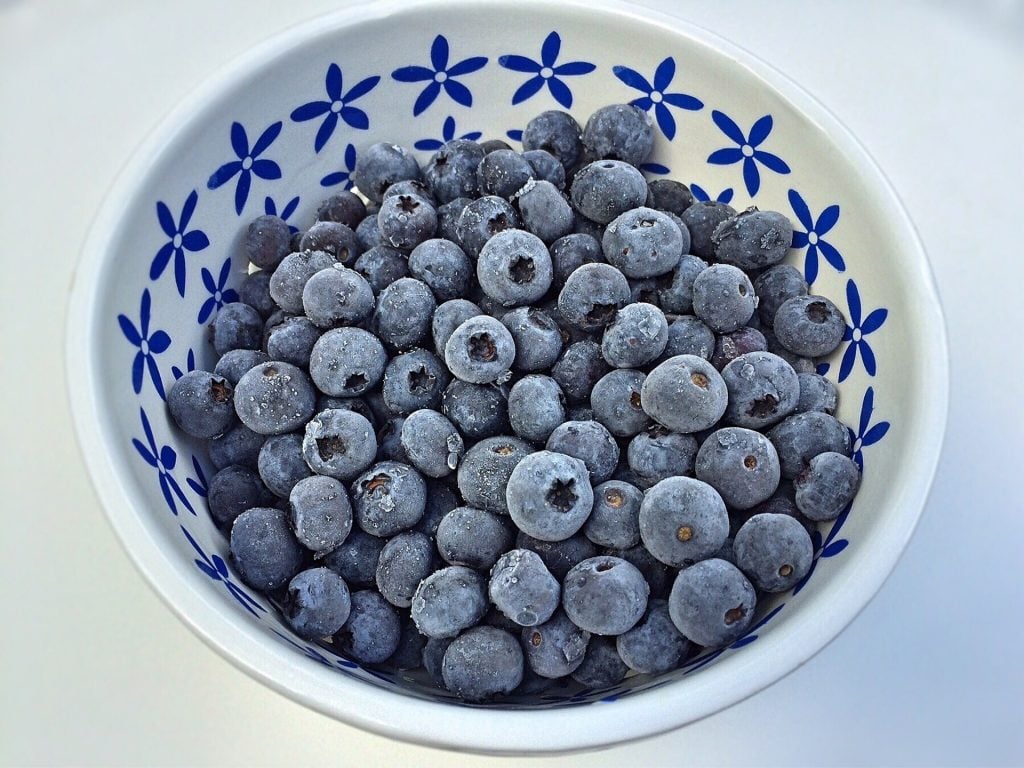 We tend to keep quite a bit of frozen fruit on hand, both for smoothies and baking, pancakes, and even just snacking. In the summer I stock up on local berries, especially if I can get organic ones.
Even better is when we can get out to pick wild berries. There is almost nothing more delicious in the world than a wild blueberry pie in the dead of winter, or wild blueberry pancakes on a sunny winter's morning.
For what we aren't able to pick or buy locally, I often rely on Costco. They have big bags of wild and pesticide free blueberries, and great deals on frozen strawberries (sometimes organic), pineapple, mango and more.
Also, bananas. Is there anyone out there who doesn't have a freezer full of overripe bananas? We tend to build up a little stock of them and then launch into a frenzy of muffin making. The muffins are a treat and we put extras in the freezer to enjoy for longer and as easy, healthy snacks.
If you have a freezer stash of bananas, check out this post I wrote:
25+ Ways to Use Ripe (or Frozen) Bananas!
Stock Your Freezer – Meat & Fish
When I was younger I would sometimes jump at amazing sales on meat and stock up on things like six pork loins that were going for an amazing price.
While this tactic does have its merits, it's important that you actually eat the food you stock up on. Turns out we don't actually cook pork loin very often.
We've been slowly working our way through our freezer stock, but going forward I'm determined only to stock up on things we actually eat on a regular basis.
I might still pick up a pork loin on sale, but I'll pick up one pork loin, until sometime when we start to eat more of it. In the meantime, here are some proteins we do keep on hand:
Chicken breasts – I freeze these individually and love being able to pull out one or two to make a pasta, dip or other type of dish. We very rarely eat a meal involving whole chicken breasts for everyone. I only buy chicken breast when it's on sale for its best price, which around here is $3.99/pound. I use this amazing method for individually packaging my chicken, courtesy of Budget Bytes.
Other chicken pieces, either thighs, legs, or cut up whole chickens, we buy in order to make chicken meals with.
Whole chickens – we are lucky enough to get these locally. We'll often roast one for supper, eat leftovers from it, use chicken to make another meal and then make a soup (or broth) with the carcass. We make the most of these guys (and they are pretty big chickens).
Bacon – I LOVE bacon. I tried, really really tried, to stop loving it so much. But it just didn't work.
Instead I've decided to love bacon in moderation. We often use ½ a package of bacon at a time and if we have no upcoming plans for the other half we wrap it up well and freeze it.
One important note about bacon: you know how you used to buy a POUND of bacon? Well now most bacon packages aren't actually a pound. They're often more like 375 g (instead of 454 g).
However, a few brands still sell ACTUAL pounds of bacon, and one or two even sell it in 500 g packages. I always opt for these bigger packages, and again, I only buy them when they are on sale. More bacon (for less money) = a more happy Myra.
Stock up instructions for freezing bacon here.
Ground beef/pork/moose – we are sometimes able to get these locally and when we can we do. Otherwise I buy small amounts when they go on a great sale and freeze them. I find one pound packages versatile because you can always take out two packages if you need more.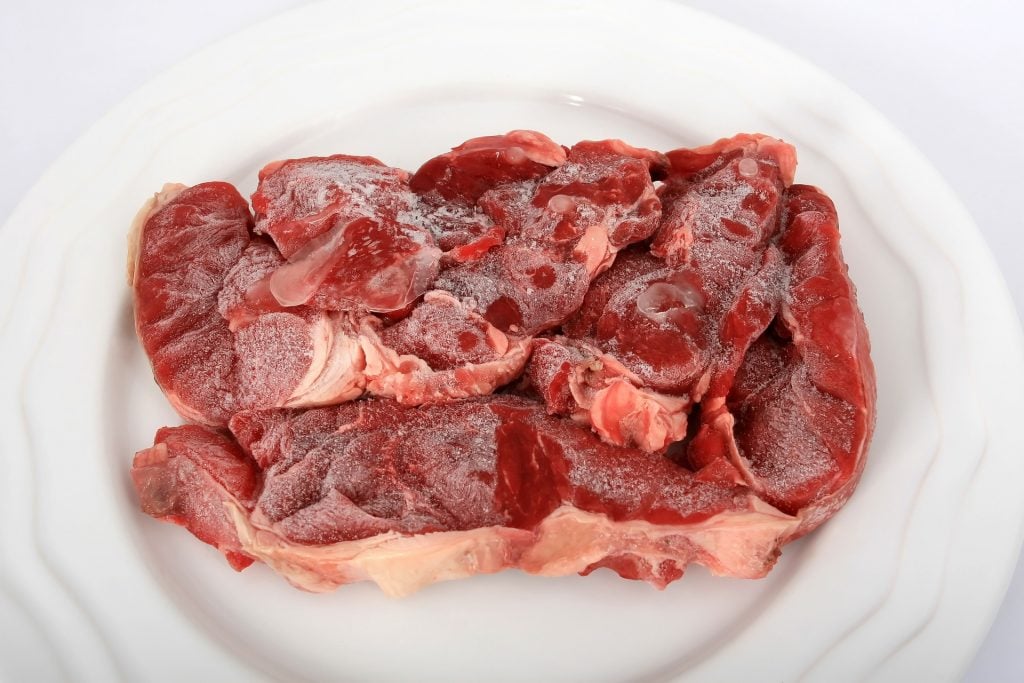 Pork tenderloin and pork chops, sausages – again, I buy them locally when I can. Otherwise, only on a great sale.
Small steaks – when I see sales I often pick up a few small steaks. We slice them thinly against grain and they make a tender and delicious addition to steak nachos, stir fries, or steak sandwiches bulked out with mushrooms, onions and peppers. Recently we've also embraced deer steak as a healthy, cheap, delicious alternative and are really enjoying it.
Fish and other seafood – we buy these locally, with the exception of salmon. I also sometimes buy cooked shrimp which make delicious, easy and super fast meals.
Finally, sale items – chorizo, pancetta, prosciutto. If I see these marked down, I literally buy them all. Yes, I'm that person ahead of you in line buying 10 packages of prosciutto, but why not when they're marked down to $1? They freeze beautifully and make for a big pop of decadent flavour when you use them.
Stock Your Freezer – Pastry & Bread Products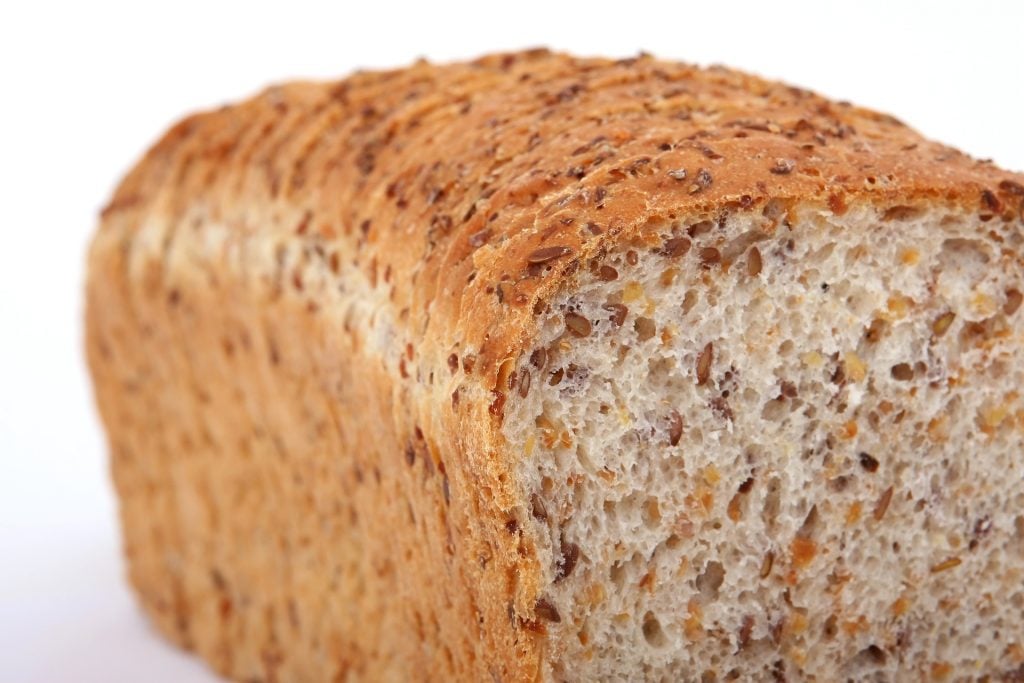 Bread products – We make a couple of kinds of super easy homemade bread a few loaves at a time, so we always freeze what we won't eat right away. We also stock up on bagels and English muffins if there's a good sale.
Pastry – I have a confession to make: I'm a little bit scared of pie dough. It just seems so damn temperamental. That said, I've made it my mission to get better at pie dough. I sometimes make pies, and when I do I make extra dough and freeze it so it's easier next time.
I always have puff pastry in my freezer. For $4 I get a box with two sheets that can make easy and impressive desserts, appetizers, breakfasts and more.
Pizza dough – I always make homemade pizza dough, but once in a while I take the time to make a few batches and freeze them, for super fast suppers on busy nights. If you use a food processor to make your dough, this takes minutes!
Stock Your Freezer – Cheese
Cheese – Havarti, goat cheese and Boursin (cheap at Costco, especially when it's on sale and oh so good) all freeze super well as long as they're well-packaged. The manufacturer's packaging is ideal. Saran wrap works too, but not for nearly as long. They thaw with no noticeable difference in quality.
We also freeze Monterey Jack cheese. We buy large blocks and there is only one recipe we typically use it for, so we use half the block, wrap the rest well and freeze it for the next time we make the recipe. It tastes great but gets crumbly when you grate it next time. No biggie.
Stock Your Freezer – Extras
Pesto – we and my dad make it homemade in the summer when there's lots of fresh basil (or other herbs – last summer I made cilantro pesto and it was so good!) in the garden. We eat our fill in the summer and freeze the rest for fantastic winter meals.
Tomato paste – Most recipes call for 1 tablespoon of tomato paste at a time. Do you put the rest in a container in your fridge and=immediately forget about it? Next time, try emptying it into a ziplock baggie and pressing it into a thick strip along the bottom (photo to come soon). Then if you need some for a recipe you can break off whatever amount you like!
Full instructions on 2 great ways to freeze tomato paste here!
Butter – we use a LOT of butter around here and I like to stock up when it's on sale. In my mind it's a good sale if it goes down to $3/pound.
Lemon and lime juice – We juice them and freeze them in ice cube trays then store them in a ziplock bag for when we don't have fresh.
Lemon and lime zest – we try to get organic citrus for this, zest them and keep the zest in ziplock baggies.
Freezer jam – made easily when summer produce is at best.
Plain yogurt – we didn't always buy plain yogurt. Before we did I kept a ziplock bag filled with ½ cup portions in freezer for marinades, etc.
Broths and broth ingredients – We keep soup bones that we get when we buy sides of beef and chicken carcasses. If we have space I like to save broth from when I cook or blanch veggies, to use in soups.
Also, if we have the space I keep a "broth bag" of veggie scraps that I'll boil up with a chicken carcass to make stock. You'd swear I grew up during the depression. I have no idea why I'm like this. I just really hate to waste food!
Freezer meals and Homemade Baby Food, Homemade baking – posts on these things to come. We always have some in the freezer, but the amount fluctuates depending on the time of year and our busy spells. Freezer meals have definitely saved us from eating (expensive) junk on many, many occasions! We also bake cookies and muffins when we have time and freeze the extra.
And, yes, we have a really big freezer. 🙂
What do you like to keep on hand in your freezer? Let me know in the comments below!
Save
Save
Save
Save
Save
Save
Save
Save
Save