There are so many amazing reasons to stock up on bacon! Bacon in sandwiches, bacon in salads, bacon in soup, bacon on cheeseburgers, bacon with brunch. Do you love bacon? Find out how to save money on groceries and eat more bacon at the same time! 🙂
I don't know very many people, aside from my vegetarian or vegan friends, who don't like bacon. Some of those friends even do like bacon – they just don't eat it for various other reasons.
Make no mistake, bacon is not health food. And it can be expensive.
But damn, it's delicious.
I use bacon in a lot of our recipes. I find a little bacon goes a long way and adds an enormous amount of flavour to a dish. But how do I stop my love of bacon from blowing our grocery budget? I stock up on bacon when it goes on sale – big sale, if I can find it.
Here's how.
Related:
* Asparagus Bacon Goat Cheese Pizza
* Smoky Bacon Potato Soup
* Bacon, Potato and Egg Sheet Pan Breakfast

HOW TO STOCK UP ON BACON (so you can save money on groceries)
The first thing you need to know is what a regular price, good price, and amazing price on bacon is.
Where I live, a regular price for bacon is usually around $6/pound.
And even though I'm saying pound, most packages aren't even a true pound anymore. Instead of 454 grams, 375 grams has quietly become the norm.
Did you notice that happening? No reduction in the price, though, to match the reduction in weight.
Sometimes bacon goes on sale for around $4/package, which is an okay sale, and if I'm running very low (or we're all out – *gasp*), I'll buy a package or two to hold us over.
But sometimes, bacon goes on sale for $1.99/package. And when that happens I go a little crazy. I'll buy lots – sometimes 10+ packages.
Just think, for a minute, about the savings. If you buy 10 packages of bacon for $2 each, they cost you $20. If you buy 10 packages of bacon full price, say $6 each (even if you buy them over time, not all at once, the money spent is the same), they cost you $60.
Same amount of bacon in your belly. But you're $40 richer.
That, to me, is a no-brainer.
Here's what you should think about if you want to stock up on bacon:
What is the best before date on the bacon? If it's months away (and it often is), I like to keep the bacon in my fridge.

I store it in a stack in one of our crisper drawers (which I only really use for extra stockpiles of things like bacon and cheese. I also keep carrots there, because I know we always have carrots – that way I don't have random vegetables rotting down there where I can't see them). I always try to use older bacon first.

If the date is closer – say next week or the week after, you'll need to freeze it, or at least some of it. Make sure you have enough space in your freezer, and then if it's a great sale price, STOCK UP big time! I love doing this!
You can either freeze whole packages of bacon, if you use a lot at once, but I almost ALWAYS use half a package at a time. I find adding a little bacon to a dish goes such a long way, and we almost never just eat strips of bacon as a side dish, unless we're having a special brunch.
How To Freeze Bacon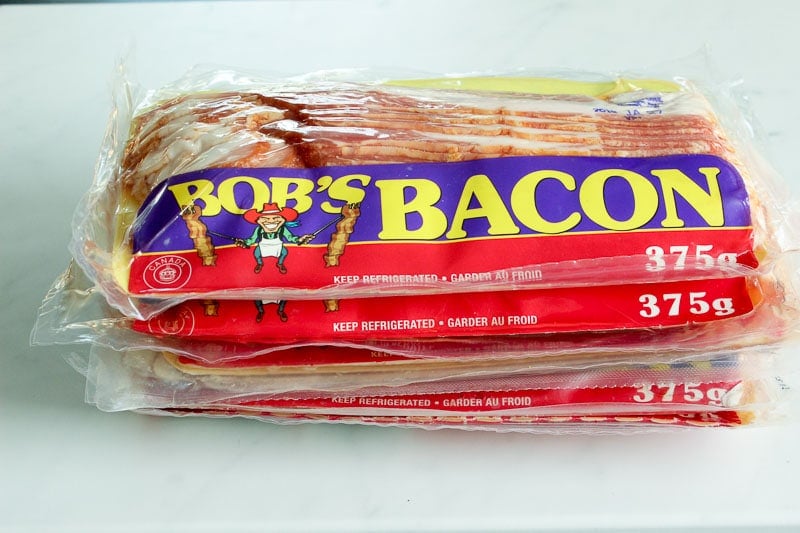 Buy some delicious (and hopefully cheap!) bacon. These babies were $2 each. Great price, in my opinion.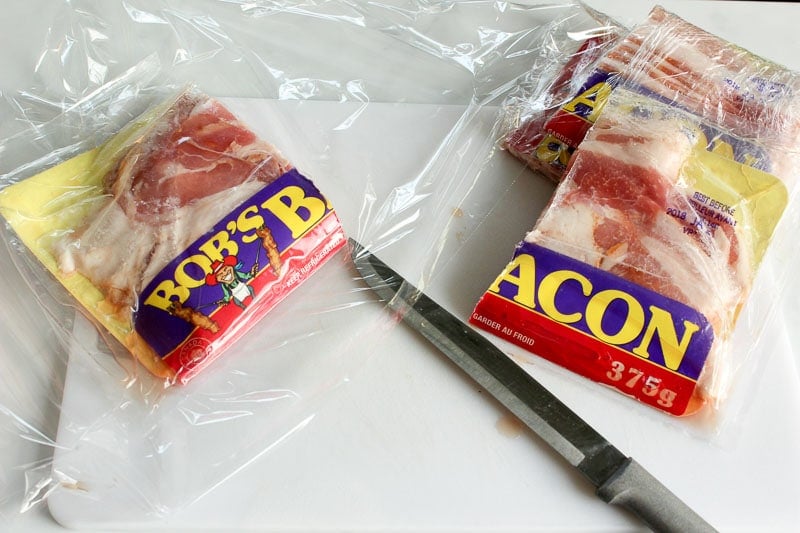 If you've checked out the best before dates and decided that they're headed for the freezer, slice the packages in half with a sharp knife. Wrap each side tightly in cling wrap.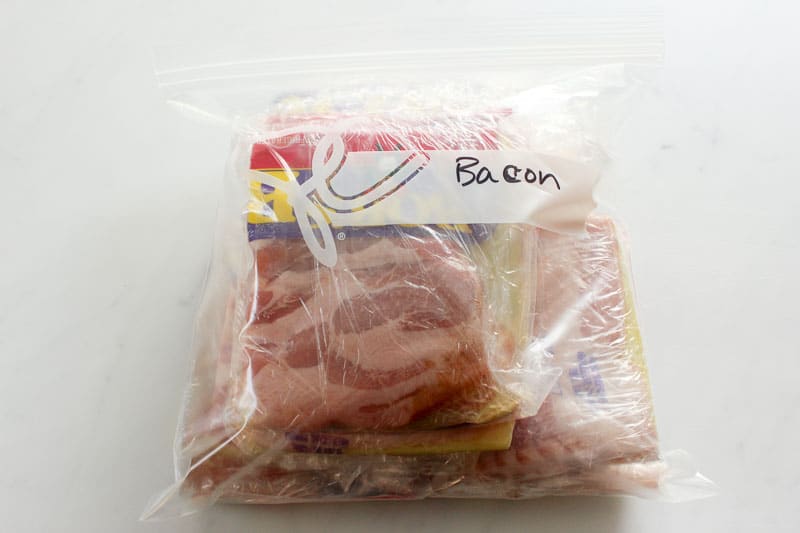 Stuff them all into a zip-top freezer bag and freeze! You can thaw them slowly in the fridge, on the counter in under an hour, in a warm oven or frying pan in a few minutes, or in the microwave!
Now go enjoy some bacony goodness 🙂
You might also like: