The BEST nacho recipes out there, whether you're into chicken, pulled pork, veggie, steak nachos, low carb nachos, skillet nachos, breakfast nachos or learning how to make nachos with unusual ingredients (like sweet potatoes).
We've got you covered – for potlucks, super bowl parties or just a fun evening in. Check out this ultimate list of the most AMAZING and beautiful nachos on the web!
Nachos for every occasion!
Wow guys, do I have a treat for you this week. I scoured the web to bring you 21 of the most amazing nacho recipes out there! Just in time for Super Bowl Sunday. Or Friday night dinner. No judgment here 🙂
I've told you before that Laurier and I sometimes destroy a big sheet pan of nachos on the couch for date night (we're homebodies, haha).
Now we have so many new ideas to try! These recipes are so fun and BEAUTIFUL that I literally got hungry while I was writing this post! A lot of them use ingredients that we often have on hand in our pantry, fridge and freezer too, which is fantastic!
So without further ado, I bring you….
21 OF THE BEST NACHO RECIPES – THAT WILL ROCK YOUR WORLD!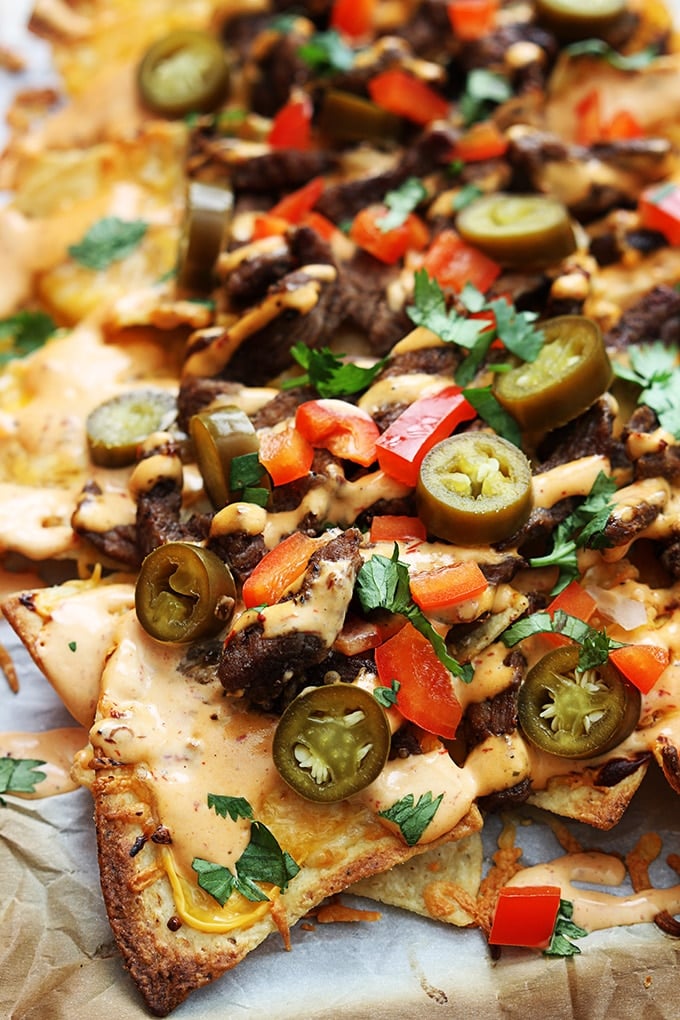 First of all, I'm so excited to share these Southwest Steak n' Ranch Nachos with you from Creme de la Crumb.
I can personally vouch for the fact that they are AMAZING. Laurier and I make them All. The. Time. Super addictive and delicious!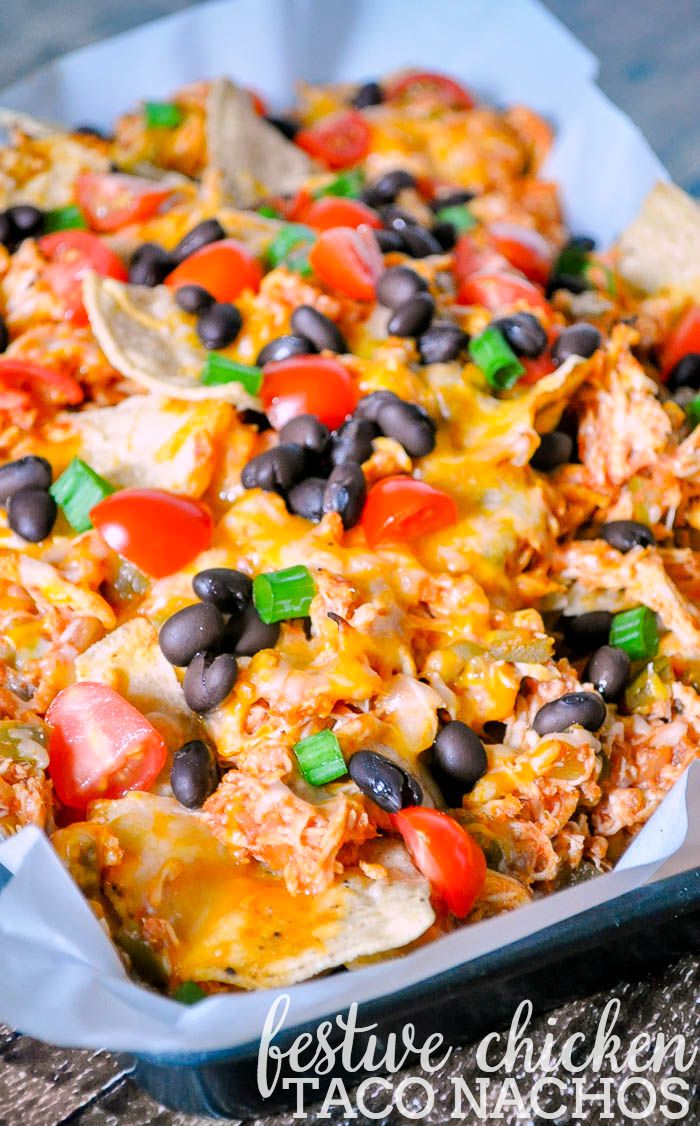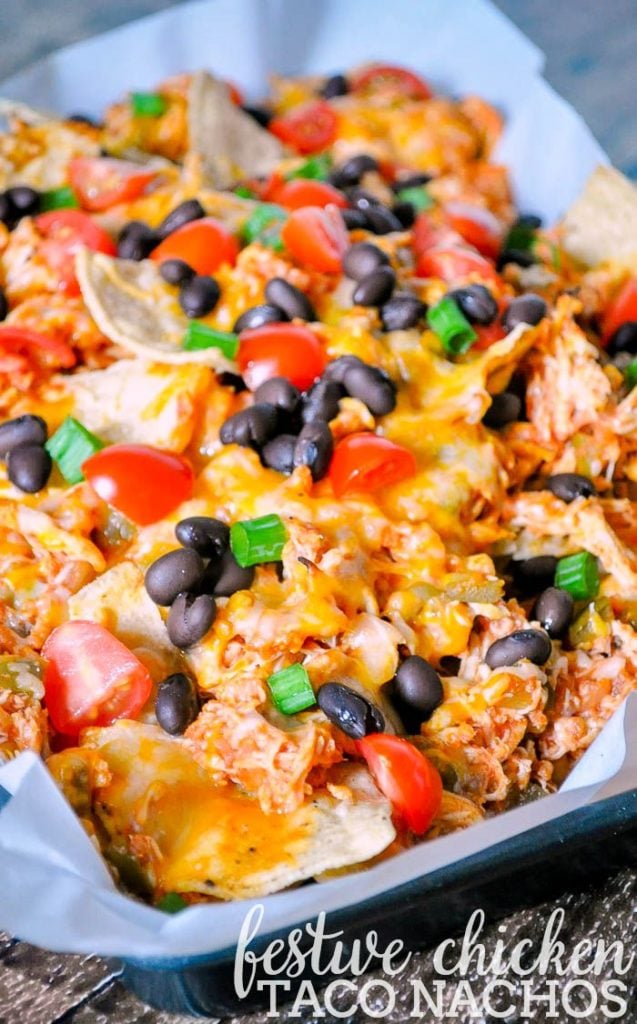 These Festive Chicken Taco Nachos from The Love Nerds look like so much fun!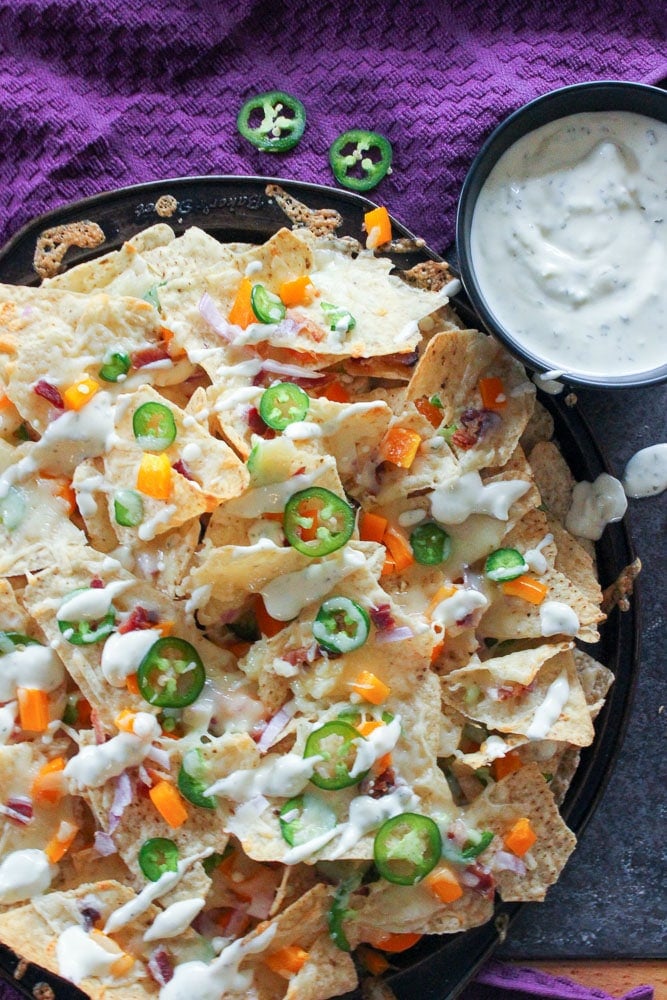 I have to include our own Jalapeno Popper Nachos with Garlic Cream Sauce in this list because they are just SO delicious and such a fun twist on a favorite party food – jalapeno poppers!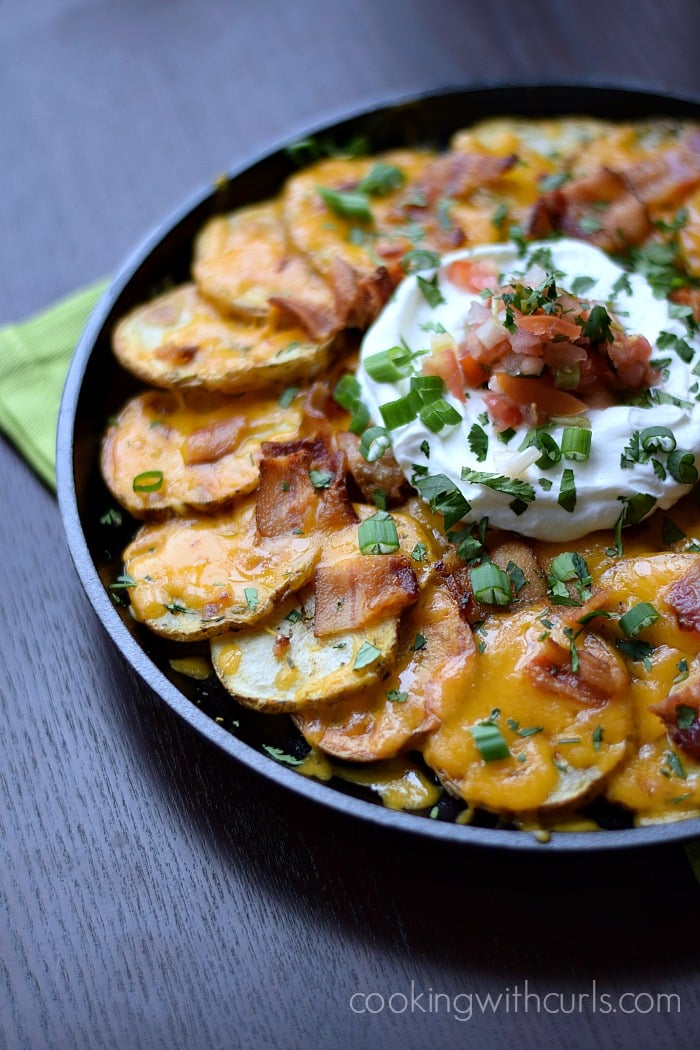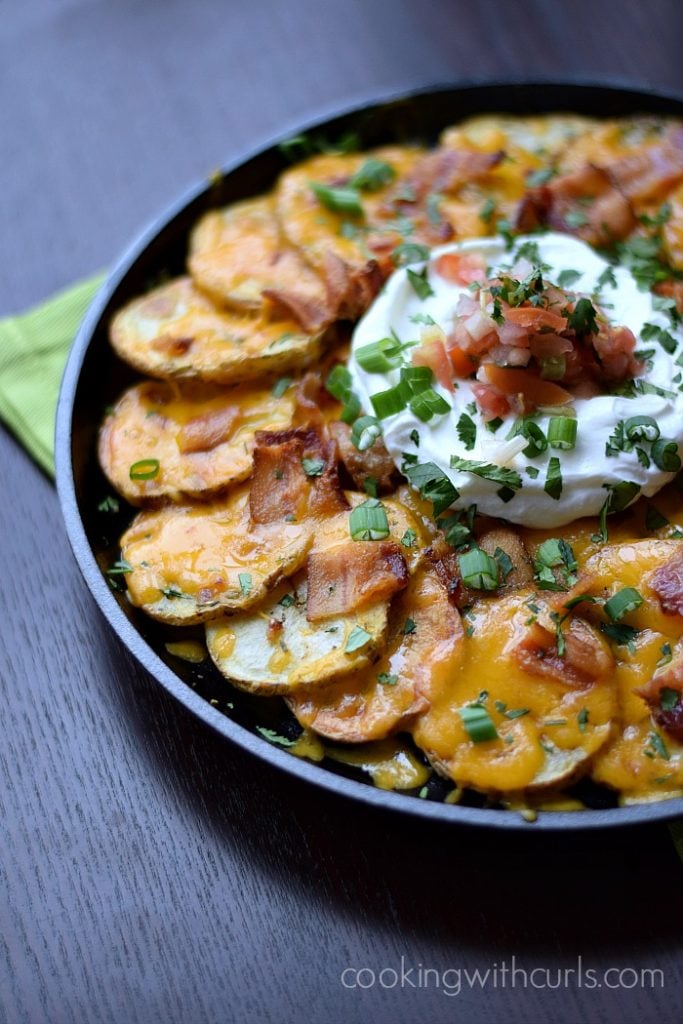 These Irish Nachos from Cooking With Curls look like the ultimate delicious Irish pub food and filling enough to be a meal!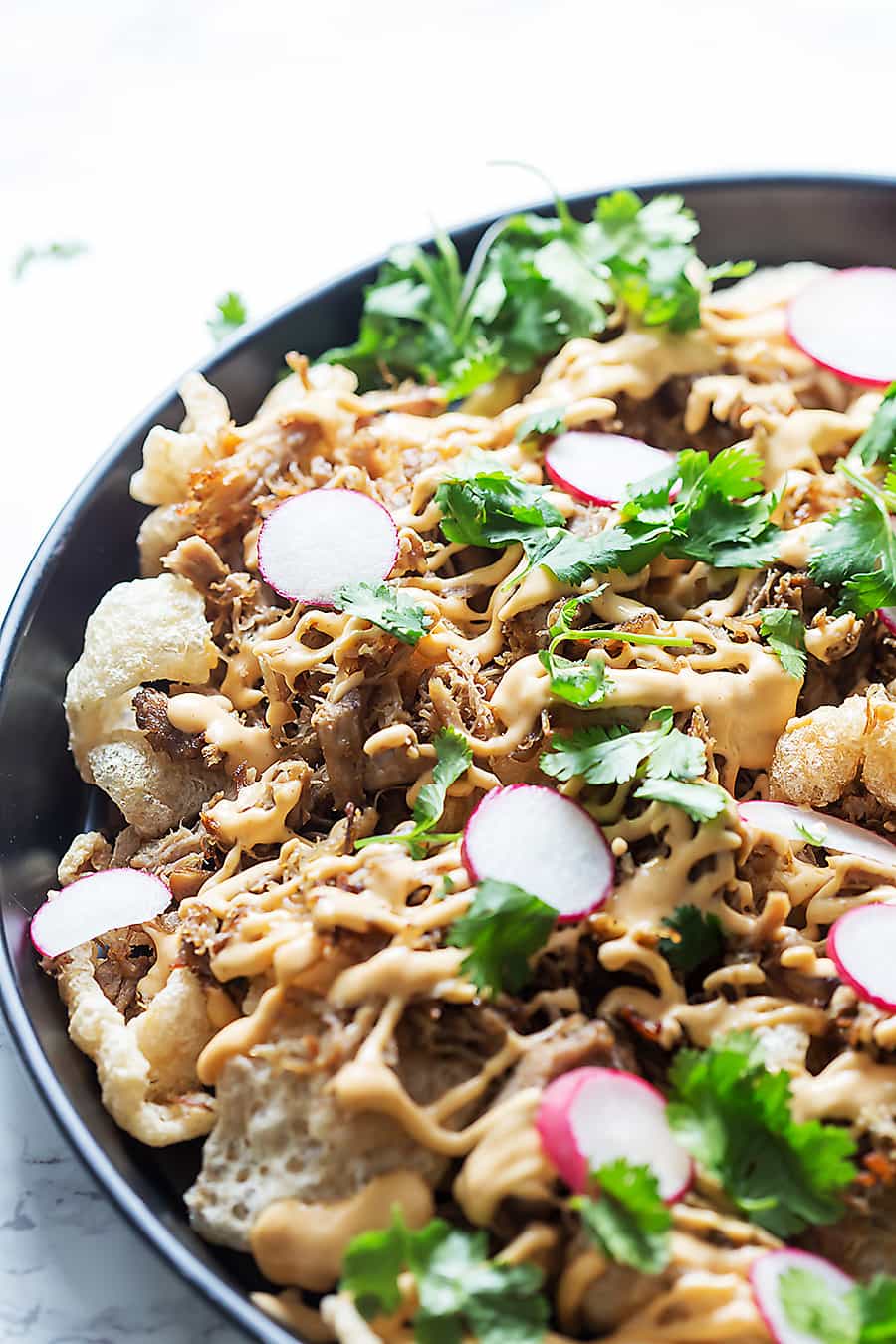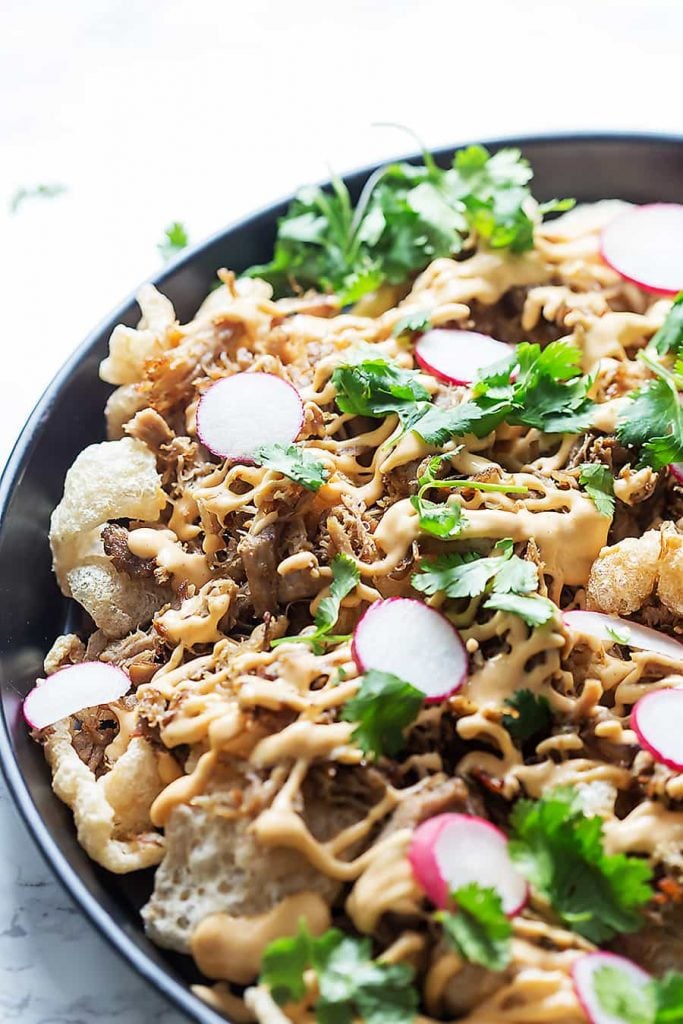 I know so many people eating low carb / keto right now. These beautiful Pork Rind Nachos with Carnitas from Low Carb With Jennifer are for you!
We often make veggie nachos and these gorgeous Easy Vegetarian Nachos with Creamy Cheese Sauce from Umami Girl are on our list to try next!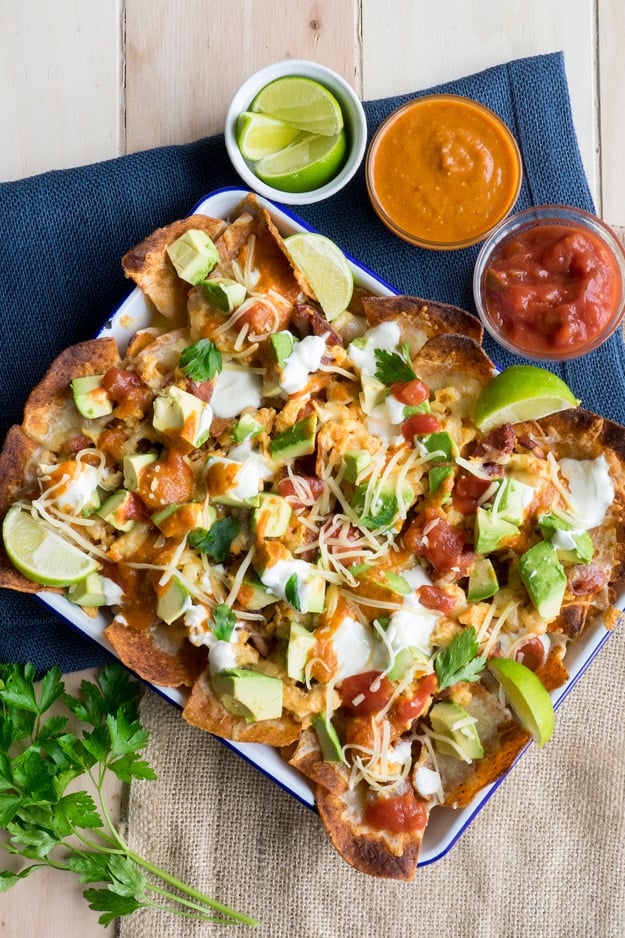 These Breakfast Nachos with Chorizo and Egg from The Worktop pack so many of my favorite foods into one meal – avocado, cheese, eggs, cilantro and chorizo! YUM!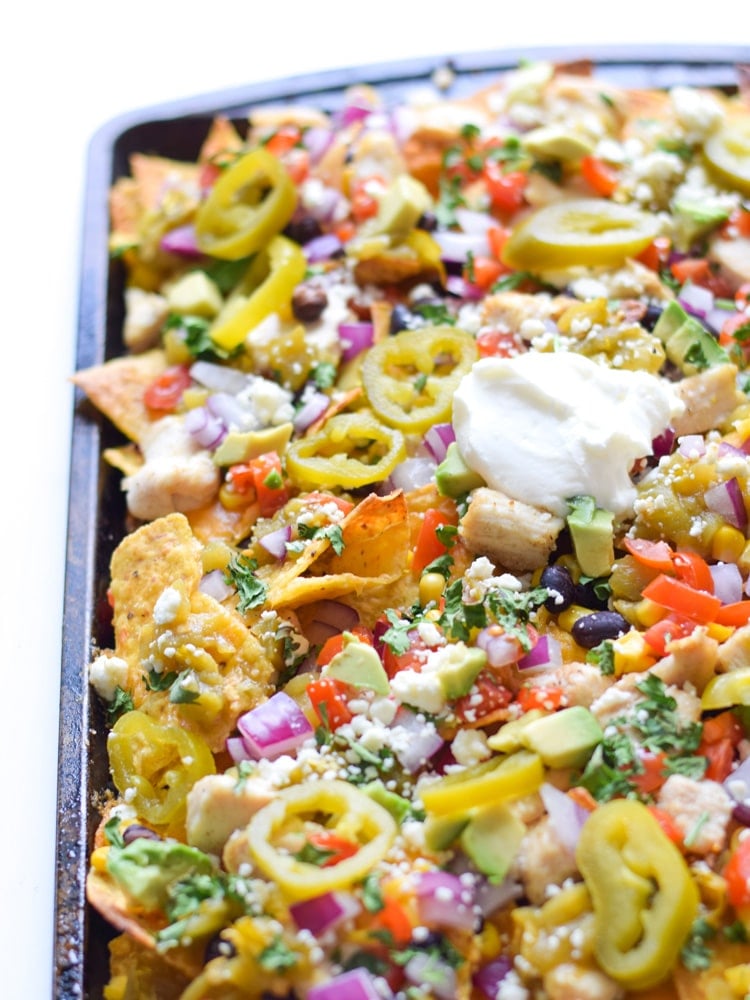 These Easy Loaded Mexican Nachos from Isabel Eats are not only fast, they also take their inspiration from the birthplace of all nachos – Mexico!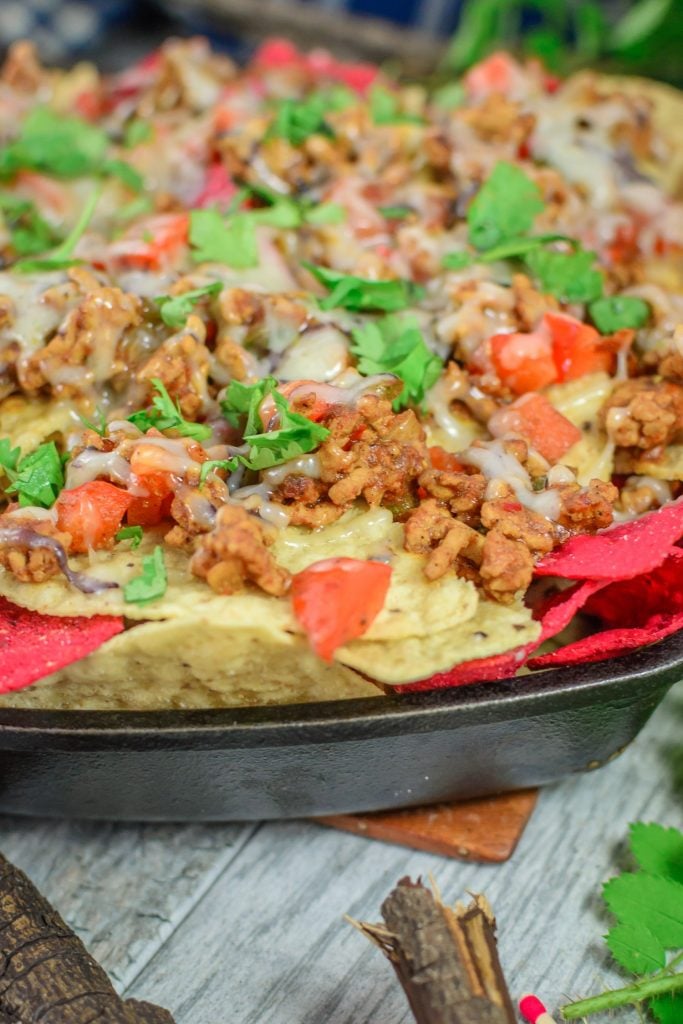 We haven't camped in a couple of years (tiny children!) but we used to go all the time. I can't wait to get out there again and try these Tipsy Campfire Nachos from fellow Canadian blogger Peppers and Pennies.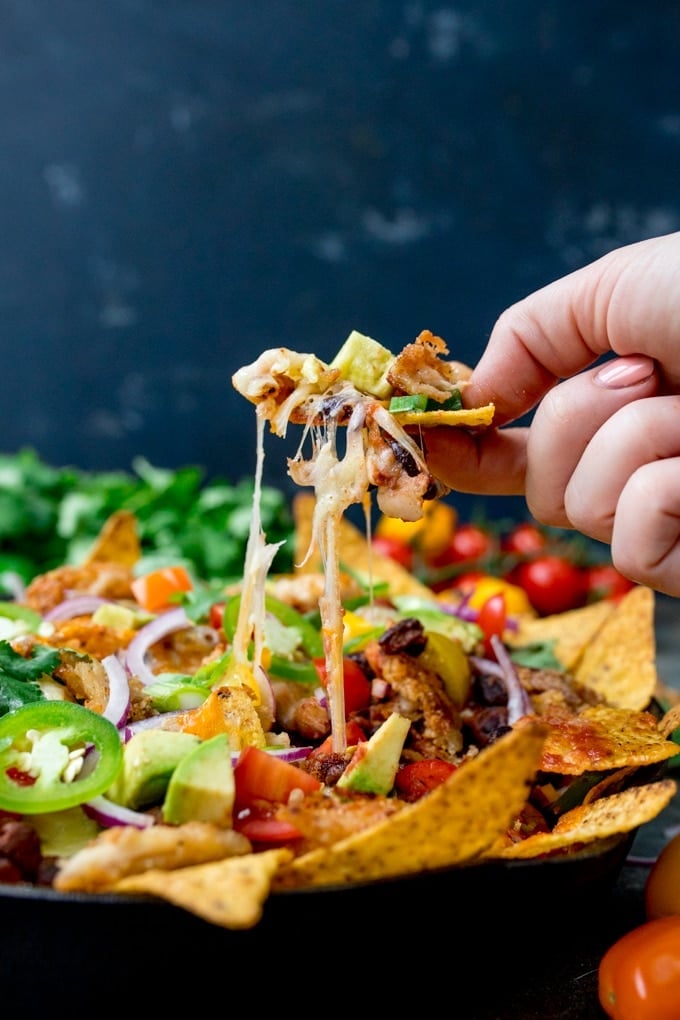 These Crispy Turkey Nachos from Kitchen Sanctuary look like another fabulous way to use leftover turkey! And I love that it's such a different type of meal from turkey dinner, for when you're sick of big meals!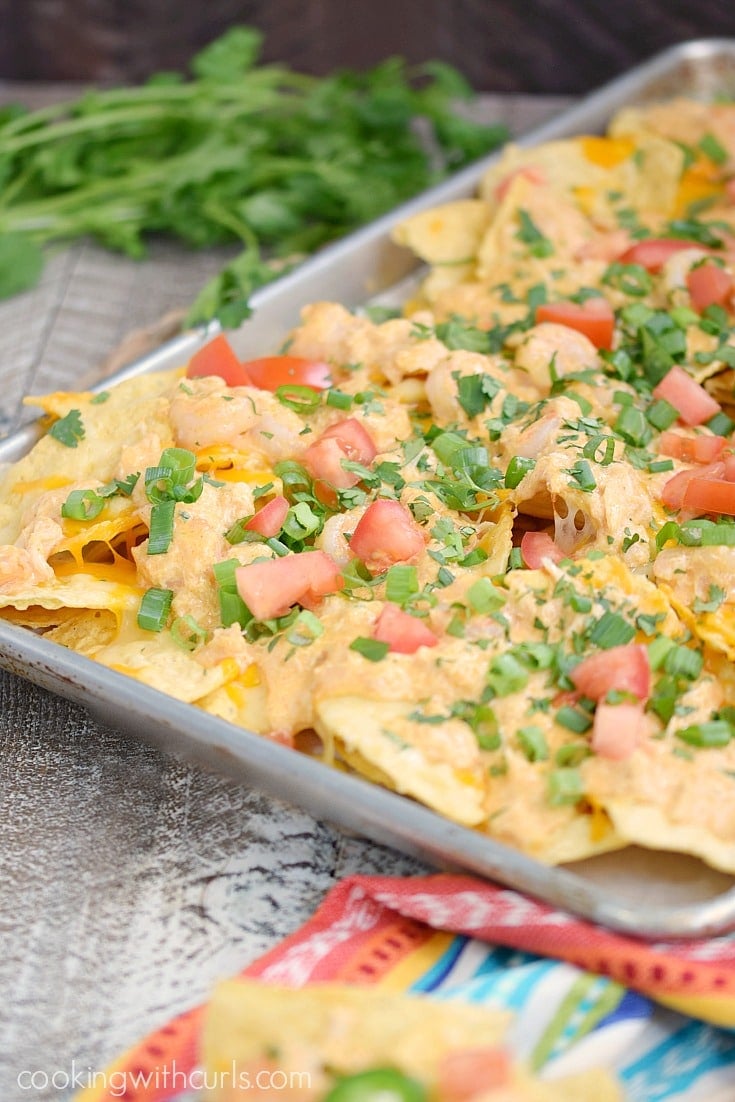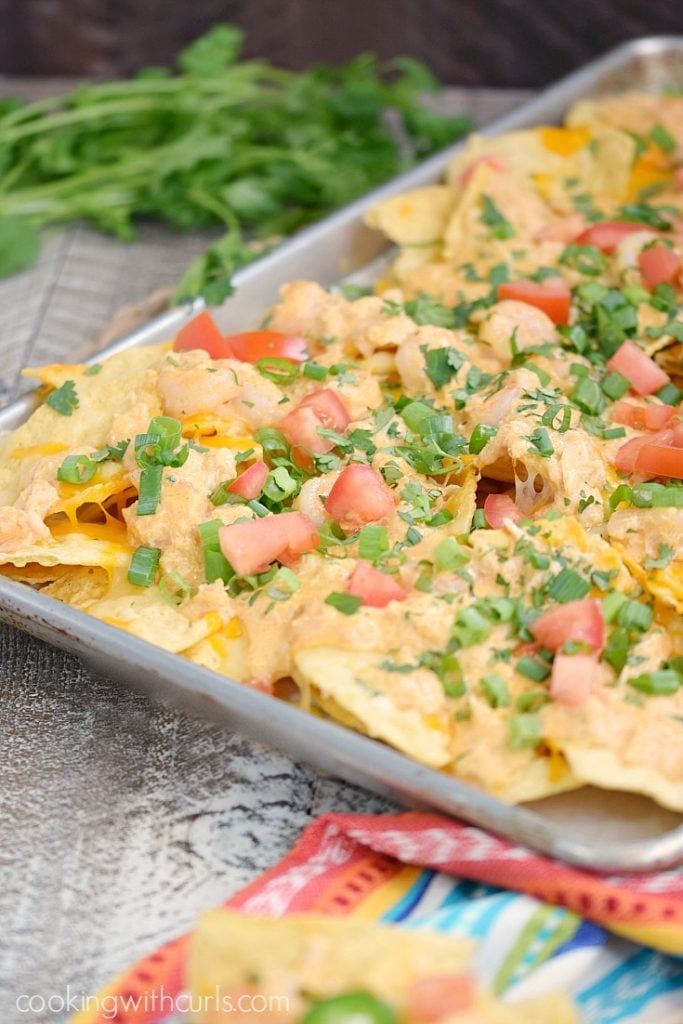 I never thought about putting seafood on nachos before, but these Creamy Seafood Nachos from Cooking with Curls look SO delicious, and now I'm totally inspired!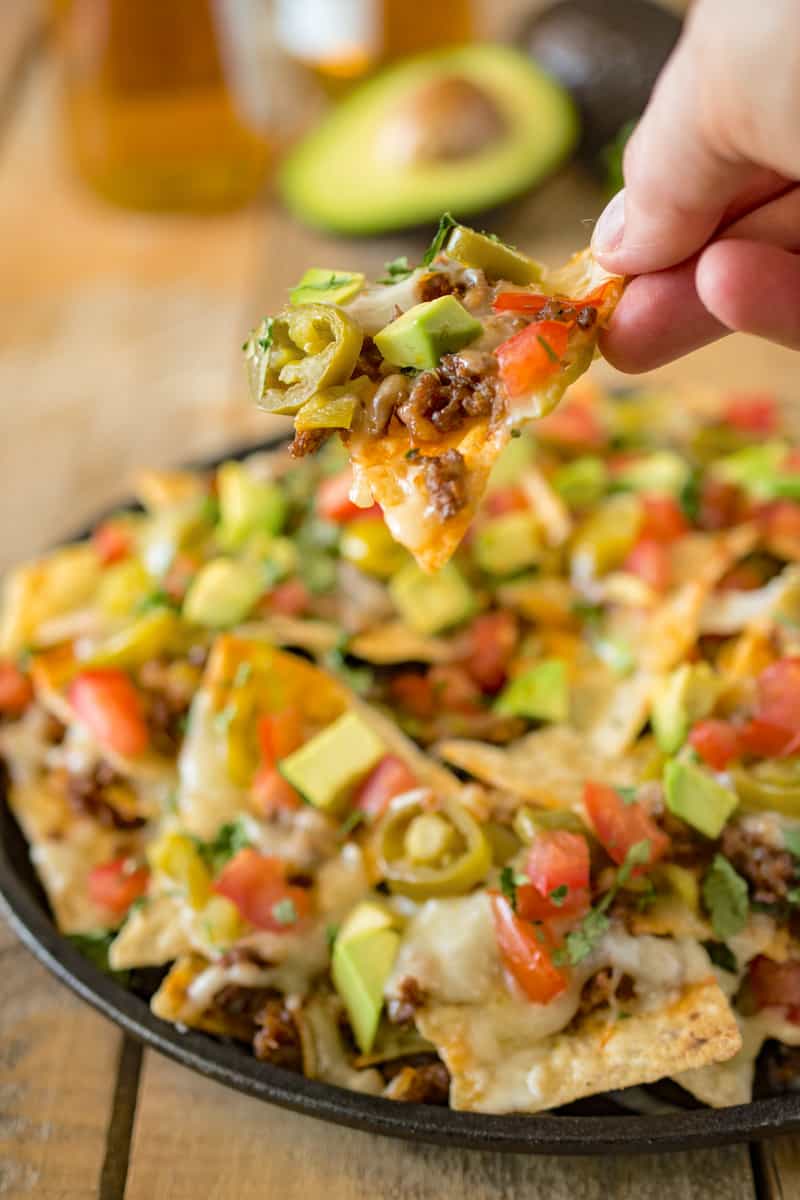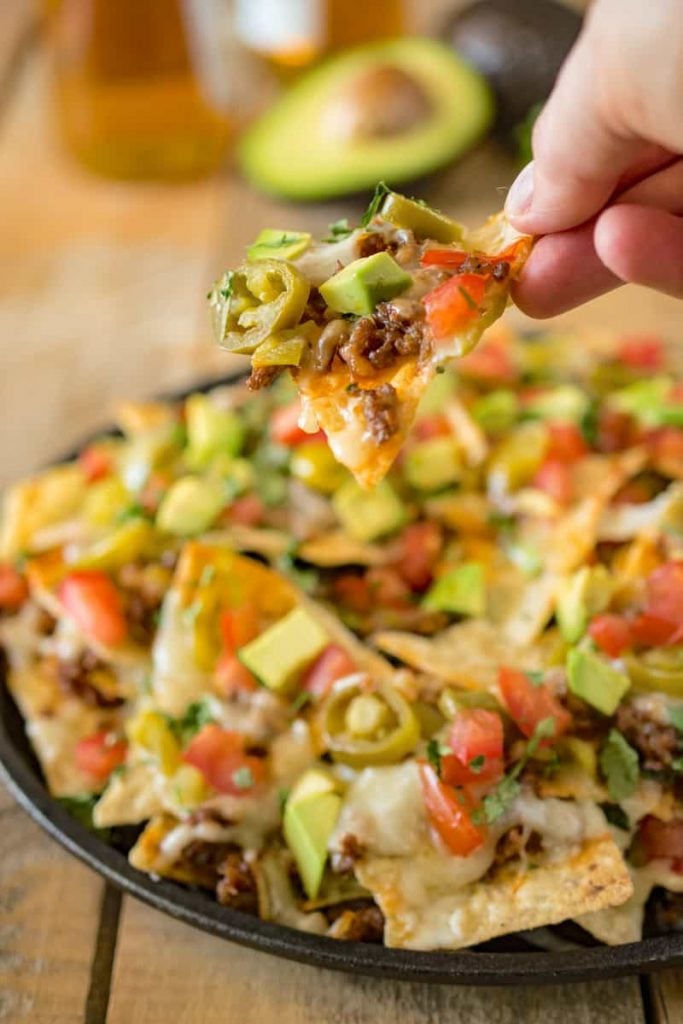 These Queso Fundido Skillet Nachos from Culinary Ginger are inspired by the amazing Mexican dip of the same name, and I bet they're just as addictive. Also, I love that they're made in a skillet!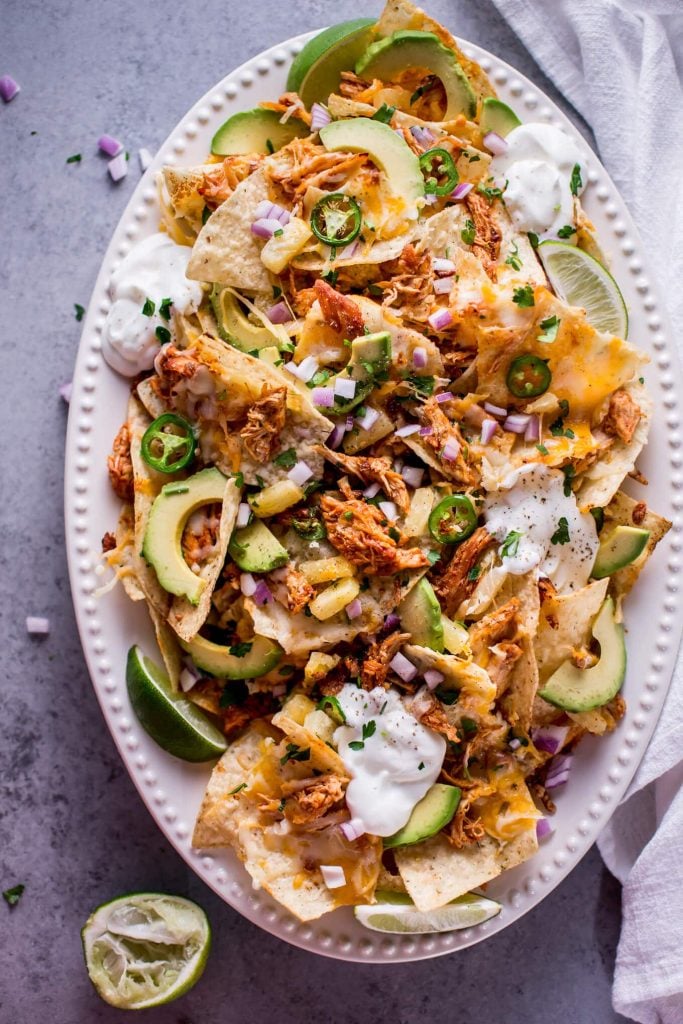 Fellow Canadian food blog, Salt and Lavender brings us these super original Tropical Chicken Nachos, that sound so fresh and lovely!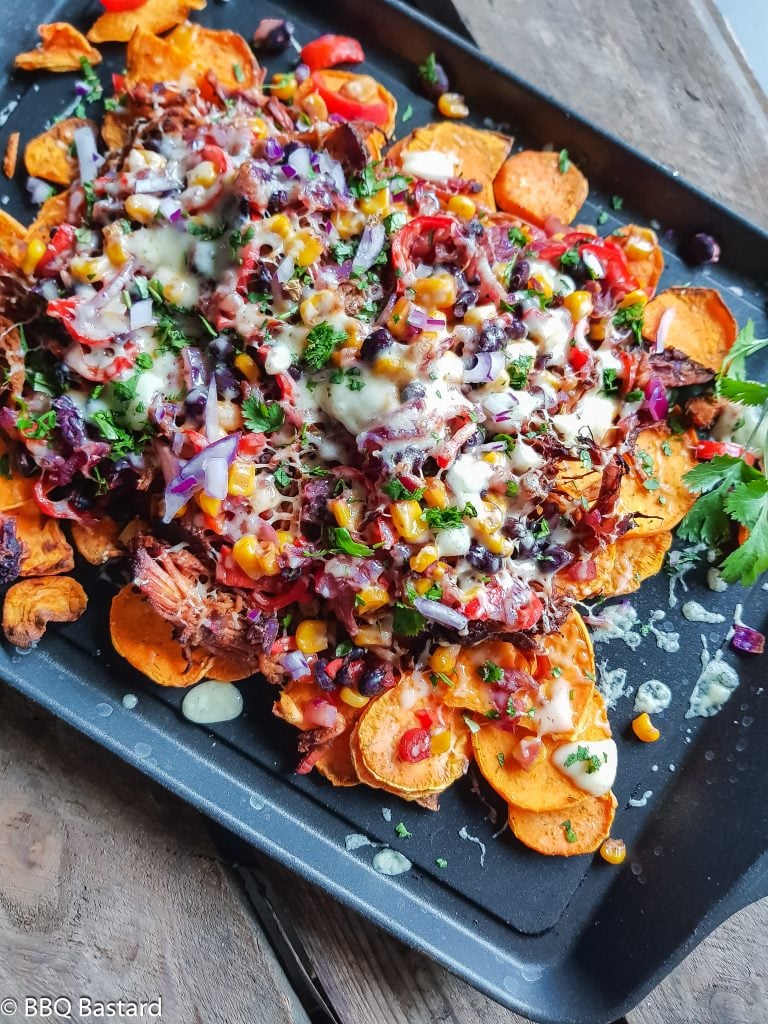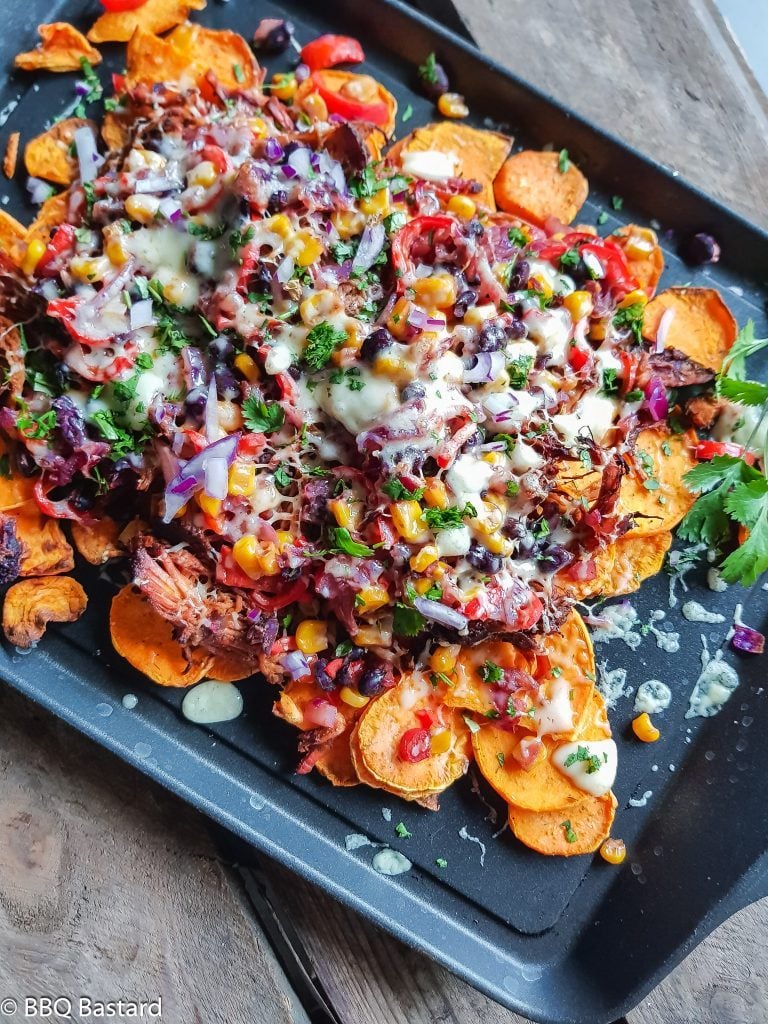 I think the flavors of these Sweet Potato Pulled Pork Nachos from BBQ Bastard are the perfect compliment to sweet potatoes, and great if you want a healthier option! We've made sweet potato nachos many times when we're trying to eat a bit healthier and I really enjoy them! 🙂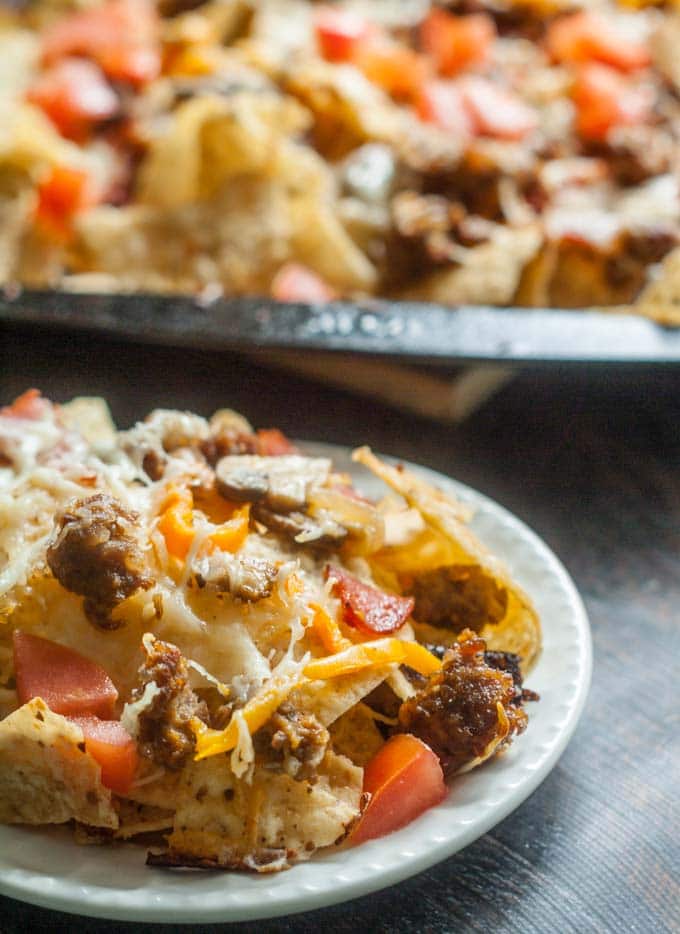 These Easy Sheet Pan Italian Style Nachos from My Life Cookbook elevate sausages and peppers to a whole new level. Can't wait to try these!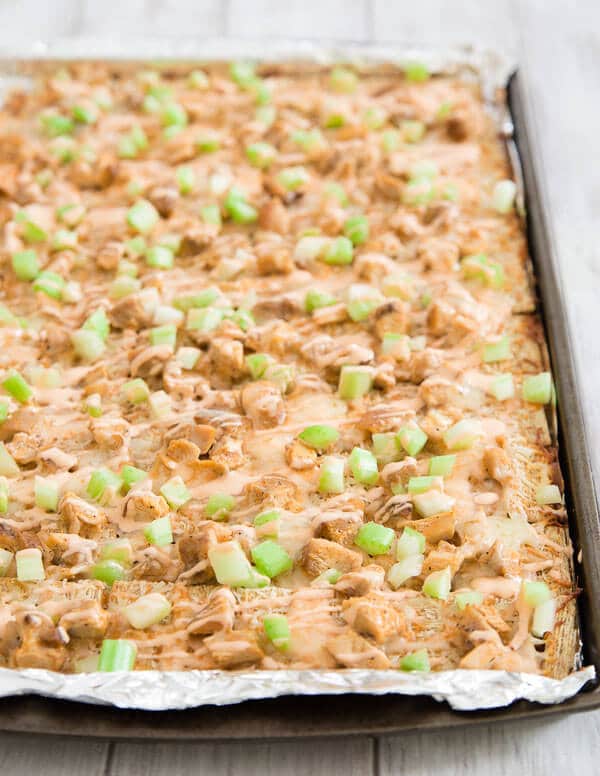 These Buffalo Chicken Triscuit Nachos from Running to the Kitchen are a great classic flavour combination on what I'm pretty sure is a healthier option than tortilla chips.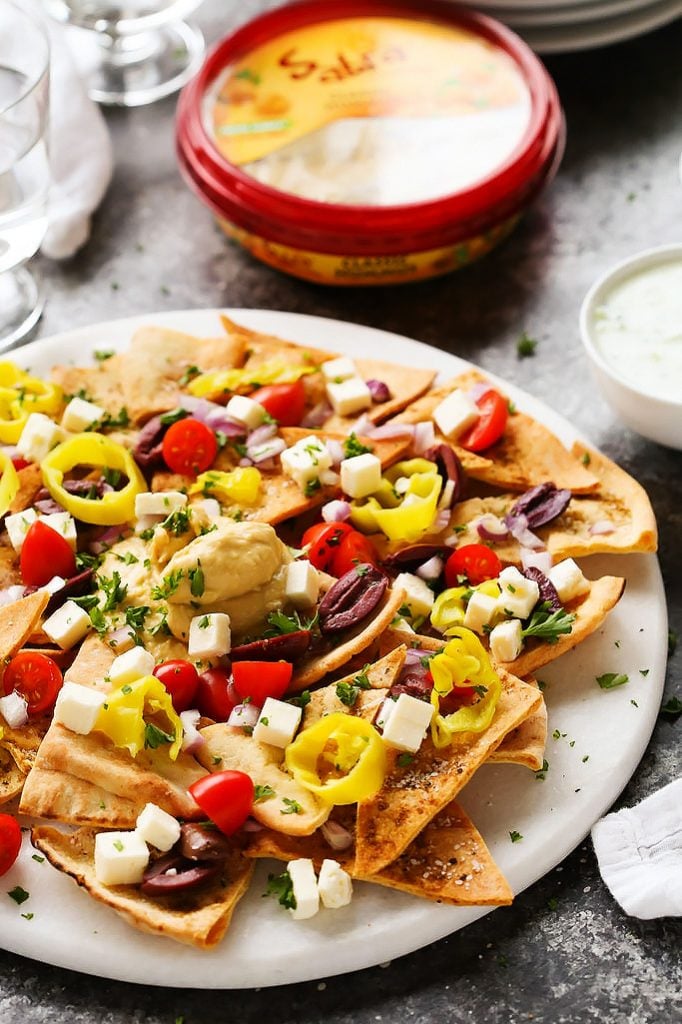 These Mediterranean Nachos With Hummus from Platings and Pairings sound like a healthier way to get a delicious nacho fix.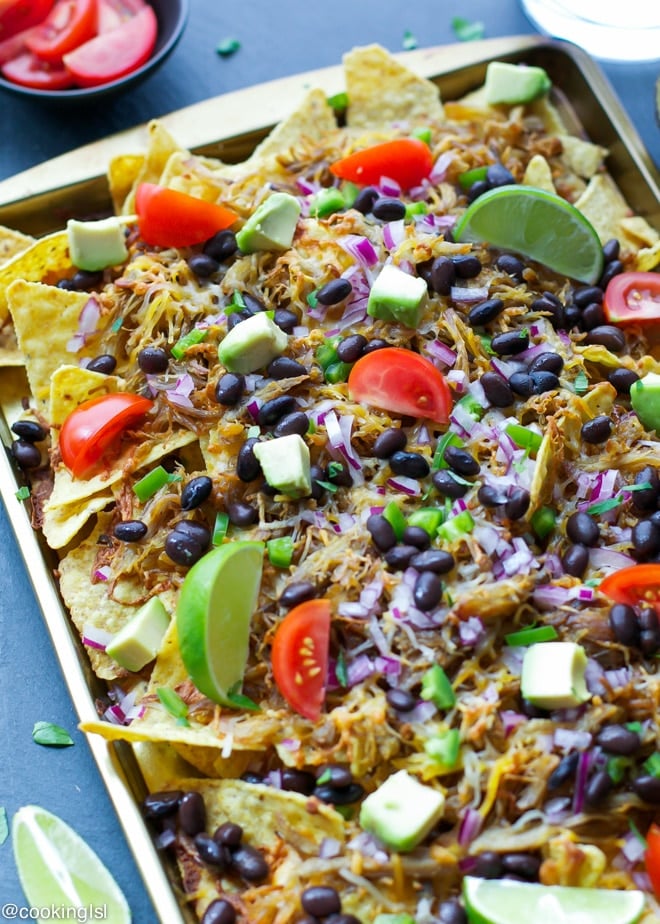 These Pulled Pork Nachos from Cooking LSL are an awesome way to use up leftover pulled pork! Or why not make some JUST for these gorgeous nachos?!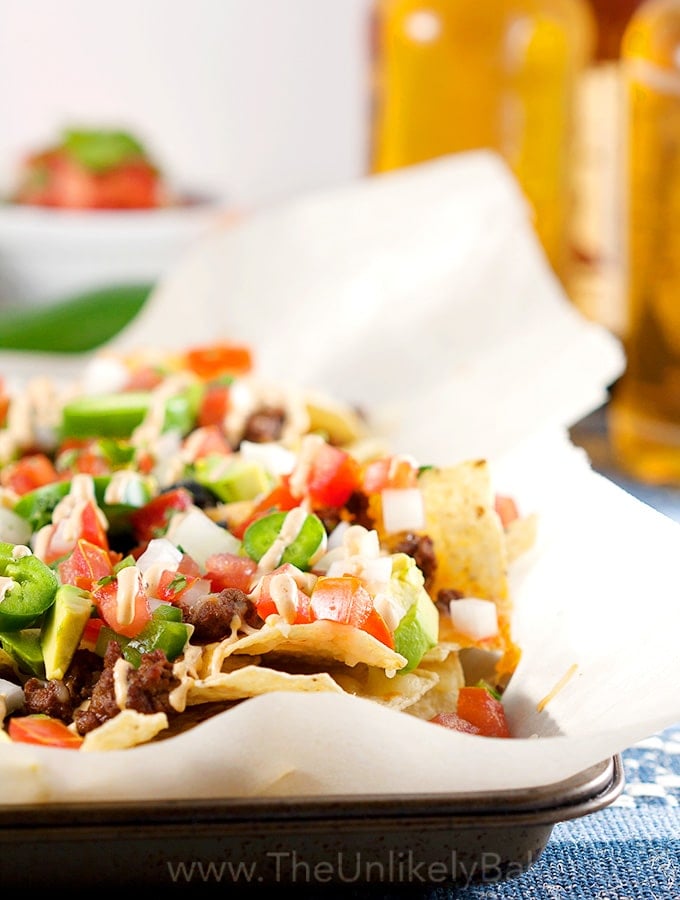 And for everytime you ever wanted an ultimate nacho recipe, How To Make The Ultimate Nachos from the Unlikely Baker has got your back. These look incredible!
Tell us in the comments – how do you make nachos at home? What toppings do you like to put on our nachos? Are you inspired to go make nachos now? I know I am!!