(This is the first part in a three part series on how to stock up on food in an affordable way. You can get caught up with our Stock Your Freezer on a Dime post and Stock Your Fridge on a Dime posts.

With grocery prices on the rise it's never been more important to know how to stock your pantry on the cheap. Then it's that much easier to whip up tasty but inexpensive meals!
In my mid-twenties, I spent several years living and working on a cruise ship. Needless to say, I didn't do much cooking.
Later I moved back to land and into a beautiful apartment with a fantastic kitchen. I spent hours pouring over cookbooks I couldn't wait to get started with. I made an enormous list of pantry staples I wanted to stock (remember, I was starting from scratch).
Money was tight at the time and the excitement I felt as I flipped through the cookbooks petered away as the list grew. By the end I felt deflated.
Fast-forward quite a few years, to our cozy little house and its too-small kitchen, but extremely well-stocked pantry. It didn't happen overnight.
In fact, it took years of finding a sale here, a bulk bin there. But I can pull an endless number of meals, influenced by many different types of cuisines, out of my pantry, freezer and fridge. And it's awesome.
Food is so expensive right now. Specifically, good, healthy food is so expensive. And it's not just me – I hear this again and again, from family members, friends, coworkers, Facebook acquaintances, news sources.
It's true – food prices are skyrocketing, and that can be discouraging.
But instead of lamenting about what I can't afford, I try to see our budget as a challenge, and think of clever ways use what we have.
Along with a freezer and fridge filled with staples, a well-stocked pantry is my number one ally.
One important note: this list is long.
Please please please don't feel like you have to run out and buy everything on it all at once in order to save money on your grocery bill (counter-productive!).
Not everyone will want all of the things on the list.
Really, it's based on my personal preferences and what my family likes to eat.
But you might find a few ideas for new things to try. Or you might read it over and notice on your next trip to the grocery store that one or two of the suggestions is on sale.
Maybe you have a Costco membership (or a friend with one) or live near Bulk Barn or the mythical wonder that is Trader Joe's, and can pick up an item now and then.
That's the great thing about pantry staples – you can wait until they go on sale and stock up then – and they usually keep for a really long time!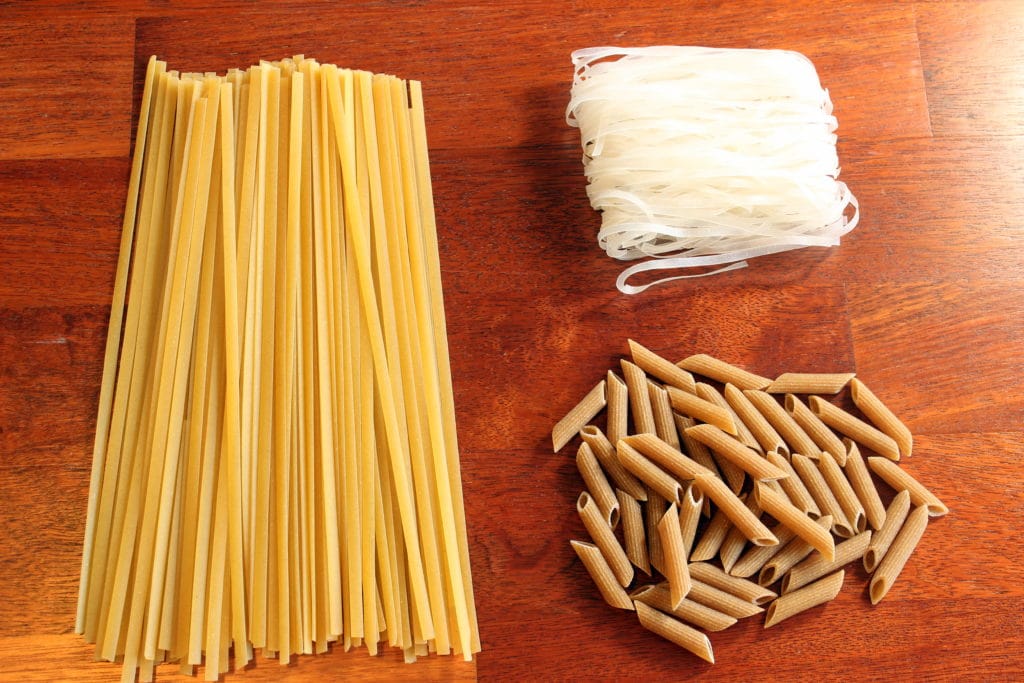 Pasta – staples for us are penne, couscous, lasagna, macaroni, spaghetti, etc.
I try to keep a mix of long, medium and short pasta on hand. I only buy pasta when it's on sale, which happens quite often, even at my rural grocery store.
I can usually get it for $1 a box, sometimes paying a bit more for whole wheat. This is an excellent, inexpensive pantry staple.
Rice – Jasmine, basmati, Arborio. We don't eat a ton of rice because of reports of it containing arsenic. However, I do enjoy it sometimes and usually buy it in big bags to save money.
Look for rice grown in California, India and Pakistan to reduce arsenic exposure and rinse it very well before cooking. It is also helpful to cook it in a large amount of water and drain it (like pasta).
Quinoa – often takes the place of rice in our house. It's healthy and neutral in flavor, so you can change things up depending on what you're eating it with. I really like the organic brand at Costco.
Rice Noodles – similar to pasta but for cooking more Asian-inspired meals. I keep pad thai style, udon, ramen (yep the cheap Mr. Noodles kind – but for making other dishes) and lo mein on hand.
They are usually pretty inexpensive in the larger grocery store we visit occasionally, and I have come across them in bins marked down to 25 cents each (score!).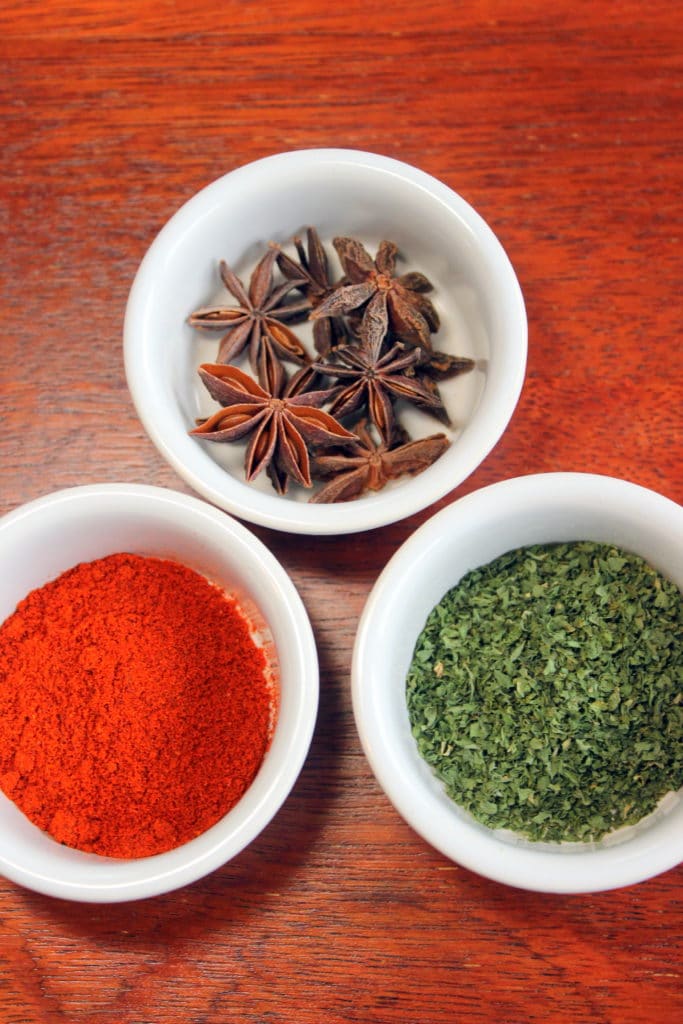 Herbs and Spices –I really like herbs and spices.
Along with kosher salt, sea salt and table salt, and whole peppercorns, I have on hand the following dried herbs and spices:
Allspice, whole star anise, basil, Cajun seasoning, caraway seeds, green cardamom, cayenne pepper, celery salt, celery seed, chili powder, Chinese Five Spice, ground cinnamon, whole cinnamon, ground coriander, whole coriander, ground cloves, whole cloves, crushed red peppers, cumin, curry powder, ground chipotle, dill, ground fenugreek, whole fenugreek, garam masala, garlic powder, ground ginger, herbes de provence, Italian seasoning, ground mustard, whole mustard, ground nutmeg, whole nutmeg, oregano, paprika, smoked paprika, parsley, rosemary, seasoning salt, sumac, tarragon, tikka masala, turmeric, and za'atar.
Yes, I'm a bit crazy when it comes to herbs and spices. But with great reason! They are inexpensive and delicious. What's not to love? I know that fresher spices are better, but I choose to keep these all on hand any way.
I can't run out to buy the more unusual ones because I live in a rural place, and I cycle through the common ones on a pretty regular basis. While it's possible that some of my spices could have diminished flavor, I honestly haven't noticed a difference.

Nuts – Almonds (whole & slivered), walnuts, cashews, peanuts and more.
Nuts can be super expensive, but I just can't go without them. They are healthy, filling and tasty (what a combination!) and I can use them in sweet and savoury cooking.
I compromise by scoping out the best deals and making sure I don't pay the premium prices elsewhere.
For almost all nuts, I find Costco has the best prices, and Bulk Barn is also great, depending on what you're looking for).
I buy only unsalted (more versatile) and store them in glass jars in my cupboard (think cool and dark). If you buy a large amount at once, consider storing them in your freezer so they don't go rancid before you use them.
Seeds – Pumpkin (pepitas), sunflower, sesame, poppy. I'm not a dietician, but from what I understand, seeds are nutritional powerhouses! That's not even the main reason I eat them though. They are just so tasty!
In yogurt, trail mix, salads or just on their own. I've found great prices on seeds at Costco, Bulk Barn and Walmart (Trader Joe's brand).
I buy them unsalted, but also buy salted sunflower seeds, because if I throw together a quick bowl of trailmix from my cupboard I like it to be at least a little salty.
Dried fruit – raisins, dried cranberries, apricots, etc. Delicious in salads, baking or as snacks, and even in some savory cooking. I often buy them at Costco. I try to avoid dried fruit that has added ingredients, but it's not always possible.

Coconut milk – I watch for sales on this too, but when I visit a larger city that has Asian grocery stores I find they often have the best deals.
Curry Paste – Red, Green, Yellow, Massaman – These are staples for many easy, flavorful meals. I try to buy them at Asian grocery stores when in the city, but if not I will buy the pricier options available nearer to me. Once you have a well-stocked pantry, you can also make your own!
Canned goods – chipotle peppers, pickled jalapenos, evaporated milk, sweetened condensed milk, whole tomatoes, chickpeas, black beans, kidney beans (beans are even better value if you buy them dried – more on this in a later post). I watch for these items to go on sale and stock up at my local grocery store.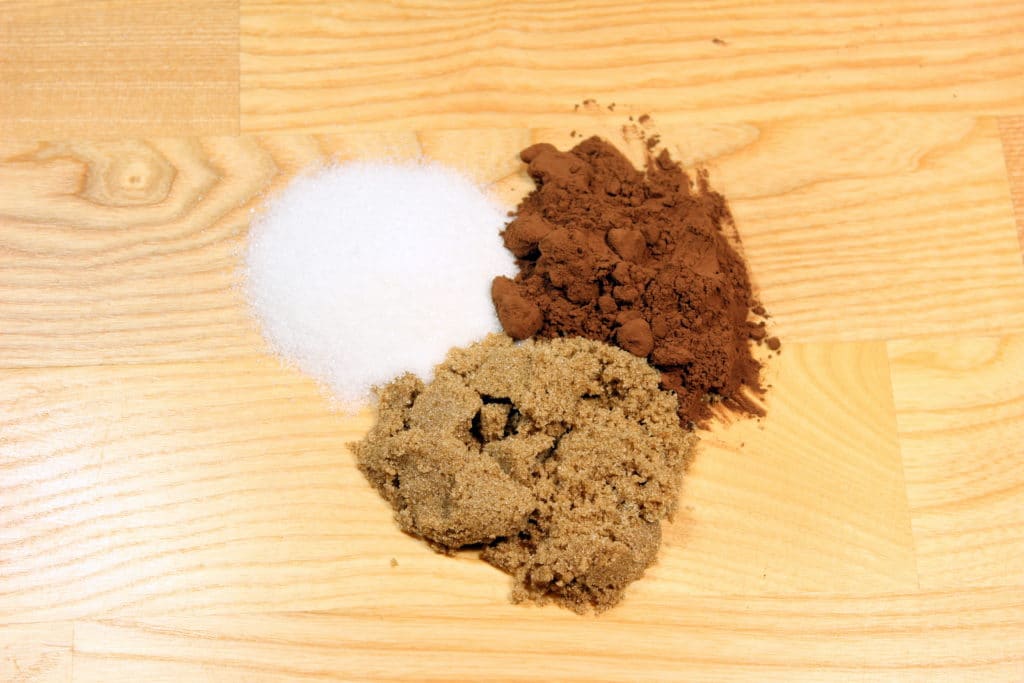 Baking ingredients – oats, brown sugar, white sugar, icing sugar, chocolate chips, flour (white and whole wheat), shredded coconut, graham crumbs, granulated sugar, baking powder, baking soda.
Many of these go on sale quite often and again, I stock up then. If you pay attention, you can make sure you never pay full price for these items.
Usually the bigger packages are a better value than the smaller ones. Costco has a fantastic price on chocolate chips.
Extracts – vanilla, peppermint, almond, orange, coconut, maple, rum. Many of these are an inexpensive way to add great flavor to baked goods. However vanilla can be very expensive right now. Check out our post on how to make your own vanilla!
Vinegars – balsamic, red wine, white wine, rice, apple cider. These items go on sale from time to time. Either way, when you consider how much flavor is packed into a tiny amount, I find they are very good value.
Oils– avocado, olive, coconut, peanut, canola. I find Costco has some great prices on oils, but you can also watch for sales at your local grocery store. Again, bigger bottles are often a better value.
Sweeteners – molasses, maple syrup and honey. Costco has the best price I've found for honey and maple syrup.
Other pantry staples we keep on hand – onions, garlic, breadcrumbs (although we sometimes make our own), panko, cornstarch, peanut butter (usually both natural and sweetened), lentils (orange and green), and packets of Hollandaise sauce… because I can't live without it and sometimes I'm lazy 🙂
Also…. wine. If it's just for cooking, maybe keep a couple of small cans on hand (red and white). There are some recipes that really benefit from a splash of wine. The cans sometimes go on sale.
If you, like us, also like to drink wine but don't consider yourself a connoisseur, consider buying wine by the box. Many good mainstream wines are available in this format now, and the savings is pretty big. They last a reasonably long time, and I love being able to have just a glass anytime without worrying about the whole bottle going off within a few days
It also makes it easier to use wine in cooking, because you can just add whatever amount you need without opening a whole bottle (or even can). And if your box lasts long enough that it starts to go a bit off, I find it can still be very useful for cooking.
That's about all I can think of at the moment! I'll update this list over time. Please leave us a comment letting us know what your pantry staples are!
Save
Save
Save
Save
Save
Save
Save
Save
Save
Save
Save
Save
Save