Take your lunches to the next level with these delicious mix-and-match options and start looking forward to your midday break!
Easy, healthy and money-saving – these bistro boxes will be your new favorite way to eat!

Hello, and welcome to the strange times we're living in!
Whether you are heading back to work after being quarantined, just looking to shake up your lunches at home, or reading this at the start of a new school year or calendar year, there are so many reasons to try homemade bistro boxes (aka adult lunchables – but they're great for kids too!).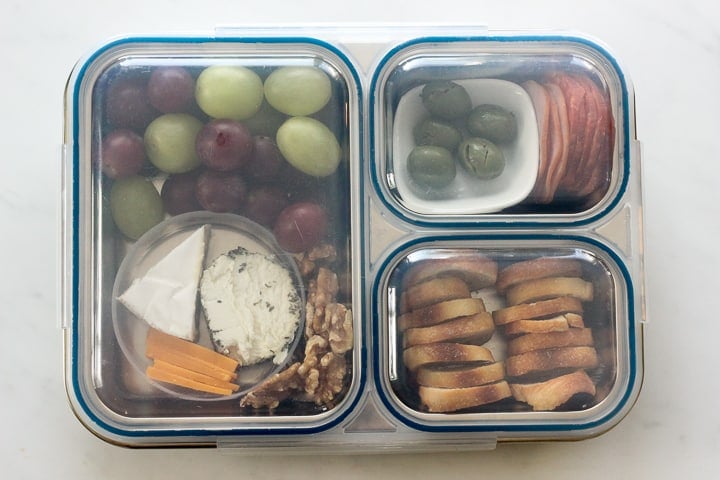 These simple protein box type lunches are awesome for saving money on groceries, getting out of lunchtime ruts (at work or home) and avoiding meal time complaints.
So many people tell me that they spend a TON of money on buying lunches.
If you eat out every work day and keep things pretty minimal – let's say you spend $10/day, that means you probably spend $50 a week and at least $200 a month?
Just on lunches.
For one person.
I guarantee you can make lunches at home for MUCH less than that and while I completely understand that we are all busy and running around like chickens, it doesn't even have to take much time, AND you can do lots of it ahead of time.
AND you will most likely love what you bring. I LOVE make ahead meals.
My kids also LOVE this type of lunch and when I think of it I try to pack it for them in their school lunch or feed it to them at home.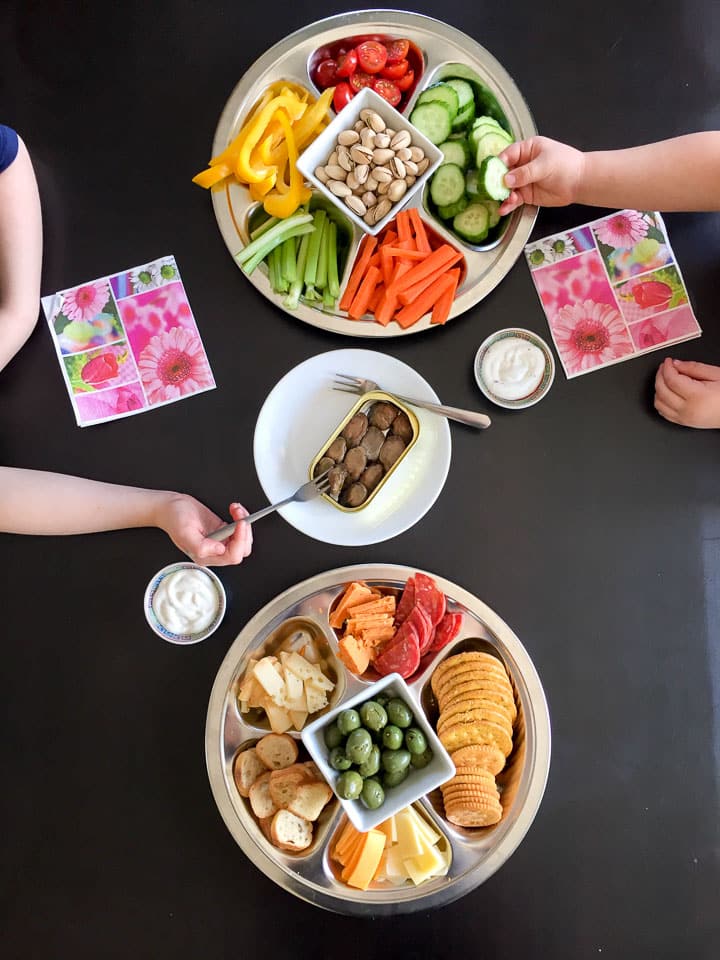 To be honest I often eat leftovers for lunch, because it's easy, convenient and helps us not waste food.
But, in each new season I'm inspired to start prepping super fun DIY bistro boxes for some of our lunches.
We love to eat these kinds of lunch at home, and I think they make for a nice little pick-me-up in the middle of a work day!
Plus they're easy to customize based on food sensitivities, allergies, likes and dislikes, mood, etc.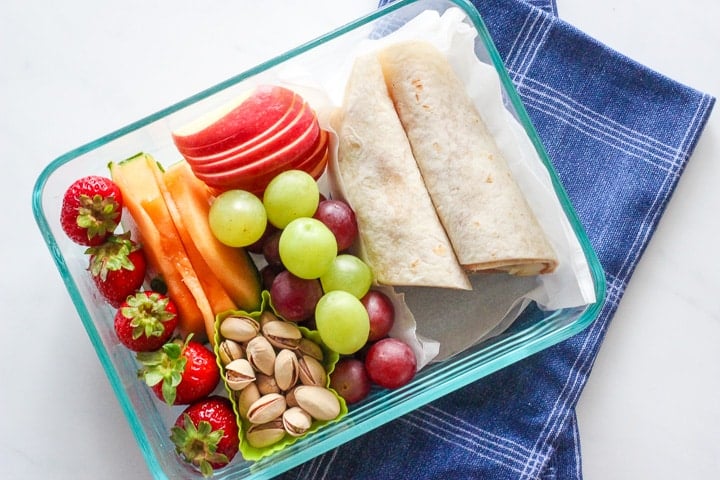 Whether you call it a bistro box (made popular by Starbucks), adult lunchable, protein box, cheese board to-go, mini grazing table, or whatever, here are some ways to make these delicious mix-and-match lunches a part of your life both at work and at home!
The Perfect Easy, Cheap Lunch
Eggs and Veg Bistro Box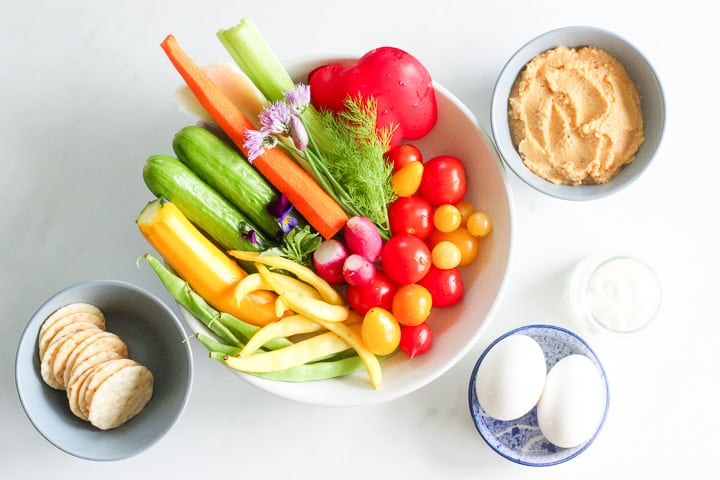 This bistro box is heavy on the vegetables, which I love, especially when I'm trying to eat heatlhy or our garden is going crazy!
It also includes a few sources of protein, which I find I need to help me feel full – no way can I survive the afternoon eating only vegetables for lunch.
Hard boiled eggs are a fantastic addition to adult (or kid!) DIY lunchables because they are easy to make in bulk, and in advance.
Just boil a bunch of eggs on Sunday and keep them in the fridge for the week.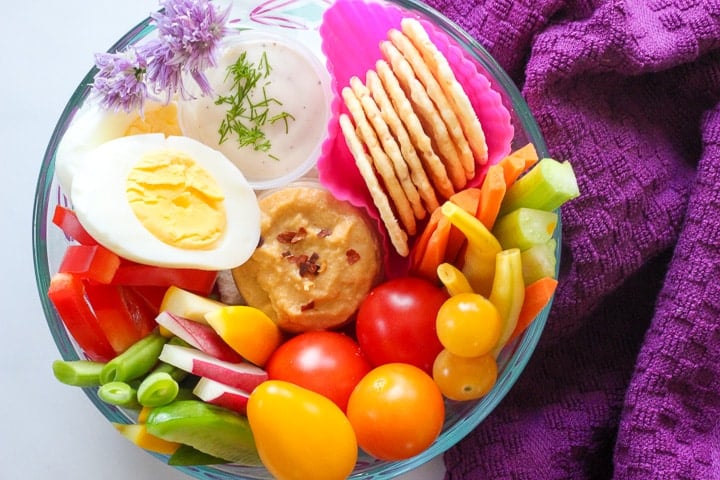 If you have access to a garden, farmer's market or produce stand, finding fresh veggies for your DIY lunchable will be easy.
If not, it's still totally doable.
Even if all you do is grab a handful of baby carrots, half a cucumber and a stalk of celery, you're probably saving money over eating out and they don't require a ton of prep to eat.
I like hummus with veggies as an extra, super healthy protein source, but ranch is also delicious and so are other dips like this refreshing Green Goddess Dip (or dressing) that we made way back in the day.
If you like something crunchy or crackery, you can add crackers, of course, but I opted for rice crackers because I love the extra crunch and the sesame flavor is fun.
2. Cheese Board Bistro Box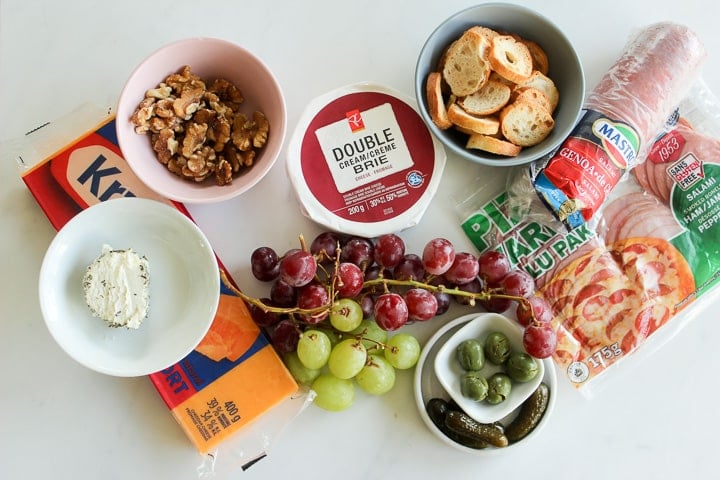 Okay, I LOOOOOOVE cheese.
It's pretty much my favorite thing.
So I have to be careful when packing this box to make sure I don't include enormous portions of cheese. But even with the small portions, It's still super enjoyable and feels like a treat to eat in the middle of the day.
Also, I adore these mini baguette crisps from ACE Bakery in Canada, and if you haven't tried them you MUST.
They are a little more expensive than crackers but I think I eat fewer of them at a time, because they're more substantial, and they are more delicious than any cracker I've ever eaten.
They make a beautiful vehicle for cheese of all kinds.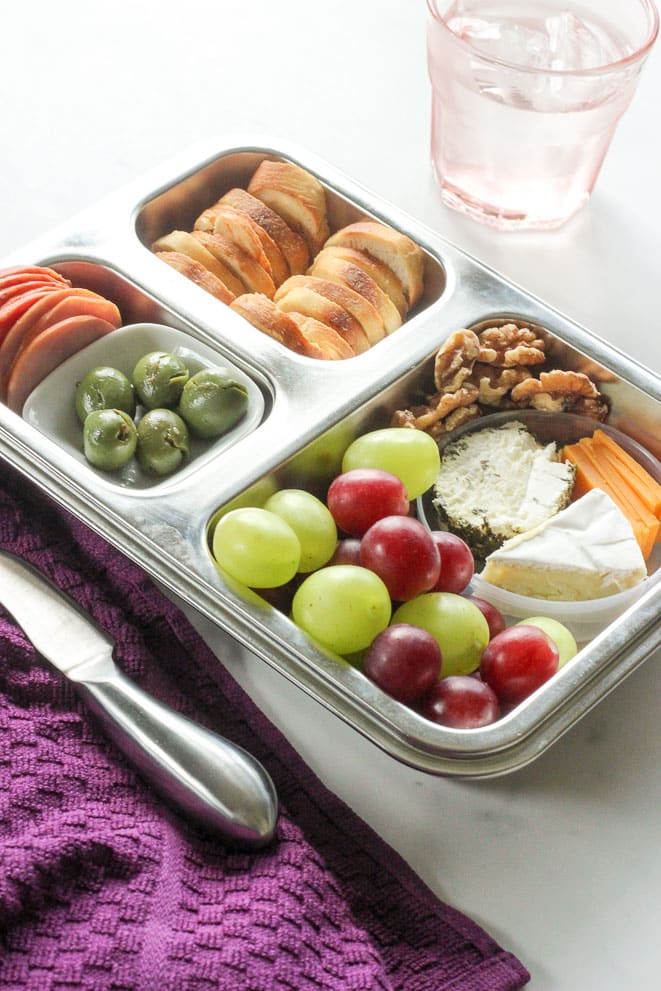 I like to also include a little bit of some kind of meat, maybe a few nuts, and then some sort of an acidic counterpoint to all the rich deliciousness – like olives or gherkins.
Grapes, pear, apple or other fruit also adds a pleasant break between cheese bites.
3. Peanut Butter and Banana Wrap Adult Lunchable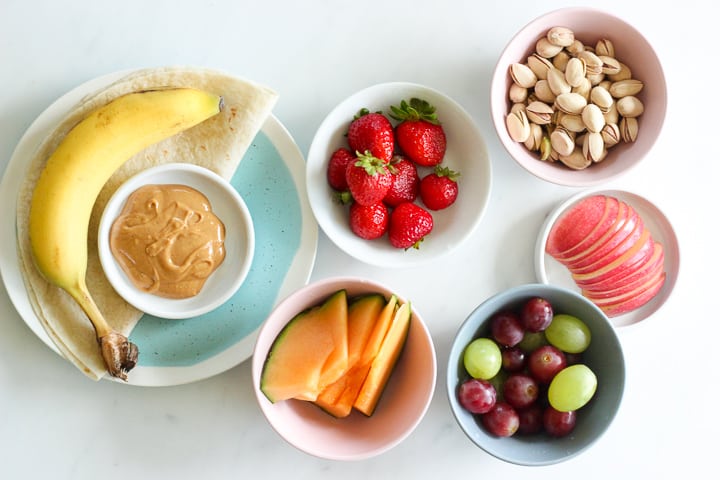 If you have a bit of a sweet tooth or need something really fast and easy to add to your lunch, here's a great option:
I love to take a wrap (especially whole wheat), spread peanut butter on it (bonus if it's natural and doesn't have added sugar) plop a peeled banana down on one end and wrap it up.
Related: Did you know you can freeze tortillas? Here's how!!
You can cut it in half, slice it, or leave it whole, whatever works for you. I've also seen this called banana sushi. My kids love it and I'll often take it for a quick breakfast on the go.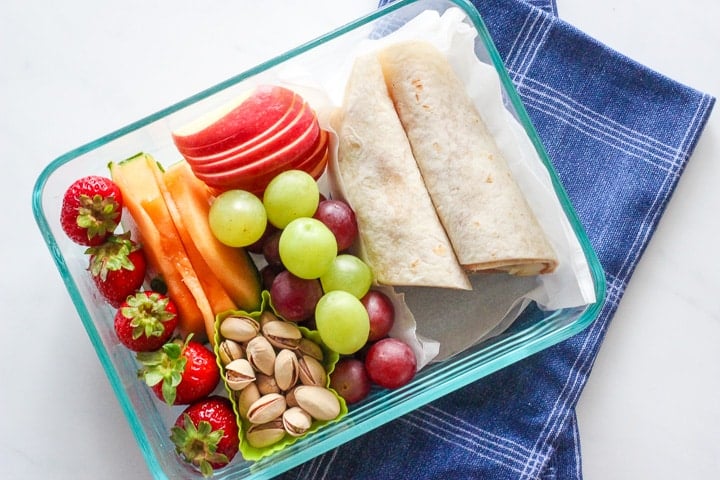 Toss in some fruit and maybe a handful of nuts or a little cheddar cheese and you're ready to go!
Ideas for awesome mix-and-match protein boxes
Protein ideas
Ideally, you'll want to have a source of protein, which of course doesn't have to be meat! Protein will help keep you full through the day. A few ideas: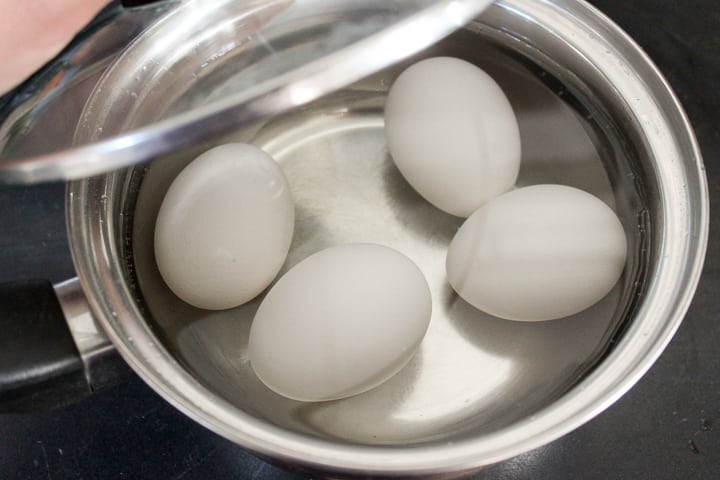 Hard boiled eggs (leave whole so they don't dry out!)
Cheese
Deli meat
Nuts
Peanut butter
Nut butter*
Smoked oysters
Cottage cheese
Cut up grilled chicken
*If there are nut allergies in your workplace or your kids' school, sunflower butter makes a great substitute for nut butters
Fruit and vegetable ideas
Think first of what is in season – it will probably be tastier and cheaper than something that has to be trucked in from far away.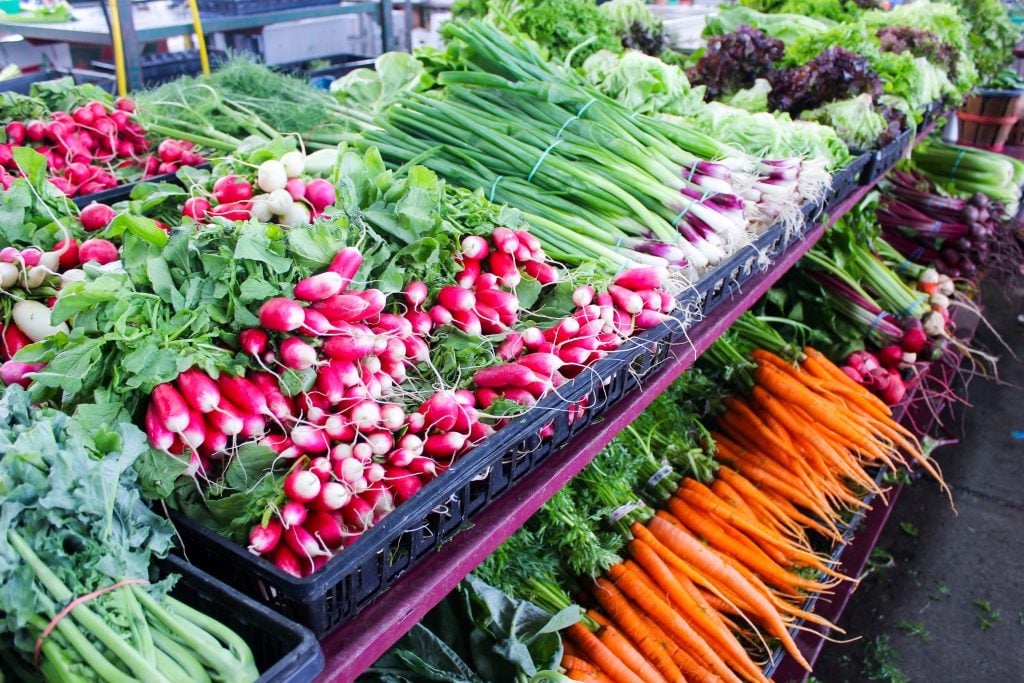 Where I live, winter makes that difficult – but carrots, celery and avocado are available year round and the prices don't change too much.
Vegetables like frozen (thawed) edamame are also a great option in winter. I also love apples and bananas.
Winter is prime citrus and pomegranate season!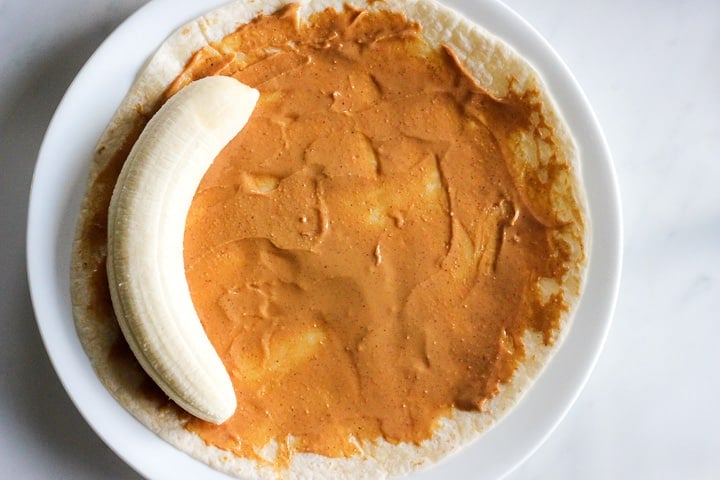 Personally I'd rather save delicate foods like strawberries, blueberries and even cherry tomatoes and cucumbers for when they are in season and at their best (and cheapest!).
Tips for success when packing DIY bistro boxes
What should I aim to include in my adult lunchable?
I recommend including:
1 – 2 protein sources (which is great for maintaining a full feeling that lasts all day)
+ a grain like crackers if you want, (whole grains are especially healthy and filling)
+ whatever fruit and vegetables you enjoy and have on hand (or are in season – which usually equals delicious and cheap!)
How do you stop the crackers from getting soggy if you make the bistro box ahead of time?
Two things:
Wait to add the crackers on the day you'll be eating the bistro box.
Keep crackers away from moist items like fruit, or separate them with a muffin liner.
How long will these protein boxes last if I make them ahead of time?
You can definitely make them a day ahead. There is no danger in doing it earlier but the quality of your fruit and vegetables could suffer.
Where can I find containers for DIY kid or adult lunchables?
Honestly, lots of people will tell you to buy expensive containers. I find unless you are making these for kids who are going to throw their lunch boxes around, you can use whatever you have handy (no need to buy expensive new containers!).
In two of these examples I just used glass containers with lids that I use to store leftovers. The other is an inexpensive stainless steel bento box.
If you want to treat yourself with a nice container (I get it!), these are super cute and affordable. If you'd rather use glass, these are a beautiful option that won't break the bank and will probably last forever.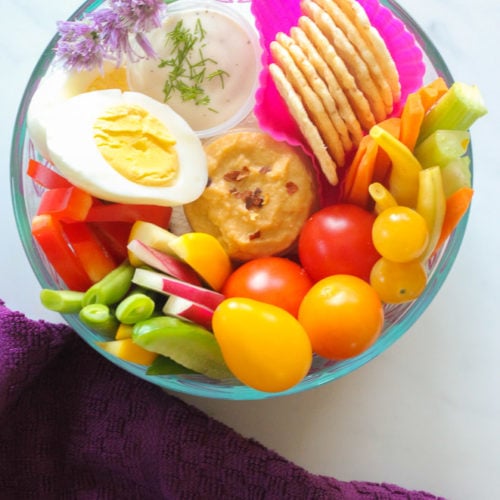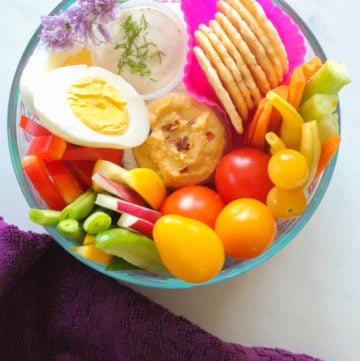 DIY Bistro Box/ Adult Lunchables (3 options)
These bistro boxes / protein boxes are the perfect way to shake up your lunch routine! Make it easy to eat healthy meals and save money on groceries with a lunch you'll be excited to eat!
Print
Pin
Rate
Ingredients
2

eggs

2

tbsp

hummus

1

tbsp

ranch dressing

10

rice crackers

10

carrot sticks

10

celery sticks

10

cherry tomatoes
Instructions
Place eggs in a small pot and just cover with water. Place lid on pot and bring to a boil. Once boiling, turn off heat and let sit for 10 minutes until fully cooked. Peel before preparing bistro box.

While eggs are cooking, add hummus and ranch to small containers and prepare vegetables so they are ready to eat*

If preparing on the day of eating, add crackers. If preparing ahead of time, leave a spot for the crackers to be added on the morning of eating.
Notes
* This is a very flexible formula and there is no specific recipe that must be followed.  Use whatever vegetables, crackers, fruit and protein you enjoy!  Prep times may vary slightly, but shouldn't take too long.
Nutrition
Calories:
465
kcal
|
Carbohydrates:
41
g
|
Protein:
18
g
|
Fat:
26
g
|
Saturated Fat:
6
g
|
Cholesterol:
332
mg
|
Sodium:
788
mg
|
Potassium:
933
mg
|
Fiber:
7
g
|
Sugar:
13
g
|
Vitamin A:
15276
IU
|
Vitamin C:
43
mg
|
Calcium:
173
mg
|
Iron:
6
mg
You might also like: