Learn the EASY way to freeze mushrooms in a few easy steps. Buy mushrooms on sale, freeze them raw and enjoy them whenever you like (and even if your spouse doesn't like them!).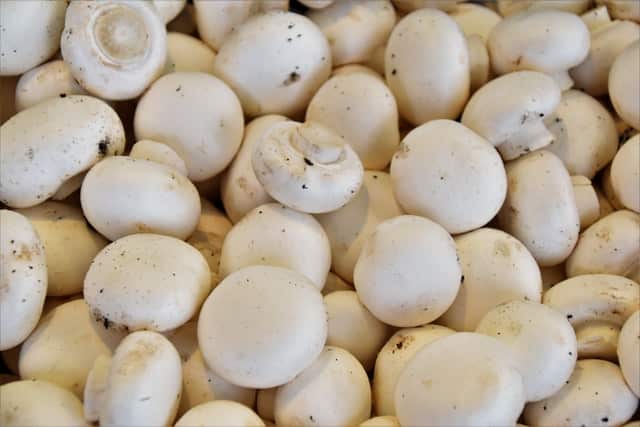 This post may contain affiliate links.
For a long time, Laurier didn't like mushrooms. I LOVE mushrooms. This was a tough time for me, and it took a bit of a toll on our relationship (the one I have with mushrooms – haha).
I would buy a package, only to lose half of it in the back of the fridge and find it once the mushrooms were covered in slime.
Other times, I would pile the entire package on my personal pizza just to avoid wasting them.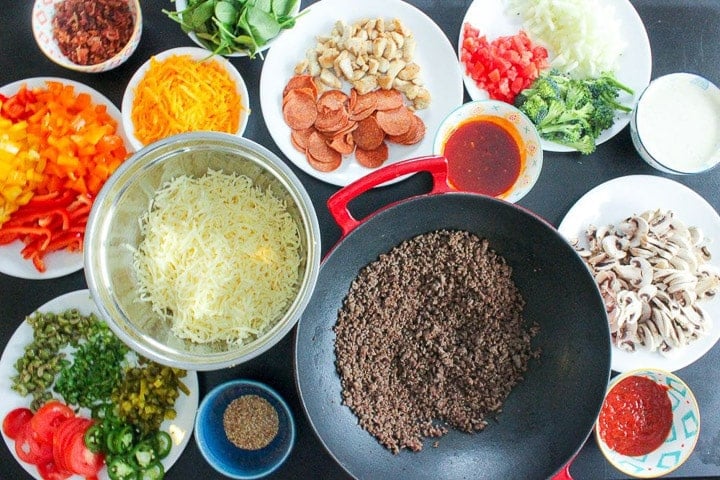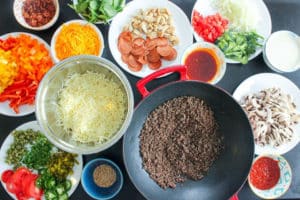 Finally, out of desperation, I had to experiment: Can mushrooms be frozen?
Yes, and it's easy!
This is a great way to buy mushrooms when they're on super sale and eat them whenever you want them.
And it's simple. And I ❤ simple.
---
Have extra mushrooms to use up? Try these recipes:
Related: Can you freeze tortillas? YES! Here's how!

How to Freeze Mushrooms – the Super Easy Way
1. Buy mushrooms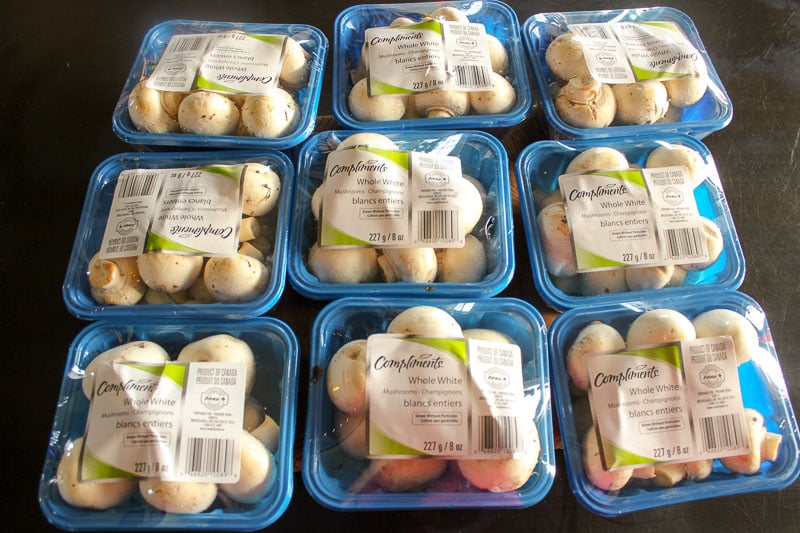 Buy mushrooms, preferably when they're on sale for a great price!
Tip: This is a GREAT way to stock your freezer with produce while saving money on groceries!
2. Clean mushrooms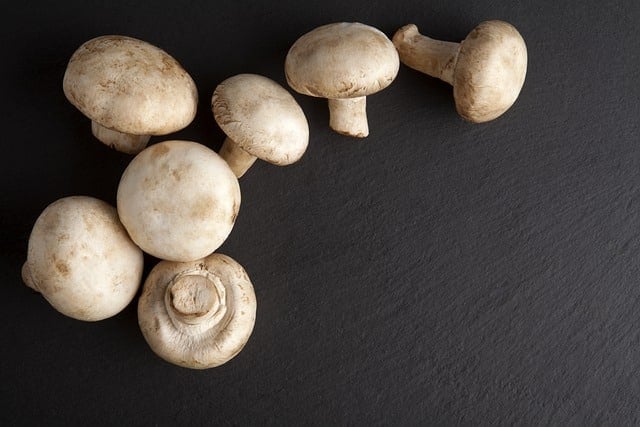 Follow these tips for best results:
Brush your mushrooms off with a paper towel or something like this little cutie to remove any dirt. Use only fresh mushrooms that aren't slimy or mushy.
Tip: DO NOT WASH YOUR MUSHROOMS. This will make them much more slimy.
3. Slice mushrooms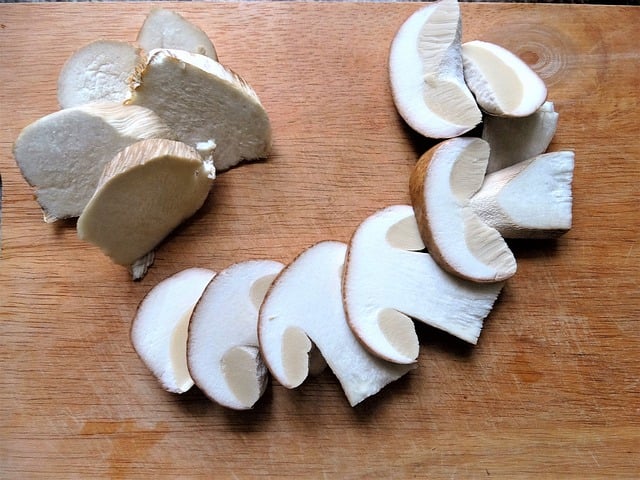 Trim the very end of the mushroom stem off. Slice mushrooms.
You don't have to be overly picky about the slicing. I just roughly slice.
4. Freeze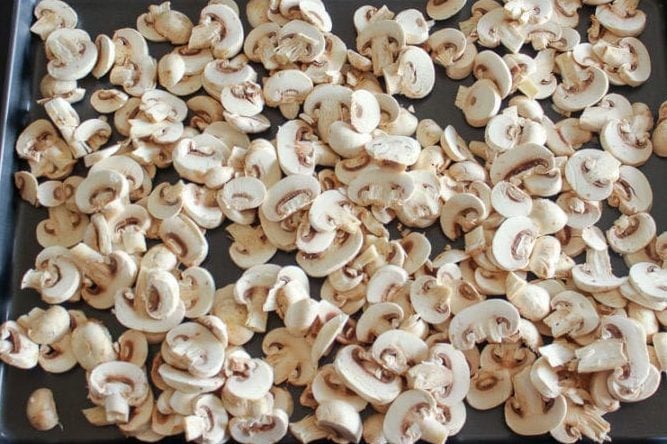 Place them on a large cookie sheet and freeze.
Tip: I have two extra large sheet pans similar to this one and I love how much more I can fit on them compared to a cookie sheet!
Tip: Although this is a tiny bit more work than just throwing them into a freezer bag, I like to flash freeze them like this because I love to be able to grab a handful of mushrooms – or any other amount I want to thaw.
5. Transfer to freezer bag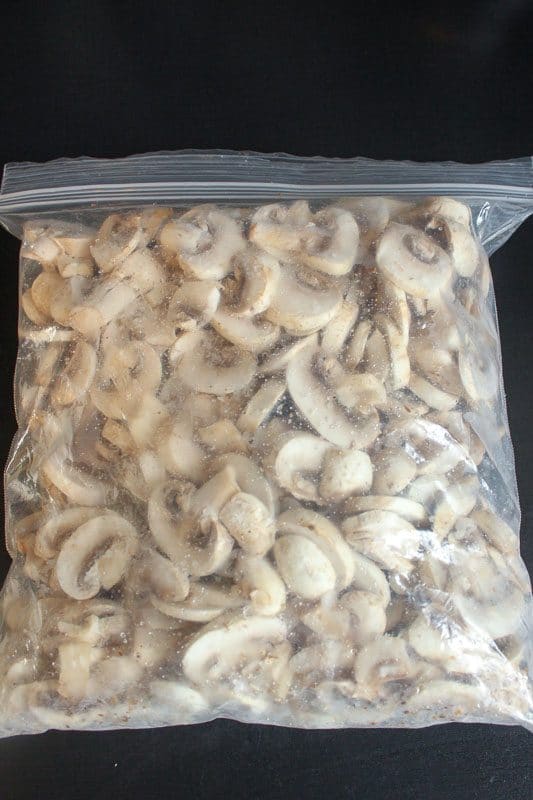 Once the mushrooms are frozen, transfer them to a freezer bag. Store in your freezer.
Bonus points if you use these amazing bags! I really want to make the switch!
Now that they are individually frozen, you can take out as many as you want
6. Use your frozen mushrooms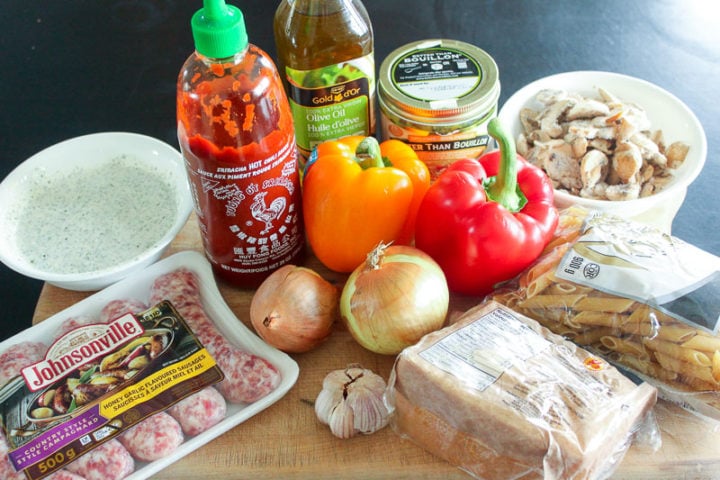 Measure out the mushrooms you need for your recipe. If you are cooking with them you can thaw them for a few minutes on the counter while you prep your other ingredients, or microwave them for a minute or two to defrost.
Tip: I don't recommend using these for a salad or any raw recipes, but if you are going to fry, sauté or bake them they'll work perfectly!
(In the photo above I'm using frozen sliced mushrooms to make our Sriracha Ranch One Pot Pasta and they worked perfectly!)
Voila! Mushrooms only ever bought on sale and not a slimy one to be found!
FAQ & Expert Tips About Freezing Mushrooms
Can I freeze fresh or raw mushrooms?
Yes! This is the main way I freeze mushrooms, which is outlined below. I have not had any problems with this, and it's just SO much easier than any other way!
Will mushrooms be slimy or mushy when they thaw?
No.  I don't find them slimy at all.  They do have a slightly softer texture than when they are raw.

They will have to be cooked, however.  I would not recommend trying this if you hope to eat them uncooked.  But once you cook them you will never know the difference.
Can I freeze cooked mushrooms?
Yes! This is what I used to do before I had kids (when I had more time, haha). Buy mushrooms, slice and sauté with a little butter and olive oil (I like the combo) and some salt and pepper, then freeze smaller packages to pull out and use quickly when cooking.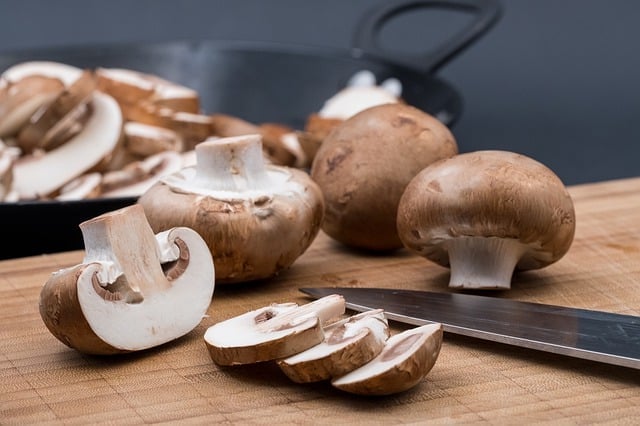 How do I thaw frozen mushrooms?
If you follow the method I outlined below, you can just pull out a handful from the bag of frozen mushrooms.

If I'm thinking ahead I'll leave them at room temperature on a plate for a few minutes while I prep other parts of the meal.

If not, you can cook them right from frozen by sautéing them in a little oil or butter (there will be more water to evaporate this way though).

In a pinch, pop them in the microwave to thaw!
What can I cook with frozen mushrooms?

I use frozen mushrooms in almost any recipe that's not raw (like a salad). Thaw the mushrooms slightly (see above).

Then you can chop them smaller with you want, or just use them in your recipe as-is.

If you are sautéing them you can add them directly to a little bit of oil in a hot pan or pot.

You can use them in an oven-baked dish like a casserole, or on a pizza as is – although you may prefer the flavour and texture of sautéing them first (similar to fresh mushrooms).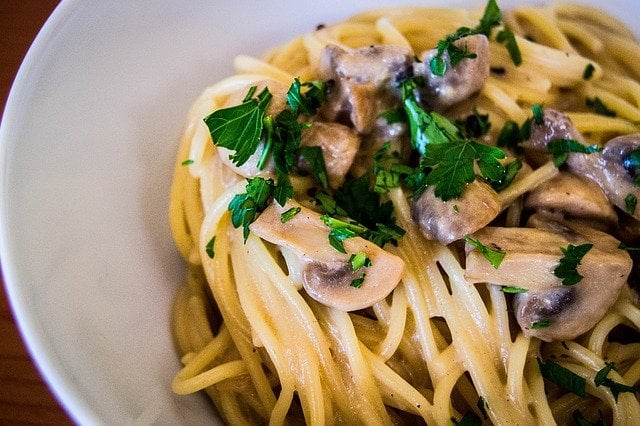 Will the frozen mushrooms produce more liquid when I cook them?

Yes, I do find that the mushrooms will produce slightly more liquid when you cook them than fresh mushrooms, due to their high water content. Allow an extra few minutes to sauté or roast them so the liquid can evaporate.
How long can I store frozen mushrooms for?

Most frozen produce is best used within six months, but I have found older bags of mushrooms in my freezer (probably about a year old) and they were still fine!
You might also like:
What's your favorite ingredient to freeze? What do you wish you could freeze?
Let us know in the comments below!
This post was originally published on March 31, 2017 and was updated April 17, 2020.
Save