Ever wish you could package raw chicken without touching it? Learn the super easy way to do that, so you can freeze your chicken pieces individually and save money on groceries!
When I first moved out on my own and had a kitchen to stock, I had a bit of sticker shock. First, groceries were expensive!!! Second, I didn't understand yet how to make my groceries work for me so I could save money.
Once I got the hang of watching for sales, I would go to the grocery store, excited to buy boneless skinless chicken breast for say $4/pound.
I would buy a big package that had five chicken breasts in it, take it home and put it in my freezer, where it would freeze into a solid mass. Then what? What the heck was I, a single person, going to make with five chicken breasts at once?!
After a little while I realized that this method wasn't really giving me the cooking options I really wanted, and it definitely wasn't saving me money.
Instead of using a bit of chicken here and there, I was forced to thaw it all at once and make one or two big recipes with it.
That, or spend an hour chipping away at a frozen block of chicken with a steak knife.
Um, no thanks.
So I started using zip-top baggies to package up my chicken. I would cut open the package, get a little bunch of baggies and use my hands to load one chicken breast into each, while trying not to touch anything else. Then I would try to clean up without spreading raw chicken juice all over the kitchen.
This method helped me save money, but it was kind of a chore and I would sometimes procrastinate on getting it done, because I hated getting full of raw chicken.
BUT THEN.
One day, I came across this post, by Beth over at Budget Bytes. I'm pretty sure the clouds parted and the angels sang from the heavens when I realized that there was a much better way. A way to package raw chicken quickly and efficiently, without getting full of raw chicken juice in the process!
This mess-free tip lets me freeze chicken pieces individually, so I can stock my freezer in a smart way and just pull out a piece or two when I need it!
I've linked to this post of Beth's before, to share her method, but I think there's a good chance lots of people didn't click over to check it out. So I've decided to recreate the method here so you all can see it. But like I said – it's her genius invention – not mine!
So simple. So smart.
How to package raw chicken without touching it (So you can freeze it individually)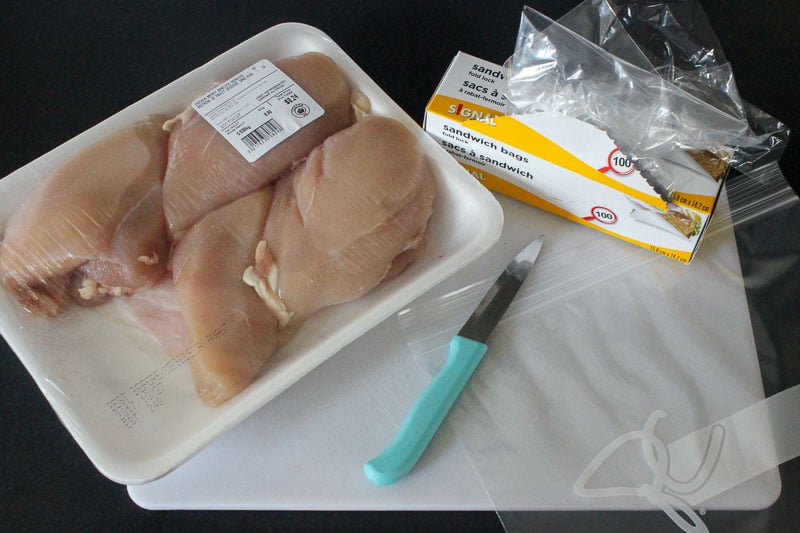 Gather your supplies – your raw chicken that you want to package, some fold top (not zip-top) small sandwich bags, a large zip-top freezer bag and a knife.

Count up how many pieces of chicken you want to package and take that number of sandwich baggies out of the box, so you don't have to dig around to get more.

Cut open chicken package (without touching the chicken). Turn a sandwich baggie inside out and put it on your hand like a glove.

Use the bagged hand to pick up a piece of chicken. If it's a large piece like a breast, try to pick it up in the middle.

Then use your other hand to pull the baggie around the chicken and off your hand (without touching the chicken). Once the chicken is in the baggie, fold the sandwich top over to contain it.


Then place the bagged chicken into the large zip-top bag. Continue with the rest of the chicken. Label it and freeze.

Make sure you wash your hands and counter well, in case some raw chicken juice went astray, but in general, YOU JUST PACKAGED RAW CHICKEN WITHOUT TOUCHING IT. Brilliant!


Then when you want to cook something that uses just one chicken breast (like our delicious Creamy Chicken Soup With Egg Noodles), you can just pull out a single piece of chicken. It thaws much faster than a big block of chicken and helps you save money on groceries, by using just the amount you need!
Do you have any tips that help you save money on groceries or kitchen tricks to make life easier? Let us know in the comment section below!
P.S. – Don't forget to check out our $5 Meals e-book! Perfect for anyone who wants to save a little money this fall while still eating delicious food!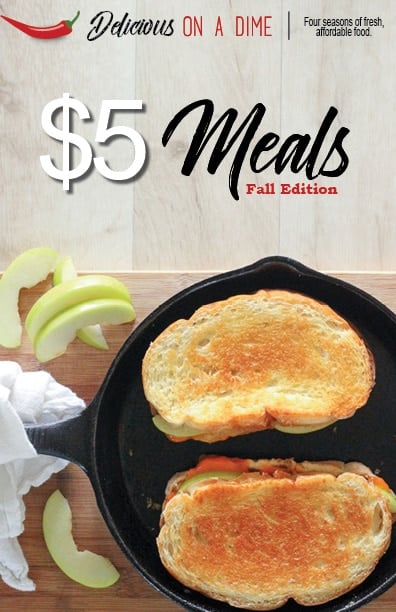 Save
Save
Save