If you've ever wondered, 'can you freeze salami?', this post is for you!
Yes, you can definitely freeze salami, but depending on what type of salami it is (Italian Genoa, slices of deli meat, whole salami, German salami, and more), the process might look different.
We'll walk you through all the options!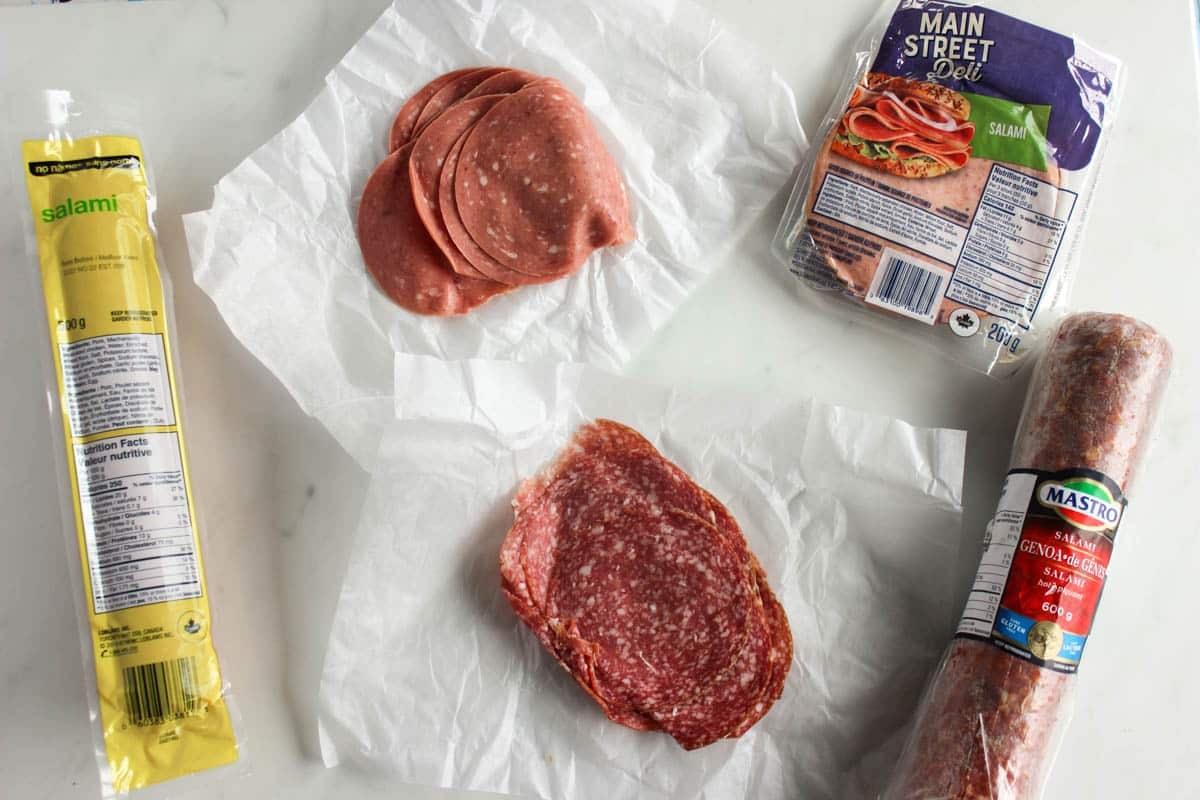 Why Should You Freeze Salami?
First, let's talk for a minute about some reasons you might want to freeze salami. The two biggest reasons I would freeze salami are to avoid food waste, and to store food I've bought in bulk.
Both these reasons have a common theme: to save money on groceries.
The whole point of this blog is saving money on groceries, and avoiding food waste and buying in bulk are two excellent ways to do that.
Buying in bulk to save money

When I see an excellent deal on a grocery product, I stock up!

Not long ago I saw a fantastic deal on Italian Genoa salami – it was about 1/3 of the price it normally is. I bought 10 packages of it, took it home and sliced it, and froze it in smaller portions.

That meant a huge savings for us, since this is an ingredient we normally buy at full price, or on a smaller sale.

If you can find ways to buy in bulk, either when you see a great deal, or when you visit stores that sell in bulk (for example, Costco), you can start to notice a significant savings in your grocery bill.


Freezing Food to Avoid Food Waste

Avoiding food waste is another important reason you might want to freeze salami. You spend your hard earned money on groceries! It's so frustrating to have to throw them away because they spoiled before you could use them.

I try to be diligent about freezing items before they spoil – that way, future me can still pull them out to use for recipes 🙂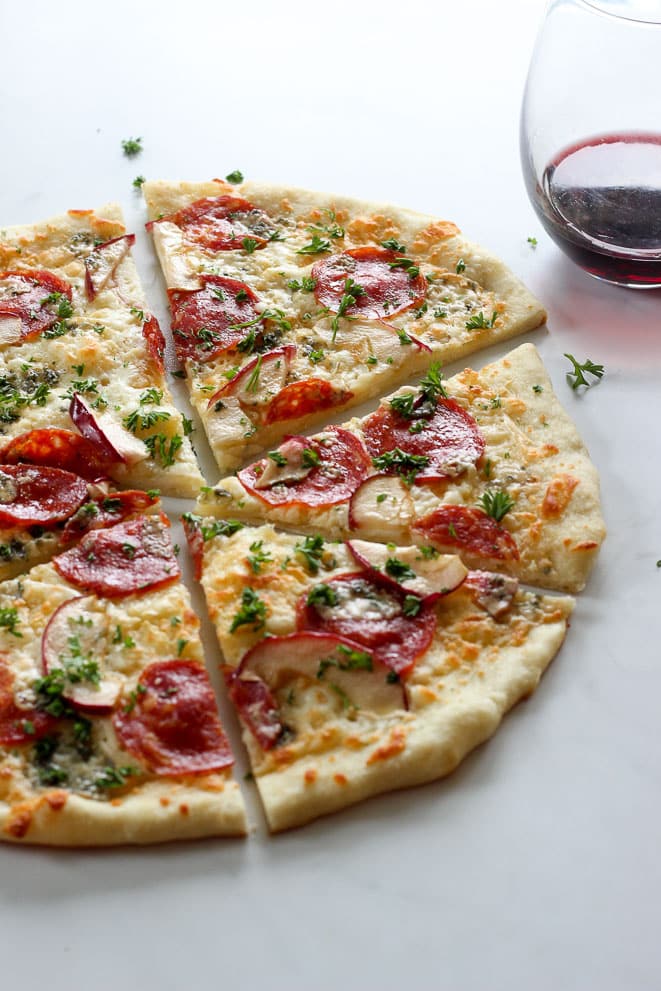 Related: Pizza with Italian Salami, Apple and Blue Cheese (or Goat Cheese)
Supplies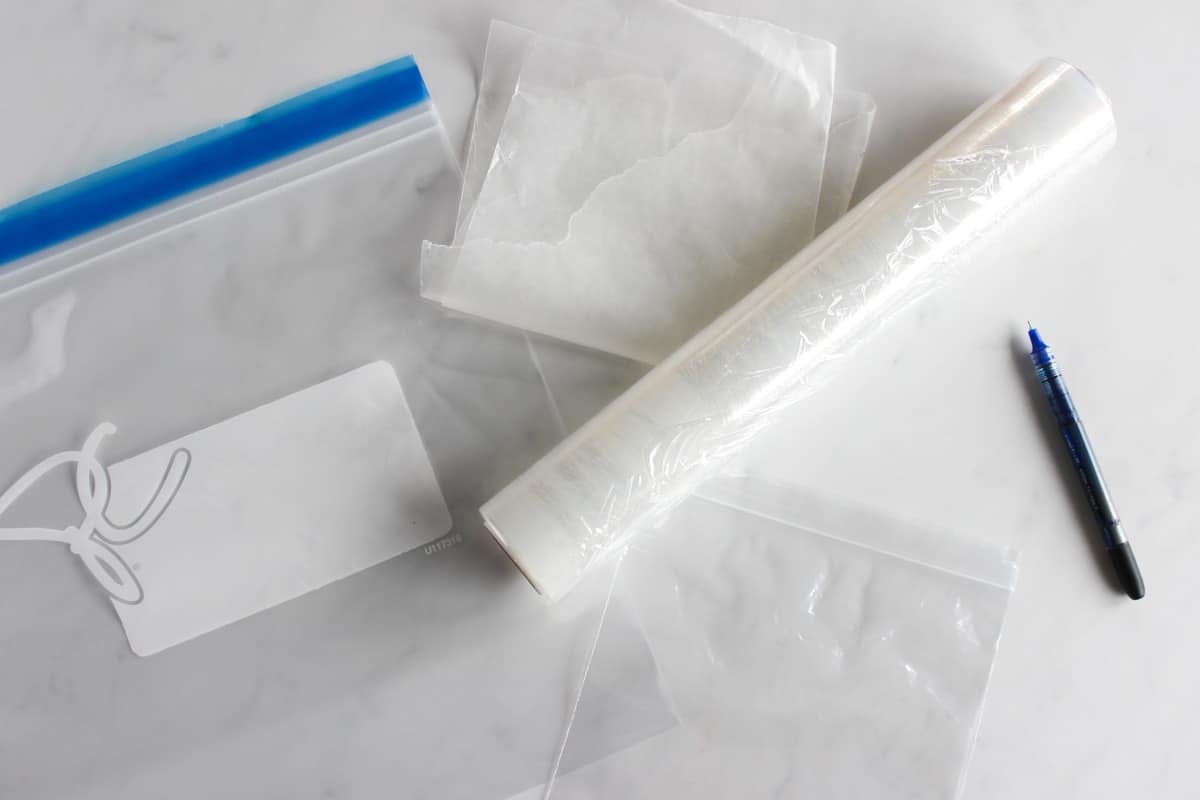 There are a few supplies you'll want to have on-hand to make sure the food you're freezing is still in good shape when you thaw it out.
Heavy duty freezer bags – These are a must when you want to preserve the quality of the food you're freezing (which is obviously all the time)

Saran wrap or tin foil – to tightly wrap the food before it goes into the freezer bag

Wax paper or parchment paper – depending on what I'm freezing, I sometimes use wax paper or parchment paper to divide the layers so it's easier to separate them when thawing.

Pen or sharpie – Because labelling is critical so you actually know what the heck is in your freezer and when you put it there.

Vacuum sealer – Like this Food Saver from Amazon. Optional but super nice to have because it helps the frozen food maintain excellent quality for way longer.
Freezing salami slices
How you choose to freeze salami slices should depend on how you want to use them in the future, as well as what kind of salami slices you're freezing.
Sliced hard salami
Dry, hard salami, like Italian Genoa, cacciatore, calabrese, German and Hungarian salami freeze and thaw really well in slices.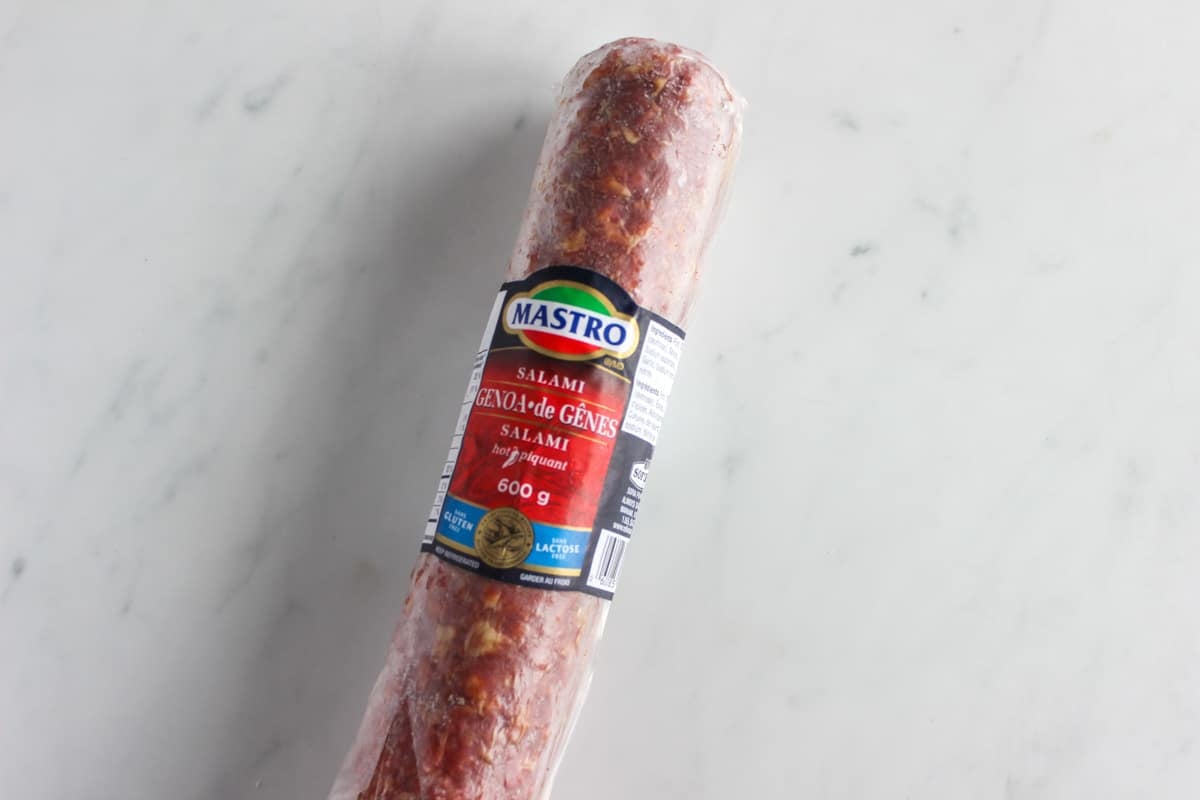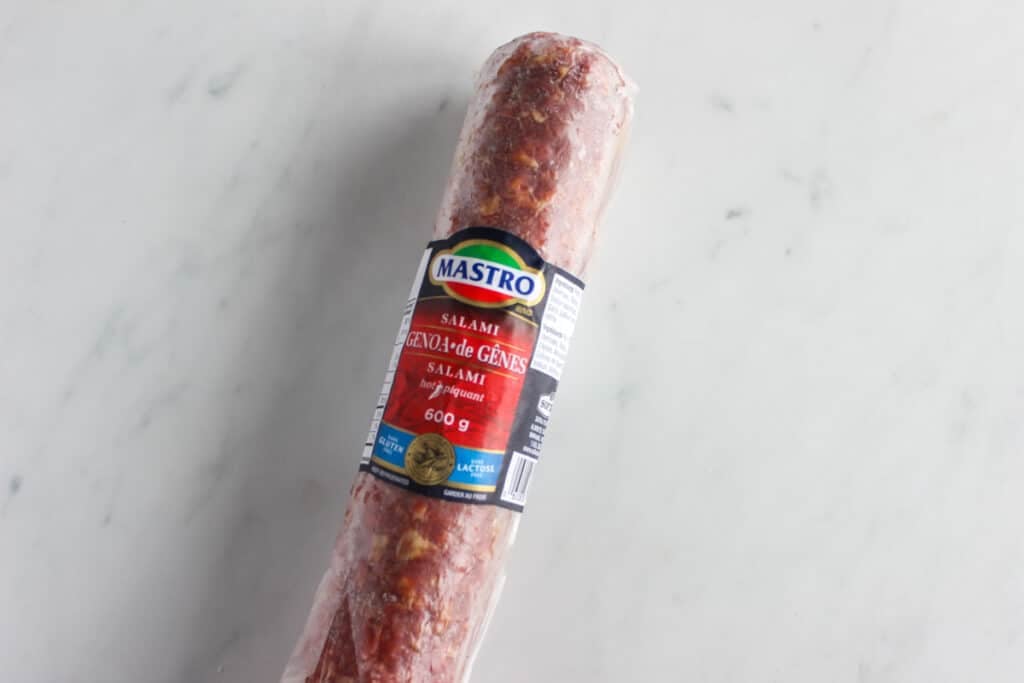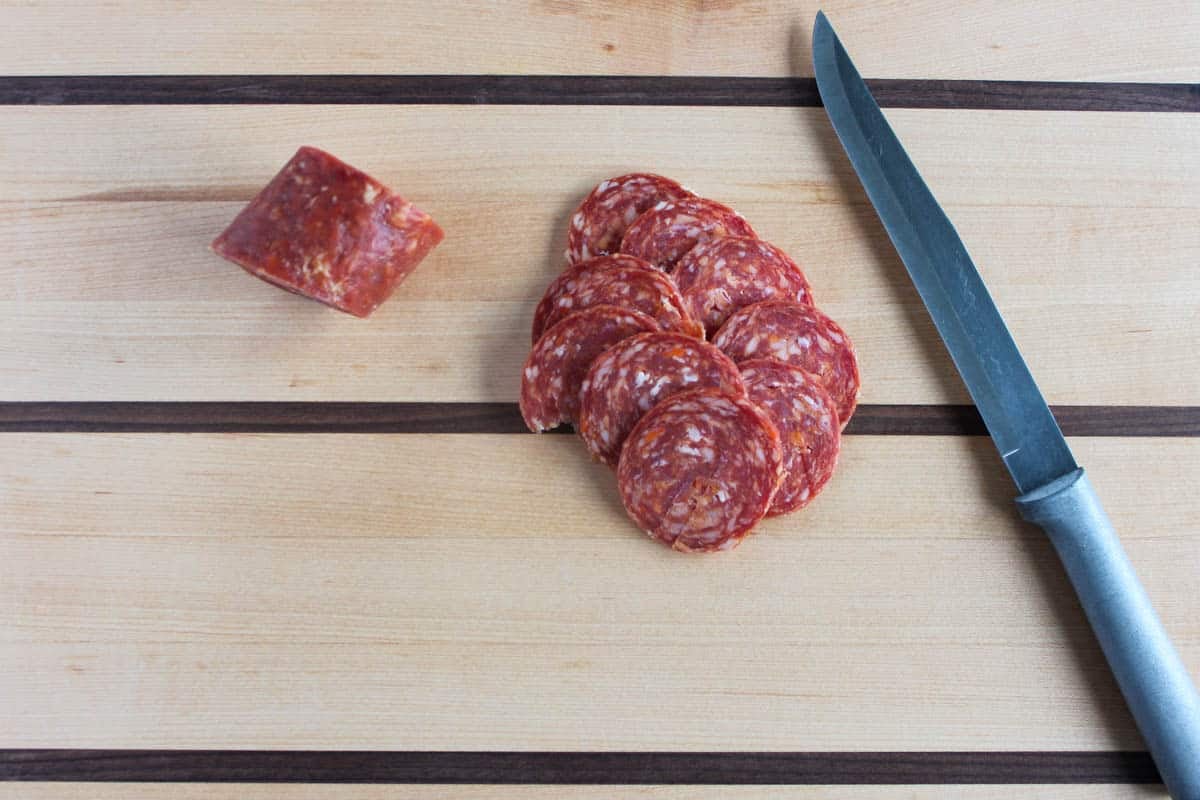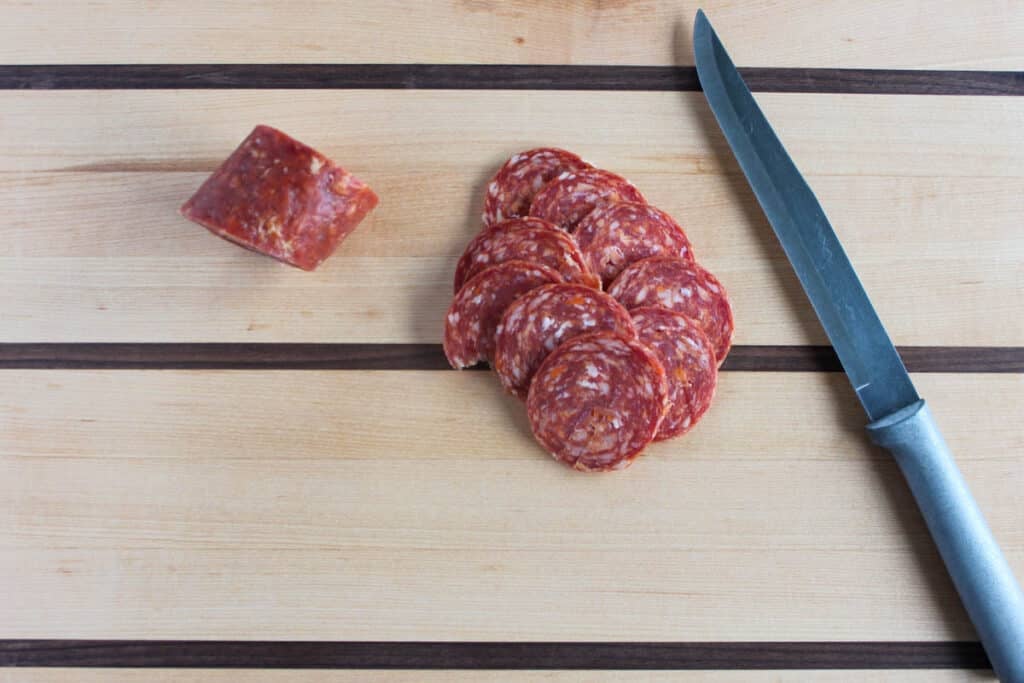 If you're slicing your own Genoa, cacciatore or calabrese, you'll want to use a sharp knife (because they are such hard, dry salamis) and try to keep your slices fairly thin and consistent.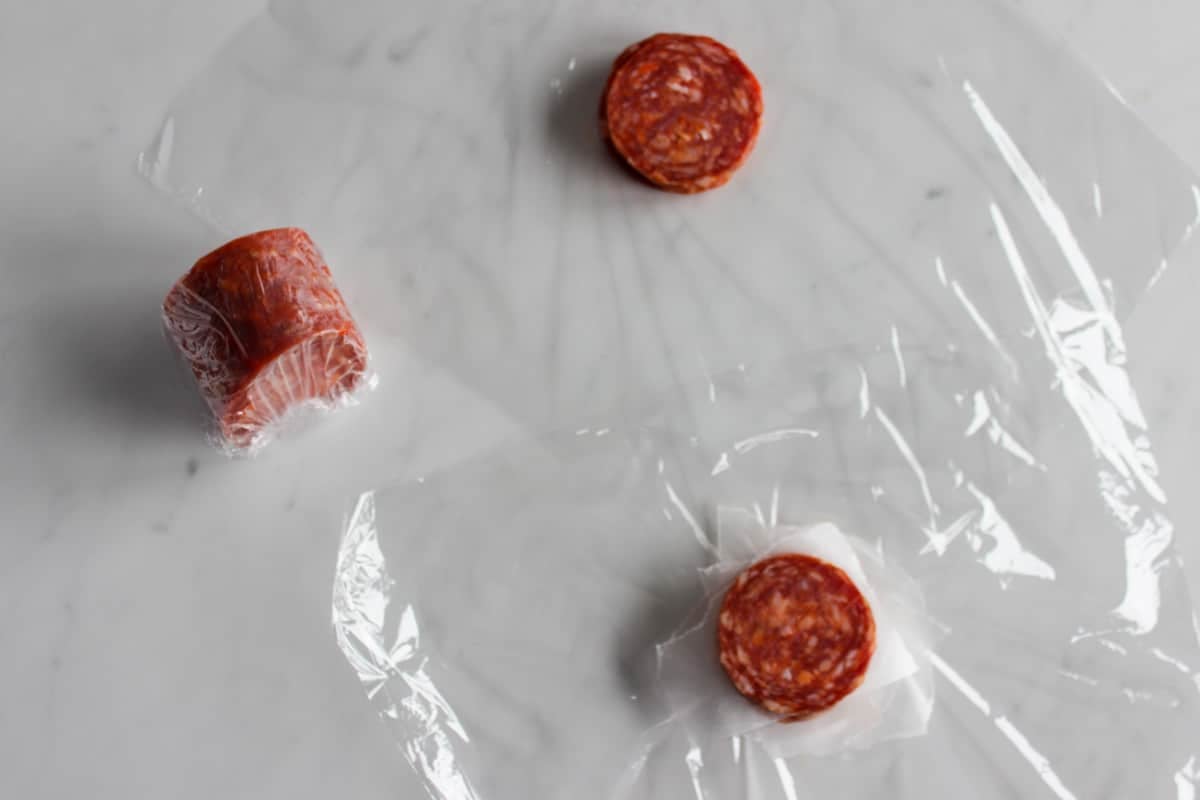 I tested out stacking the slices together with wax paper in between them, and also stacking them with no wax paper in between – just one on top of the other.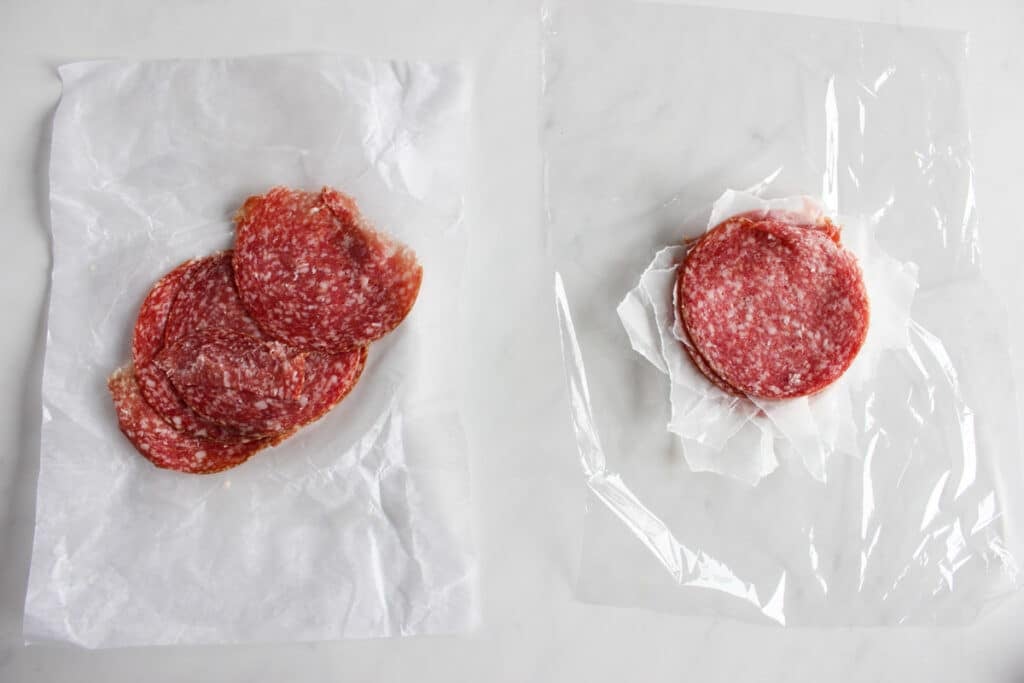 If you have salami that's already been sliced at the deli counter or in advance, you can either stack it with wax paper or parchment paper in between the slices, or leave it in a stack the way it was when you bought it.
Tip: There are pros and cons to both methods – it's obviously easier to just wrap the meat up and freeze it, but it thaws faster and is easier to separate with the wax/parchment paper (see below).
Wrap it up nice and tightly in saran wrap and put it in a freezer bag (Amazon has the best price on these, I find). This will protect it better than a regular Ziplock.
If you have a vacuum sealer (we have one and love it), that can be a great way to seal these packages for a longer life in the freezer.
Label and freeze.
Sliced deli and other uncured salami
Sliced deli or chub salami freezes well too, but since it isn't as hard or dry as the types above, it thaws a little differently.
Slice, then either freeze in a pile, or freeze the slices with wax or parchment paper between. Again, the wax paper option takes longer, but it's easier to separate the slices when you take it out of the freezer later (more details below).
Wrap tightly with saran wrap and store in a freezer bag.
Freezing Packaged Salami and Whole Salami

Sticks
For these whole salami packages, you can literally just put it in your freezer as-is, which is super convenient. The downside of this method is that you'll have to thaw the whole package at once and use it relatively soon after.
Tip: You can cut large whole salamis (both cured and uncured types) into chunks and then freeze them, wrapped tightly in saran wrap, or vacuum sealed, and placed in freezer bags.

This way you have the relative convenience of freezing whole salamis, combined with the ability to thaw smaller portions at a time.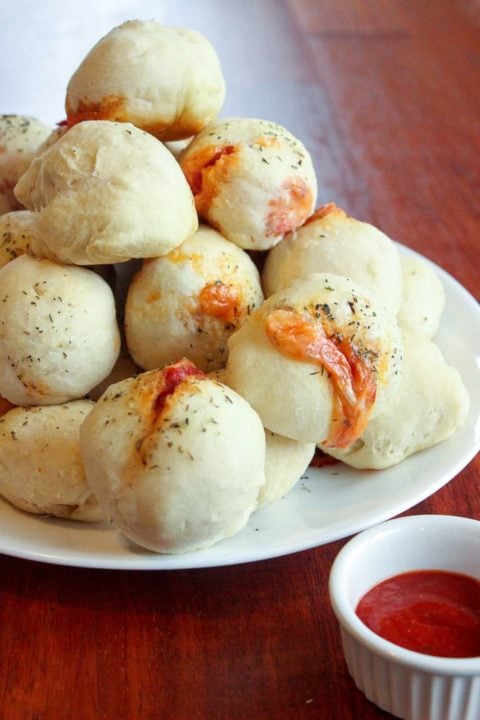 Related: Homemade Pizza Pockets
How to Defrost Frozen Salami
Thawing Salami Slices
How well the slices thawed depended on the type of salami we were using.
The dry type of Hungarian/German salami slices separated really easily when they had the wax paper between the slices.

The stack without the wax paper was frozen into quite a solid chunk, but it only took about 15 minutes to thaw at room temperature.
Takeaway: If you have this type of sliced salami and you're short on time, you can freeze it in small, portion sized stacks and only have to take it out of the freezer to defrost about 15 minutes before you want to use it.
The Italian Genoa salami (similar for cacciatore or calabrese) froze and thawed very well, but keep in mind that these were slightly thicker slices that I cut myself, as opposed to the paper thin slices cut by a deli.
In any case, I was able to easily separate even the slices that I didn't layer with wax paper, so it's really not necessary to take that step.
Takeaway: For thicker slices of hard Genoa salami, you can just stack them and wrap them well and you'll have no problems using the slices pretty much as soon as you take them out of the freezer. For thin deli-cut slices, I feel they would behave the same way as the Hungarian slices above.
For the slices I cut from the deli stick of salami, I found none of them separated very well straight out of the freezer. The wax paper ripped easily when it was included and the stacked ones froze right together. In any case, after 5 minutes at room temperature they were both defrosted enough to separate and use.
Takeaway: Don't bother using wax paper to separate the slices, although you might have more luck with parchment paper. Give yourself 5-10 minutes for your slices to thaw at room temperature before using.
The deli sliced salami with the wax paper separated okay, but would have been perfect after a couple of minutes at room temperature.

The small sliced stack without wax paper took 15-20 minutes at room temperature.

The unopened packaged of sliced deli salami was frozen solid and took about 1 hour at room temperature to thaw, but from a food safety perspective it's safer to do it overnight in the fridge if you can.
Takeaway: If you're freezing deli salami try to give yourself at least 20 minutes at room temperature for it to be usable.
Defrosting Sticks of Salami (both unopened and opened)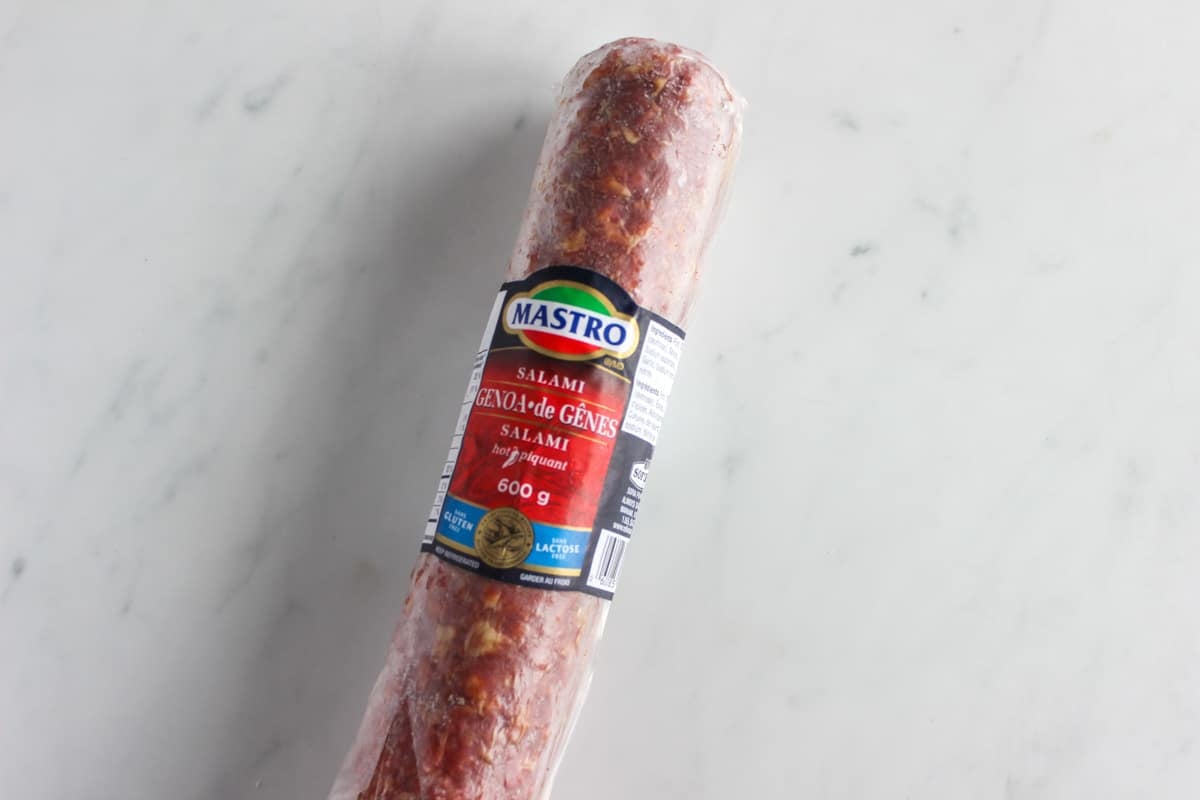 All of the salami I tested as whole sticks (both Genoa and unopened chub) was actually thawed enough to slice after just 15-20 minutes at room temperature.
This makes it a super convenient option as long as it's frozen in chunks small enough to be used all at once (because you don't want to thaw it and then refreeze what you don't use).
FAQs about Freezing Salami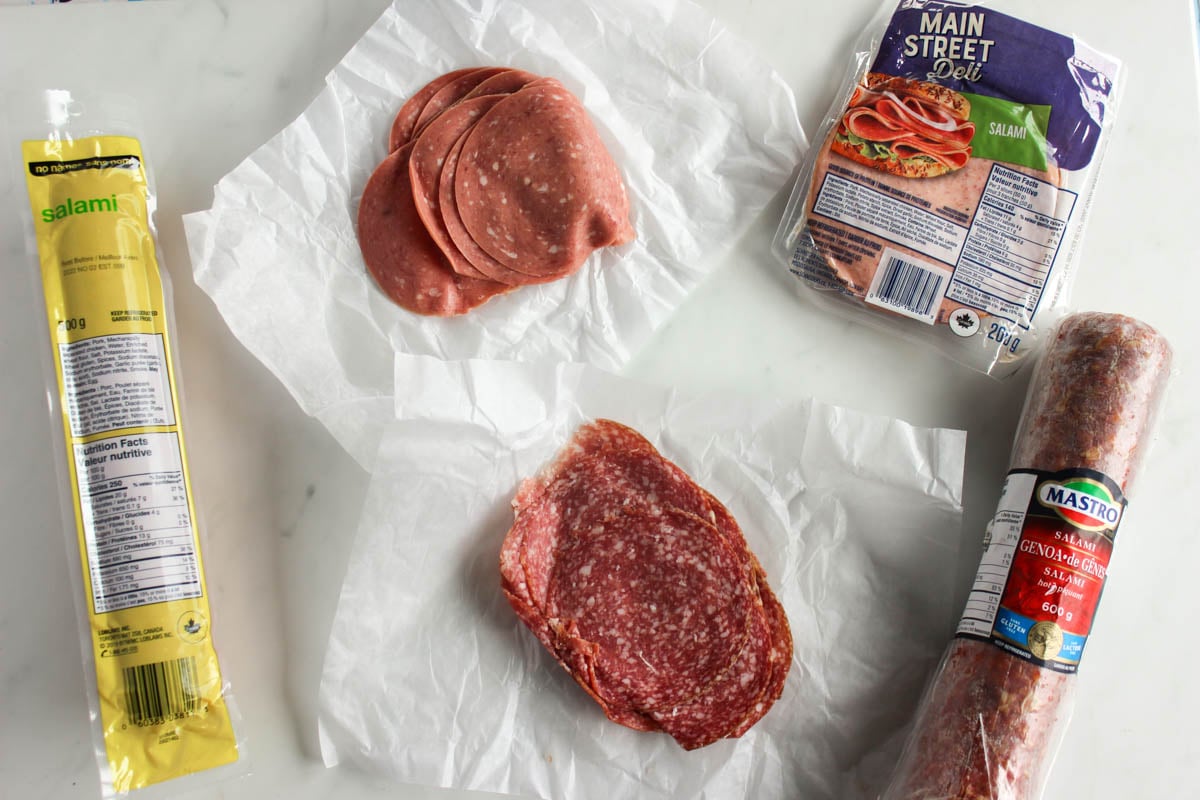 Can I refreeze salami after it's been defrosted?

You shouldn't refreeze meat that has been defrosted UNLESS it is cooked in between. For example, if you are making pizza and thaw a package of salami to top your pizza with, you can bake the pizza and then safely freeze the pizza with the salami on it. You can read more of the food safety guidelines on this subject here.
Can you thaw frozen salami in the microwave?

Yes, if you're short on time you can thaw frozen salami in the microwave. If defrosting slices of salami, I would microwave on the defrost setting in small increments – no more than one minute at a time. The slices can go from thawing to cooking very quickly so you'll need to keep an eye on them.

For stacks or sticks of salami, you'll need to use small increments to make sure the outside doesn't cook before the inside is defrosted.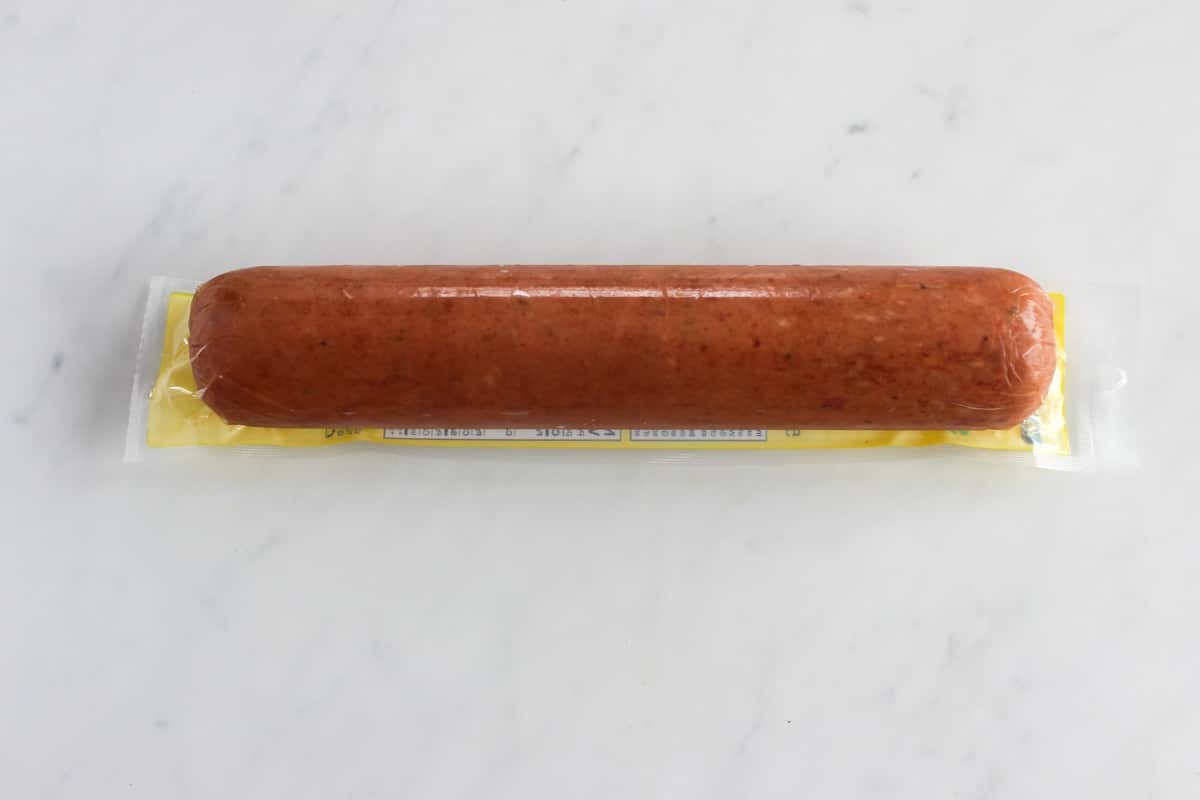 How long does salami last in the freezer?

The US Food and Drug Administration recommends only freezing deli meats for 1-2 months. However, this is for quality reasons – not safety reasons. I think if you've done a great job of packaging your salami for the freezer, you could still have good quality deli salami to defrost for up to 6 months, and for a dry salami that's still in whole stick form, I think the quality would still be good for up to a year.
Other Groceries You Can Freeze
Check out these other posts that can help you save money on groceries, using your freezer!