Looking for the best natural cold remedy around? Do you have a sore throat? Runny nose? Non-stop sneezing? Annoying congestion? Or maybe your kids do.
Wondering how to get rid of this cold – FAST? This natural cold remedy (it's a simple tea!) is the BEST and it only takes a few herbal ingredients you might already have – apple cider vinegar (ACV), lemon, ginger and honey. We call it the cold buster!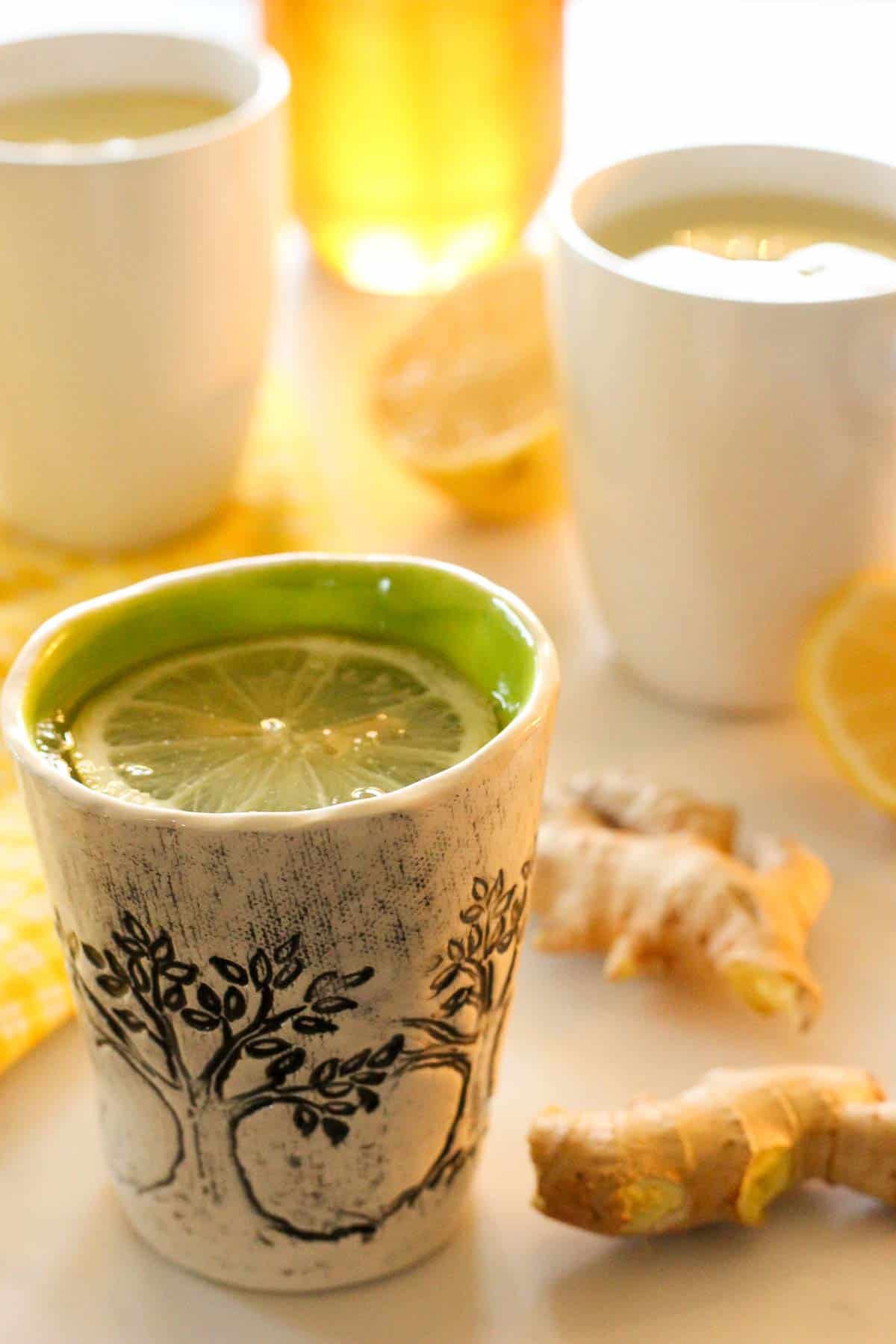 This page may contain affiliate links.
A few times a year, especially during our busiest periods, when I feel run down, I inevitably come down with a cold.
For a while I thought I was covering all my bases to make it bearable – lots of water and citrus, nice soft tissues for my nose (I swear by these ones!), etc. I don't really like to use over the counter medication for colds. But they are just so annoying.
How do you get rid of a cold? What's the best natural cold remedy?
One day Laurier had a cold and ran into a lovely friend of ours, who is also a nutritionist, Connie. Connie let Laurier in on a little secret – the best natural cold remedy she had come across.
Bonus – this concoction only used a few ingredients that we already had in our pantry and fridge.
Laurier came home and told me about it, but for some reason I was skeptical. Why? I don't know. Maybe it just seemed to good to be true? But he was willing to try it, and he did actually start to feel better.
Next time I had the first tickle of a sore throat (which is how my colds always start), Laurier pestered me to try Connie's natural cold remedy. Finally, without much optimism, I tried it.
It actually worked.
So before I get into the details of the remedy, I have to offer a little disclaimer. I'm not a doctor, or a health professional, or a nutritionist. I'm just a person who gets colds. Maybe just like you!
I find this worked for me, so I asked Connie if I could share her awesome natural cold remedy with you and she said yes.
How Do You Stop a Cold – Fast? Try This Homemade Cold Remedy:

I just want to say – I've had the most success with this cold remedy when I use it at the first sign of the cold.
Whether that's just a little tickle in my throat, or just that odd feeling in my sinuses, that's when you should make this tea. Get rid of the cold before it really gets going!
I often find I get the throat tickle, drink the tea a few times and it goes away. Sometimes it comes back a few days later, so I make the tea again and repeat.
This might happen a few times before the cold doesn't come back.
No, the tea isn't the most delicious tea I drink.
But it is a million times better than dealing with an actual cold, which is awesome! AND, I love that making this tea is so much cheaper than buying expensive cold remedies!
Bonus: It's easy to make!
How to Make the Best Natural Cold Remedy – a DIY – Step-by-Step Instructions
Ingredients to make the Best Natural Cold Remedy – a DIY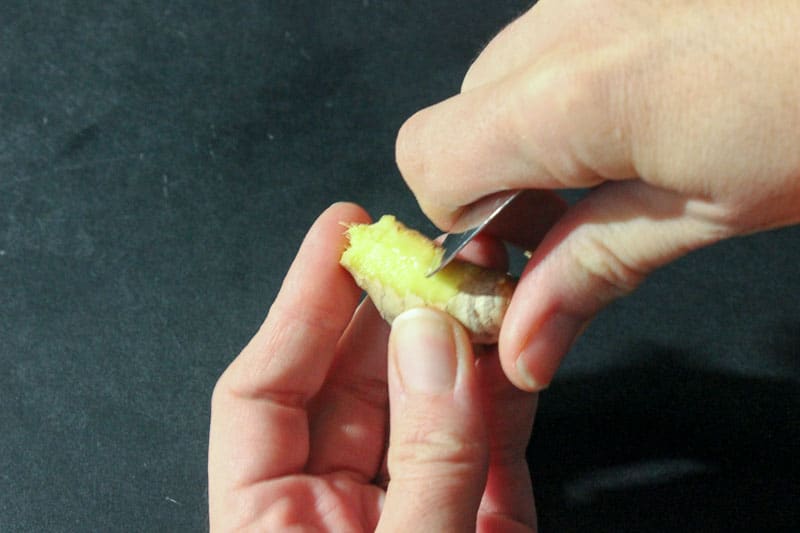 Peel a little knob of ginger. Or you can leave it unpeeled if you want to. It's optional.
Tip: The easiest way to peel ginger is with the end of a spoon.
Slice it up and add it to a pot with some water – probably around 1.5 cups if you're going to make it fresh for each serving. Bring to a boil and simmer for about 5 minutes.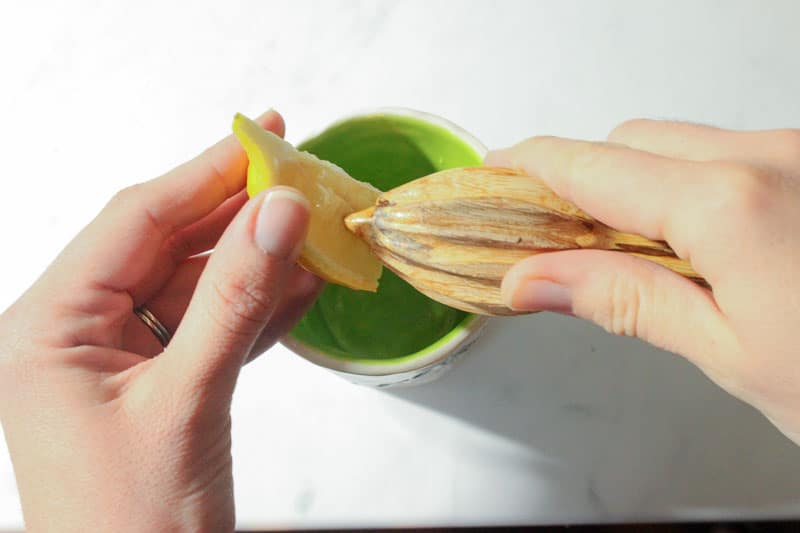 While the ginger tea is simmering, squeeze 1/4 of a lemon into a mug.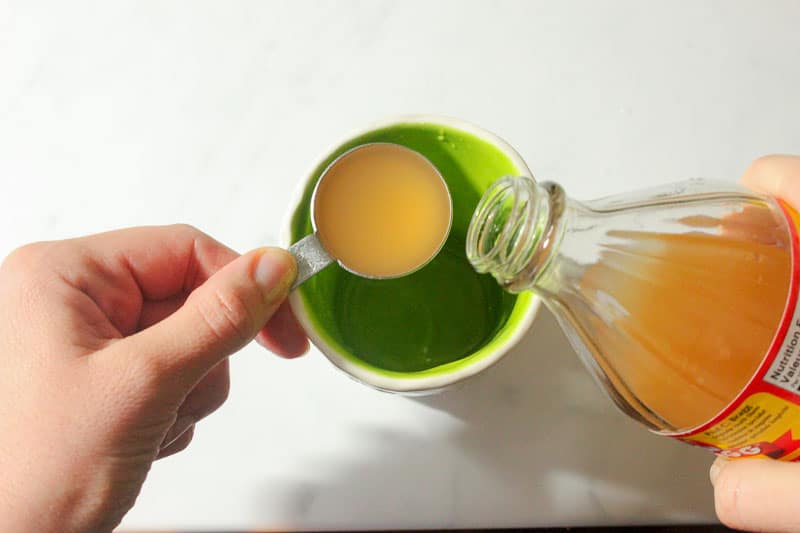 Add 1 tablespoon of apple cider vinegar.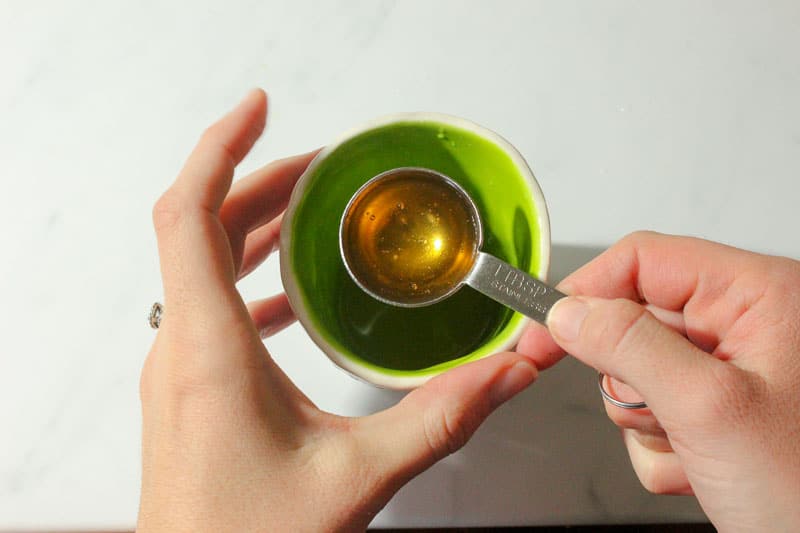 Add 1 tablespoon of honey to the mug.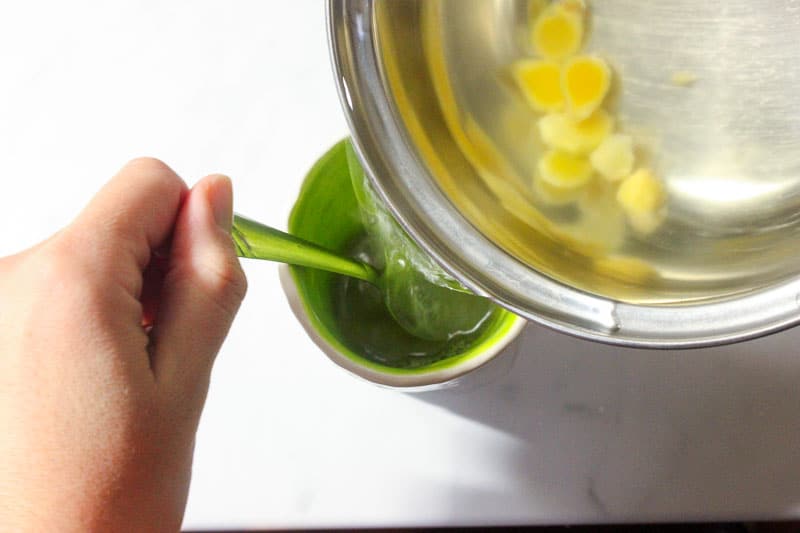 Add ginger water to the mug. I also let the ginger fall in, so that it steeps some more as it cools. Stir well to combine.
Errrr… enjoy! Haha the taste is a little strong, but you get used to it. I drink it 3 times/day if I can until the tickle in my throat disappears. Now I'm trying to get my kids to drink it!
*** I know many of you will ask where I got my gorgeous mug! It's from Gina Cloud, at White Turtle Pottery. She creates so many gorgeous pieces (and they are very affordable) – right on the tiny island we live on. Check out her work here!
The Best Tea For Colds – but why?
I recently did a lot of research because I was wondering why this homemade cold remedy really works so well! I found out so much useful information on home remedies and relief from cold symptoms. In case you're interested, I'll save you all the research time and summarize my findings here:
Apple Cider Vinegar (ACV) as a Home Remedy for Cough & Colds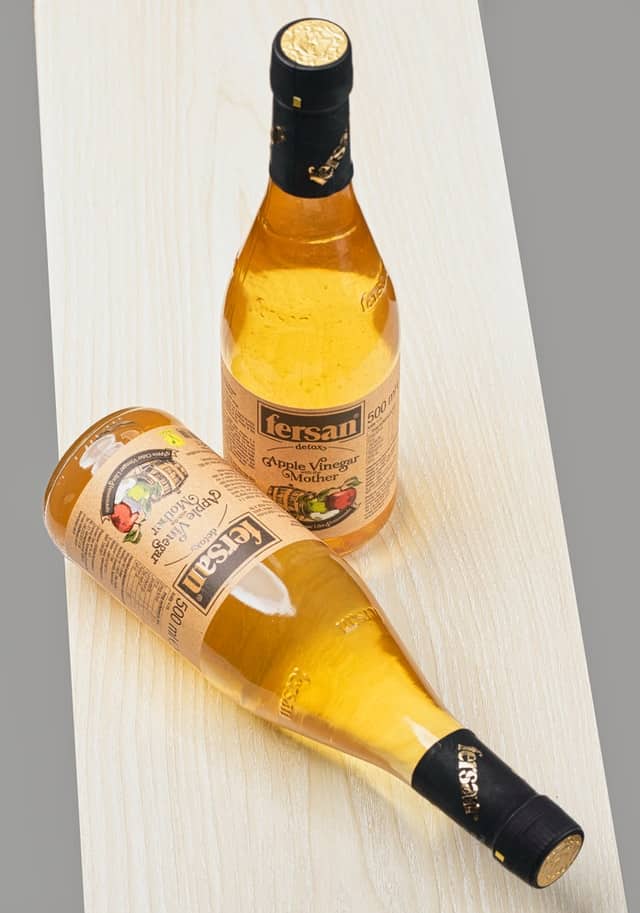 Apple Cider Vinegar (often known as ACV) is a powerful and long time home remedy for common colds. When it comes to choosing an effective ACV, you want to find one that contains "the mother".
The first time I heard this I thought it was bananas (haha), but once I understood what it meant, it all started to make sense.
Have you ever looked at ACV and noticed a murky, cloudy substance floating around inside it? That's the mother. It's what you get in unfiltered apple cider vinegar, and it's what you want, ideally, when you're trying to make a herbal tea for colds.
The mother is a mix of bacteria and yeast that works like a probiotic. This brand is a very common ACV that includes the mother, and you can probably find it at your local grocery store.
This study found that apple cider vinegar was effective in boosting the immune system and healing upper respiratory infections (like chest colds and what many people call a flu – but not stomach flu, of course).
Studies have also shown that vinegar also contains polyphenols, which are a powerful part of antioxidants that can help reduce the sympoms of colds, including congestion – because it helps thin mucus.
Apple Cider Vinegar is a great addition to a cold cure tea, but you'll need to take care of your tooth enamel because it's very acidic. I'm careful not to overuse this tea and always give my mouth a little swish with fresh water after I drink it.
Ginger Tea for Colds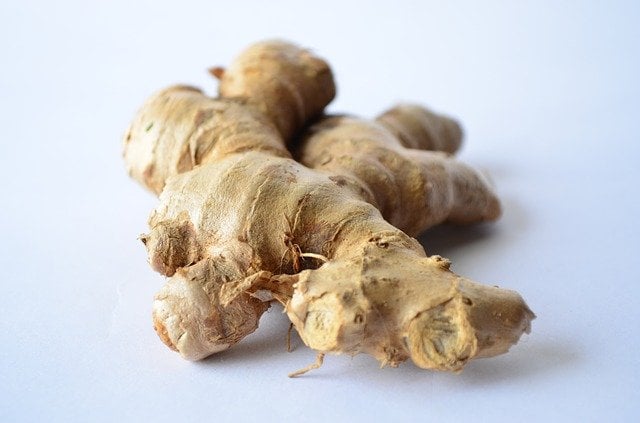 Ginger root has long been used as a form of all natural cold medicine, but there are modern studies to back up these claims.
Research has shown that ginger is a powerful anti-inflammatory and may help fight infection. A hot ginger drink can also soothe sore throats and reduce congestion, although more research is needed to understand why this happens.
To access all the benefits of ginger, be sure to use fresh ginger root in your tea – not dried ginger.
Using Honey to Treat a Cold at Home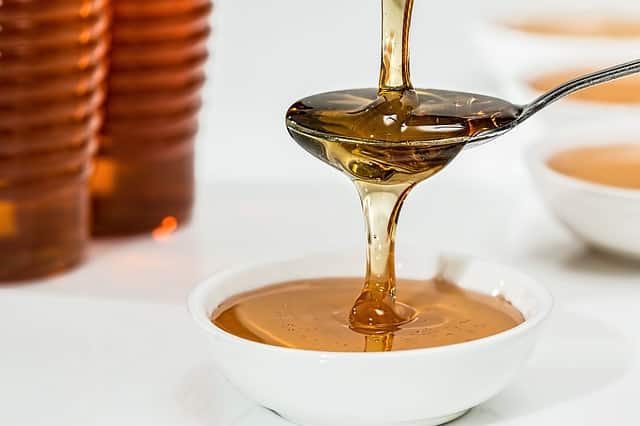 Many of us have experienced how soothing honey can be in a hot drink or warm tea. But honey isn't only soothing. Research has shown it can also help reduce the symptoms of respiratory tract infections (common colds or flus).
Honey has long been used as a natural cough suppressant and the research backs that up as well, making it a great addition to any herbal tea for colds.
Tip: If you find honey expensive, we have some ideas for how you can save money on honey here.
Lemon – Traditionally one of the Best Remedies for Cold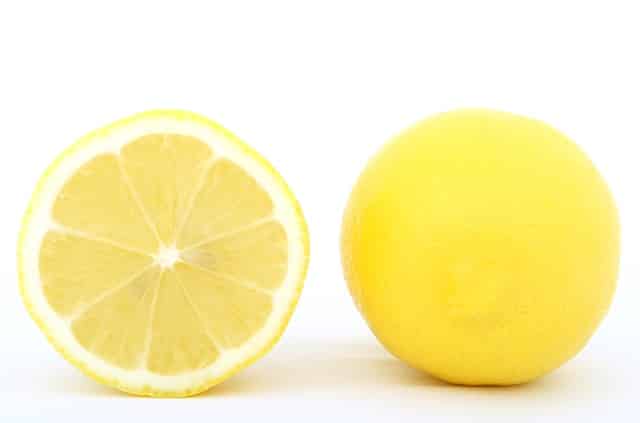 Lemon is a member of the citrus family and as a result is high in Vitamin C – which people traditionally used to help them boost their immunity. Research has shown that Vitamin C is important to immune function. It can also help loosen congestion.
The Best Home Remedy For Colds
The combination of these four amazing ingredients really results in what I believe is the best remedy for colds that you can make at home. I've seen it in my own experience and I'd love to know if it works for you too!
I combine this tea with lots of rest, plenty of fluids and nice soft tissue and I find it really helps colds pass quickly or makes my symptoms much more mild.
If you're curious about other ingredients typically used in cold fighting teas, I have a few suggestions below (but haven't tried them personally).
What other cold busting ingredients can I add to this tea to make it even more powerful?
If you want to add even more ingredients to this tea I would consider turmeric (either 1/2 inch fresh or 1/4 tsp ground), cinnamon (just a little sprinkle), or garlic (a fresh clove, peeled and sliced).
Once again, I'm not a doctor and can only relay to you what has worked for me personally, and the research I've read that has confirmed what I've found anecdotally.
If your symptoms get worse or persist for more than a few days, be sure to see your doctor.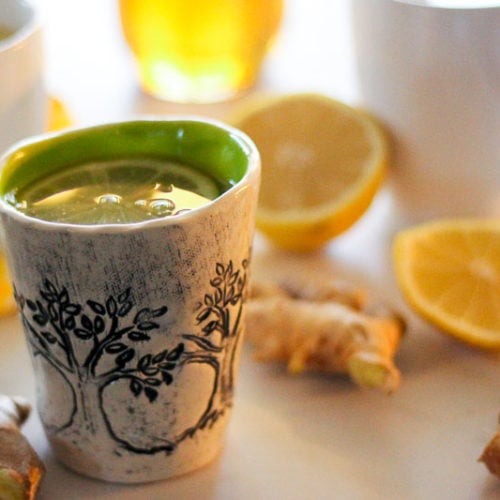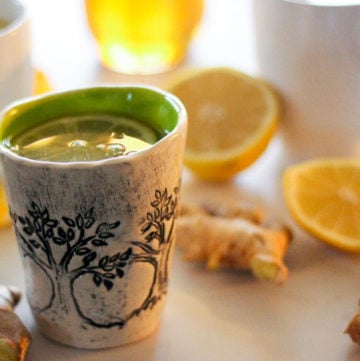 How to Make the Best Natural Cold Remedy - a DIY
This natural cold remedy (it's a simple tea!) is the BEST and it only takes a few ingredients you might already have - apple cider vinegar, lemon, ginger and honey.
Print
Pin
Rate
Ingredients
1

knob

fresh ginger

1/4

fresh lemon

1

tbsp

apple cider

1

tbsp

honey
Instructions
Peel ginger (a spoon works great for this!), slice it and bring to a boil in about 1.5 cups water. Simmer for 5 minutes.


Meanwhile, squeeze lemon into a mug. Add apple cider and honey.


After ginger tea is done boiling, add it to the mug. I let the ginger pieces fall in too - they keep steeping as the tea cools.


Drink this up to 3x a day as soon as you feel the first sign of a cold coming on!


Enjoy! 😉

Nutrition
Calories:
79
kcal
|
Carbohydrates:
21
g
|
Sodium:
2
mg
|
Potassium:
37
mg
|
Sugar:
19
g
|
Vitamin C:
14.4
mg
You might also like: