Homemade Baby Food Puree is easy to make at home and cheaper than store-bought. You can use organic fruit and vegetables and feel great about feeding it to your baby!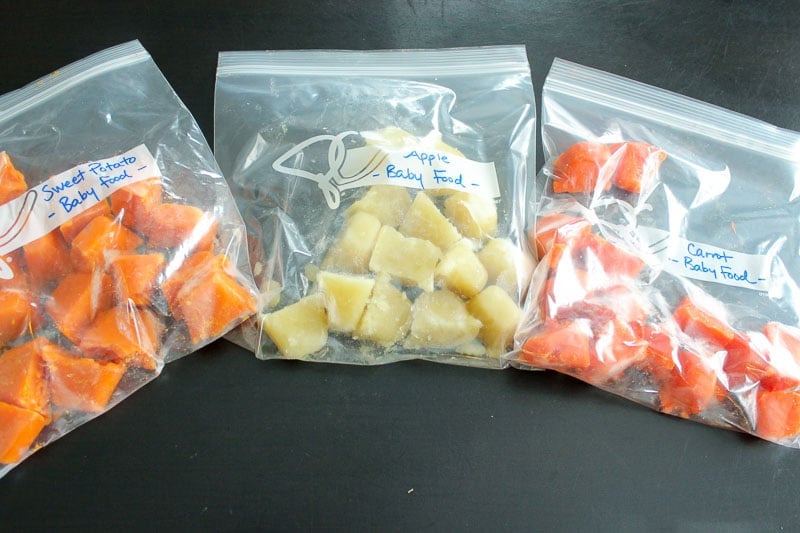 This post may contain affiliate links.
So I realize there's a good chance not all of you have babies. But I have a baby, lots of my friends and family have babies, and I've had tons of conversations over the last few years about making homemade baby food.
Plus, even if you don't have a baby yourself, you probably know someone who does. Or someone who will sometime soon. Or who might someday.
So you see, this post is more widely applicable than you first thought!
The bottom line when it comes to baby food is this:
Baby food is easy to make. It's cheap to make. You have control over the ingredients. You can make it organic if you want to.
It will take no more than an hour or two of your time and you will have a ton of baby food filling up your freezer, ready to feed your sweet babe at a moment's notice.
It's 100% worth the minimal effort, in my opinion, and anyone, even the most inexperienced cook, can do it.
Don't be scared! For this example I made apples, sweet potato and carrots, but there are so many other options! Squash is great and we did a huge one that my dad grew last year. Pear is fantastic too and if they're soft you probably won't even have to cook it – I just pureed. Peas, green beans, poached chicken. So many options!
It's never too early to try to turn your baby into a foodie! 🙂
Save Money on Groceries with these tips:
FAQ About How to Make Baby Food
What foods can you puree for babies?
For this example I made apples, sweet potato and carrots, but there are so many other options! We've also made:
Winter Squash
Peas
Green beans
Proteins:
Chicken (poached, organic, boneless skinless thighs)
Fish – haddock, salmon (wild caught and fresh)
Chickpeas
Fresh fruit (pureed only – not cooked):
Blueberries
Pear
Mango
Peach
I've also really enjoyed these, because they can be mashed into a smooth puree with just a fork and a few minutes!
Bananas
Avocado
As baby gets older and eats more (and has has exposure to the various options), I like to mix a few together like a little meal. For example, chicken, sweet potato and carrots, or fish, squash and green beans.
I also like to mix fruit with baby cereal and a little sprinkle of spice (like oatmeal cereal, apple puree and cinnamon – sometimes with plain yogurt added).
I always followed the recommendations from Health Canada really closely. This article from Baby Centre Canada outlines many of Health Canada's suggestions for introducing solids. Be sure you follow your local government's recommendations on introducing baby foods safely.
What's the best homemade baby food storage?
There are a million gadgets and baby food storage systems out there and I have honestly found that freezing puree in ice cube trays, popping out the cubes and throwing them in zip-top freezer bags works best and is easy.
Once in a while I'm smart enough not to overcomplicate things, haha.
You might also like:
Healthy Lemon Blueberry Muffins
Mama Cecile's Healthy Yogurt Pancakes
5 Easy & Healthy Chicken Freezer Meals
How to Make Homemade Freezer Pizzas
Healthy White Chicken Enchiladas
Homemade Baby Food Puree – Step-by-Step Photo Instructions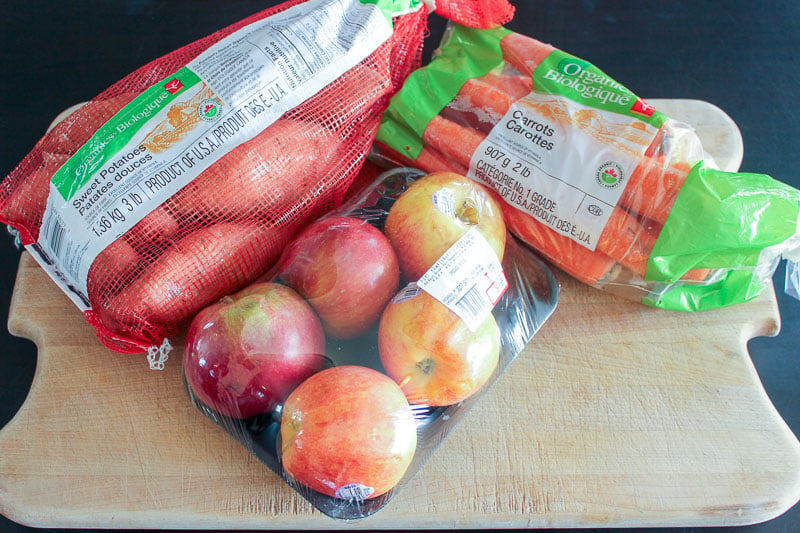 Homemade Baby Food Puree – Ingredients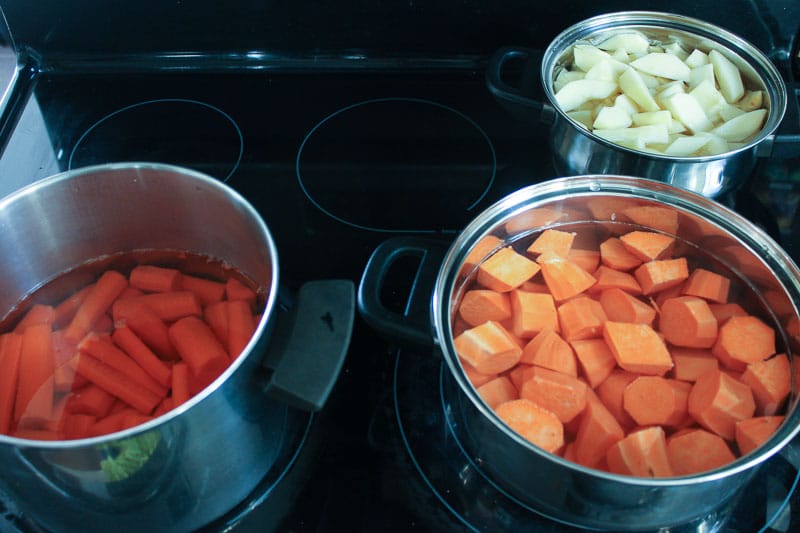 On this particular day I made homemade sweet potato, carrot and apple baby food puree.
Scrub and peel whatever fruit and veggies you're using, chop them up and put them in a pot with just enough water to cover them. Cover with the lid and bring to a boil.
*You can also steam them if you'd rather do that and I will update the post soon to add steaming instructions.
Then lower heat and simmer until fruit and vegetables are soft enough to be pierced with a fork.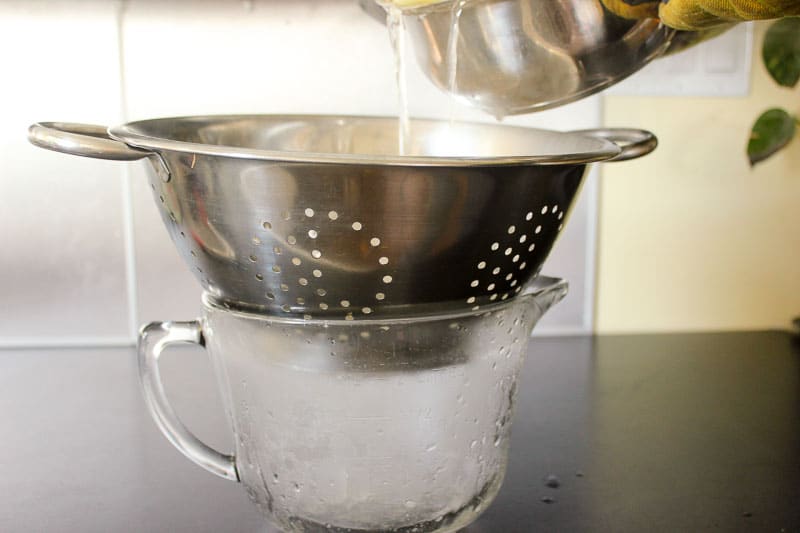 Drain over a bowl to save the cooking liquid. Set aside liquid in case it's needed later.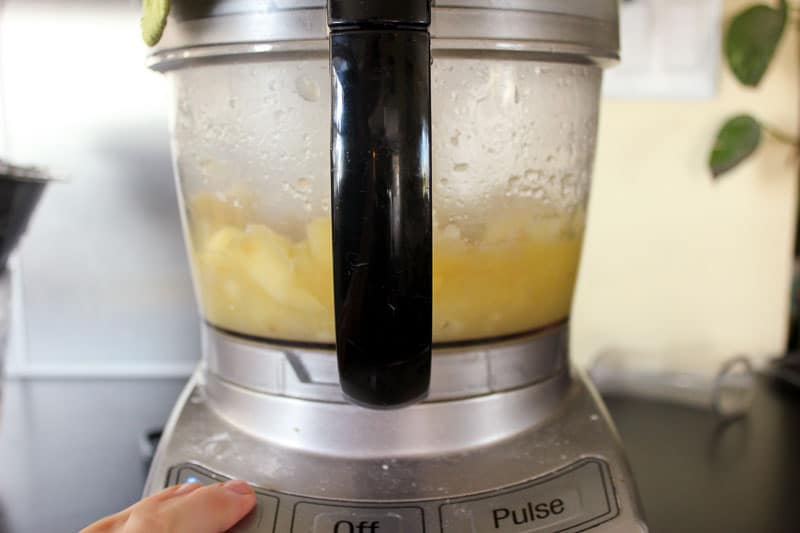 Dump each fruit or vegetable into a food processor one type at a time. (We have this one and while it's expensive, it's been going strong for almost 10 years and I love it!)
Cover the top with a cloth instead of the lid (or follow your manufacturer's instructions for pureeing hot things). Start to puree.
If mixture is too thick, add some of the reserved cooking liquid from that food to thin it. Use remaining liquid for soup, or discard.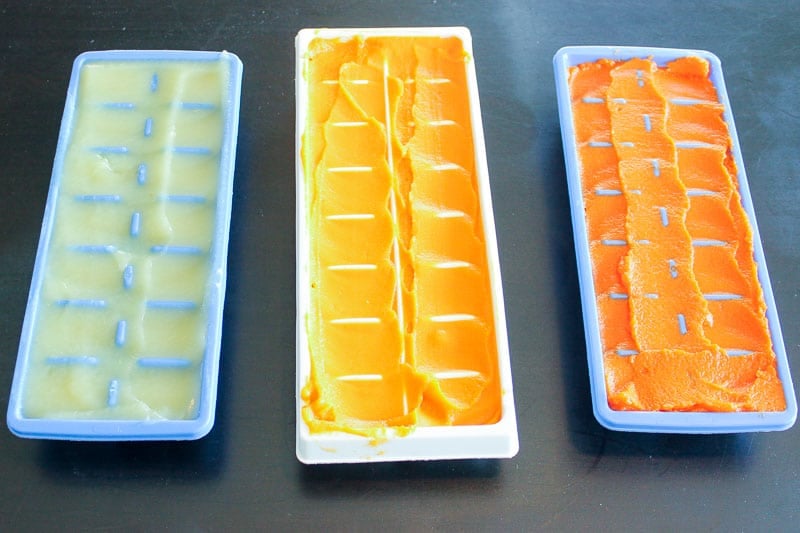 I like to use ice cube trays for individually freezing my homemade baby food purees. These ones look super nice and I love that they have lids!
I find the amount is good for babies just starting out and I can mix and match food combinations as baby gets bigger. Fill the trays and freeze.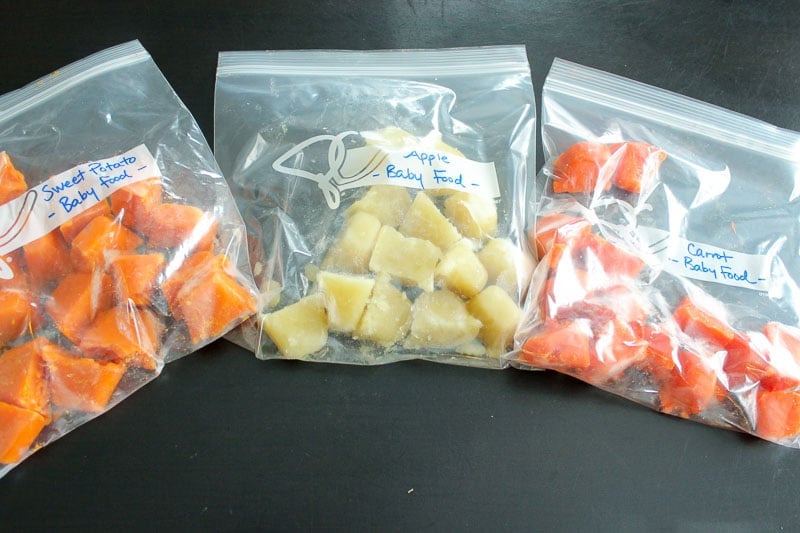 After they're frozen you can pop all the cubes out and freeze them in individual freezer bags. Ready for your little one to enjoy anytime! 🙂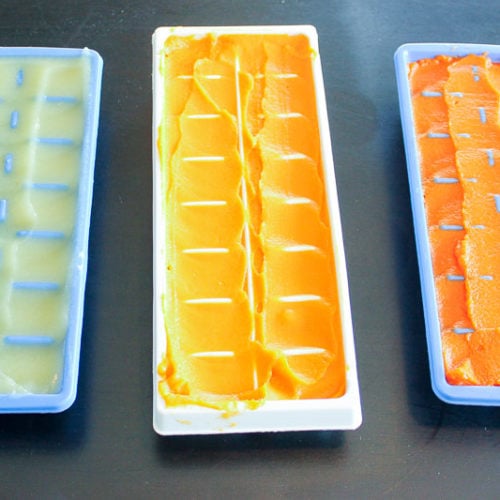 Homemade Baby Food Puree
Make this EASY homemade baby food puree and feed your baby only the best, while saving money on groceries!
Print
Pin
Rate
Ingredients
1

bag

organic carrots

1

bag

organic sweet potatoes

1

bag

organic apples

or whatever fruit or vegetables you'd like to use
Instructions
Scrub and peel whatever fruit and veggies you're using, chop them up and put them in a pot with just enough water to cover them. Cover with the lid and bring to a boil. Then lower heat and simmer until fruit and vegetables are soft enough to be pierced with a fork.

Drain over a bowl to save the cooking liquid. Set aside liquid in case it's needed later.

Dump each fruit or vegetable into a food processor one type at a time. Cover the top with a cloth instead of the lid (or follow your manufacturer's instructions for pureeing hot things). Start to puree. If mixture is too thick, add some of the reserved cooking liquid from that food to thin it. Use remaining liquid for soup, or discard.

I like to use ice cube trays for individually freezing my homemade baby food purees. I find the amount is good for babies just starting out and I can mix and match food combinations as baby gets bigger. Fill the trays and freeze.

After they're frozen you can pop all the cubes out and freeze them in individual bags. Ready for your little one to enjoy anytime! 🙂
Nutrition
Calories:
67
kcal
|
Carbohydrates:
16
g
|
Protein:
1
g
|
Fat:
1
g
|
Saturated Fat:
1
g
|
Sodium:
46
mg
|
Potassium:
282
mg
|
Fiber:
3
g
|
Sugar:
6
g
|
Vitamin A:
11503
IU
|
Vitamin C:
4
mg
|
Calcium:
25
mg
|
Iron:
1
mg
You might also like: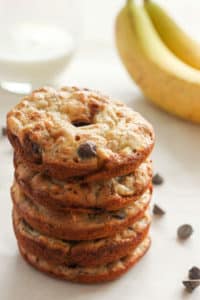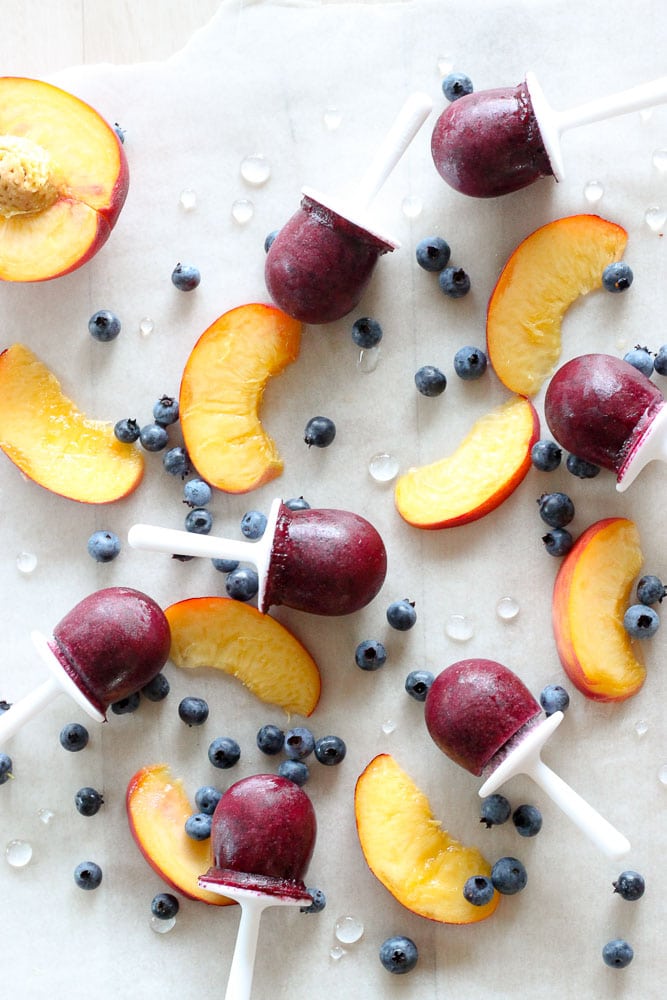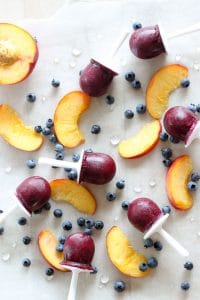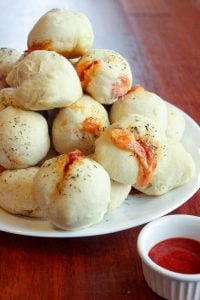 Save
Save
Save
Save
Save
Save