These chicken freezer meals are the perfect solution to family dinners on busy weeknights. They're cheap to make on a budget, healthy (if you're into clean eating), and easy to make ahead of time. We've included a simple shopping list to make your life even easier!
This post contains affiliate links.
A while back chicken went on sale and I snapped up a bunch of packages to make some chicken freezer meals for our family.
I didn't have a ton of time to spend on it and I didn't want to get too intense, so I did something I've done a lot of times before.
I divided the chicken and froze it in bags in a few different, delicious marinades.
I really find that the protein is the hardest part to decide on when it comes to our meals. Give me protein and I can suggest a dozen easy sides to go with it.
And as much as I don't mind chicken in barbecue sauce, or straightforward meals like that, I really love meals that pack a huge flavor punch and make you come back for more.
I decided to do five bags of chicken in marinade for our freezer this time around:
Chicken legs and thighs were on sale for $1.99/lb, so I bought 5 packages, at 2.5 pounds per package.
I realize that the chicken isn't quite a meal on its own, but there are so many easy things to pair it with! I'll include a list of ideas at the bottom of the post.
Also, the size of chicken pieces can really vary, so be sure to check the internal temperature of your chicken with a meat thermometer to make sure it's done (but not overdone!).
Finally, if you love this idea and want to scale it, you could definitely make 10 bags in almost the same amount of time – you're still only doing the work for the marinades once.
5 Easy & Healthy Chicken Freezer Meals on a Budget –
The Shopping List
You'll definitely want to check your pantry first to see if you have any of these items on hand – many of them are pantry staples! Also this shopping list seems long, but a lot of the items are dried spices, so I separated those from the rest.
5 packages of chicken (mine were 2.5 pounds per package)
3 cups plain yogurt (one large tub should be fine)
olive oil (or whatever oil you like would be fine, I'm sure)
1 bulb of garlic
2 lemons
bunch of fresh parsley
knob of fresh ginger
red wine vinegar
freezer bags
Spices
red pepper flakes
cumin
curry powder
garlic powder
ground ginger
cayenne pepper
dried oregano
kosher salt
salt
pepper
5 Easy & Healthy Chicken Freezer Meals on a Budget –Step-by-Step Photos
I usually give you step-by-step instructions, but since these are recipes from other sites, you'll have to click over to them using the links above for the detailed information. You'll be able to tell from the photos below just how easy this was, though.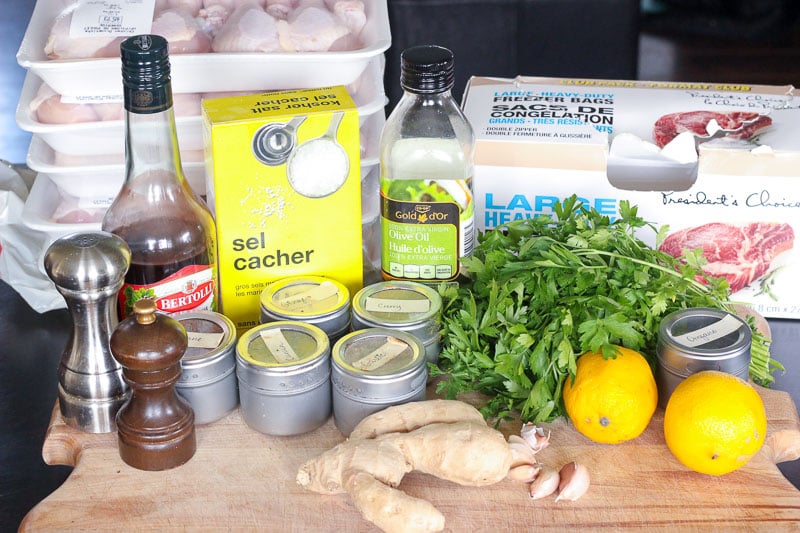 Ingredients for 5 Easy & Healthy Chicken Freezer Meals on a Budget (with shopping list!)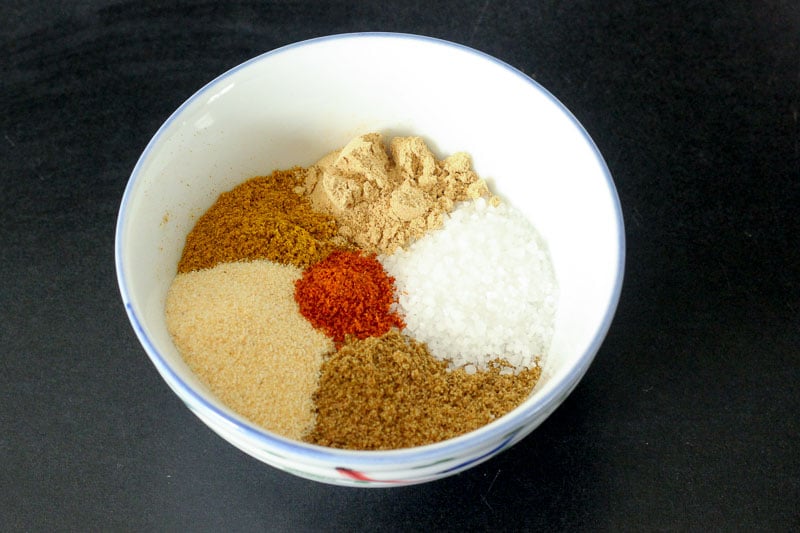 Mix the spices for the tandoori marinade.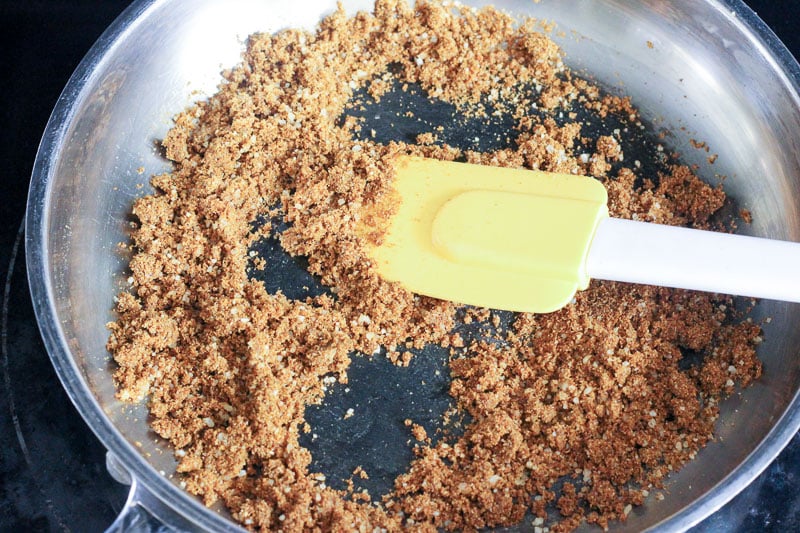 Toast them in a frying pan with a little bit of oil.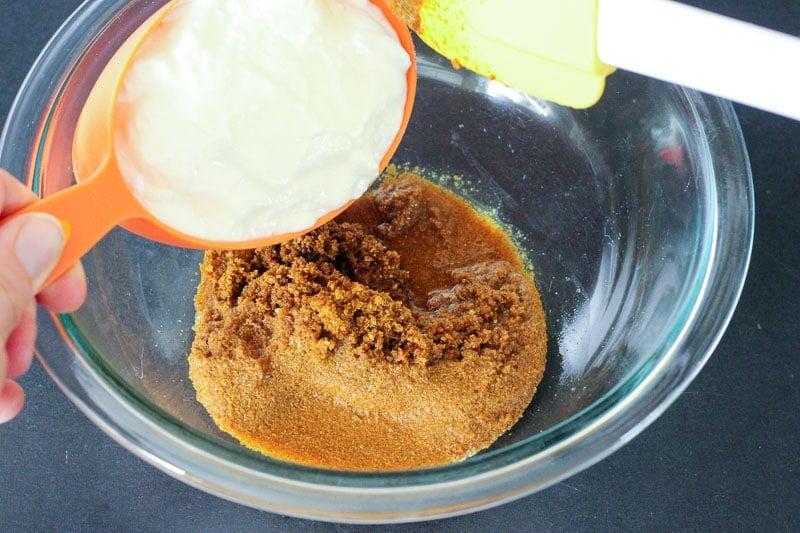 Mix spices with red wine vinegar and plain yogurt.
First marinade is ready to go!!

Mince garlic for the Greek chicken marinade.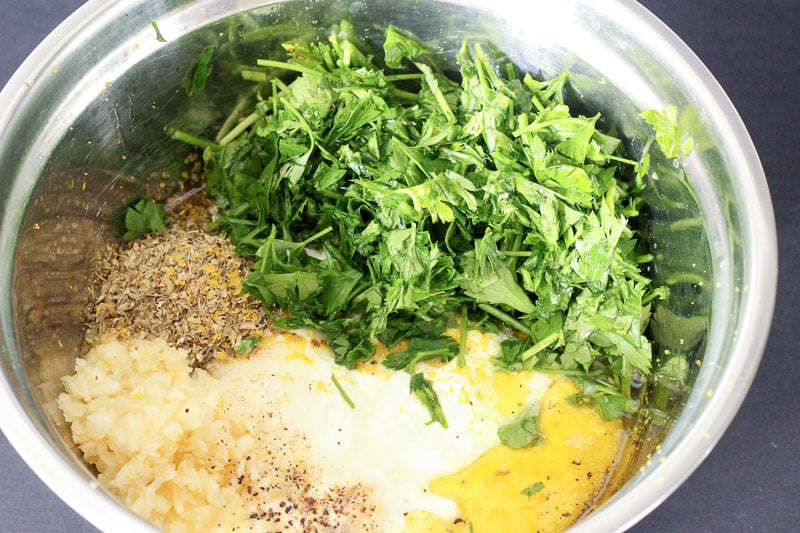 Mix yogurt, lemon juice, garlic, dried spices and roughly chopped parsley together.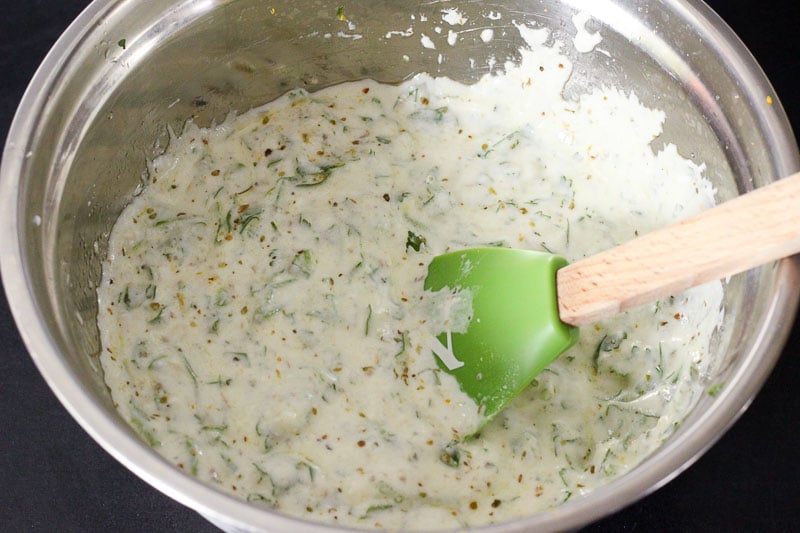 Second marinade done!!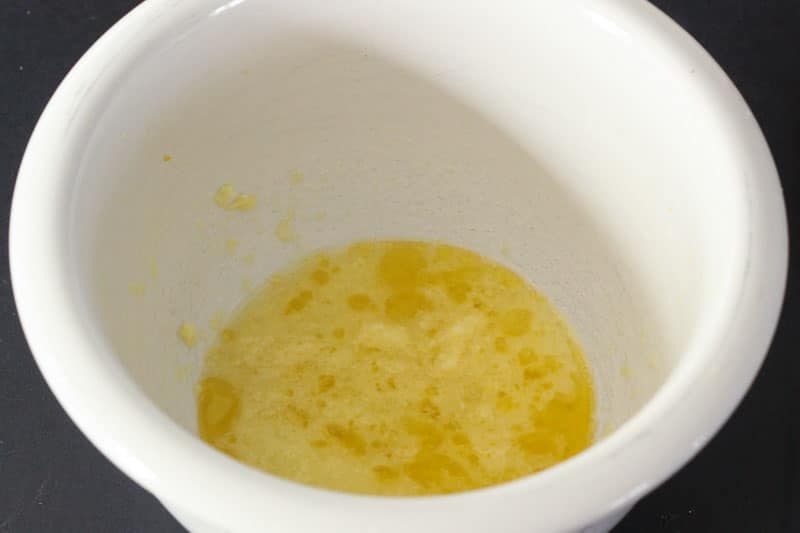 For the Lemon Ginger chicken marinade, mix together lemon juice, oil, minced ginger and salt. Third marinade is ready to go!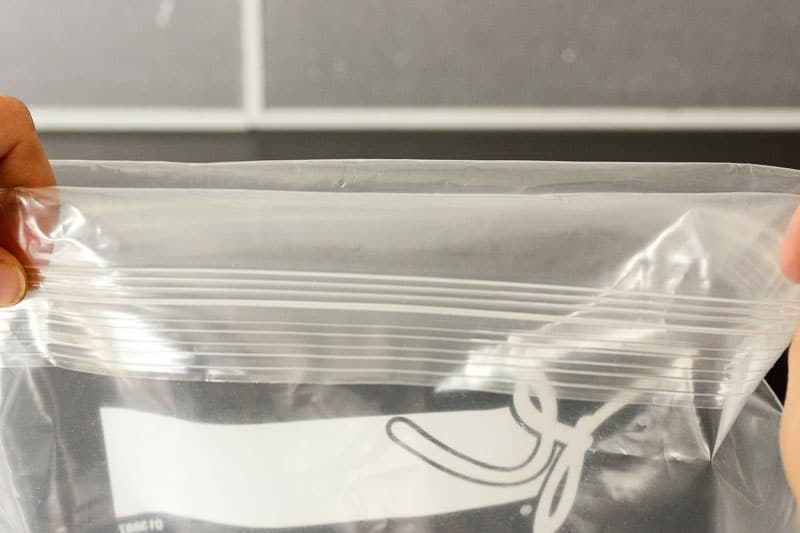 Unless you have some of these fancy freezer bag holder thingies (and they do look awesome), fold the tops over your freezer bags so they don't get all messy.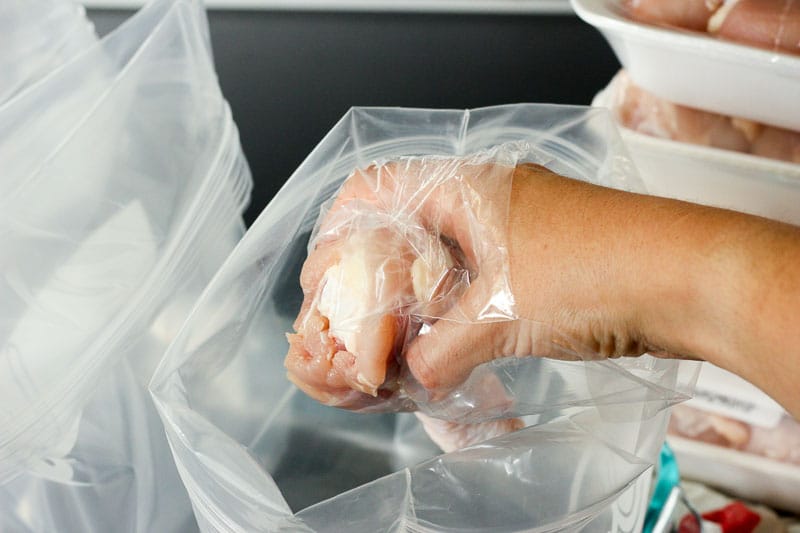 Put a baggie over your hand so you don't have to get all full of raw chicken (more details here!) and load the chicken into the bags.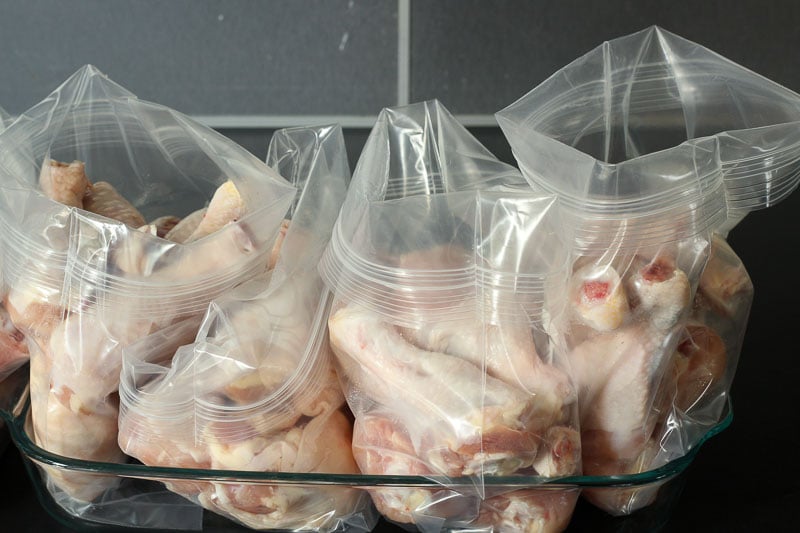 I stood my chicken bags up in a baking dish so they didn't fall all over the place and I could add the marinades in a tidy way.
I just poured half of the tandoori marinade into each of the first two bags, half of the Greek marinade into each of the next two bags, and all of the lemon ginger marinade into the last bag.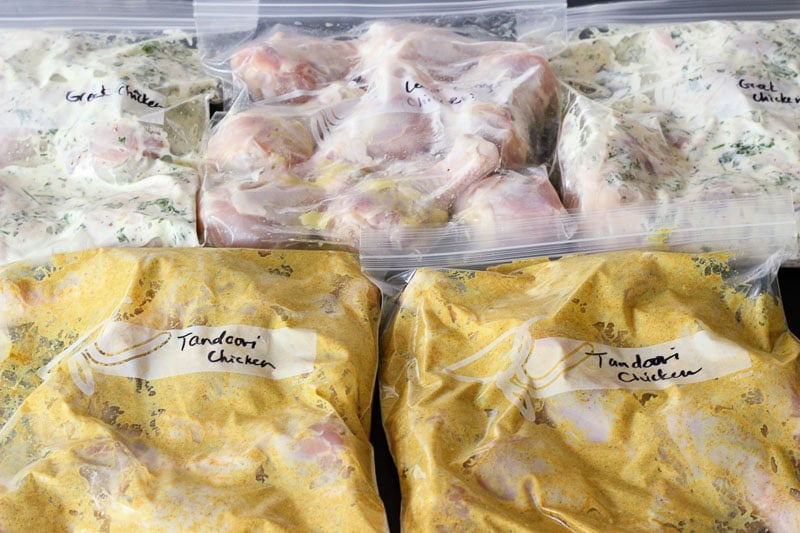 Close the bags up tightly, squish them all around in the marinade and lay flat to freeze. When you're ready to eat, thaw completely (the fridge is the safest place for this – although I sometimes use the counter to start – shhh).
Then bake at 350 for 45-60 minutes, depending on the size of your chicken legs. Breasts take less time. You should definitely use a meat thermometer to make sure they're done!
Enjoy! 🙂
Check out these ideas for easy and delicious side dishes to eat with your chicken freezer meals:
From the blog:
General side dish ideas:
Rice
Baked potatoes
Frozen corn
Frozen peas
Salad
Quinoa
Creamed (like mashed but better) potatoes
Vegetables and dip
Orzo pasta
Canned vegetables
Frozen fries
I love having these chicken freezer meals on hand for busy nights! I know I can cook rice in no time and throw some frozen veggies in a pot or into the microwave and have a delicious, healthy supper ready to go! Hope this sparks some ideas for you guys.
What kinds of freezer meals would you like to see us create for you?