These $5 Meals are the answer to your wish for groceries on a budget. Easy recipes and simple tips mean that frugal meals can still be amazing! Check out these recipes if you've ever wanted to save money on groceries!
Back in the summer I challenged myself to come up with five $5 meals. That's $5 total, not $5 per serving. I know people are trying to buy their groceries on a budget, feed their families healthy and delicious food, and make easy recipes for busy lives.
The summer version of that challenge went great! I developed five cheap recipes for families (or if you don't have a family that's okay too – you'll just have leftovers) and they were a hit. So I decided to keep going. For the fall we had five more cheap and easy recipes, and now it's time for the winter edition!
Related:
Five $5 Meals for Spring
Five $5 Meals for Summer
Five $5 Meals for Fall
Just like before, I made full use of sales and seasonal produce in order to keep prices down. This is what you should be doing too, if you want to spend less money on groceries.
I hope our $5 Meal recipes will help you see that frugal meals don't have to be boring meals. For the winter edition of our $5 Meals e-book, this is what we're bringing you: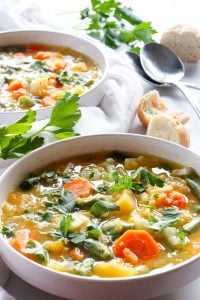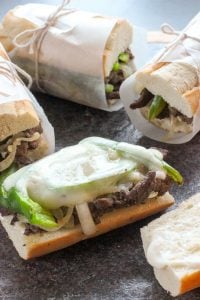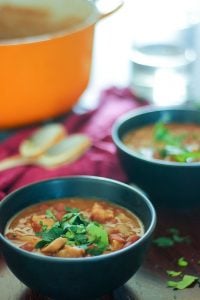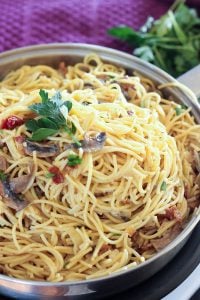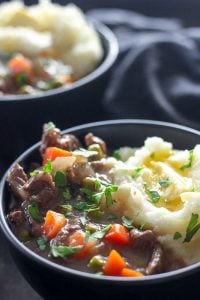 How much do you spend on food in a month? What if you could spend less, and put that extra money toward something fantastic – like a trip, or a wedding, or a down payment – or even other bills? Saving money on groceries is one of the easiest ways to lighten up your budget. Use these cheap and healthy meals to help you do it!
I hope you love the latest installment of the $5 Meals e-book. Click here to download it!
Stay tuned for the spring chapter in a few months (update: it's now linked above)! 🙂