Do you wish you could save money on groceries? But do you LOVE delicious food?! Me too! Learn simple tips and easy recipes to help you cut your grocery bill, and still enjoy fantastic food! Check out our site and also our FREE $5 Meals e-book!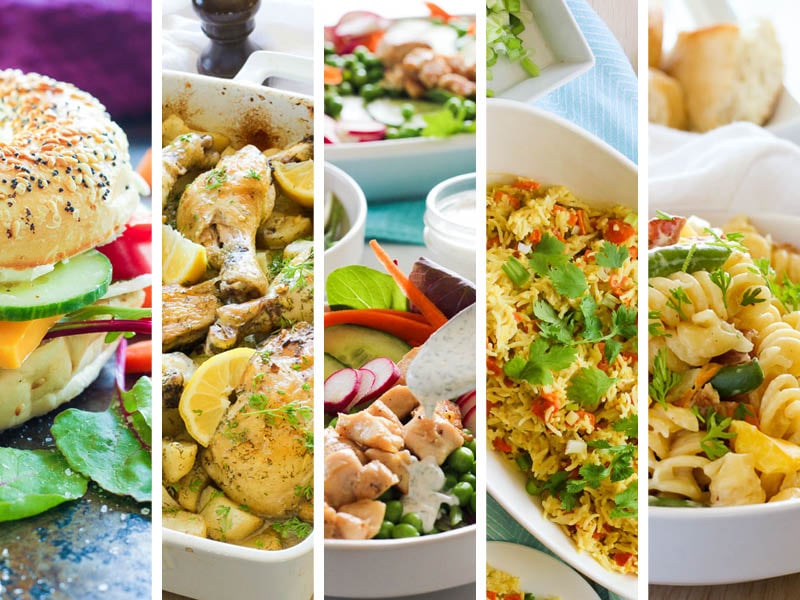 Last summer I challenged myself to develop five meals that each cost around $5 to make (that's $5 total – not per person). What a challenge it was! Groceries are pretty expensive where I live and I had to get creative to make it work!
But I did it!
I followed the summer recipes up with $5 meals for fall and winter, and now, spring!
Related:
$5 Meals for Summer
$5 Meals for Fall
$5 Meals for Winter
In a few weeks, all 20 recipes will be collected in our $5 Meals cookbook, which we offer as a free gift to anyone who subscribes to our email list.
In the meantime, all of our current subscribers and any new sign ups will receive the $5 Meals for Spring chapter and access to each previous season's meals.
$5 Meals For Spring – What's Included
For the spring $5 Meals I used the same tools and tips that I did for the other seasons – made full use of sales, tried to shop my pantry and made sure I was using mainly seasonal ingredients. These tricks helped me keep costs low.
What if you could cut your grocery budget without giving up delicious food?!
What could you do with the extra money in your wallet?
Plan a wedding? Go on a trip? Save money to buy a house?
This site is all about helping you eat fabulous food without blowing your budget. We hope you enjoy the latest installment in our $5 Meal challenge!
Subscribe to our email list and receive the e-book as a free gift here.
Here's a little sneak peek from the new spring chapter. Check it out! 🙂