Mama Cecile's Healthy Yogurt Pancakes – made from scratch in just a few minutes. Filled with yogurt, fruit and a whole lotta love, they're delicious for breakfast, lunch or supper.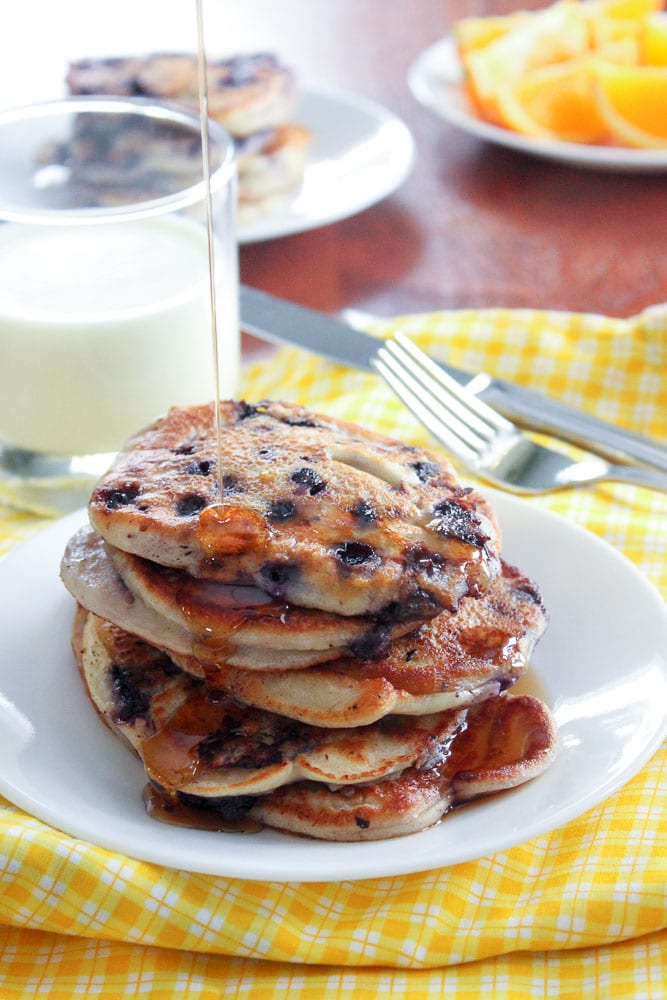 I LOVE pancakes. Even as a kid, whenever my mom would make pancakes, I would pack away six or eight of them. Mind you they weren't giant, restaurant style pancakes. But still. Six or eight.
My mom was always happy to make us pancakes from scratch. Both because she loves to feed people, and because her yogurt pancakes were a healthy breakfast treat. The recipe contains almost no sugar, and uses yogurt for most of the moisture. We even use plain yogurt, but you're welcome to use whatever you like.
These days Laurier and I make my mom's pancakes for our family all the time and our two year old can easily eat four of them. She's catching up to me already.
My sister and I were recently talking about Mom's yogurt pancakes and realized something profound about our mother. In the hundreds of times she made these pancakes in our lives, she rarely ate any of them. You see, my mom really isn't much of a fan of pancakes. But she made them for us, and she was happy to do it.
If that's not love, I don't know what is.
I hope you enjoy her yogurt pancakes as much as we do.
Mama Cecile's Healthy Yogurt Pancakes – From Scratch – Step-by-Step Instructions

Mama Cecile's Healthy Yogurt Pancakes – From Scratch – Ingredients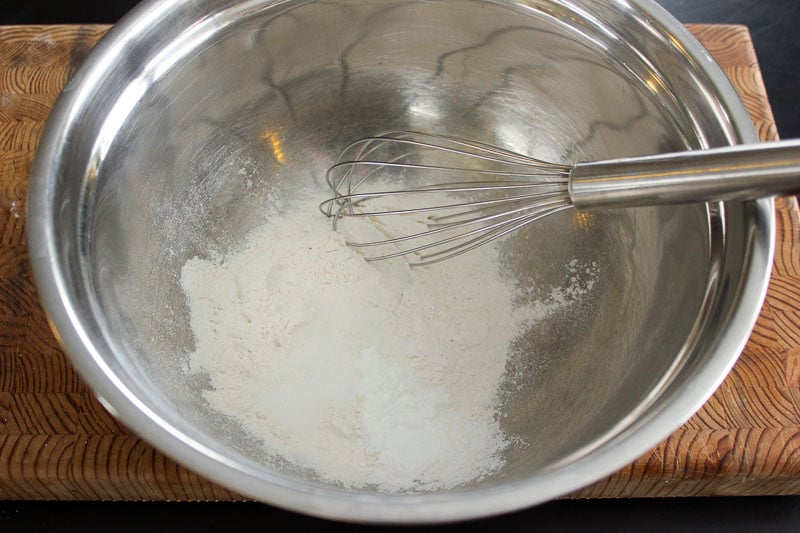 In a large bowl, whisk together 1 cup of flour, 1 teaspoon of baking powder, 1 teaspoon of sugar and a pinch of salt. Set aside.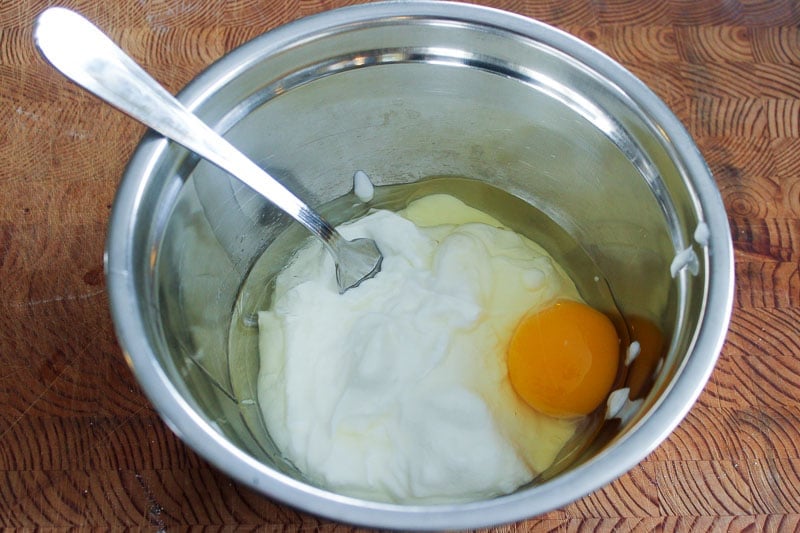 In a small bowl, combine 1 cup of yogurt, 1 egg and one teaspoon of oil (whatever type of oil you want to use). Mix well.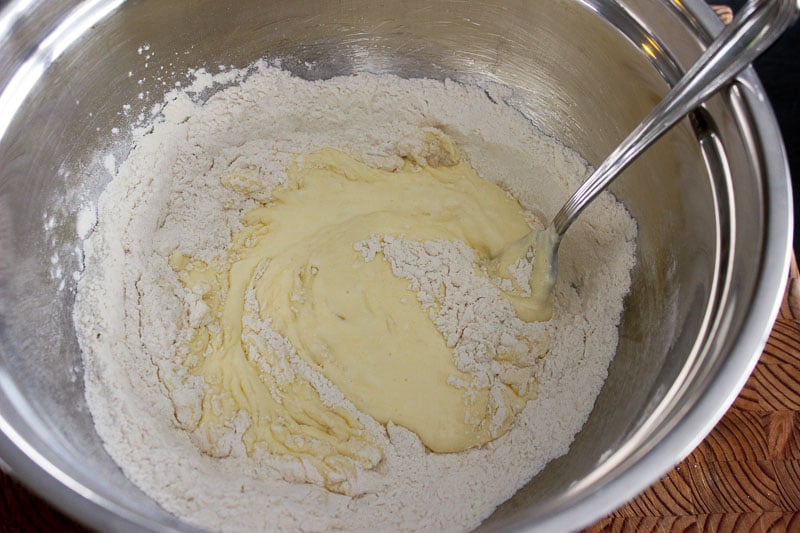 Add wet ingredients to dry ingredients and stir to combine. Add 1/4 cup of milk.
If the batter seems too thick add a little more milk to thin it slightly. If it seems too thin, add a little flour to thicken it up slightly. For some reason my mom always uses a fork for this, so I do too.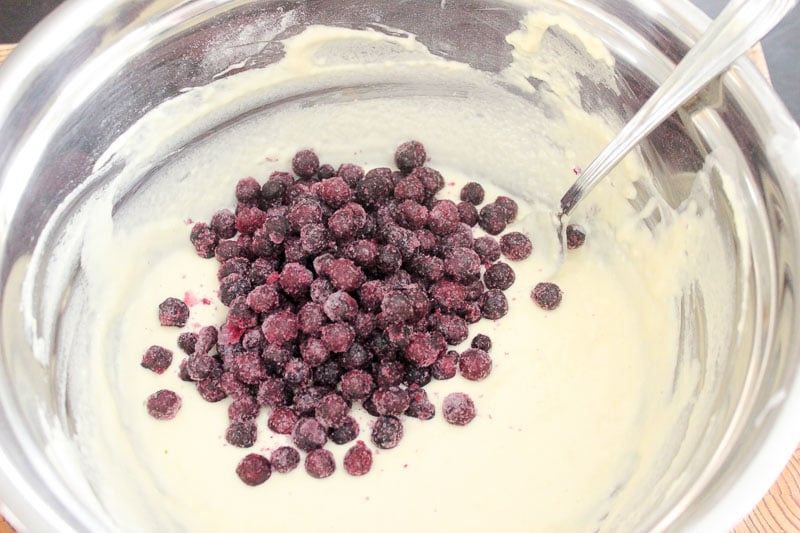 Add 1 cup (or more or less to taste) of whatever fruit you'd like to use. We are big fans of blueberry or mashed banana, but sliced strawberry and peach are delicious too. Here we're using frozen blueberries, and stirring them right into the batter (no need to thaw). Stir just to combine.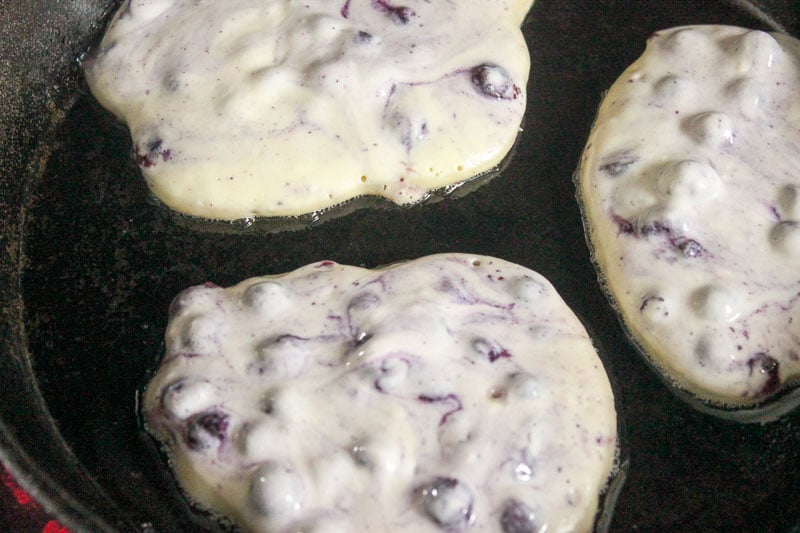 Heat a frying pan over medium-low heat. Add about 1 tablespoon of oil or butter to the pan. Drop pancake batter by 1/4 cup scoops into hot oil. Watch them closely to make sure they're cooked well before you flip them.
Tip: See the little bubbles around the edge in this picture? That means they're starting to set.
Flip and cook until golden brown on both sides. You may want to test one from your first batch to make sure they're fully cooked.
Tip: They take a little longer than regular pancakes because of the yogurt.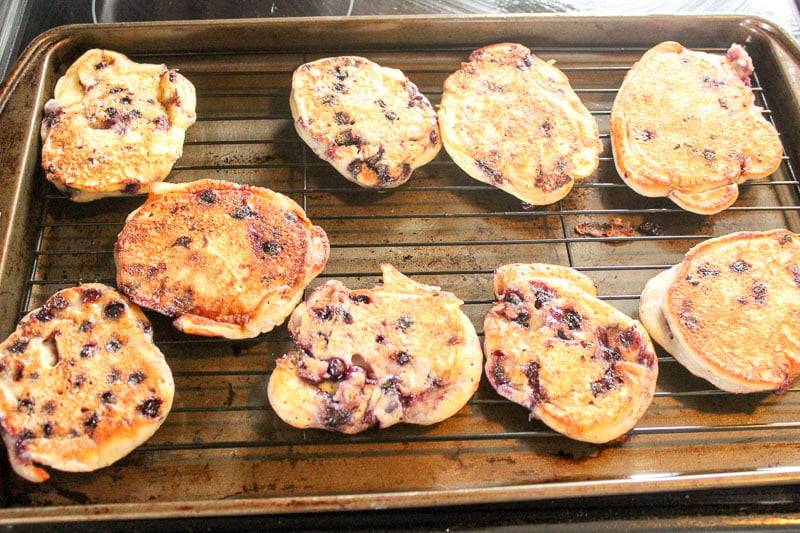 Feel free to serve them as they're ready – they're best when they're hot. Although my kids eat them at room temperature and even cold from the fridge, haha.
Tip: If you're cooking for a crowd or want to keep them hot (without getting soggy), you can put a cooling rack on a cookie sheet and keep the pancakes on it in a low (say 175 or 200 degree F) oven.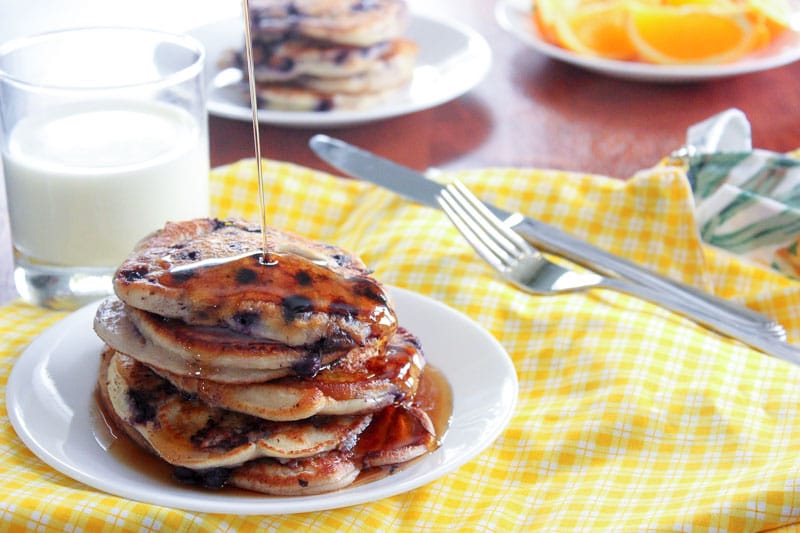 Serve hot with maple syrup. Enjoy! 🙂 ♥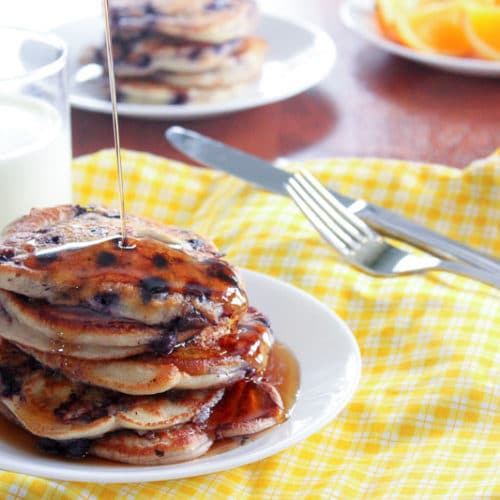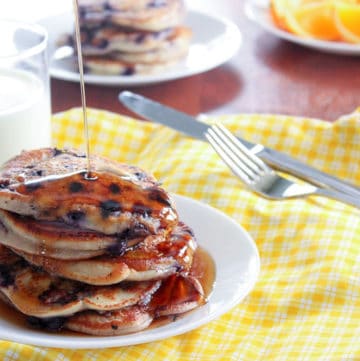 Ingredients
1

cup

flour

1

tsp

baking powder

1

tsp

sugar

1

pinch

salt

1

cup

yogurt

we use plain yogurt, but you can use whatever you like

1

egg

1

tsp

oil

we usually use canola oil

1

cup

fruit (optional)

we often use frozen blueberries or mashed banana, but sliced strawberry and peach are delicious too

1/4

cup

milk

+ more if necessary to thin batter

oil

for frying
Instructions
In a large bowl, whisk together flour, baking powder, sugar and salt. Set aside.

In a small bowl, combine yogurt, egg, milk and oil. Mix well.

Add wet ingredients to dry ingredients and stir to combine. If the batter seems too thick add a little milk to thin it slightly. If it seems too thin, add a little flour to thicken it up slightly. For some reason my mom always uses a fork for this, so I do too.

Heat a frying pan over medium-low heat. Add about 1 tablespoon of oil or butter to the pan. Drop pancake batter by 1/4 cup scoops into hot oil. Watch them closely to make sure they're cooked well before you flip them (about 2-3 minutes per side). As the pancakes start to set little bubbles will form around their edges. Flip and cook until golden brown on both sides. You may want to test one from your first batch to make sure they're fully cooked. They take a little longer than regular pancakes because of the yogurt.

Feel free to serve them as they're ready - they're best when they're hot. If you're cooking for a crowd or want to keep them hot (without getting soggy), you can put a cooling rack on a cookie sheet and keep the pancakes on it in a low (say 175 or 200 degree F) oven.

Serve hot with maple syrup. Enjoy! 🙂 ♥

Save
Save
Save
Save
Save
Save
Save
Save
Save