These Healthy White Chicken Enchiladas are one of our family's favorite main dishes. Easy to make and a total crowd-pleaser, they use yogurt instead of sour cream to make a creamy white sauce (with tangy green chilis). Everyone loves them!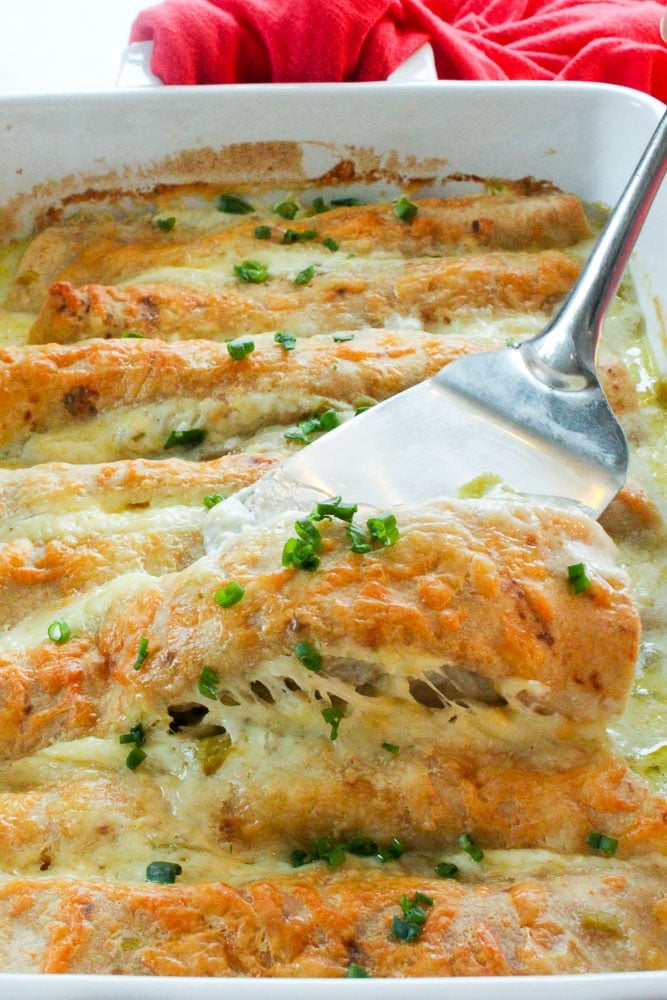 This post contains affiliate links.
You know those recipes that are just SO good. You try them once and then HAVE to make them yourself, and then they become a family favourite and everyone gets excited every time you make them?
Healthy White Chicken Enchiladas is one of those recipes.
At least for our family.
A number of years ago a family friend made these white chicken enchiladas when we were visiting her house. I was instantly smitten. They are just SO good.
I have made them dozens of times since then, and they're always a hit with anyone who tries them.
No, it's not my recipe (but darn, I wish it was!). But over the years I've experimented a lot with it and tweaked it to make it (a) cheaper and (b) a little bit healthier.
I figure neither of those things hurts, especially if you don't notice any difference in the taste!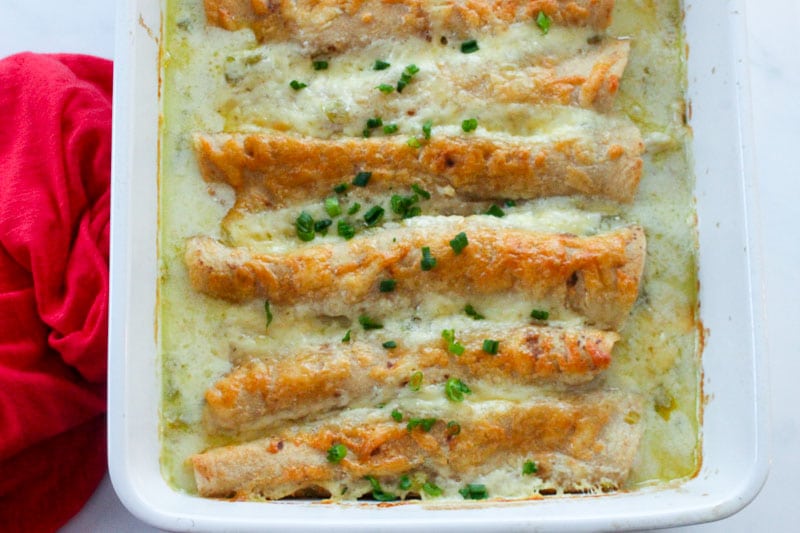 Here's what I do differently:
* I don't use rotisserie chicken.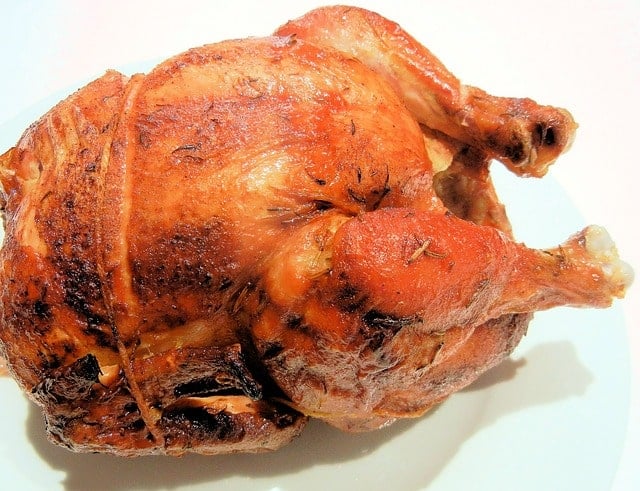 I probably buy a rotisserie chicken, maybe, once a year. I just don't find they're cost-effective where we live. I understand that in some areas they are, but here, the $10 I would spend on a tiny chicken can go a lot farther if I put it into other ingredients.
To make this recipe I use either chicken breasts (which I buy on sale and package individually, so they're ready to go), or leftover turkey (which can be very cost-effective if you get it on sale).
* I don't necessarily use Monterey Jack cheese.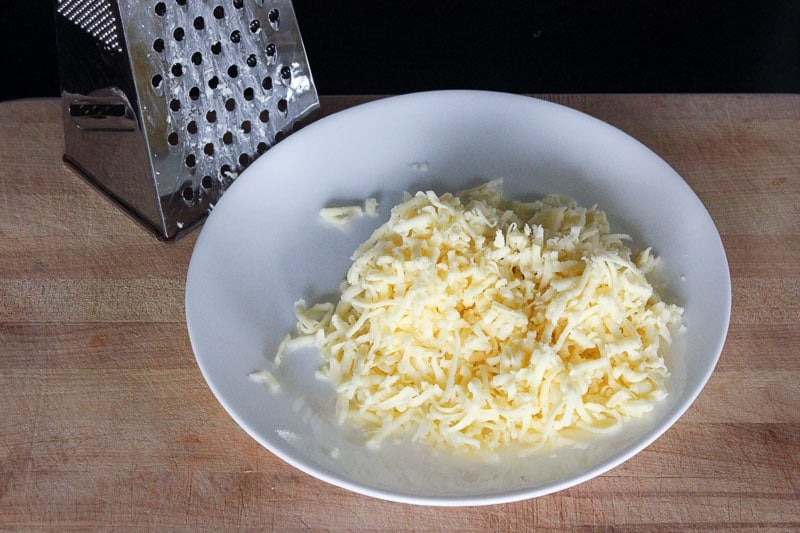 Yes, I've made these enchiladas many times with Monterey Jack cheese, and yes, it's delicious. But you know what? I've also made them many times with mozzarella, and it was still delicious!
Mozzarella goes on sale more often where I live and I always stock up on it. Even when Monterey Jack goes on sale, you only get smaller blocks for the same price.
Now I don't worry about spending extra money on Monterey Jack when I want to make these – if I happen to have some that I picked up on sale, great. If not, that's fine too.
* I use plain yogurt instead of sour cream.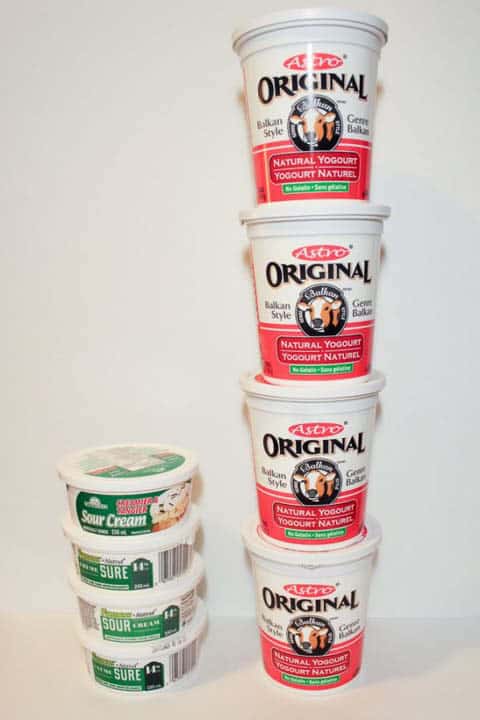 Plain yogurt is SO much cheaper than sour cream (check out my detailed breakdown in this post ) and it's much healthier too!
Ever since I discovered that there's almost no difference in taste (especially when cooking), I completely stopped buying sour cream and only buy plain yogurt. It's what I use in these enchiladas and I notice absolutely no difference in flavor.
* I use Better Than Bouillon instead of regular broth.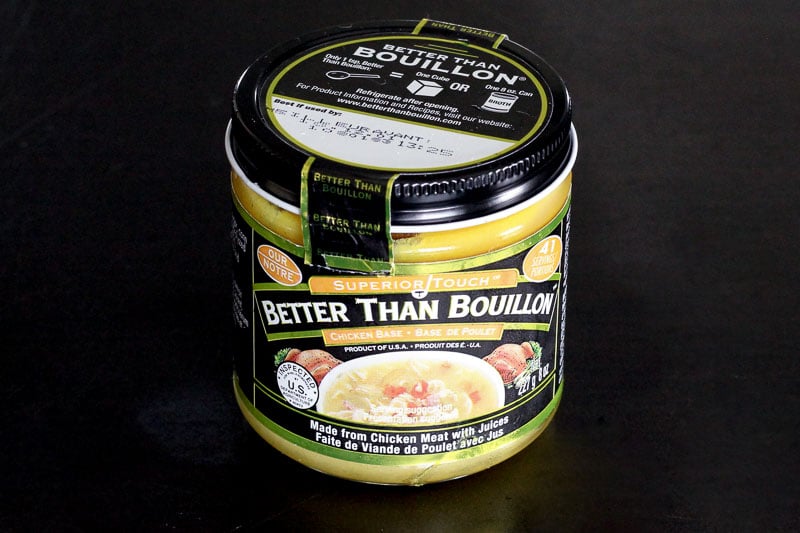 I talk about this a lot in my recipes, but I'll say it again – if you haven't made the switch yet, you're giving your grocery store a ton of extra money, especially if you use broth often.
Better Than Bouillon is incredibly cost effective and the quality is top-notch. You can pick up a jar for much less than $10 and it will make dozens of cups of broth for you.
You store it in your fridge and use only what you need for each recipe. It lasts FOR-EV-ER. Which means no half-used cartons of broth down the drain when they've sat in the fridge too long.
* Your choice of tortillas.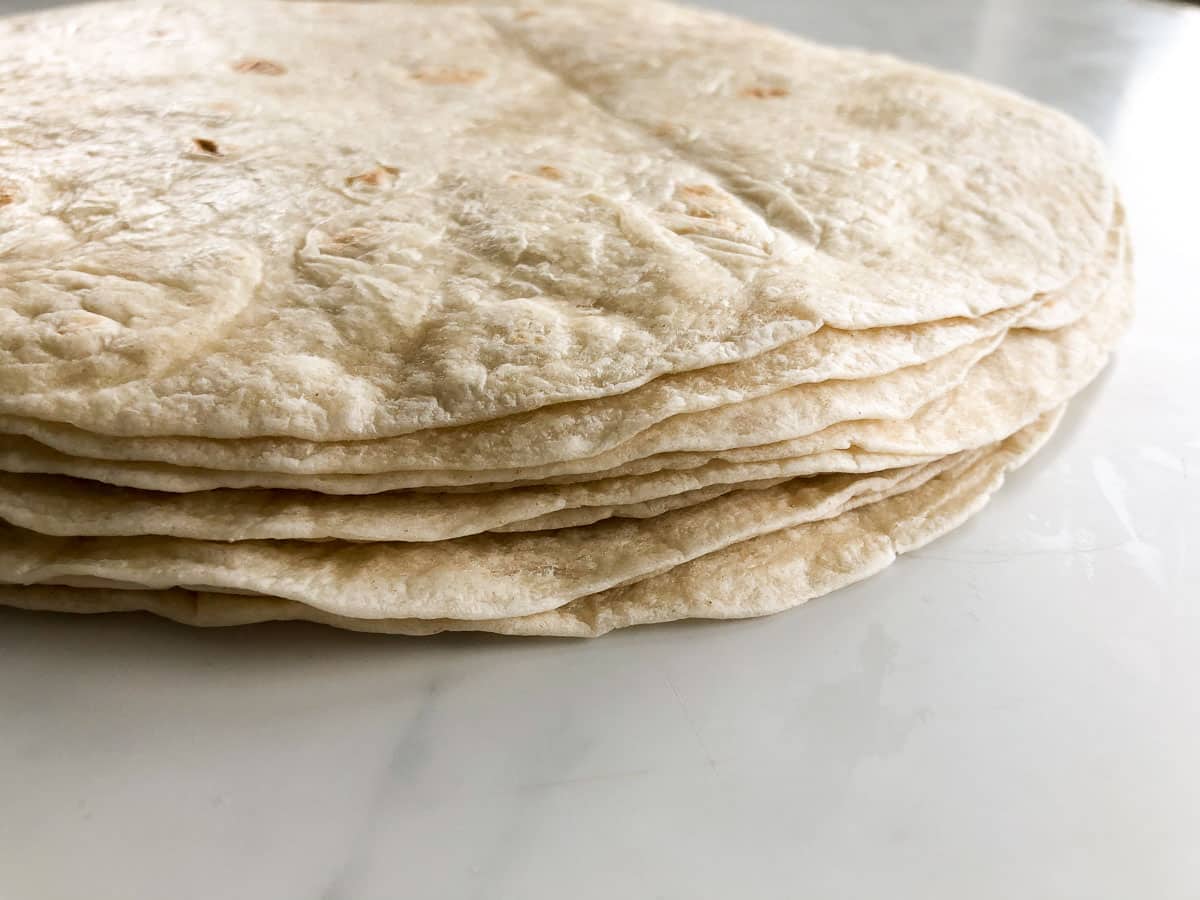 These enchiladas are delicious with white tortillas, but they are still really good with whole wheat or other more healthy tortillas – so use what you like!
Related: Did you know you can freeze tortillas? Here's how!!
Healthy White Chicken Enchiladas – Step-by-Step Instructions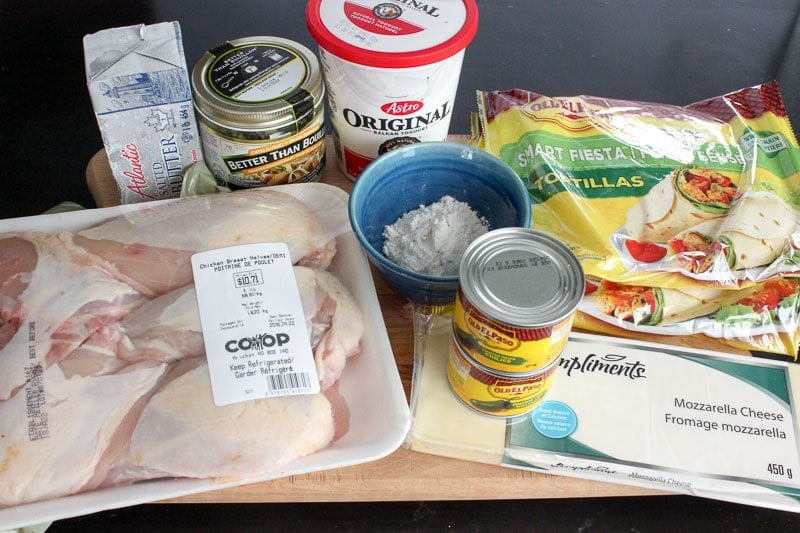 Ingredients for Healthy White Chicken Enchiladas (this was for a double batch).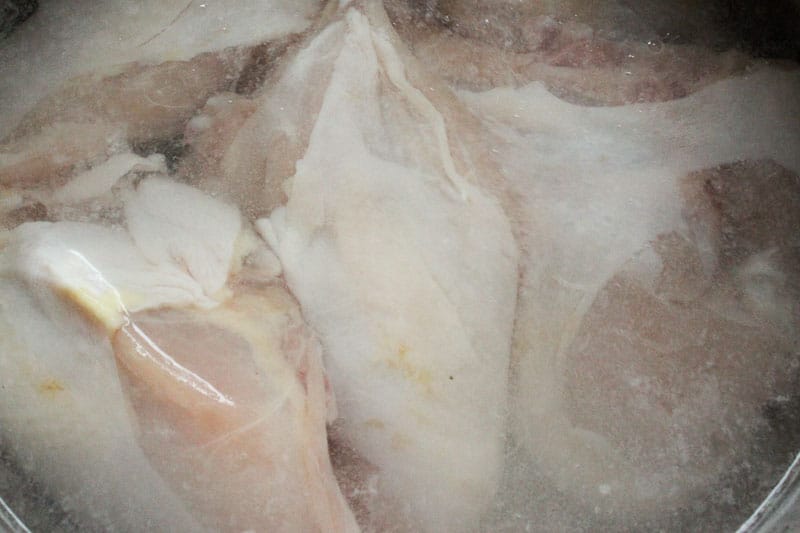 Preheat oven to 350 degrees F.
Start by cooking your chicken – I like to poach it. Arrange in the bottom of a large pot and cover with water.
I like to add a sprinkle of salt. Cover and bring to a boil. Reduce heat and simmer for 10 minutes. Turn off heat and let sit on hot burner for 15 minutes.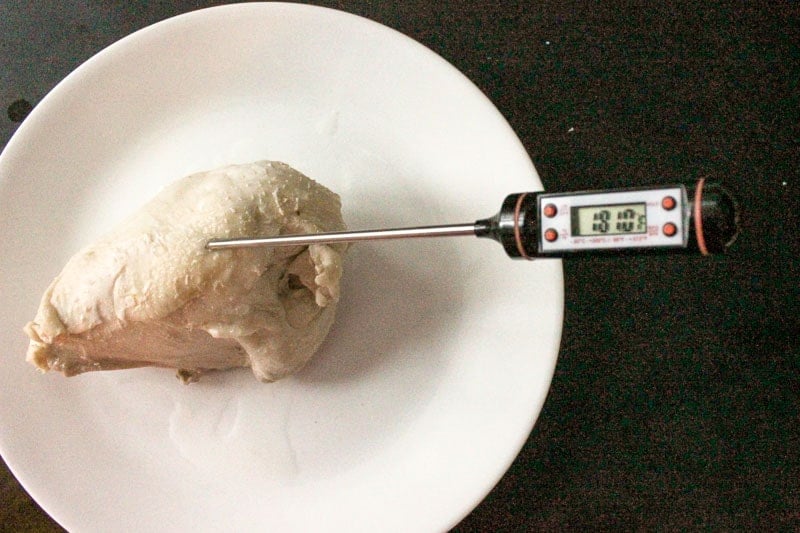 Test chicken with a meat thermometer to make sure it's done (internal temperature should read 165 degrees F).
Debone the breasts (if using bone-in) and remove the skin. Use two forks to shred the meat on a large plate.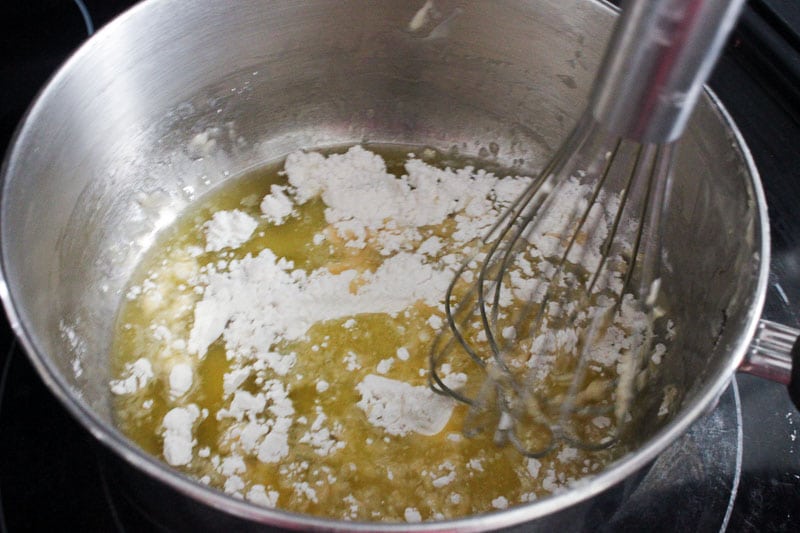 While chicken is cooking, start your sauce.
Melt 3 tablespoons of butter in a pot and add 3 tablespoons of flour. Whisk together until there are no lumps, and then cook, whisking, for about a minute.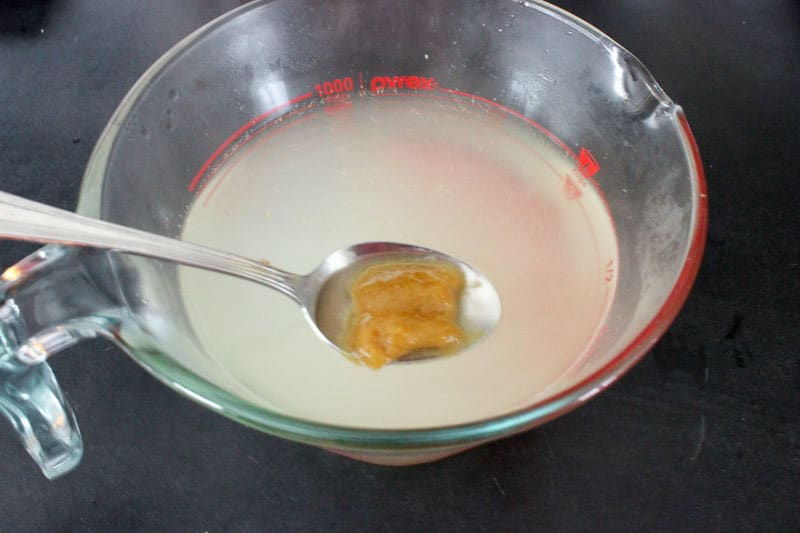 If you're using Better Than Bouillon, mix 2 teaspoons of it with 2 cups of very hot water. Otherwise, you'll need 2 cups of chicken broth.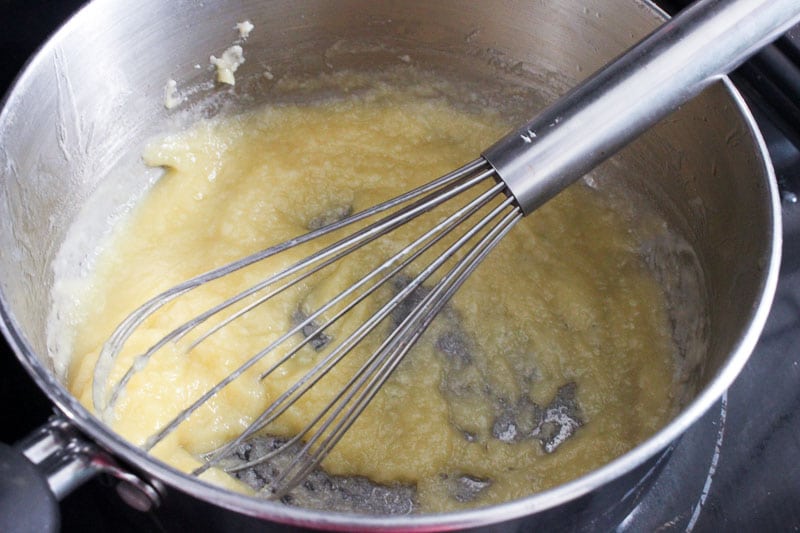 Slowly start adding a tablespoon or so of broth at a time to the flour/butter mixture, whisking well after each addition.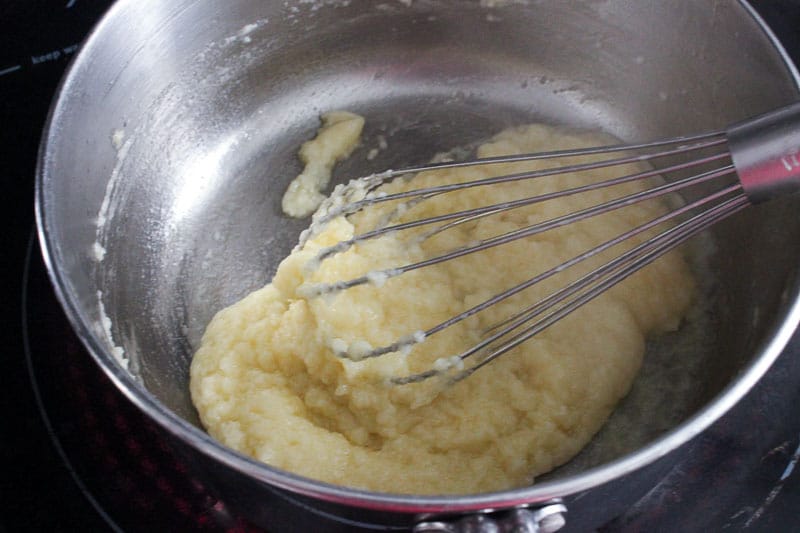 At first the roux will get thicker and seize up, but as you keep adding broth it will thin out and become a sauce. Continue until all the broth is used up.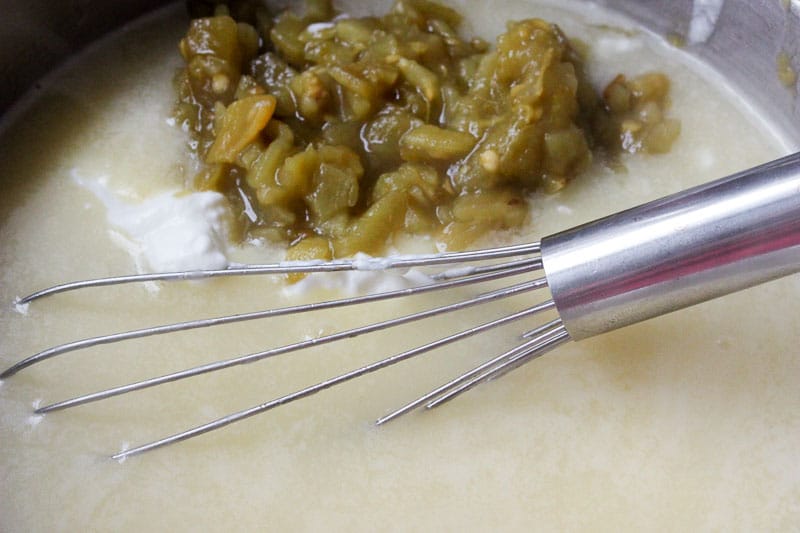 Once you've added all the broth, cook the sauce for around 5 minutes, until it thickens slightly, whisking occasionally.
Take the sauce off the heat and add 1 cup of plain yogurt and one 4oz can of crushed green chilis. Mix well. Set it aside to cool slightly.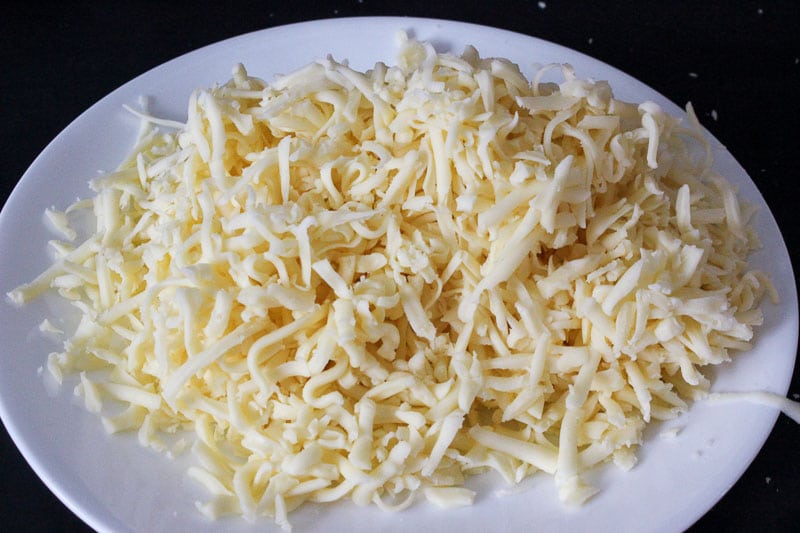 Shred about 2 cups of cheese – as I explained above, I often use mozzarella because it's cheaper and I tend to have it on hand, but if I have Monterey Jack I'll use that.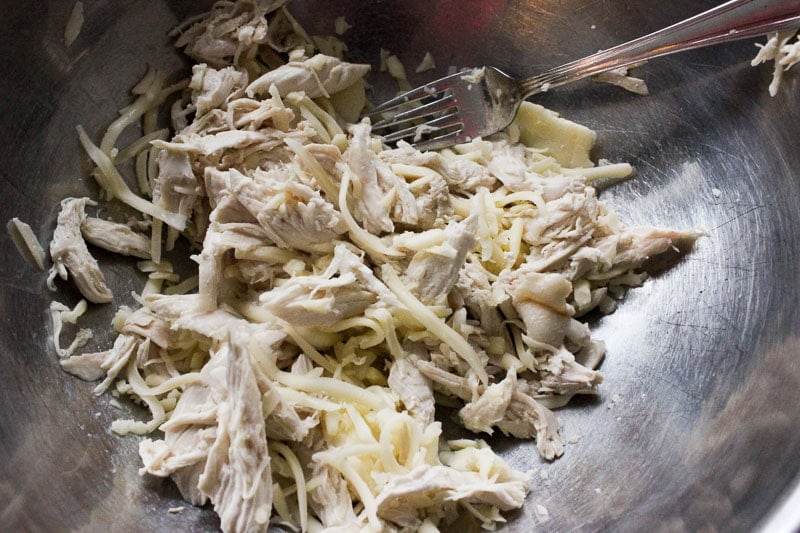 In a small bowl, mix together about 1 cup of the shredded cheese and all the shredded chicken.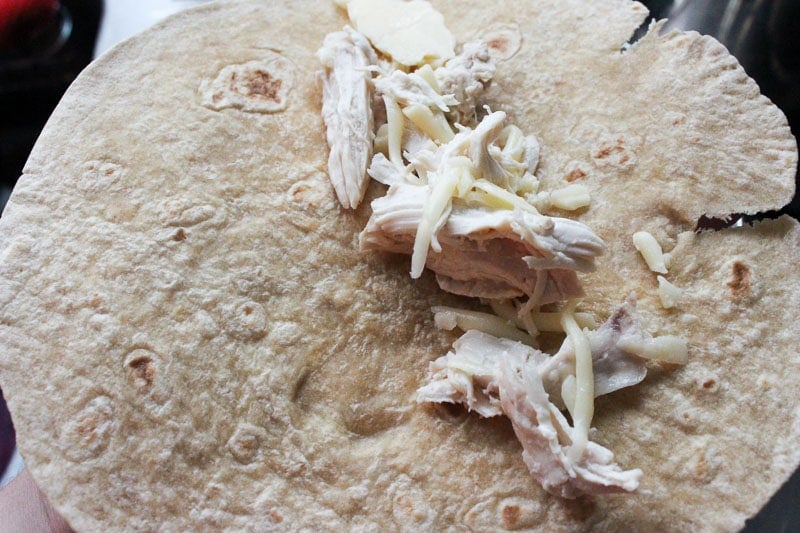 Divide mixture between 8 large tortillas or 10-12 small tortillas. Roll up tortilla around mixture and place, seam side down, in a lightly oiled pan.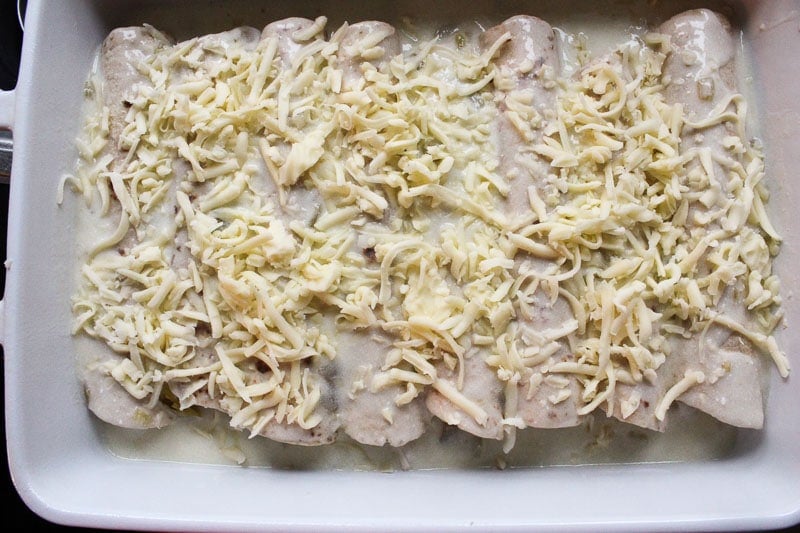 Pour (healthier!) white sauce over stuffed tortillas in pan and sprinkle with remaining cheese.
Bake in preheated oven for 20-25 minutes, until heated through. Broil to brown the cheese slightly if you want.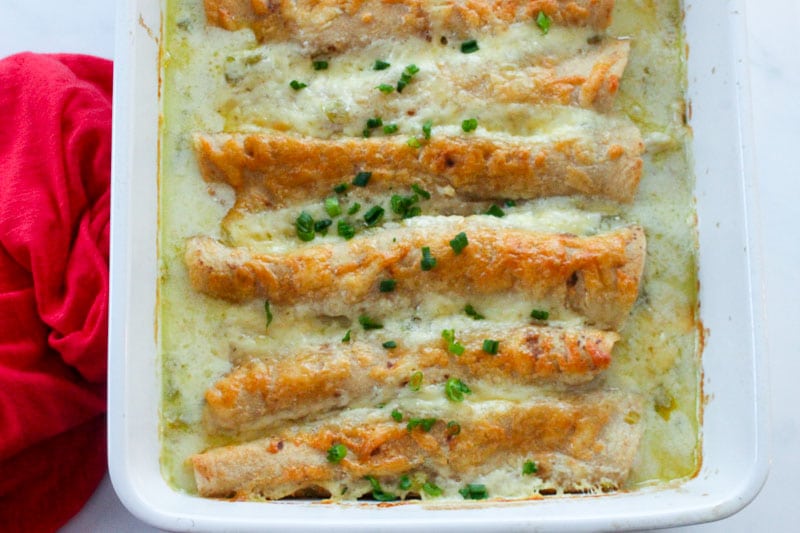 Enjoy! 🙂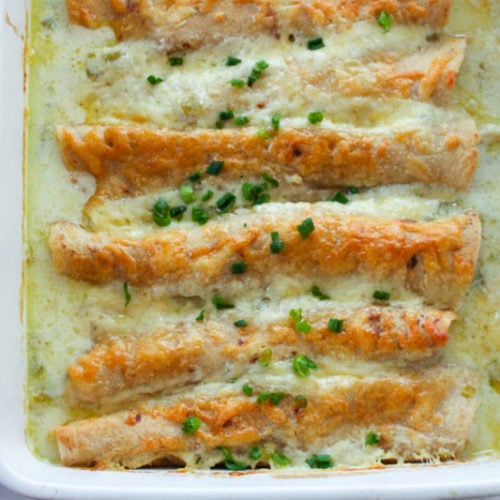 Healthy White Chicken Enchiladas
These Healthy White Chicken Enchiladas are one of our family's favorite main dishes. Easy to make and a total crowd-pleaser, they use yogurt instead of sour cream to make a creamy white sauce (with tangy green chilis). Everyone loves them!
Print
Pin
Rate
Ingredients
8

large flour tortillas

(or 10-12 small)

2

chicken breast

(or 2 cups leftover shredded turkey or chicken)

2

cups

shredded mozzarella cheese

(I will use Monterey Jack only if I have it on hand)

3

tbsp

butter

3

tbsp

flour

2

cups

chicken broth

(I like to make my own with Better Than Bouillon) [Use low-sodium if you have concerns about sodium intake]

1

cup

plain yogurt

1

4oz can

crushed green chilis
Instructions
Preheat oven to 350 degrees F.


Cook chicken breasts.  I like to poach them.  Arrange in the bottom of a pot and cover with water.  Add a sprinkle of salt (optional).  Cover pot with lid and bring to a boil.  Reduce heat and simmer for 10 minutes.  Turn heat off and let sit for 15 minutes.  Remove chicken.  Test with a meat thermometer (should read at least 165 degrees F).  Use two forks to shred chicken (debone if you're using bone-in).

While chicken is cooking, prepare sauce. Melt butter in a pot over medium heat. Add flour and whisk until smooth. Cook, whisking for about 1 minute.


Very slowly start to add broth to flour mixture, a few tablespoons at a time, whisking well between each addition. Mixture will seize up at first, but will gradually thin out as you add more broth. Continue until all broth is added.


Cook, whisking occasionally, until sauce thickens slightly, probably around 5 minutes. Remove from heat and add yogurt and green chilis. Set aside to cool slightly.

Shred cheese. Mix 1 cup of cheese with shredded chicken in a bowl. Divide it between the tortillas, roll them up and place, seam side down, in a lightly oiled pan.


Pour sauce over pan of rolled up tortillas. Sprinkle with remaining cheese. Bake in preheated oven for 20 minutes, until heated through. Broil for a minute to brown the cheese, if you want.


Enjoy! 🙂

Nutrition
Calories:
315
kcal
|
Carbohydrates:
20
g
|
Protein:
23
g
|
Fat:
15
g
|
Saturated Fat:
8
g
|
Polyunsaturated Fat:
1
g
|
Monounsaturated Fat:
5
g
|
Trans Fat:
1
g
|
Cholesterol:
74
mg
|
Sodium:
517
mg
|
Potassium:
379
mg
|
Fiber:
1
g
|
Sugar:
3
g
|
Vitamin A:
368
IU
|
Vitamin C:
1
mg
|
Calcium:
217
mg
|
Iron:
2
mg
You might also like: