A few weeks ago we had a holiday here in Nova Scotia and I was super excited to have an extra day off work (for the season that I work I only have one day off a week). I've done a lot of recipe development, cooking and food photography ahead of time so that I can still post recipes while I'm working.
However, on my extra day off I looked ahead on the calendar and saw I still didn't have a recipe for Pi Day (March 14th – or 3.14) and the geek in me REALLY wanted to have a pie recipe for you guys. There is no geekery I enjoy more than food geekery.
I was tired, though, and just wanted to hang out with my little family. We were headed out for brunch at Laurier's parents' house. Finally, we decided that he would take the girls over there a bit early and give me a chance to do some cooking.
I had already worked on this recipe twice before and knew I wanted to go in a different direction. After some research I decided to make mini chocolate cream pies. Delicious. It wouldn't even take very long.
As I got started, though, I ran into a few hiccups. Somehow (HOW!?!?) I had almost no sugar in the house. Guys, it's hard to make chocolate cream pies with no sugar. The grocery store was closed because it was a holiday. I sighed and sat down to redo my calculations for the recipe. Okay. Moving on…
I decided to make a chocolate pudding on the stove, so that these little cutie pies could just chill in the fridge. But, because I was in a rush and running around trying to do everything too quickly, I overcooked the pudding and scorched the egg on the bottom of the pot. ARGH. At this point I was starting to get a bit discouraged.
I passed the pudding through a fine sieve and got rid of most of the egg. I figured I'd mention what happened as a note of caution in the recipe. I kept going (I'm nothing if not persistent).
Finally, we came to the chocolate. I went through my cupboard, where we normally have lots of baking chocolate, and found one box. It had been opened already.
I held my breath and peeked inside. I counted the ounces of chocolate left. I was short 2 ounces from what I figured I would need. I did some quick calculations. Maybe I could still make it work. I put the chocolate on a cutting board and started chopping it, then got out my camera to take a photo for my step-by-step process shots.
I didn't have quite enough natural light to take a photo that wasn't blurry (winter food photography is rough!), so with the camera in hand, I picked up the cutting board to move over near a window. As I walked away from the counter, my camera strap hooked on a drawer pull and the entire cutting board full of chopped up chocolate flew across the kitchen and landed on the floor.
The floor.
Guys, this was my limit.
Aside from a moment of relief that my camera wasn't also in pieces on the floor, this was the moment when I realized I was done. DONE. D-O-N-E. There would be no mini chocolate pies. There would be no Pi Day post.
It was just not going to happen because I was trying to squeeze too much into one little day off and trying to work around too many obstacles, and sometimes, friends, in life, you just have to say NO.
Modern life is full of demands on our time, and obligations pulling us in a hundred different directions. Sometimes we need to give ourselves permission to turn down plans or cut things off our to-do lists, or just accept that we can't do it all.
Even if it's just to yourself. Actually, ESPECIALLY if it's just to yourself (in my case anyway).
So I did exactly what I should have done in the first place, I cleaned up and went to brunch with my family, and spent the rest of the day hanging with Laurier and the girls.
Do I have a pie recipe for you today? No.
Do I have advice for you today? Yes.
Give yourself a break. Cut yourself some slack. If life is crazy and you're a food geek like me, stop at a bakery and buy yourself a little pie and go home to enjoy it.
Because sometimes you just have to say no.
🙂
Related: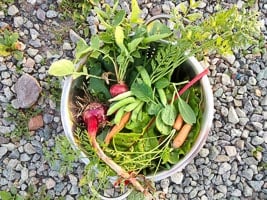 If you're still looking for a pie recipe, check these out: