This Chile Con Queso Pasta Bake is for everyone who has to pry themselves away from the con queso dip (like I do!).
Healthy, cheap and easy to make, it'll help you get your queso fix in delicious cheesy, creamy pasta form. YUM!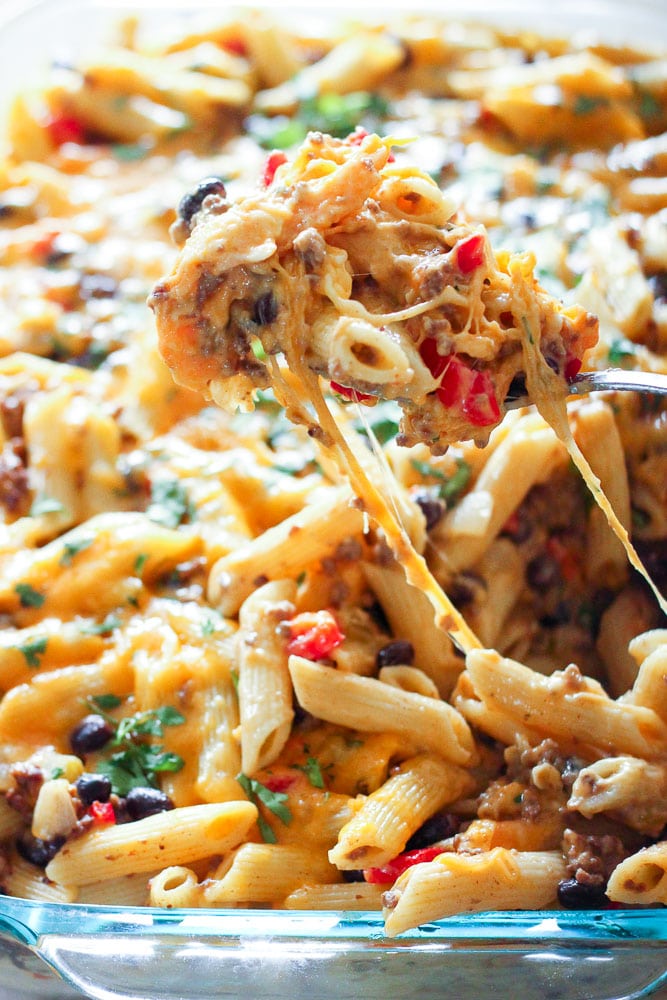 I don't know about you, but I have a bit of a thing for con queso dip. Yes, the internet tells me that it's chile con queso, otherwise known as 'queso', but for some reason where I live people call it con queso, so that works for me.
If you have no idea what I'm talking about, the store-bought version (which I could eat by the jar) looks like this.
Actually, I don't believe I've ever had a homemade version of the dip, and that, my friends, is something I obviously need to remedy IMMEDIATELY. As in, maybe this weekend. Hey, it's 6 am.
ANYWAY. A little while back I was having a craving for some con queso. But I was also craving supper. Specifically, some type of pasta. With a southwest influence. And while I'm certainly not making any claims about authenticity or the origin of any of these flavors, we had something that I'll call Chile Con Queso Pasta Bake. And I loved it.
I would say it's even pretty healthy!
Instead of just dumping a jar of the dip into my pasta (which I considered, but…. er, no), I made a homemade sauce out of milk, cheese, canned chilies and plain yogurt (my secret ingredient in so many things!).
I will say, if our kids aren't going to be eating with us I would use two jars of chilies, for the extra con queso flavour. But otherwise, delish! Creamy, tangy, cheesy and hearty. It calls for a bunch of pantry staples, and stretches just 1 lb of ground beef (which you could leave out to make it vegetarian, or cut costs).
The perfect fall casserole!
Chile Con Queso Pasta Bake – Step-by-Step Instructions
Chile Con Queso Pasta Bake – Ingredients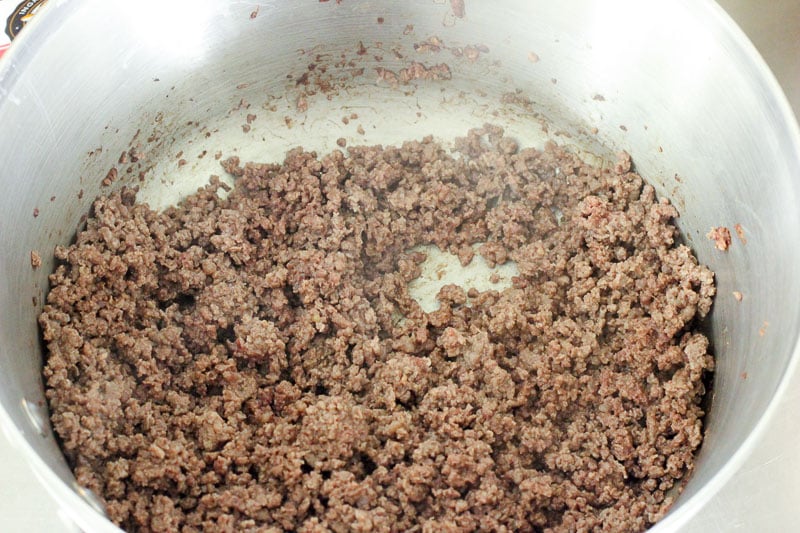 Preheat your oven to 350 degrees F if you plan to eat this right away. Put a large pot of salted water on to boil and cook 1 pound of pasta according to package directions until it's al dente (probably around 10 minutes, depending on the type of pasta). Drain and set aside.
Brown 1 pound of ground beef (this is optional – you can totally leave it out and make it vegetarian). Once it's cooked, remove it to a plate. If you have a lot of grease left in the pot you'll probably want to drain it off.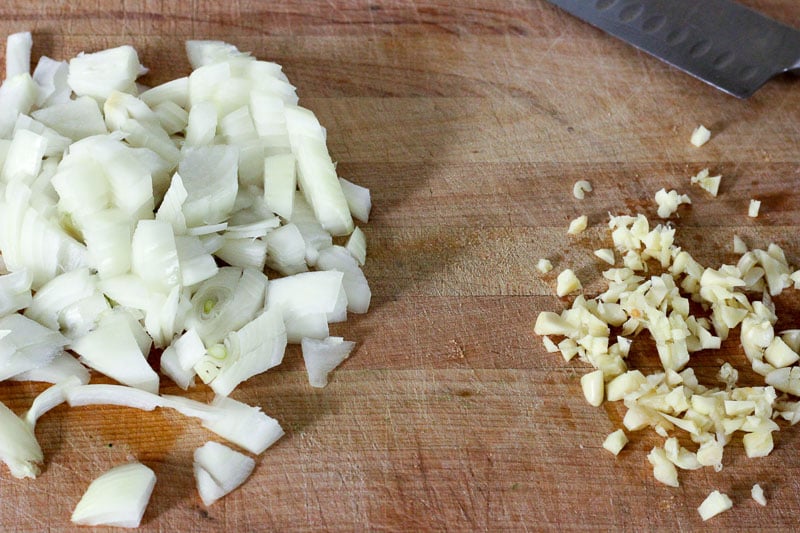 While the beef is cooking you can be chopping! Peel and chop 1 onion and 6 cloves of garlic.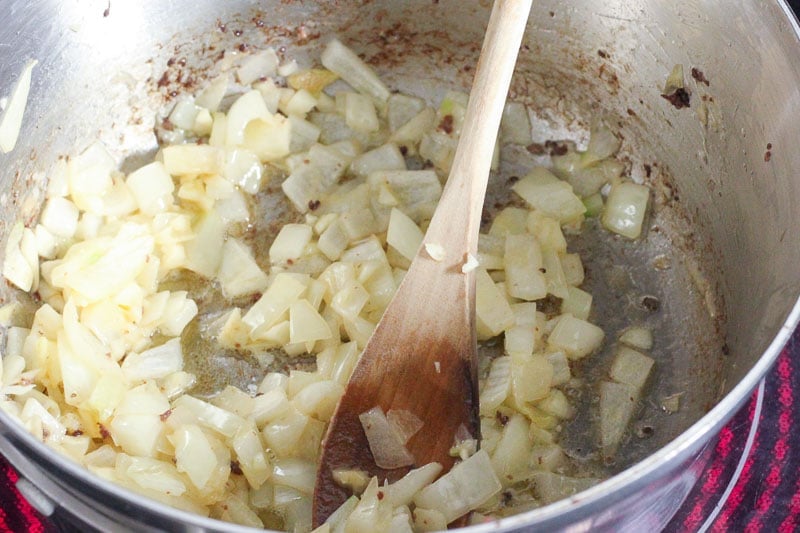 After you drain the fat from the ground beef, put your pot back on medium heat, add 2 tablespoons of butter (you can use olive oil or some other option if you'd rather) and chopped onion. Fry until onion starts to soften, which should take about five minutes.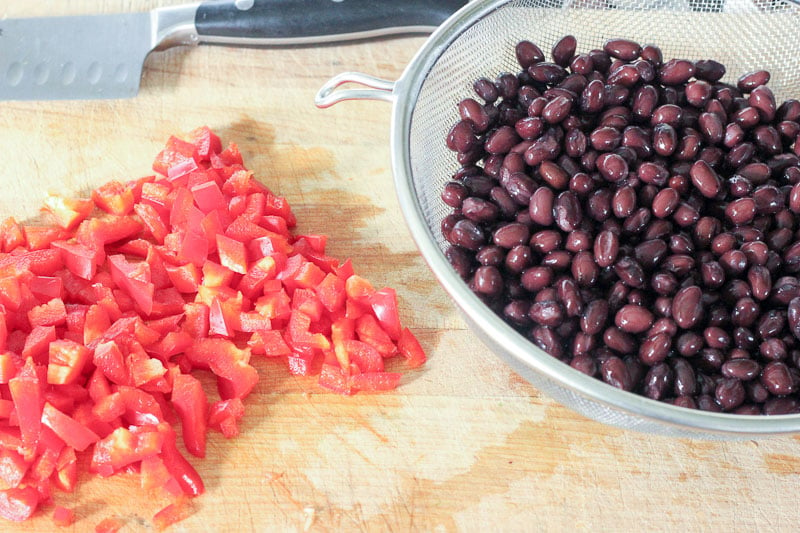 If you have time while the onions are cooking, you can chop 1 red pepper and rinse 1 can of black beans. Also, shred about 2 cups of cheese. I used cheddar but you can use whatever you have. Monterey Jack would be delicious, but I wouldn't go out and buy it if you already have cheddar!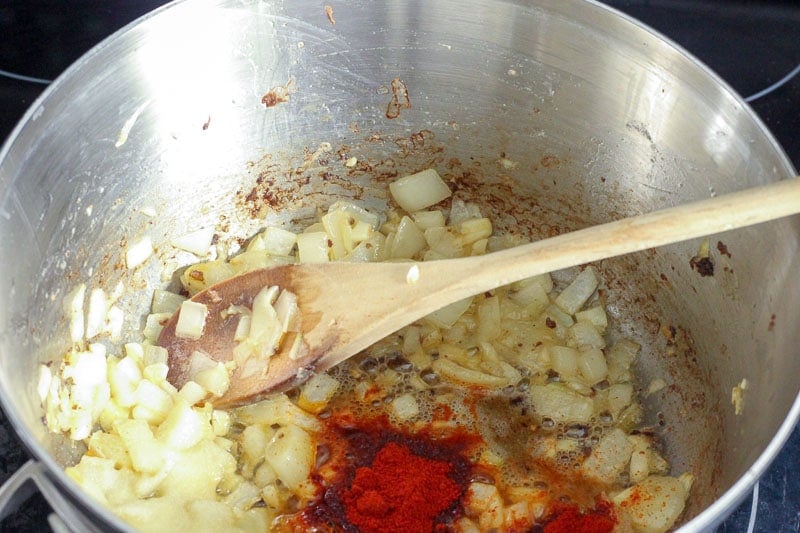 Then add chopped garlic, 1 teaspoon of paprika and 1 teaspoon of salt.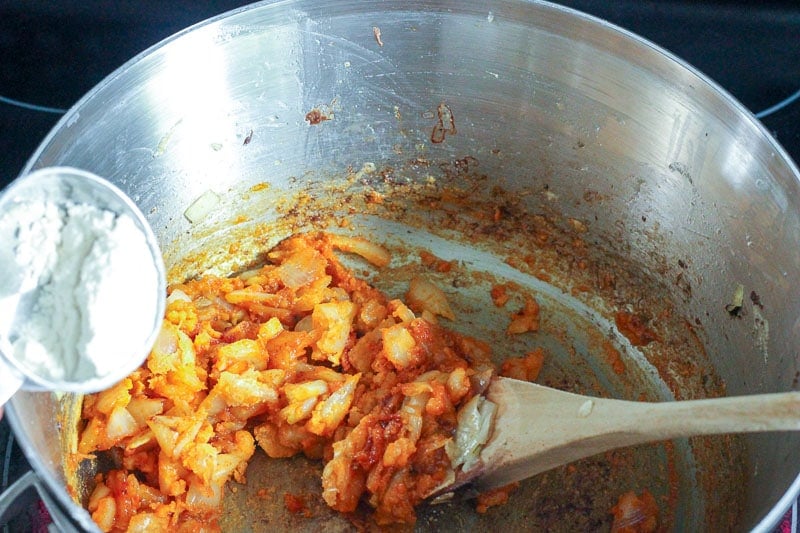 Add 1/4 cup of flour and stir well to combine with the other ingredients. Cook, stirring, for about one minute.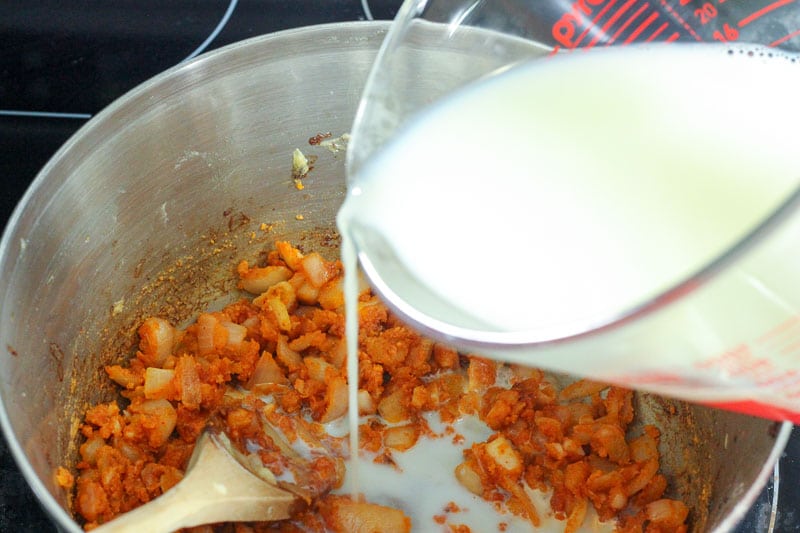 Sloooowly start adding milk. You'll add 2 cups in total, but start with just a tablespoon or two, and use the milk to loosen everything that's stuck to the bottom of the pot. Then add just a few tablespoons of milk at a time and mix really well each time, to make sure there are no clumps.
It will get really thick and seize up, but just keep going and it will start to loosen and thin out. This part is a little slow, but once your sauce has become fairly liquid you can add the rest of the milk all at once.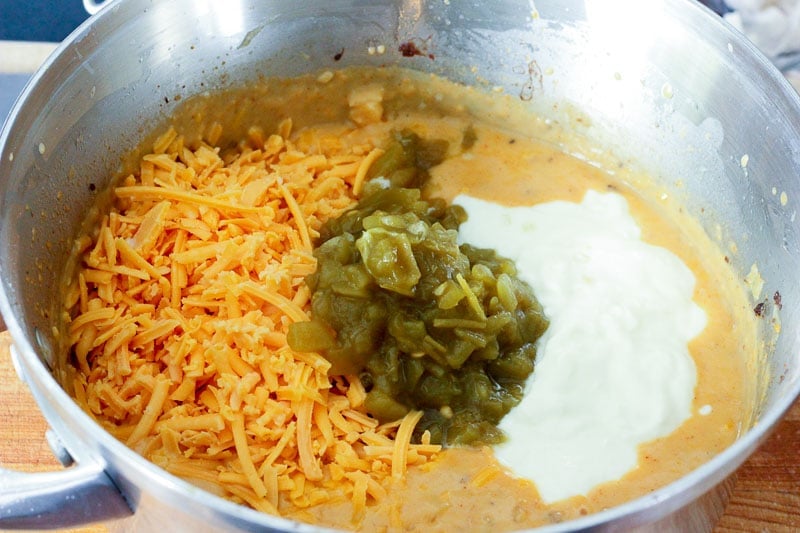 Add one cup of plain yogurt, 1-2 cans of chopped chilies (depending on how spicy and tangy you want it to be – but just 1 can will be very mild – these are 127ml or 4oz cans), and most of the 2 cups of cheese you grated while frying the onions (save a bit for the top of the pasta bake).
Stir well to combine and take off heat.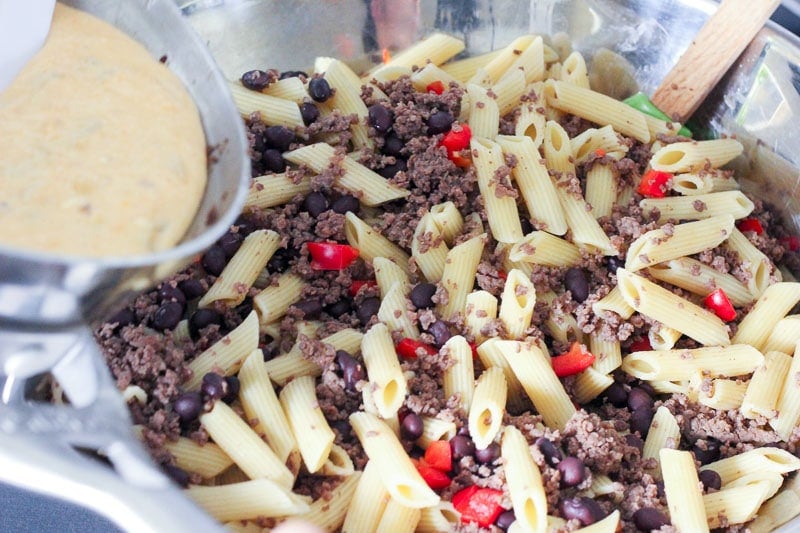 Combine drained pasta, chopped red pepper and black beans in a really big bowl. Corn would also be super tasty here. Add sauce to pasta mix and stir well to combine.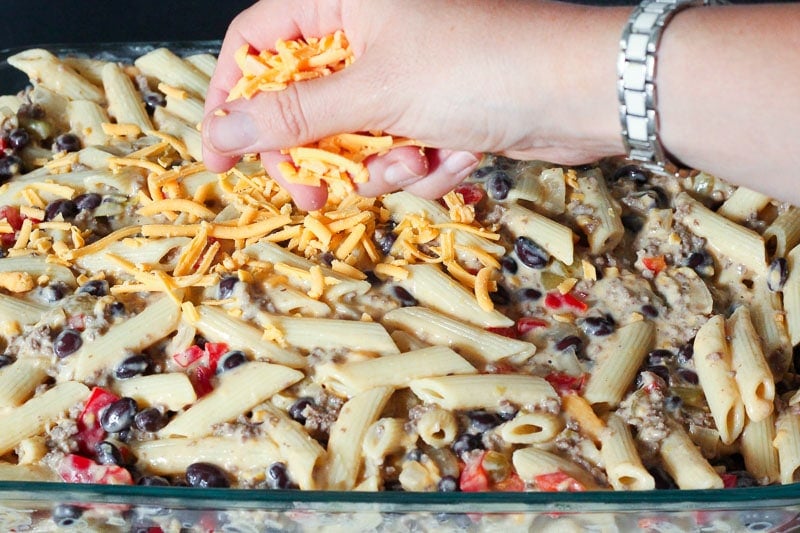 Pour into a 9×13 baking dish. Sprinkle with leftover cheese. Bake for 15 minutes to heat through. Garnish with cilantro (optional). Serve hot.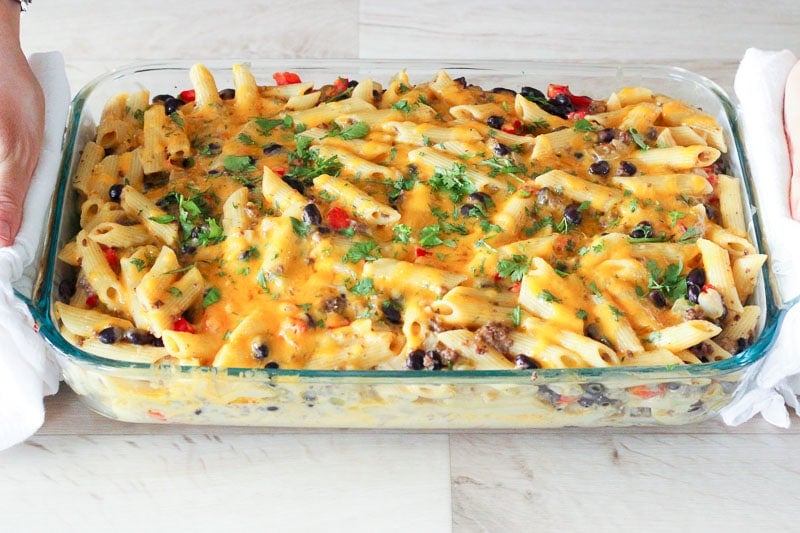 Enjoy! 🙂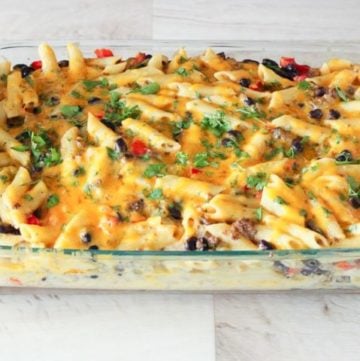 Chile Con Queso Pasta Bake
This Chile Con Queso Pasta Bake is for everyone who has to pry themselves away from the con queso dip (like I do!). Healthy, cheap and easy to make, it'll help you get your queso fix in delicious cheesy, creamy pasta form. YUM!
Print
Pin
Rate
Ingredients
1

lb

pasta

1

lb

ground beef

optional - you can leave it out to make this vegetarian

1

onion

6

cloves

garlic

2

tbsp

butter

you can use olive oil or another oil if you want

2

cups

cheese

shredded

1

red pepper

1

can

black beans

1

tsp

paprika

I would use regular, not smoked

1

tsp

salt

1/4

cup

flour

2

cups

milk

1

cup

plain yogurt

1-2

cans

chopped green chilies

1 for very mild, 2 for a tiny bit spicy and more tangy [These are 4oz/127ml cans]

cilantro

optional - for garnish
Instructions
Preheat oven to 350 degrees F.

Cook pasta in a large pot of boiling, salted water, until al dente according to package directions (probably about 10 minutes).

Brown ground beef in a medium - large pot.

While ground beef is cooking, peel and chop onion and garlic for the next step. If you have extra time, shred cheese, chop red pepper and drain and rinse beans. Otherwise, you can do these things while the onion is cooking.

Once ground beef is browned, remove it to a plate and drain off grease. Add butter and onion to pot and cook over medium heat until onion starts to soften, about 5 minutes.

Add garlic, paprika and salt. Add flour and stir for about 1 minute.

Very slowly start to add milk. Add the first couple of tablespoons and use a wooden spoon to start to work up what is stuck to the bottom of the pot. Then add more milk a bit at a time, stirring well each time. It will get thicker and seize up at first, but then start to become more liquid. Once the mixture is fairly liquid add the rest of the milk.

Add most of the grated cheese, yogurt and cans of chopped green chilies. Stir well and remove.

In a large bowl, stir together pasta, red pepper, black beans and sauce. Mix well to make sure there are no dry spots. Pour into a 9x13 baking dish. Top with leftover shredded cheese and bake for 15 minutes (until heated through). Garnish with cilantro (optional). Serve hot.

Enjoy! 🙂
Nutrition
Calories:
613
kcal
|
Carbohydrates:
59
g
|
Protein:
30
g
|
Fat:
27
g
|
Saturated Fat:
14
g
|
Cholesterol:
87
mg
|
Sodium:
574
mg
|
Potassium:
593
mg
|
Fiber:
5
g
|
Sugar:
6
g
|
Vitamin A:
1110
IU
|
Vitamin C:
19.9
mg
|
Calcium:
344
mg
|
Iron:
3
mg
You might also like: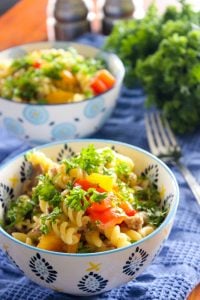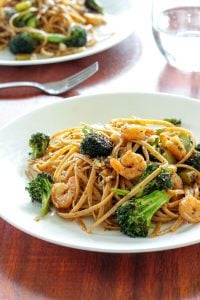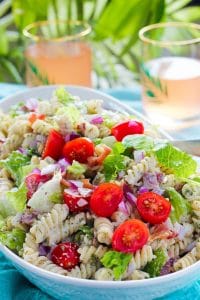 Save
Save
Save
Save
Save