Ready in 30 minutes! Taco-seasoned sweet potatoes, corn, avocado, red peppers and red onion, with a garlicky, creamy cilantro lime sauce. Your new fave for Taco Tuesday!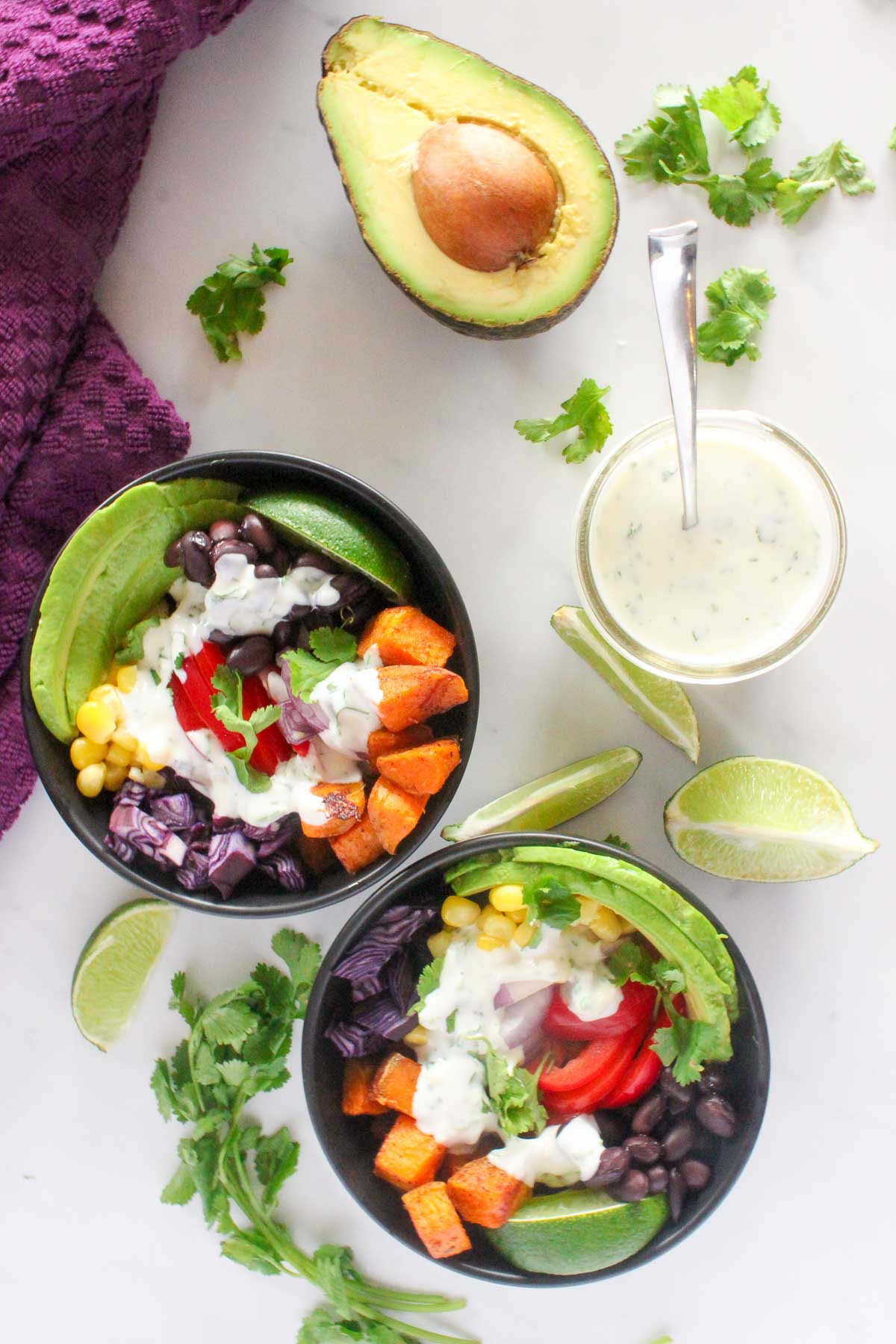 This post may contain affiliate links.
Why You'll Love This Recipe
Um hello, 30-minute meal? That's healthy? Yes, please!
Perfect for Cinco de Mayo, Meatless Monday (or Taco Tuesday!), or just regular days when you want a clean eating (easy to prep) meal.
It's SUPER healthy, packed with lots of nutritional superfoods, like sweet potatoes, black beans, avocado and red peppers.
There's no meat in my Mexican Buddha Bowl recipe, but you could certainly add some chicken or steak if you want to – I'm sure it would be delicious!
The beans make it super filling, the veggies are crunchy and the cilantro lime sauce is garlicky and so flavorful and brings the whole bowl together.
Plus, the best part is it feels great in your stomach!
Ingredients/Variations/Substitutions
This is a very flexible recipe.
Black beans – feel free to substitute with kidney, pinto or whatever you enjoy

Red onion – you could use green onions, or even white/yellow (diced small)

Taco seasoning – we use our simple

homemade taco seasoning mix

but you could use store bought or even a

fajita seasoning mix



Red pepper – use yellow, orange, or even green peppers, or sub with other vegetables you like

Red/purple cabbage – sub with any other type of cabbage or another crunchy vegetable

Cilantro Lime Sauce – you could always add minced cilantro to

ranch dressing

or if you don't like cilantro (heaven forbid!) just leave it out

Spice – if you like spicy food, you could add crushed chiles or give it a drizzle of Sriracha

Add more bulk – if you want to make this even more filling, add cooked rice or quinoa
Why it's Budget-Friendly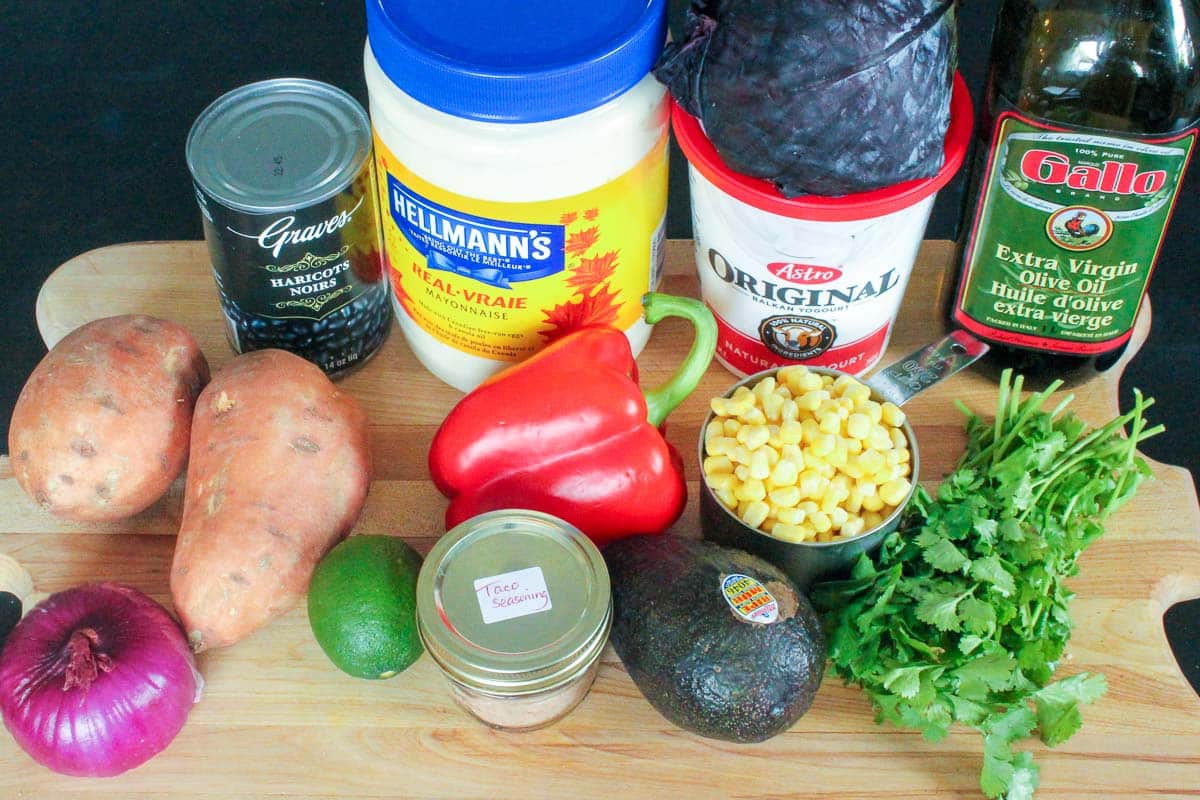 We live in an area where groceries are fairly expensive, but with a little planning and strategy, you can definitely save money.

Meatless meals are a great way to save money on groceries.

Buy sweet potatoes on sale and in bulk and they will keep for a long time if you store them in a cool place.

Canned beans are inexpensive and so is frozen corn. It would also have been MUCH cheaper to use dried beans for this recipe!

We use plain yogurt in the sauce and that's an inexpensive and healthy staple in our house,

for all the reasons you can explore here

.

*We make our taco seasoning from scratch (so it's super cheap, has no weird ingredients and takes less than 5 minutes to whip up!) and keep it in the cupboard for when we want to use it. And it's SUPER cheap.

For the other ingredients, I've included the cost for the portion used for this recipe (for example 1/10 of the cabbage and 1/2 of the pepper) – not the entire item.


We often save money by buying items in bulk (and waiting for sales). If you have extra of an ingredient and you're not sure how to use it, check out the How to Use Leftover Ingredients section below!
How

To Meal Prep This Recipe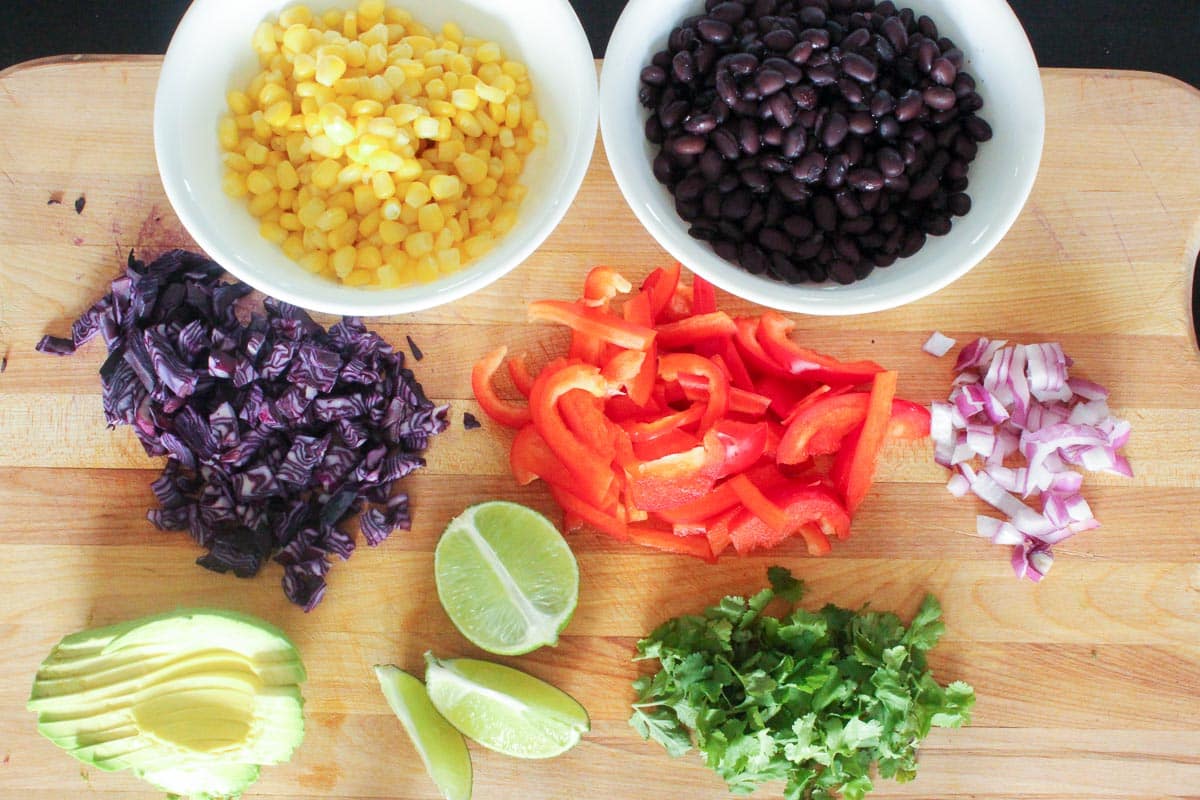 Roast sweet potatoes with taco seasoning, then cool on the pan.

If using dried beans, cook them. If you have an

Instant Pot

you don't have to pre-soak the beans (a win in my book!). There is a great tutorial for cooking

unsoaked black beans in your Instant Pot here

.

Chop/prep all vegetables ahead of time, EXCEPT the avocado, which you should only slice on the day you plan to eat the buddha bowls.

Make the Cilantro Lime Sauce.

Make sure all ingredients are cooled to room temperature and store them in separate containers in the fridge. Then you can pull them out and throw together a Mexican Buddha Bowl in five minutes.

If you want to pre-assemble the bowls, try the

mason jar

meal prep method: Spoon sauce into the bottom of mason jars, layer in crunchy vegetables, followed by beans, and finish off with (cooked) sweet potato cubes.

Tip: If you have to add the avocado ahead of time, put it between the beans and sweet potatoes.

Refrigerate. To serve, pour the whole jar into a bowl.
Whether you've never tried a buddha bowl before or are just looking for new buddha bowl recipes to try out, this one's for you. I love it! 🙂

Step-by-Step Instructions
Preheat oven to 425 degrees F before starting.
Wash and cut 2 sweet potatoes into chunks, spread on a sheet pan, and drizzle with your preferred oil (I like olive oil or avocado oil).
Sprinkle with 1.5 teaspoons of taco seasoning.
Tip: Try our easy homemade taco seasoning!
Toss together, and bake in preheated oven for around 20 minutes, tossing half way through so the cubes cook evenly.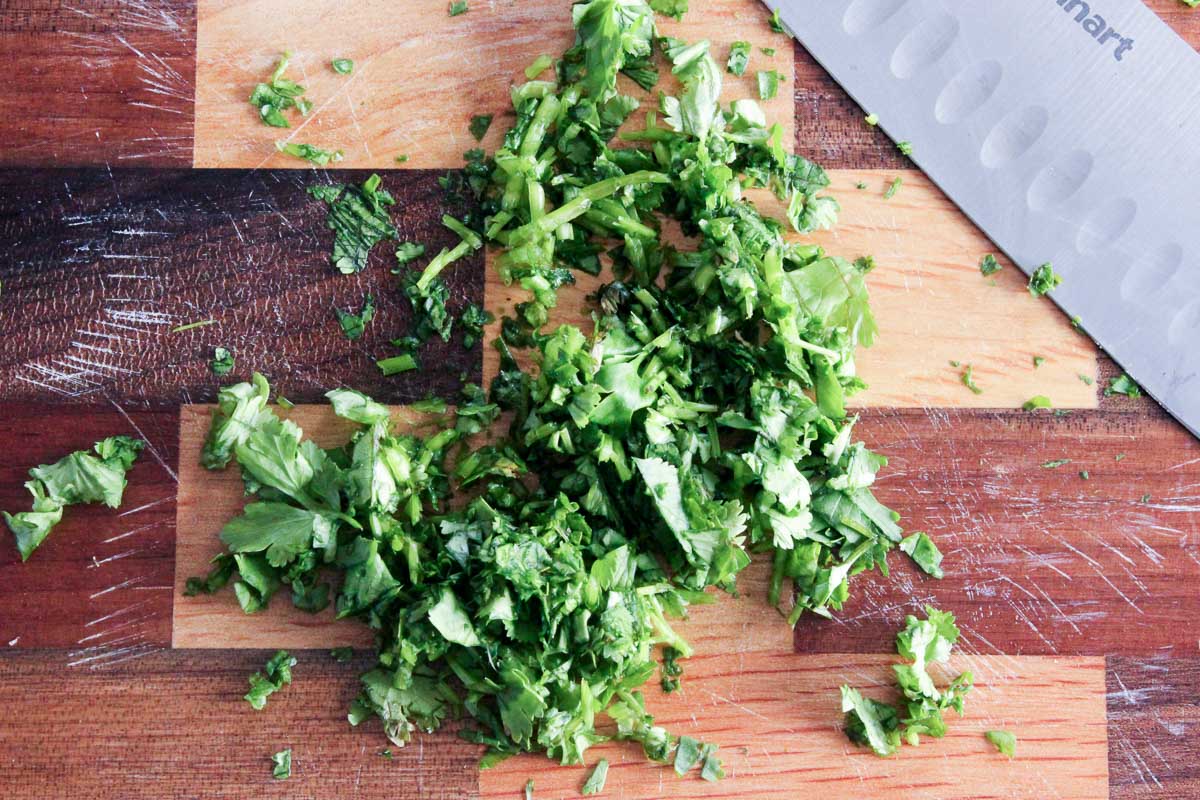 While sweet potatoes are baking, wash cilantro, chop off the big stems and mince the leaves finely – you'll need about 2 tablespoons (I wasn't done mincing when I took this photo).
Tip: A chef's knife makes this a really easy and fast task.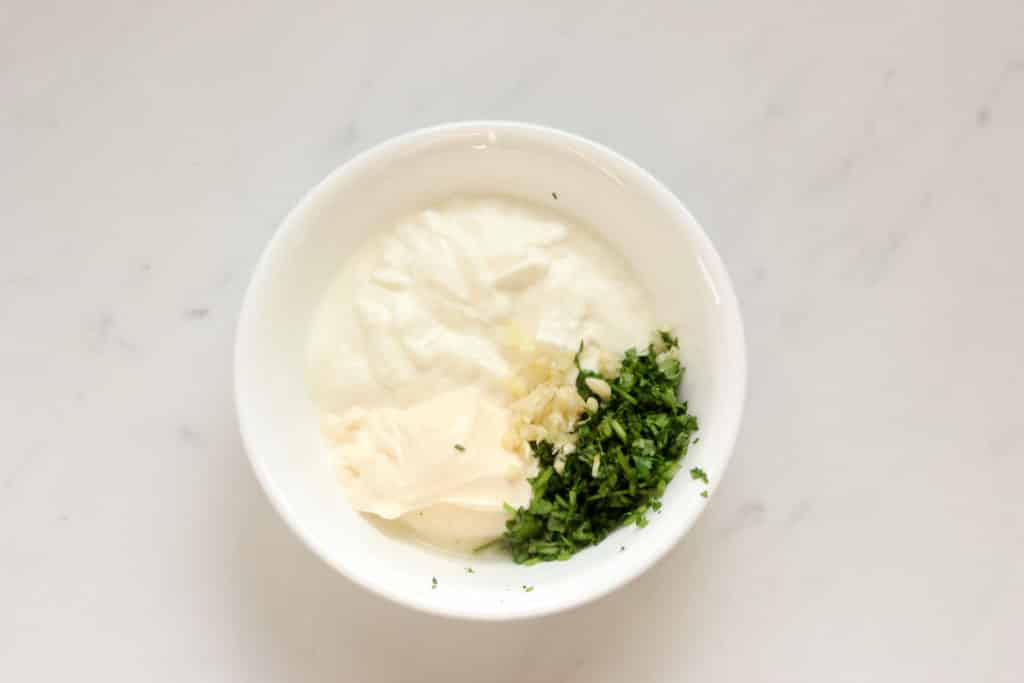 In a small bowl, combine 1/2 cup of plain yogurt, 1/4 cup of mayo, 1 minced clove of garlic, the 2 tablespoons of minced cilantro, 1 teaspoon of fresh lime juice and 1/8 teaspoon of salt.
Stir well to combine and set aside to let flavors blend.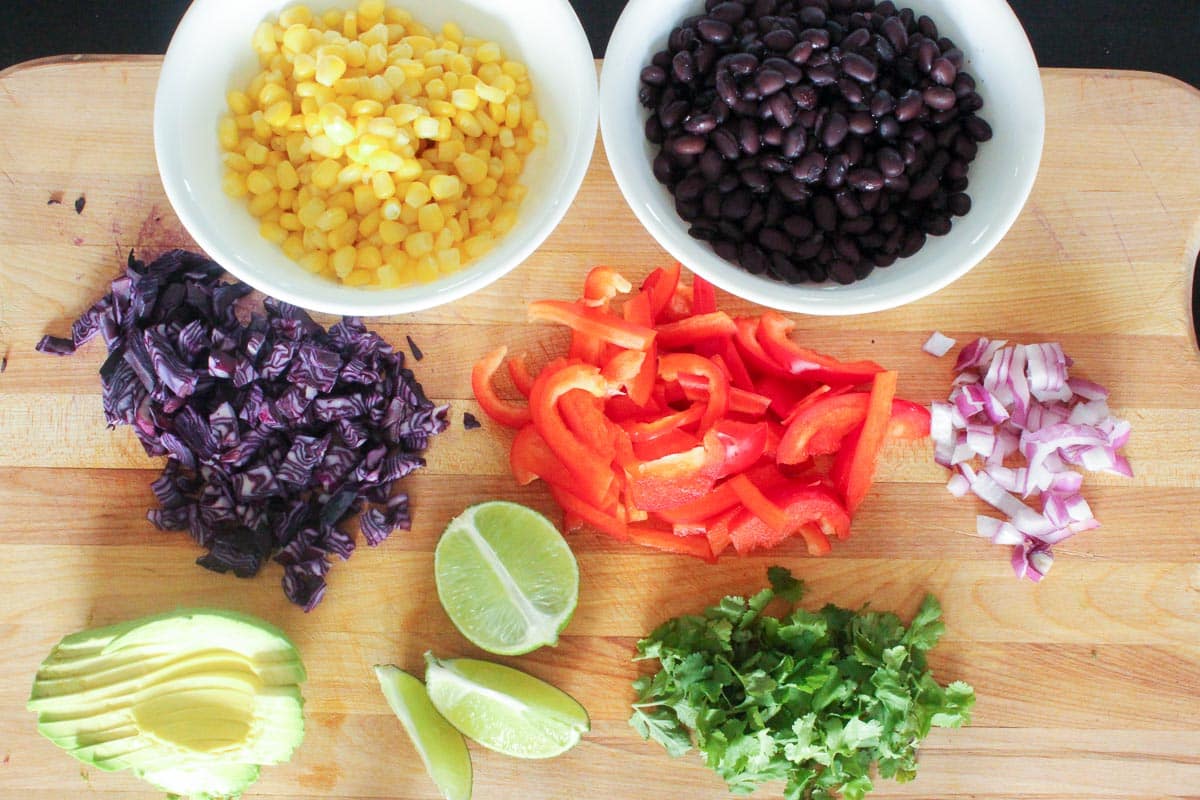 > Cook 1 cup of frozen corn in the microwave, according to package directions (or use canned corn, if you'd rather).

> Rinse and drain one 14-oz can of black beans (or use pre-cooked beans – you can cook them without soaking in the Instant Pot using these directions).

> Chop 1/4 cup of red cabbage (optional but pretty and healthy).

> Slice 1/2 a red pepper into thin slices
> Mince 2 tablespoons of red onion.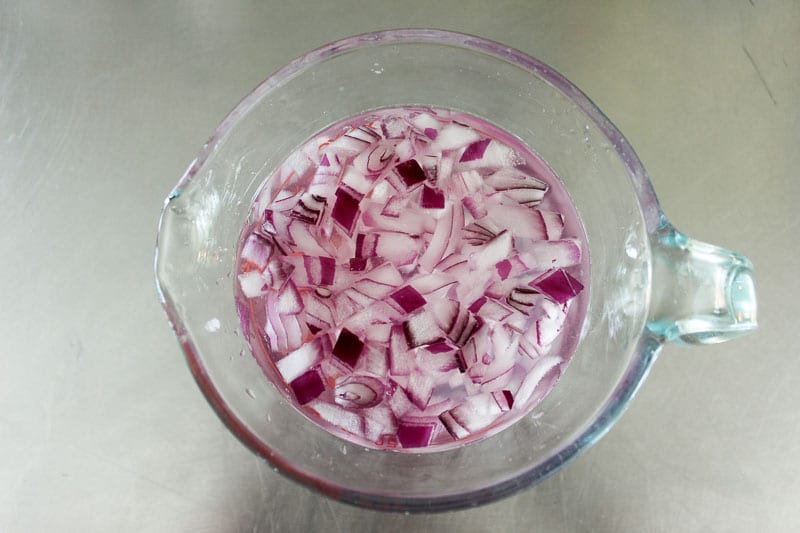 Tip: if you find the taste of raw onion too strong, you can soak it in cold water for a few minutes, then drain it and pat it dry

> Slice 1/2 an avocado.

> Slice the remaining lime into wedges.

> Pull some more washed cilantro leaves off the stalks.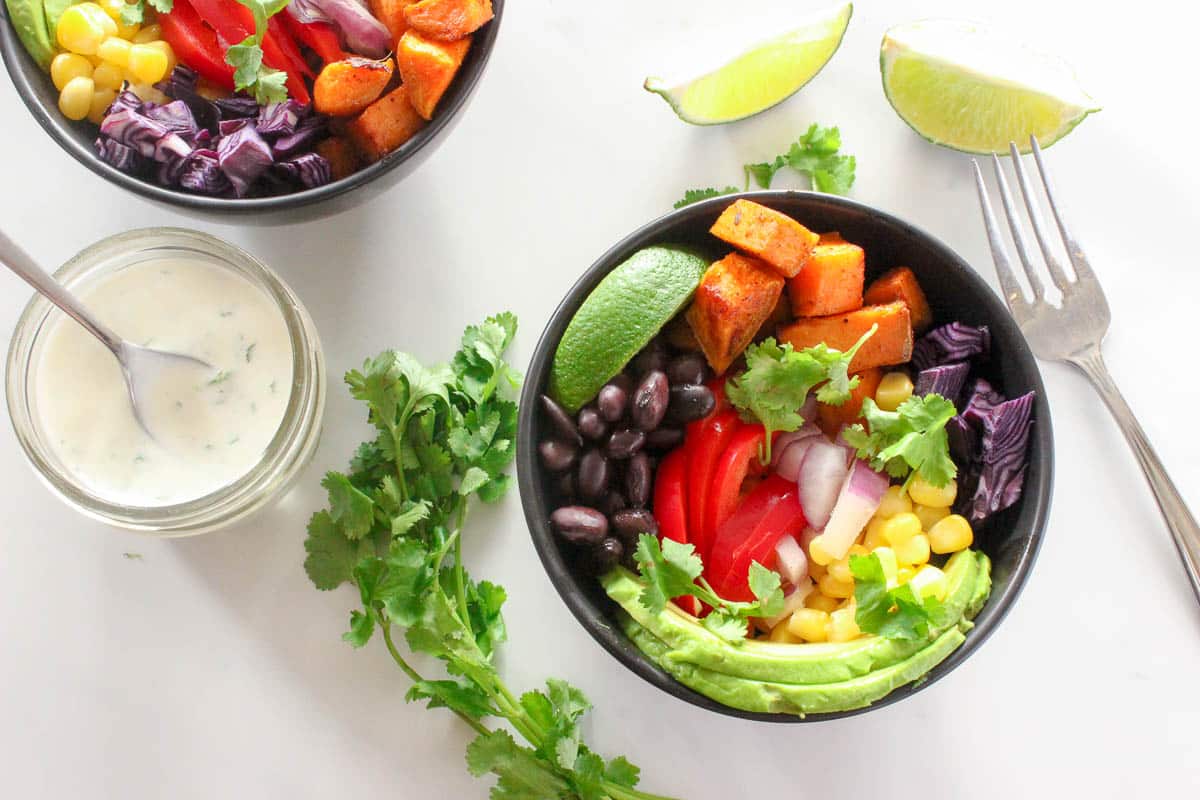 Serving
Assemble your Mexican Buddha Bowls! Just pile a little bit of each ingredient into the bowl – no need to be picky about location, unless you want it to look pretty 🙂 .
Drizzle with cilantro lime sauce, sprinkle with fresh cilantro, and give it a little squeeze of fresh lime juice over the top.
Enjoy! 🙂
Storing
Fridge: If you have leftovers or are meal prepping these Mexican-inspired Buddha Bowls, cool all the ingredients and store in separate containers in the fridge for 3-4 days.
Reheating: Warm sweet potatoes, beans and corn in the microwave. Pile into a bowl, top with raw vegetables, drizzle with sauce, a squeeze of fresh lime juice and sprinkle with cilantro.
Tip: Try to slice the avocado on the day you plan to eat the bowls.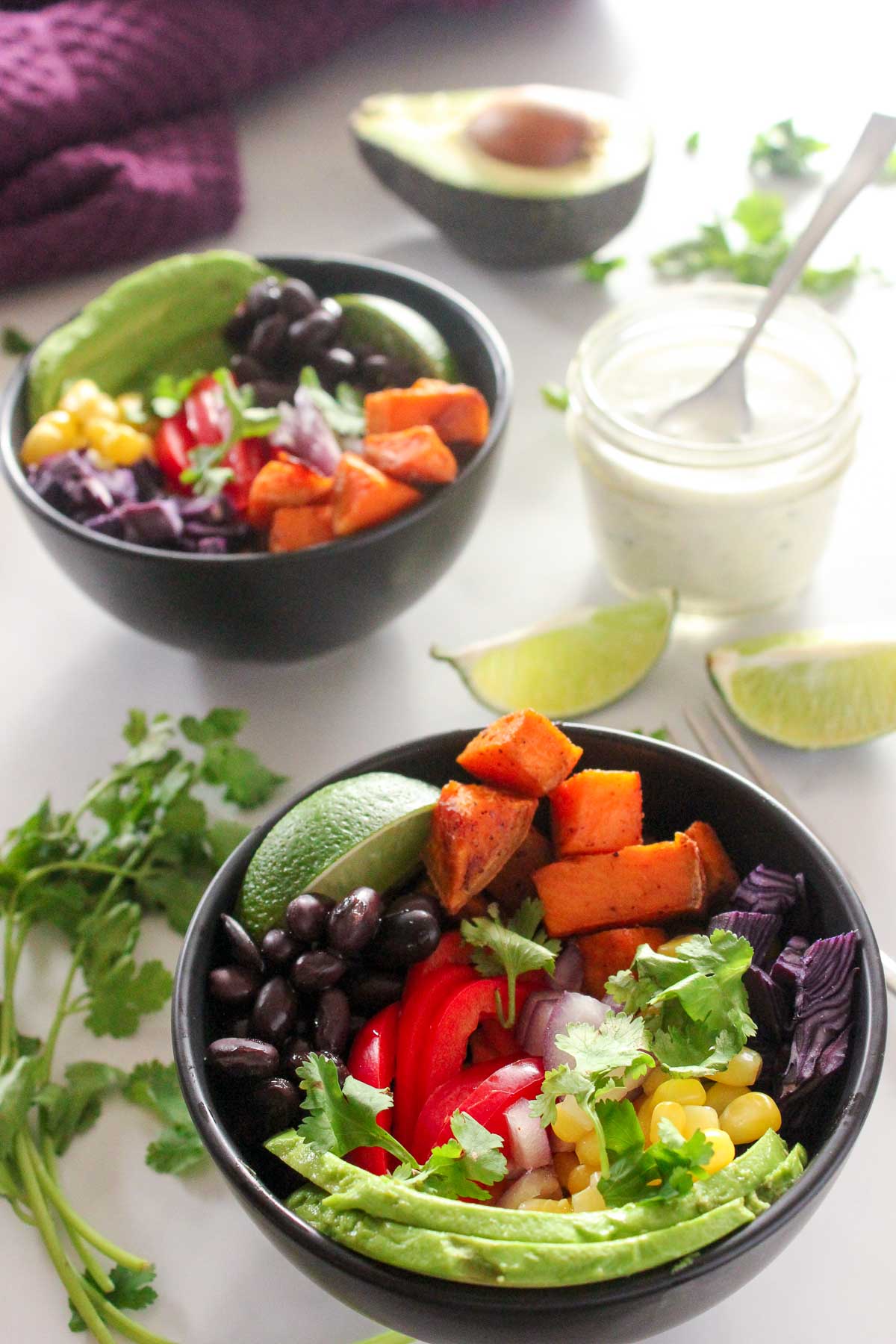 How to use leftover ingredients
If you find yourself with extra ingredients that you bought just for this Mexican Buddha Bowl recipe, here are a few ideas to help you use them up or store them in the freezer!
FAQs & Expert Tips for this recipe
What is a Buddha Bowl?
While there don't seem to be any strict rules about what goes into a Buddha Bowl, they are typically healthy bowls packed with vegetables, protein, and sometimes grains, drizzled with a delicious sauce. 

If you spend any time on Pinterest or Instagram, you've likely encountered more than a few of them.  On social media, at least, they're usually gorgeous.

According to an online article by Bon Appetit, the term was probably coined by Martha Stewart when she released her vegetarian cookbook Meatless.  

The bowls are often, but not always, vegan or vegetarian, but almost exclusively healthy.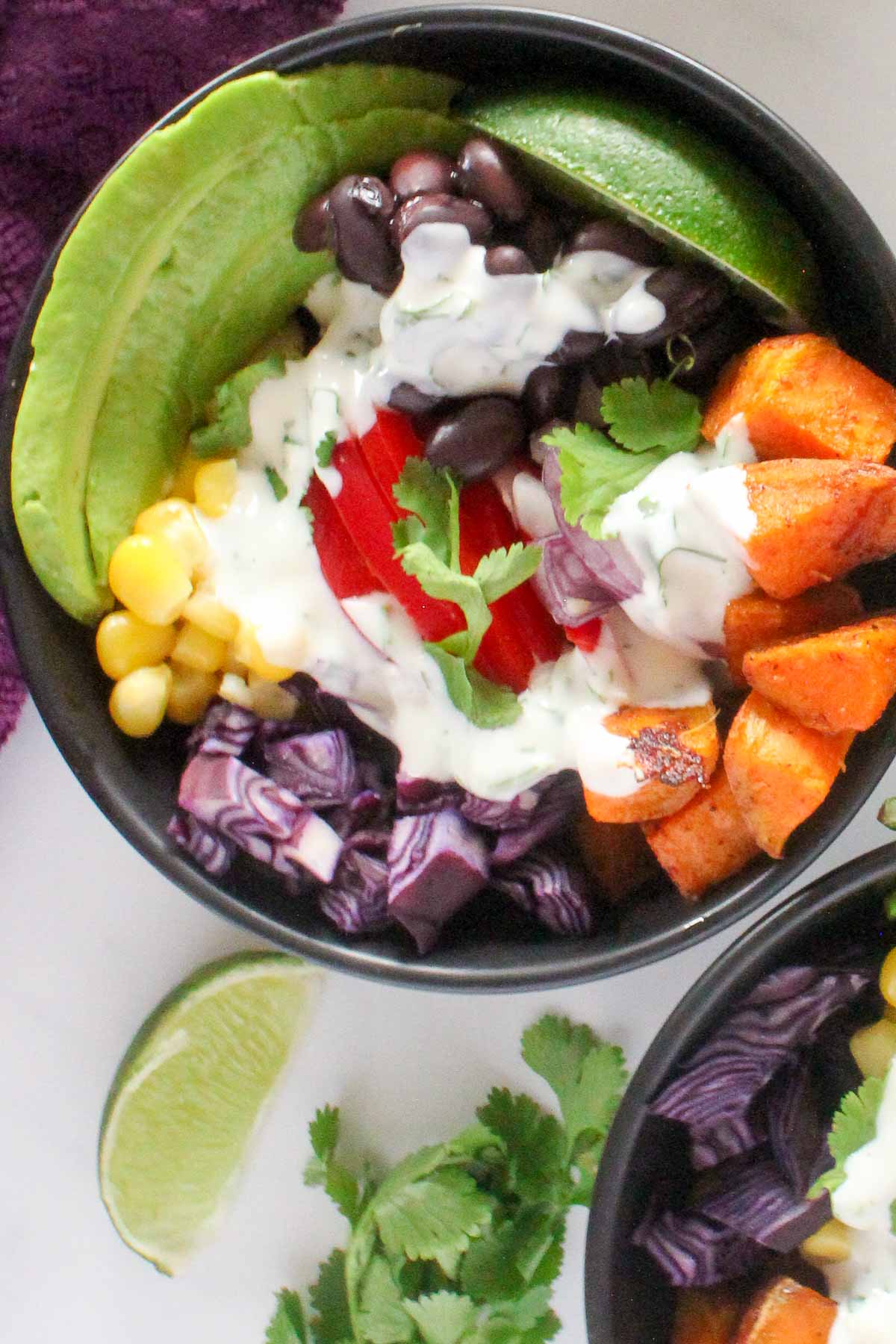 How do you make a Buddha Bowl?
Most Buddha Bowls use a combination of raw and cooked vegetables, and most of the work can be done ahead of time, which makes them perfect for healthy meal prep for the week.

If you like to spend a few hours on Sunday chopping vegetables and pre-cooking ingredients for the week, you should definitely give buddha bowls a try.

Almost all the ingredients can be prepped ahead and then assembled later for healthy, fast, easy weeknight dinners or work lunches.

Give our Mexican Buddha Bowl recipe a try to get a feel for it. 🙂
Can I substitute some of the ingredients in this Mexican Buddha Bowl?

Yes, you can definitely make substitutions! I offer suggestions above in the Ingredients/Variations/Substitutions section. 🙂
Does a buddha bowl have to be vegetarian?
Nope! Feel free to add sautéed or shredded chicken or steak to this recipe. Even ground beef or another ground meat would be delicious!
You might also like:
Did you love this recipe? Leave us a ⭐⭐⭐⭐⭐ rating below! 😍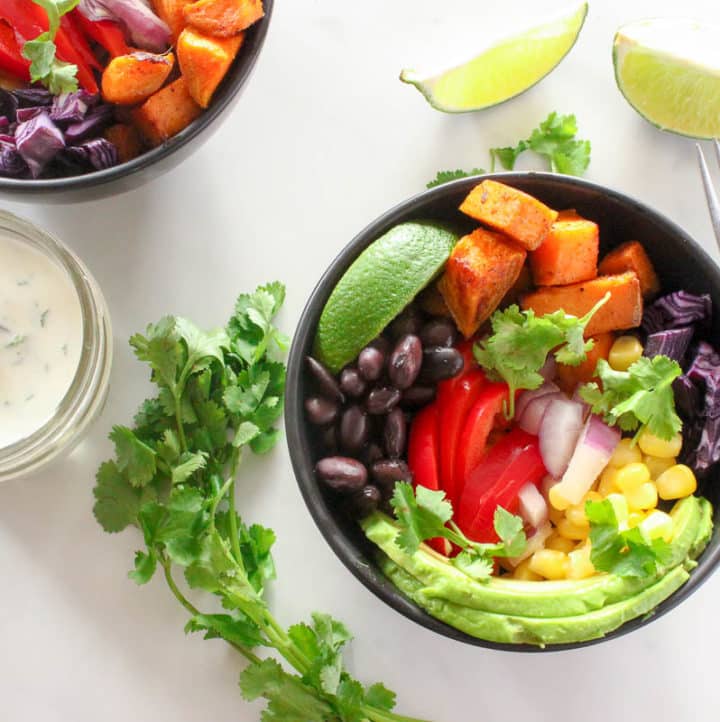 Mexican Buddha Bowl with Cilantro Lime Sauce
Ready in 30 minutes! Taco-seasoned sweet potatoes, corn, avocado, red peppers and red onion, with a garlicky, creamy cilantro lime sauce. Mexican-inspired clean eating!
Print
Pin
Rate
Ingredients
For The Mexican Buddha Bowls
2

sweet potatoes

1

tbsp

oil

(I like olive or avocado oil)

1.5

tsp

taco seasoning

(try our easy homemade mix!*(Recipe Note 1)

1

cup

corn

(I used frozen but you can use whatever you like)

1

14 oz can

black beans

1/4

cup

red cabbage

(optional, but pretty and healthy)

1/2

red pepper

2

tbsp

red onion

1/2

avocado

lime wedges

handful

fresh cilantro leaves
For the Sauce
1/2

cup

plain yogurt

1/4

cup

mayo

1

clove

garlic

(minced)

handful

fresh cilantro

(enough to make 2 minced tablespoons)

1

tsp

fresh lime juice

1/8

tsp

salt
Instructions
Preheat oven to 425 degrees F.


Wash and cube sweet potatoes.  Toss on sheet pan with oil and taco seasoning.  Bake in preheated oven for 20 minutes.  Toss again after first 10 minutes so they cook evenly.

Wash and finely mince a handful of cilantro leaves for the sauce. You'll need around 2 tablespoons.


In a small bowl, combine yogurt, mayo, minced cilantro, garlic, lime juice and salt. Stir well to mix and set aside.


Prep the other ingredients (cook corn in the microwave if using frozen, rinse and drain black beans, chop red cabbage, slice red pepper, dice red onion (Note 2) slice avocado, cut remaining lime into wedges and wash cilantro and pull leaves off stems.

Once sweet potatoes are done cooking you can assemble your bowls right away unless meal prepping (Note 3).

Pile 1/4 of each ingredient into a bowl, drizzle with cilantro lime sauce, sprinkle with cilantro leaves and squeeze some fresh lime juice over the top.


Enjoy! 🙂

Notes
Note 1: Our

Easy Homemade Taco Seasoning Mix

– it costs around $0.30/batch and makes 1/4 cup.  We make quadruple batches of it and keep it in the cupboard so it's there when we need it! 🙂
Note 2: I

f you find it onion too strong you can soak the diced onion in a bowl of cold water for a few minutes and drain well.
Note 3: For meal prep, cool ingredients and refrigerate in separate containers.  Cut avocado on the day you plan to eat it.
Nutrition
Calories:
288
kcal
|
Carbohydrates:
27
g
|
Protein:
4
g
|
Fat:
19
g
|
Saturated Fat:
3
g
|
Cholesterol:
9
mg
|
Sodium:
219
mg
|
Potassium:
517
mg
|
Fiber:
5
g
|
Sugar:
7
g
|
Vitamin A:
9920
IU
|
Vitamin C:
29.4
mg
|
Calcium:
60
mg
|
Iron:
0.8
mg