This EASY Strawberry Chicken Salad and the Creamy Maple Dressing that goes with it are SO addictive you'll be craving it every day! The perfect summer salad!

Ok guys, this salad (and the dressing) is one of my ABSOLUTE favourite things to eat right now.
It's easy. It's fast. It requires very little cooking.
It is so freaking delicious it might just be my favourite salad EVER.
And I bet, if you try it, it'll be your favourite salad ever, too!
Juicy summer strawberries, simple savoury chicken, creamy goat cheese, earthy walnuts and THE MOST AMAZING SALAD DRESSING YOU WILL EVER EAT.
Haha. Yup. It really is that good. (Did I mention it only has two ingredients and takes ONE minute to make?)
If some of those ingredients sound expensive, don't worry! We're going to chat about keeping costs under control, below.
Tips to make this Summer Strawberry Salad budget friendly:
We employ a few tricks with the salad ingredients to make it more affordable that you'd first think.
1. Use seasonal fruit. This is the perfect summer salad, because strawberries are fresh, cheap and so sweet and delicious!
2. Buy goat cheese in bulk. We buy our goat cheese at Costco and freeze it. Read about how easy it is to freeze goat cheese in this post, so you can save money on groceries!
3. Have a stocked pantry (read about our pantry essentials here). We buy walnuts and pumpkin seeds in bulk and save a lot of money that way. Where we live, Costco has the best price on walnuts. And I pick up pumpkin seeds at Walmart (Joe's Tasty Travels brand seems to be the cheapest option).
4. Stock up on chicken breast when it's on sale and freeze it individually (did you know you can freeze individual chicken breasts without even touching them?! Check out our simple chicken breast freezing instructions here!).
I find one large chicken breast is fine for a dinner salad for two people, especially if the salad incorporates other hearty foods like walnuts, pumpkin seeds and apples.
5. Be flexible. You can easily change up the greens we use in this recipe, so use whatever you have easy access to (if you have spinach in your fridge or garden, don't run out and buy mixed greens!).
Also, keeping a pot of chives growing on your window sill is a great way to have constant access to chives and other fresh herbs – check out this post on growing herbs to save money!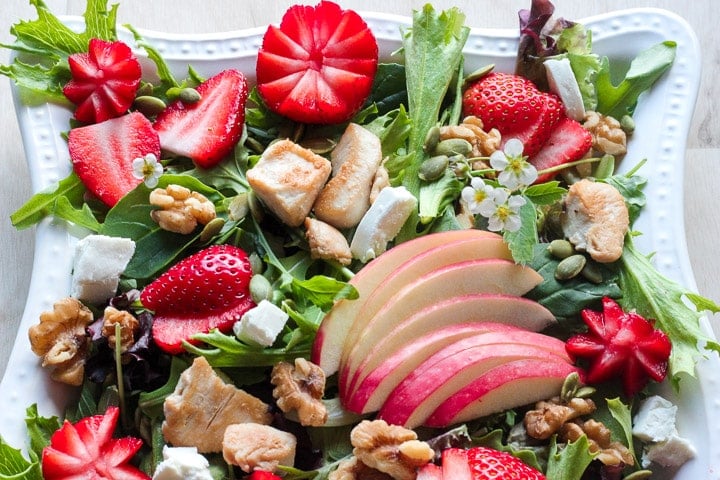 FAQS – Strawberry Salad with Chicken
Can I use frozen strawberries for this salad?
I haven't tried it, but I honestly don't think it would work out very well. The texture of the strawberries would be wet and mushy and I'm not sure it would make the best salad.
This is a fantastic summer salad recipe because that's when fresh strawberries are at their BEST. Let's enjoy them while they're in season 🙂
Can I make this strawberry chicken salad ahead of time?
Sure! While I looooove the combination of hot chicken on goat cheese in salads, you can definitely make all the components of this salad ahead of time, and just mix it together at the last minute. I would let the people eating it add their own dressing at the time of eating.
Do I have to use goat cheese/walnuts/apples/pumpkin seeds for this salad?
Nope. Feel free to substitute with what you have easy access to (this makes it more convenient and also more budget friendly). Do you have almonds or pecans? You can use those. Do you have pears? They'd be delicious too. If you have feta in your fridge don't run out and buy goat cheese (although it does have some great health benefits). You get the idea. 🙂
Can I use a different dressing with this salad?
Yes, technically you can use whatever you have on-hand, or think would be tasty with this flavour combo. HOWEVER… I think that this Creamy Maple Salad Dressing is LITERALLY the most delicious salad dressing I've ever eaten and seriously lends itself to the flavours of this salad, so I highly recommend you at least try it ONCE. Please!!!!

The perfect summer salad – Step-by-Step Instructions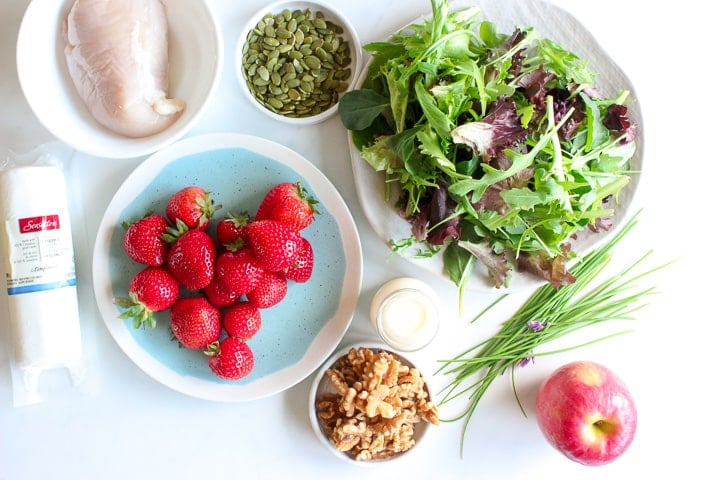 Ingredients for Strawberry Chicken Salad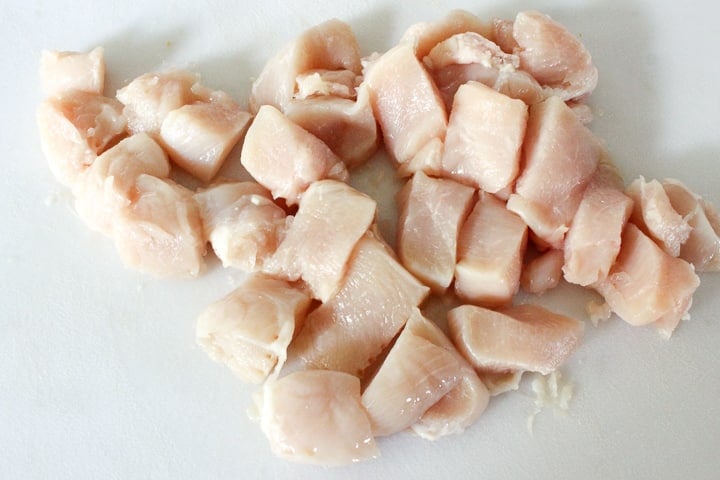 Cut raw chicken up into bite-sized pieces.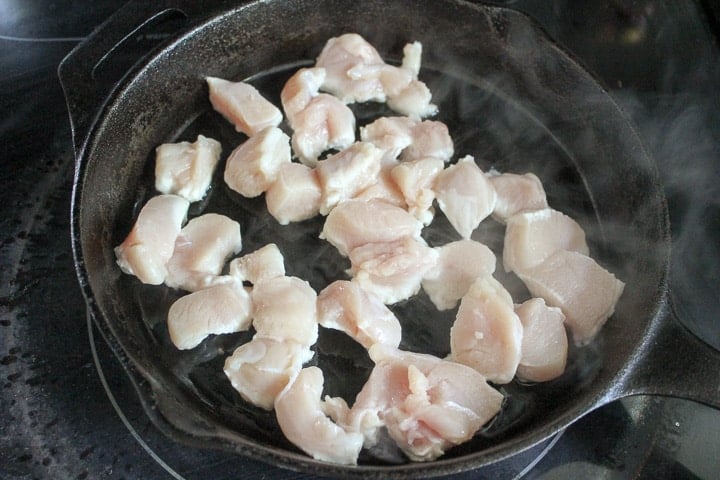 Heat some oil over medium in a frying pan and when it's decently hot, add the chicken pieces, spreading them out so that they are all touching the pan. Season the chicken generously with salt and pepper
Tip: Let the chicken pieces cook for at least 3-4 minutes before you move them, which will help them turn golden brown.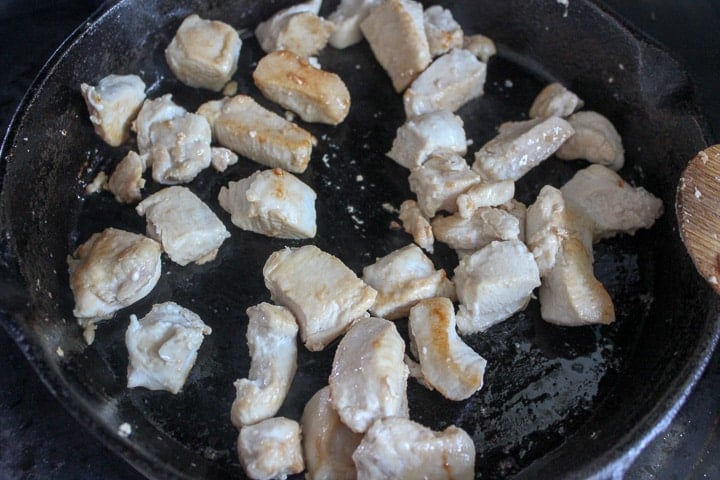 Once they've cooked on the first side, turn them over to cook for at least 3-4 minutes on the other side.
Tip: To see if they're done, cut open the biggest piece to make sure it's cooked through (the meat is white). I like to quickly brown them a bit on all sides, but try not to overcook them because then the chicken will be dry.
While the chicken is cooking, prep the other salad ingredients. Wash and slice the strawberries and apples.
Tip: If you don't plan to serve this immediately, squeeze a bit of fresh lemon juice over your apple slices to keep them from browning.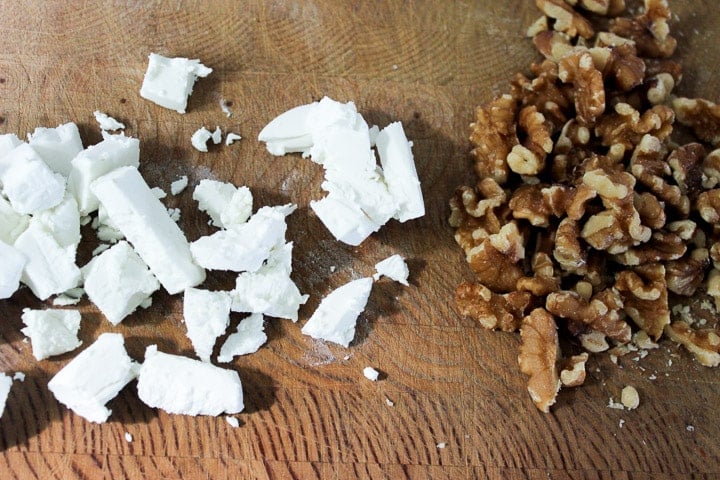 Cut up or crumble goat cheese and roughly chop walnuts into pieces (if using whole walnuts).
Feel free to toast your walnuts in a dry pan if you want to (sometimes I do, sometimes I don't – just depends – this salad is delicious either way).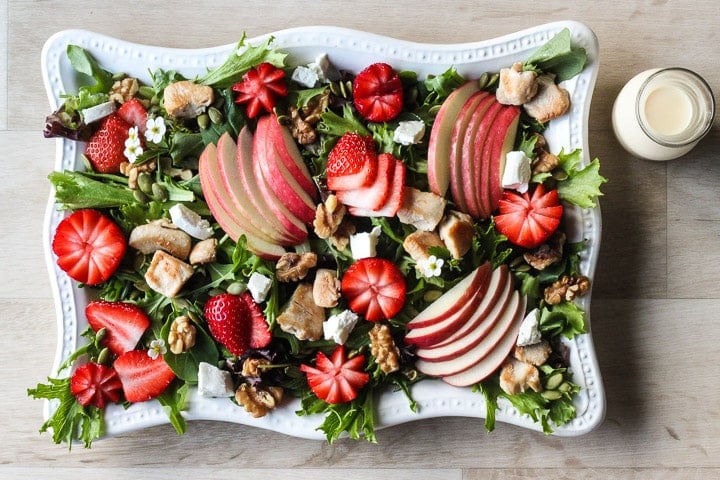 Assemble on individual plates or a large platter, starting with washed and dried greens, adding slices of apples and strawberries, and scattering pumpkin seeds (pepitas), walnuts, goat cheese and chopped chives around. Top with chicken and serve.
Tip: I LOOOOVE topping this with the hot chicken straight from the pan (and also hot walnuts, when I opt to toast them) because it melts the goat cheese, but if that's not your thing you can cool the chicken (or even cook it in advance) and just let it warm to room temperature for a few minutes before serving.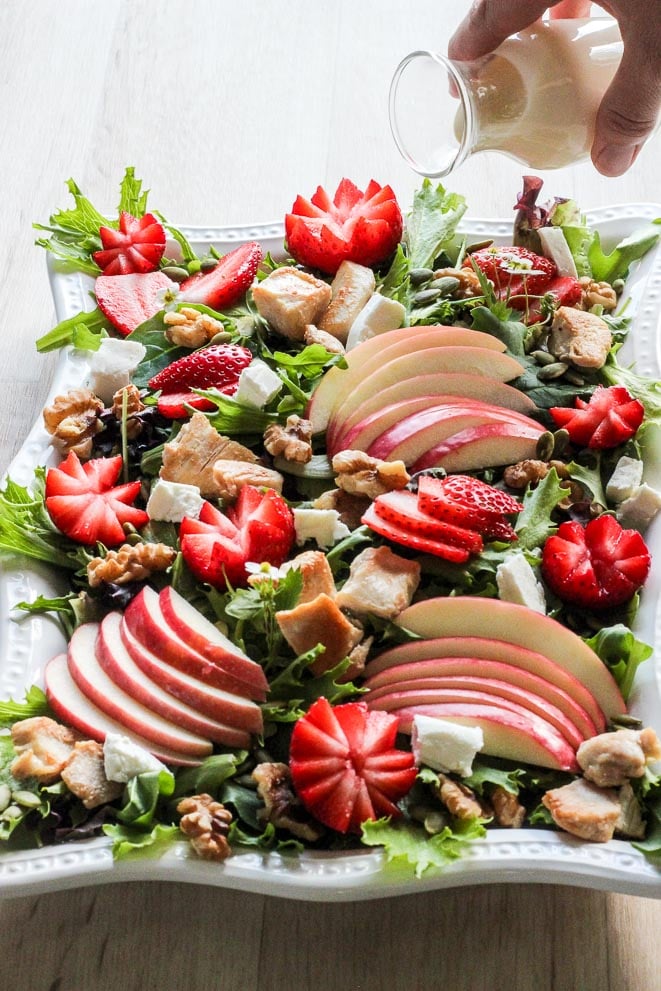 Serve with the MOST amazing salad dressing you will ever eat – our Creamy Maple Salad Dressing. It's a beautiful match for the ingredients in this salad!
Enjoy! 🙂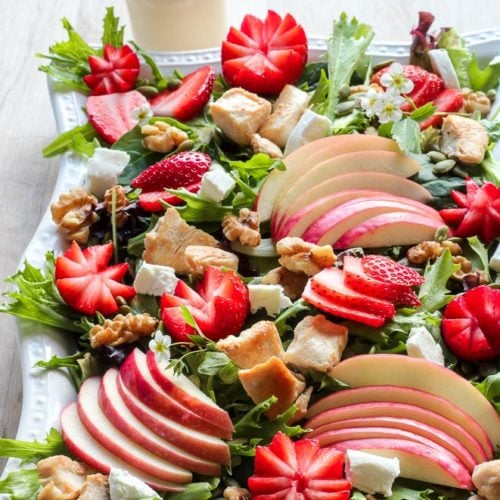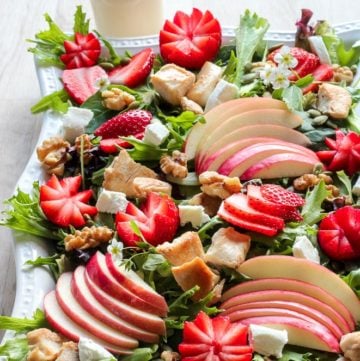 Strawberry Chicken Salad
This EASY Strawberry Chicken Salad and the Creamy Maple Dressing that goes with it are SO addictive you'll be craving it every day!  The perfect summer salad!
Print
Pin
Rate
Servings:
4
as side dish, 2 as main dish
Ingredients
1

chicken breast

1

tbsp

olive oil

1

apple

1

cup

strawberries

4

oz

goat cheese

1/2

cup

walnuts

2

tbsp

pumpkin seeds

2

tbsp

chives

(or can use minced red onions, or even regular onions - soak in water to lessen the bite)

4

cups

washed and dried mixed greens

(or can substitute whatever you have on-hand)

salt

pepper

1

batch

Creamy Maple Salad Dressing*
Instructions
Heat a large frying pan over medium heat. Cut chicken into bite-sized pieces.

Once pan is hot, add olive oil, swirl to coat bottom of pan and add chicken, spreading it out over the bottom of the pan. Season generously with salt and pepper. Let chicken cook 3-4 minutes without disturbing it, before flipping it to cook the other side. Once it is nearly cooked through, stir it around to brown all sides**. Taste a small piece. If it tastes blah, add a bit more salt.

While chicken is cooking, use a new cutting board to slice apples and strawberries, crumble goat cheese and chop walnuts into smaller pieces (if using whole walnuts). Mince chives.

Arrange salad on individual plates or a platter, starting with mixed greens. Then, evenly sprinkle apples, strawberries, pumpkin seeds, walnuts, goat cheese, chives and chicken. Finish with freshly cracked salt and pepper.

*Serve with Creamy Maple Salad Dressing and enjoy! 🙂
Notes
**Cut open the largest piece of chicken to make sure the meat is cooked (white) inside.
Nutrition
Calories:
336
kcal
|
Carbohydrates:
13
g
|
Protein:
22
g
|
Fat:
23
g
|
Saturated Fat:
6
g
|
Cholesterol:
49
mg
|
Sodium:
182
mg
|
Potassium:
487
mg
|
Fiber:
3
g
|
Sugar:
7
g
|
Vitamin A:
854
IU
|
Vitamin C:
34
mg
|
Calcium:
71
mg
|
Iron:
2
mg
You might also like: