FAST, EASY and DELICIOUS! Mix up this salad with the next big SUPERFOOD, chayote squash. It's tasty and healthy. You can make it ahead of time in just 20 minutes!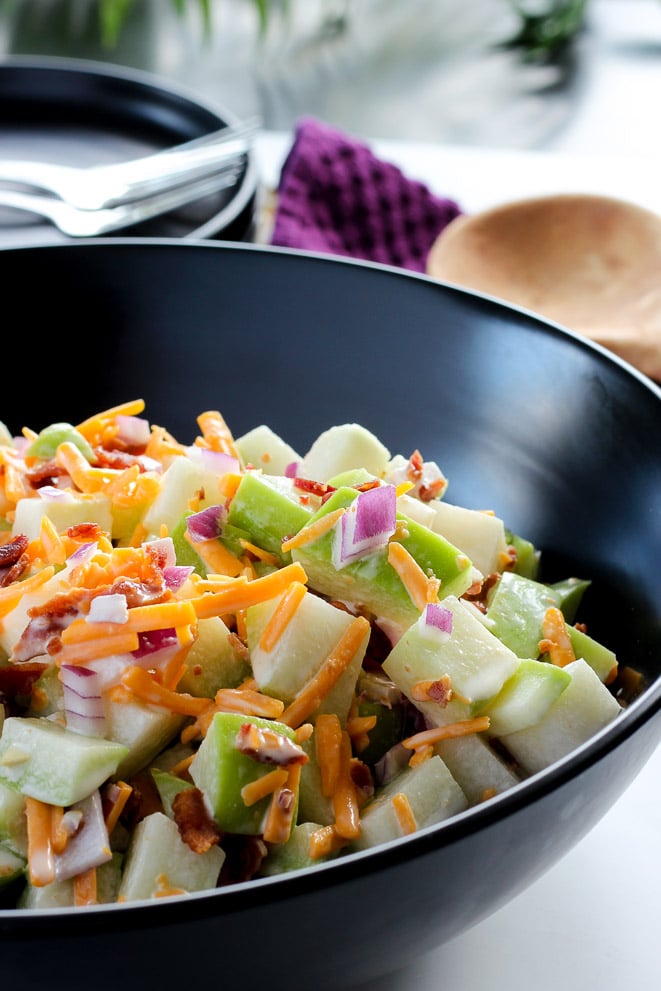 This post contains affiliate links.
Have you heard of chayote squash yet?
It's pronounced (chay-oh-tee), in case you're wondering.
I'd noticed it before at the grocery store, but not paid much attention to it until my parents brought me one to try as a curiosity.
And I was SO impressed!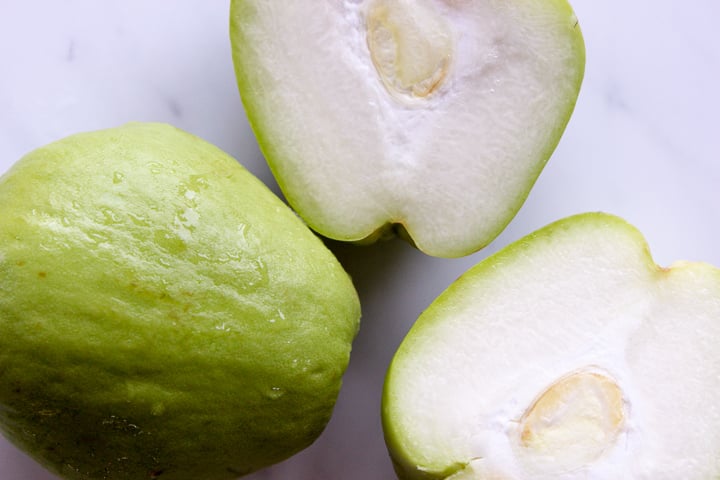 This little baby is delicious! It's got a crispy, watery crunch, kind of like a water chestnut or raw potato, but the flavour is more like cucumber, with a hint of sweetness.
Right away I started thinking of tasty ways to use it!
At the moment I'm avoiding eating too many gassy foods, because they seem to really bother our baby boy, who I'm breastfeeding. So that means lots of nutritional powerhouses that I love to eat are off the table for now. No broccoli, no cabbage, no string beans or snow peas. You get the idea.
I've already used chayote squash in the place of a bunch of different veggies and I love the taste, and especially the crispy crunch!
As soon as barbecue season rolls around, I love to make broccoli salad. But not this year.
This year we're making Chayote Salad. And we've got the recipe for you!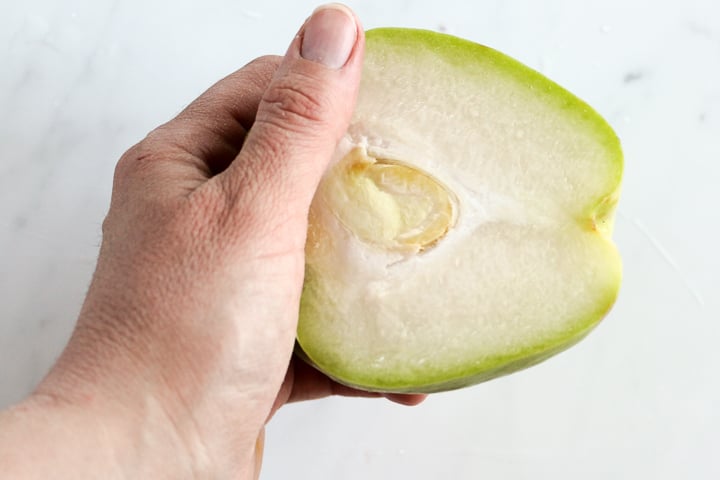 But first, a few common questions and answers about chayote squash:
What IS chayote squash, anyway?
Chayote is a fruit from the Cucurbitaceae family. It grows on a tropical vine. In my mind, the closest thing to compare it to is a zucchini, but the texutre is crunchier and it's a bit sweeter.
It's used around the world in a large variety of cuisines, but is especially popular in Mexico and Latin America. It's also known as cho-cho, mirliton, pear squash, choko, christophene, and probably other names as well. You can read more about it here.
Can chayote be eaten raw?
Yes! Some sites say that it is tough, but I find the texture is lovely when raw and I've happily added it to salads and slaws for a pleasant crunch. You can also cook it if you'd rather.
Do you have to peel chayote squash?
No, not unless your peeling is tough. Chayote is a nutritional powerhouse, and most of the nutrients are in the peeling, so I would definitely try to leave it on if possible. The entire fruit is edible, including the soft seed in the centre.
Chayote benefits and chayote nutrition:
I didn't know this when I first tried it, but chayote is SUPER healthy! One cup of it has just 25 calories! I don't count calories or anything, but that is just crazy! And the same cup has just 0.2 grams of fat.
Chayote also has zero saturated fat, no cholesterol, lots of fibre, antioxidants, minerals, vitamins, and a good amount of folate and potassium. It also has a bunch of other impressive healthy qualities, which you can read more about here.
CHAYOTE SQUASH SALAD RECIPE – STEP-BY-STEP INSTRUCTIONS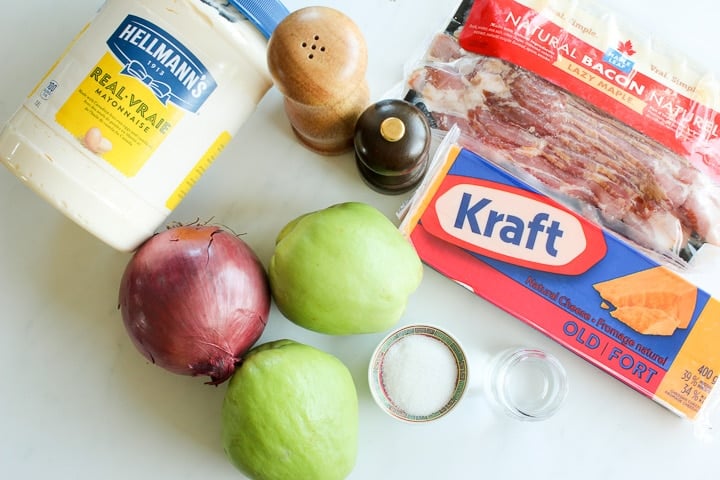 Chayote Salad Ingredients

Start by doing the step that takes the longest – cooking the bacon (I like to cook mine in the microwave on a plate like this, because it's very hands-off and not messy).
Once the bacon is cooking, dice the onions nice and small, and if you want to reduce the bite from them, soak them in a bowl of cool water while you prep the other ingredients.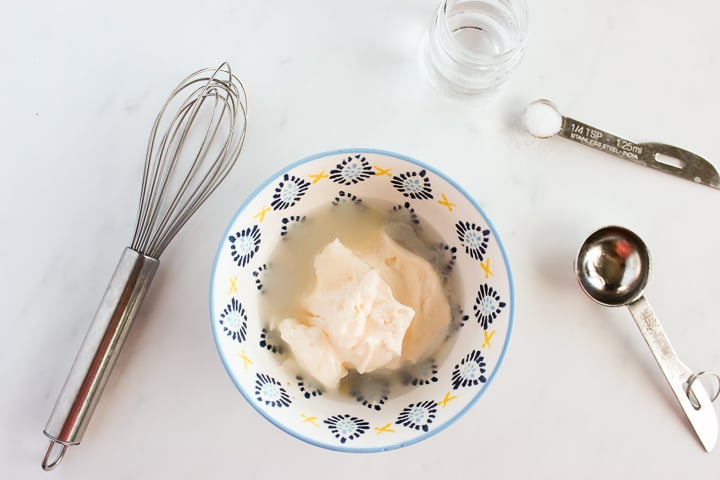 Whisk up your mayo, vinegar, sugar, salt and pepper and set it aside for a few minutes to let the flavours meld.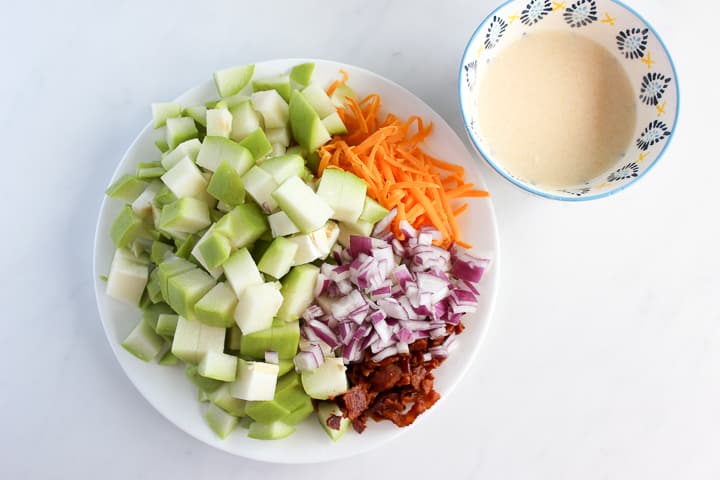 Wash and cube the chayote squash (I found some of my cubes were a little big, so feel free to go a bit smaller when you do yours), shred cheddar cheese, crumble cooked bacon, drain the minced onion and pat it dry with a paper towel.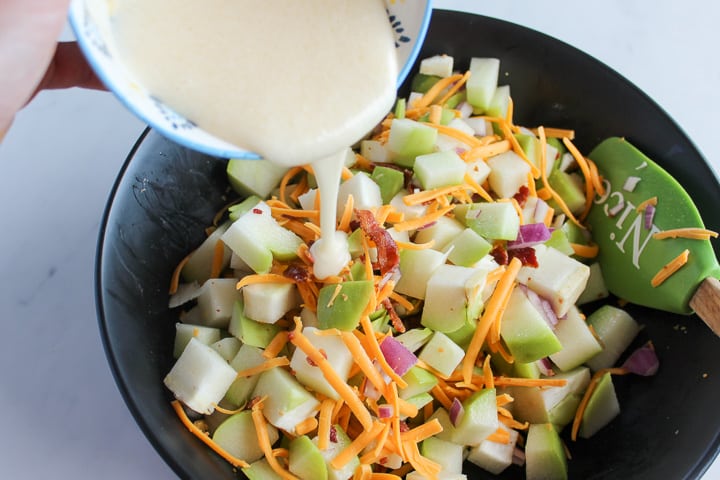 Toss ingredients together in a bowl, pour dressing over it and stir well to combine.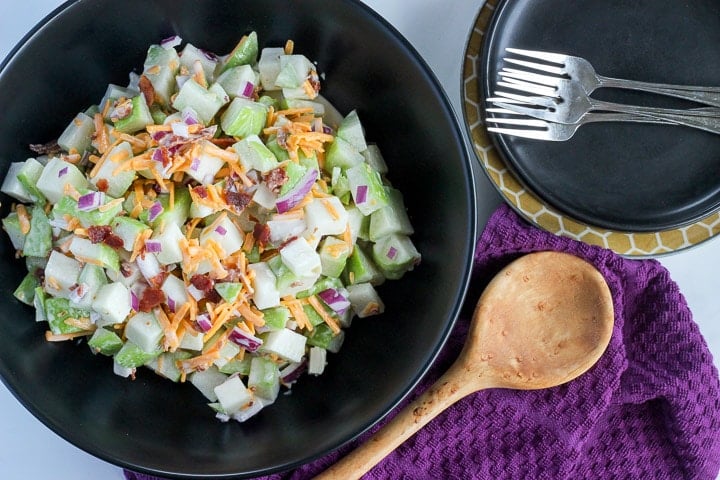 Enjoy! 🙂

Did you make this Chayote Salad Recipe?
Leave us a star rating below!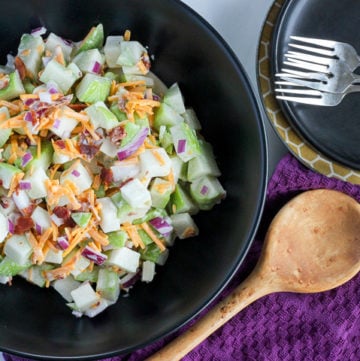 Chayote Salad Recipe
FAST, EASY and DELICIOUS! Mix up this salad with the next big SUPERFOOD, chayote squash. It's tasty and healthy You can make it ahead of time in just 20 minutes!
Print
Pin
Rate
Ingredients
For Salad
2

chayote squash

6

slices

bacon

(about 1/2 of a 375g package)

1/2

cup

red onion

(minced)

1

cup

cheddar cheese

(grated)
For Dressing
1/2

cup

mayo

2

tbsp

sugar

2

tbsp

vinegar

1/4

tsp

salt
Instructions
Cook bacon* and cut into bite sized pieces.

Mince onion and put it in a bowl of cool water to reduce the onion bite. Set aside for a few minutes. Drain before using and pat dry with paper towel.

Combine dressing ingredients and set aside.

Dice chayote into bite sized pieces, shred cheese.

Combine all salad ingredients in a large bowl. Add dressing and stir well to combine.

Serve immediately or refrigerate until ready to serve.
Notes
*I like to cook bacon in the microwave with a dish like this (it's very hands-off and not messy at all).
Nutrition
Calories:
194
kcal
|
Carbohydrates:
4
g
|
Protein:
4
g
|
Fat:
17
g
|
Saturated Fat:
5
g
|
Cholesterol:
25
mg
|
Sodium:
287
mg
|
Potassium:
81
mg
|
Sugar:
3
g
|
Vitamin A:
120
IU
|
Vitamin C:
2.6
mg
|
Calcium:
88
mg
|
Iron:
0.3
mg
You might also like: