The most delicious salad dressing you will EVER eat. 2 ingredients. Ready in 1 minute. Will make you crave salad constantly!

Ok friends. Hang onto your hats.
This salad dressing is going to be your new best friend.
You'll want to see it every day.
Spend all your meals with it.
Take it with you to dinner parties and on vacation.
It's *THAT* good.
And did I mention how easy it is?
2 ingredients. 1 minute.
If you want to eat more salads, this one's for you, kid.
The BEST Salad Dressing
Okay, seriously. This is my favourite salad dressing IN THE WORLD. I find myself daydreaming about what kind of salad I can make just so I can eat it.
As someone who is always trying to eat lots of veggies, I call that a WIN.
I've been craving salads all spring and summer. I've tried this dressing with lots of different salads and it's been SUPER delicious every time.
Maple Salad Dressing
Okay, so the dominant flavour here is maple. Which is, obviously, sweet. This dressing is delicious with all sorts of greens, lots of veggies, nuts, seeds, FRUIT, goat cheese, hard boiled eggs, bacon and chicken. So that gives you a lot of fantastic salad options.
Most recently we had it with our Strawberry Chicken Salad and, let me tell you, I almost swooned.
Yeah, I know, I need to get out more 🙂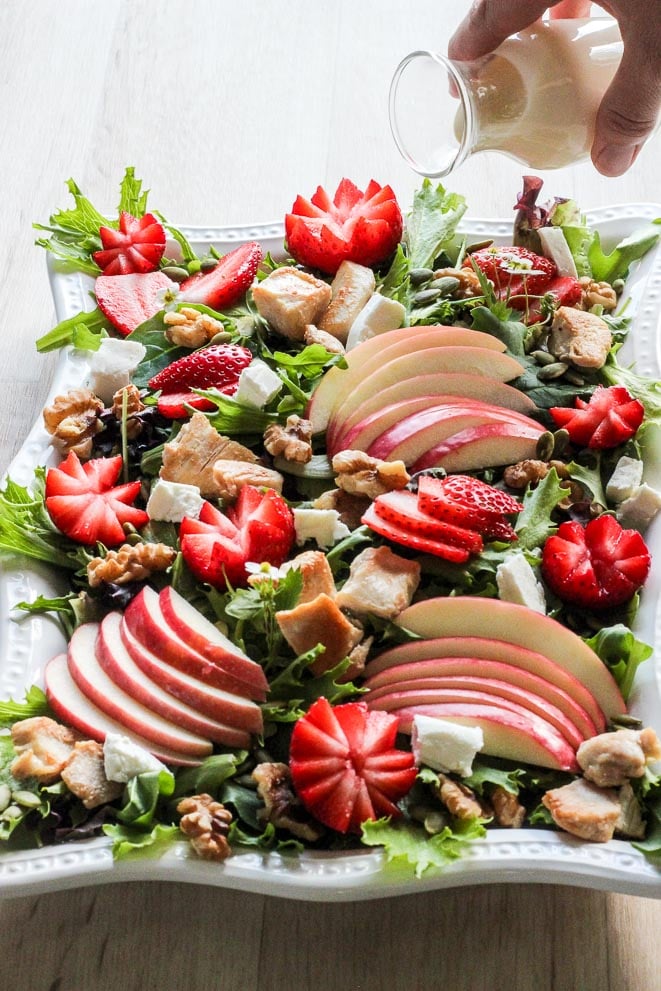 I also think it would be super tasty with our Easy Winter Salad.
The Best Creamy Salad Dressing – how to make it cheaper
Well, mayo isn't particularly expensive, but we buy the huge tubs at Costco because they are WAY more cost-effective than any other option.
Maple syrup CAN be expensive, but you don't use much of it in this recipe and it's worth it to spring for the real deal (please no generic 'pancake syrup').
I find the best price by far is also at Costco, so we pick up both of the staples for this recipe there.
PS – This is the perfect creamy spinach salad dressing. In case you've been wondering.
Other helpful to make this amazing salad dressing:
Can I use yogurt or sour cream to make this salad dressing healthier?
Honestly, no.
It's sad, I know. I tried it quite a few times, but I found it diluted the flavour too much and somehow just wasn't as delicious (lack of fat, duh). Anyway, honestly, if I'm eating a big ole plate of healthy veggies I'm not going to worry about a tiny bit of extra fat and trust me, I'll enjoy the original version much more (and thus, eat more salads).
Can I use Miracle Whip to make this salad dressing?
Well, I haven't tried it, but I really don't think so. I like Miracle Whip just fine but it has a different flavour than mayonnaise and I'm not sure the tanginess would lend itself well to this. Read more about the differences between mayonnaise and Miracle Whip

here

. If you try it anyway, let me know how it goes for you!
The most simple salad dressing – only 2 ingredients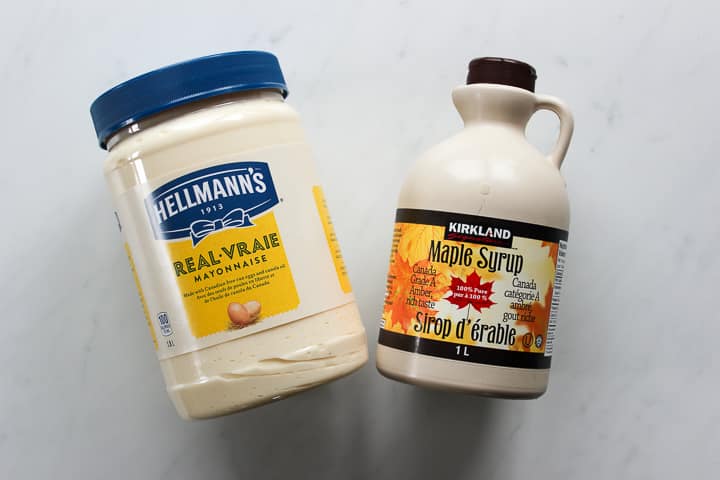 Creamy Maple Salad Dressing ingredients – deceptively simple.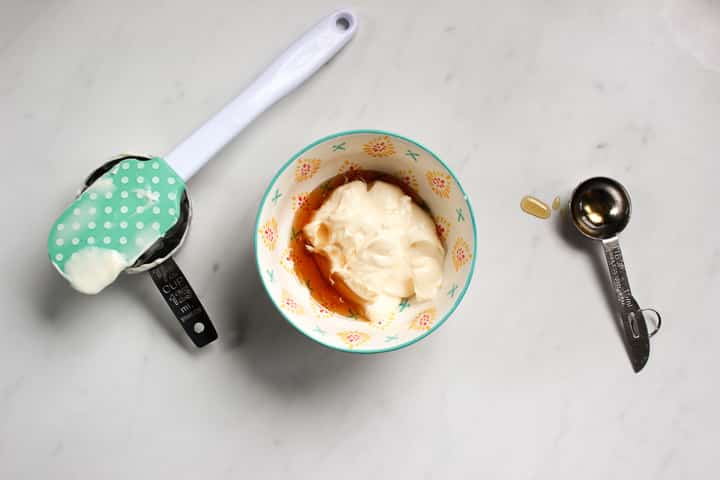 Stir together 1/2 cup of mayo and 4 teaspoons of maple syrup. Add a pinch of salt if you want (I want).
Whisk together and set aside if using soon. Otherwise refrigerate for up to three days.
Enjoy (so much!) 🙂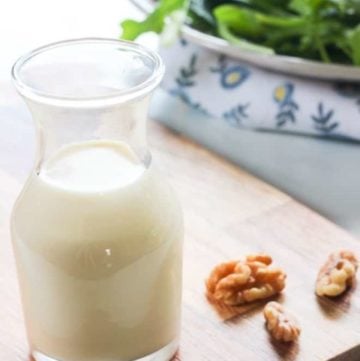 Creamy Maple Salad Dressing
The most delicious salad dressing you will EVER eat.  2 ingredients.  Ready in 2 minutes.  Will make you crave salad.
Print
Pin
Rate
Servings:
8
(side salad servings)
Ingredients
1/2

cup

mayonnaise

4

tsp

maple syrup

pinch

salt
Instructions
Stir or whisk together mayo and maple syrup. Add pinch of salt.

Eat immediately or refrigerate for up to three days.
Nutrition
Calories:
105
kcal
|
Carbohydrates:
2
g
|
Protein:
1
g
|
Fat:
10
g
|
Saturated Fat:
2
g
|
Cholesterol:
6
mg
|
Sodium:
89
mg
|
Potassium:
8
mg
|
Sugar:
2
g
|
Vitamin A:
9
IU
|
Calcium:
4
mg
|
Iron:
1
mg
You might also like: