Want to remake your breakfast routine? Start eating healthy? Fill your kids up for more than 5 minutes?
This (5 ingredient!) Strawberry Banana Protein Smoothie has a secret ingredient – cottage cheese – that makes it super creamy AND filling!
Whip one up in under 10 minutes and start your morning on the right foot!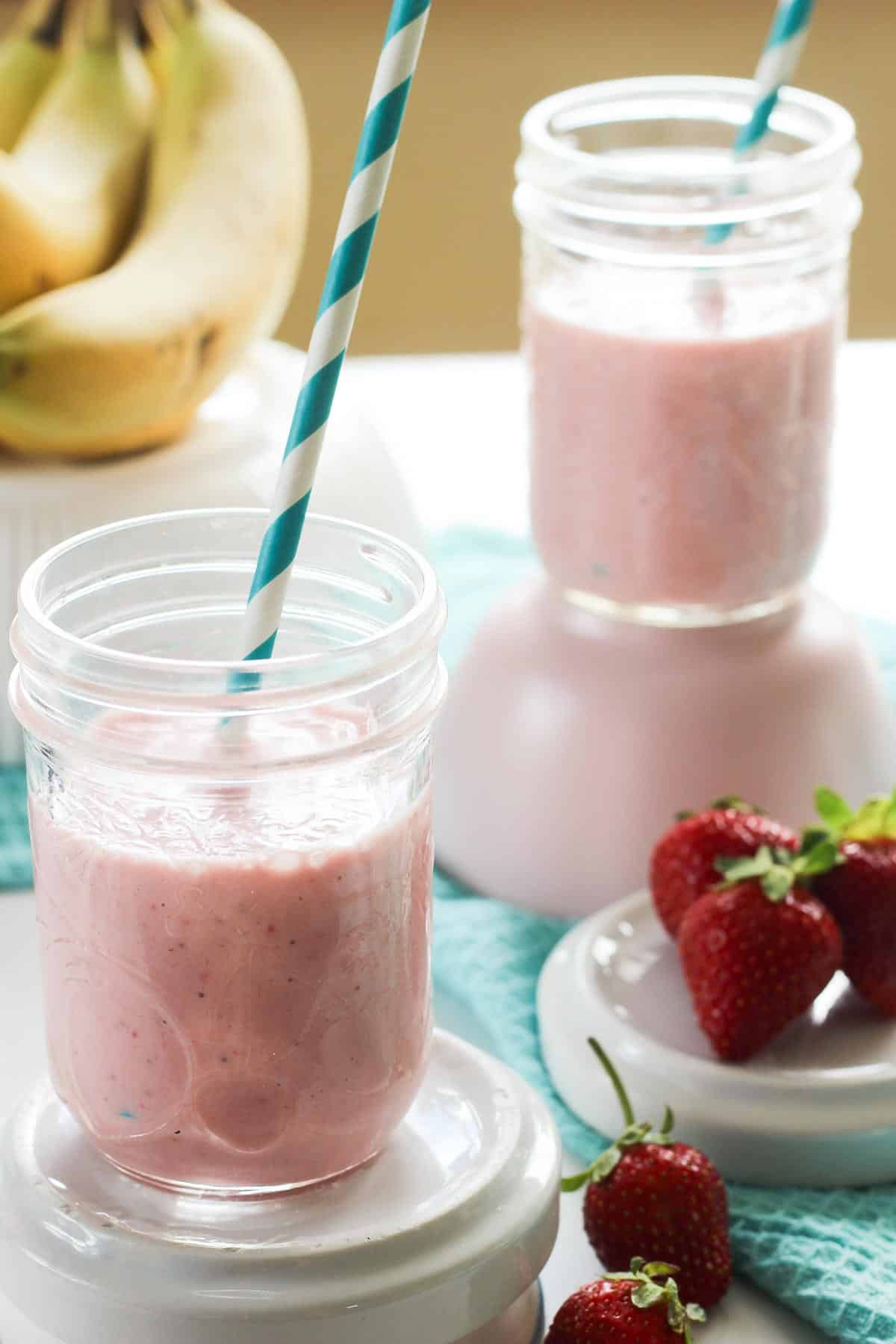 Why You'll Love This Recipe (It's not just a breakfast smoothie)
Do you struggle with feeling hungry an hour after breakfast?
Do your kids wander back to the kitchen looking for a snack 15 minutes after you feed them?
Do you want to start your day with a super healthy BUT EASY breakfast to give you energy to face the day?
Do you want to drink high protein smoothies, WITHOUT protein powder?
Do you often find yourself searching for a tasty snack to get you through a mid-afternoon slump?
If any of these situations sound familiar, you'll love this recipe! Just 5 healthy ingredients, no added sugar and only minutes to make!
I love coming up with healthy smoothie recipes for my kids, and I love that this one is nutritious, extra filling, AND yummy!
My kids are completely obsessed with it (and I am too!).
Ingredients/Variations/Substitutions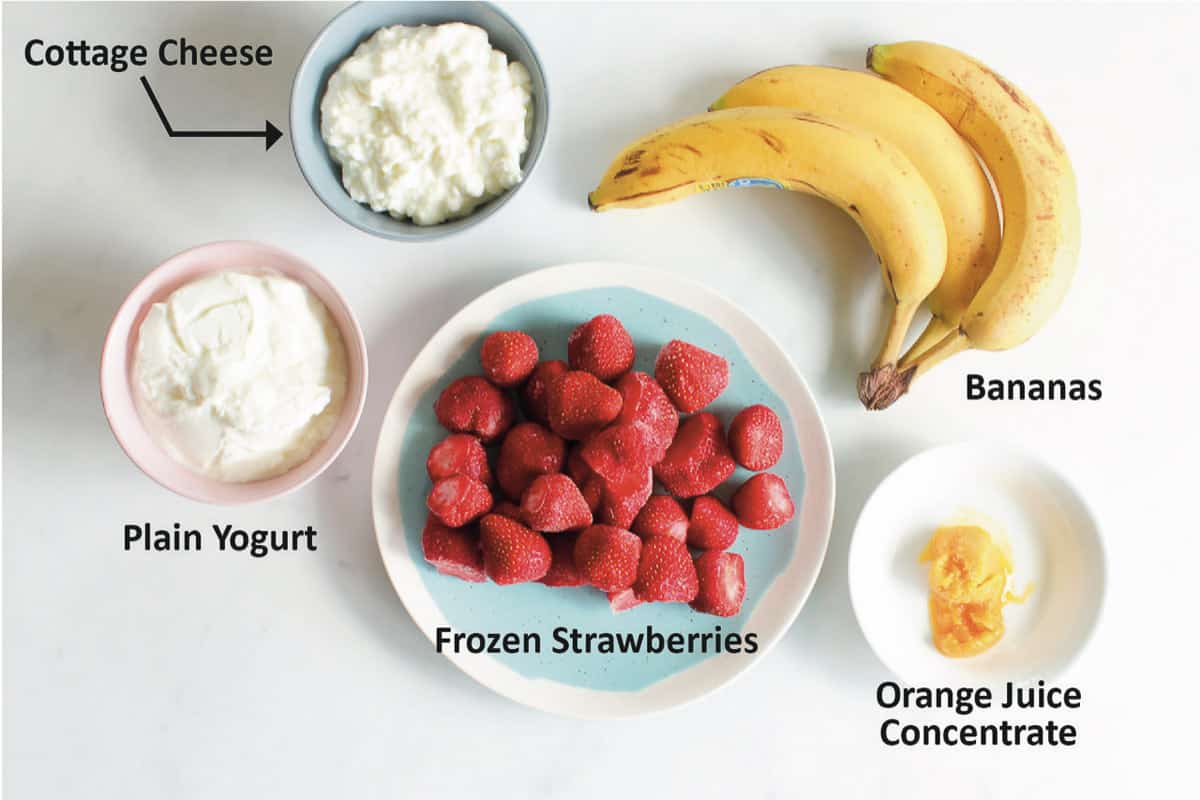 This is a super flexible recipe.
Bananas – Bananas are the workhorses of smoothies in our house. They are the cheapest ingredient in the smoothie, but are filling and super healthy. We use several to add bulk!
Frozen orange juice concentrate – this ingredient is optional but it adds a great underlying taste to the smoothie, and the only ingredient is orange juice (no added sugar). Easy to stash in your freezer!
Why it's Budget-Friendly
Groceries are pretty expensive where we live, but by shopping sales and stocking up, we're able to keep the cost of these smoothies pretty low.
Even if you drank all 5 cups of this yourself (which I don't recommend, haha), the total cost would be around $5, which is probably less than what you'd spend on a smaller smoothie from a smoothie bar or cafe.
Cottage cheese can vary wildly in price, depending on where you buy it and what brand you buy. We usually opt for the no name or store brand version, because it's cheaper. When I find it on sale I stock up, because we use a lot of it in smoothies and other dishes.
I often stock up on

plain yogurt

at Walmart, where it is 3/$7. The dates are usually weeks away and we store extras in the back of our fridge.
Bananas are such a staple in our house! Super cheap, very versatile, easy to snack on, portable, baby food on the fly when you don't have time to make some, they also add awesome bulk to smoothies to the whole family – so the major flavor fruit (more expensive strawberries, for example) don't need to provide bulk too!
Frozen strawberries are available in bulk at most major grocery stores, or Costco. Watch for a sale, or buy the biggest bag of the store brand variety. We get a 2 kilogram (more than 4 pound) bag for $11.99, – regular price (cheaper on sale!).
Orange juice concentrate is a SUPER cheap way to add lots of fruity flavor to smoothies! Buy a little container for just over $1, store it in your freezer, and scoop out a couple of tablespoons for smoothies! Much cheaper than keeping big jugs of juice in the fridge!
Strawberry Banana Cottage Cheese High

Protein Smoothie For Kids
This is a super simple recipe to make but a few tips will make it extra delicious!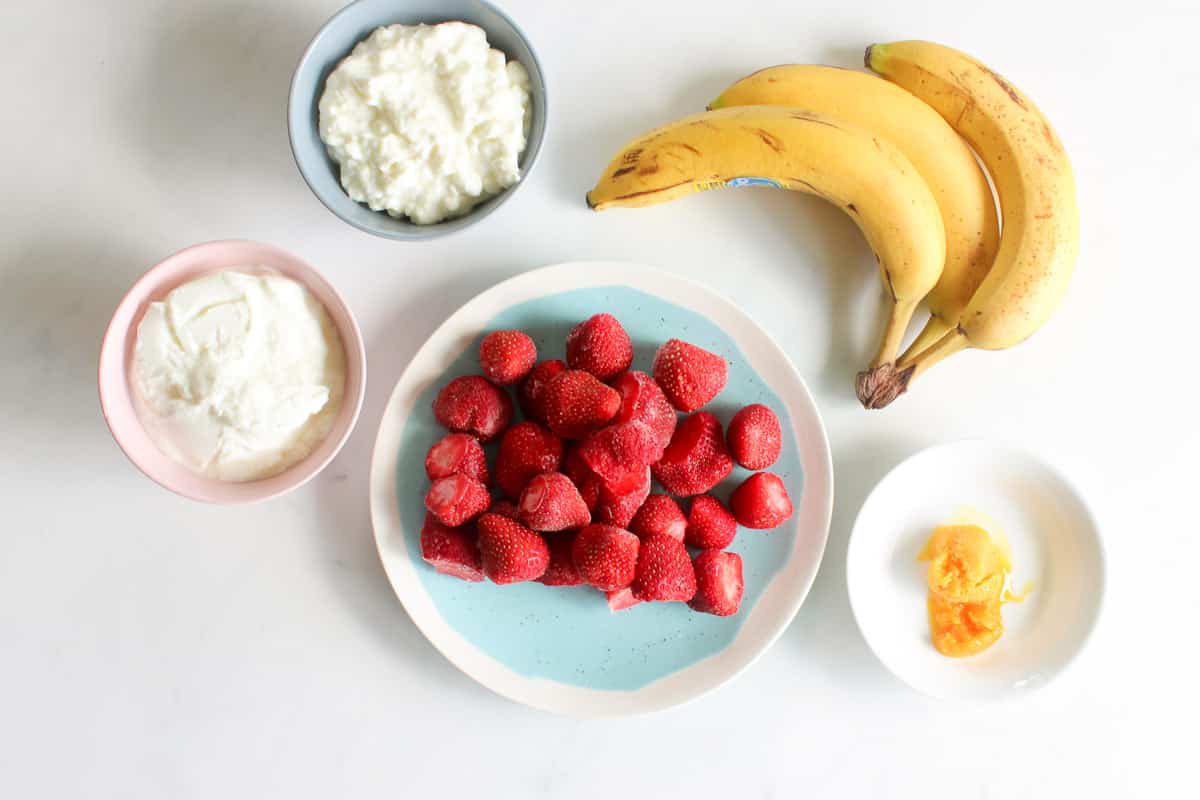 Gather your ingredients: cottage cheese, plain yogurt, strawberries, bananas and orange juice concentrate.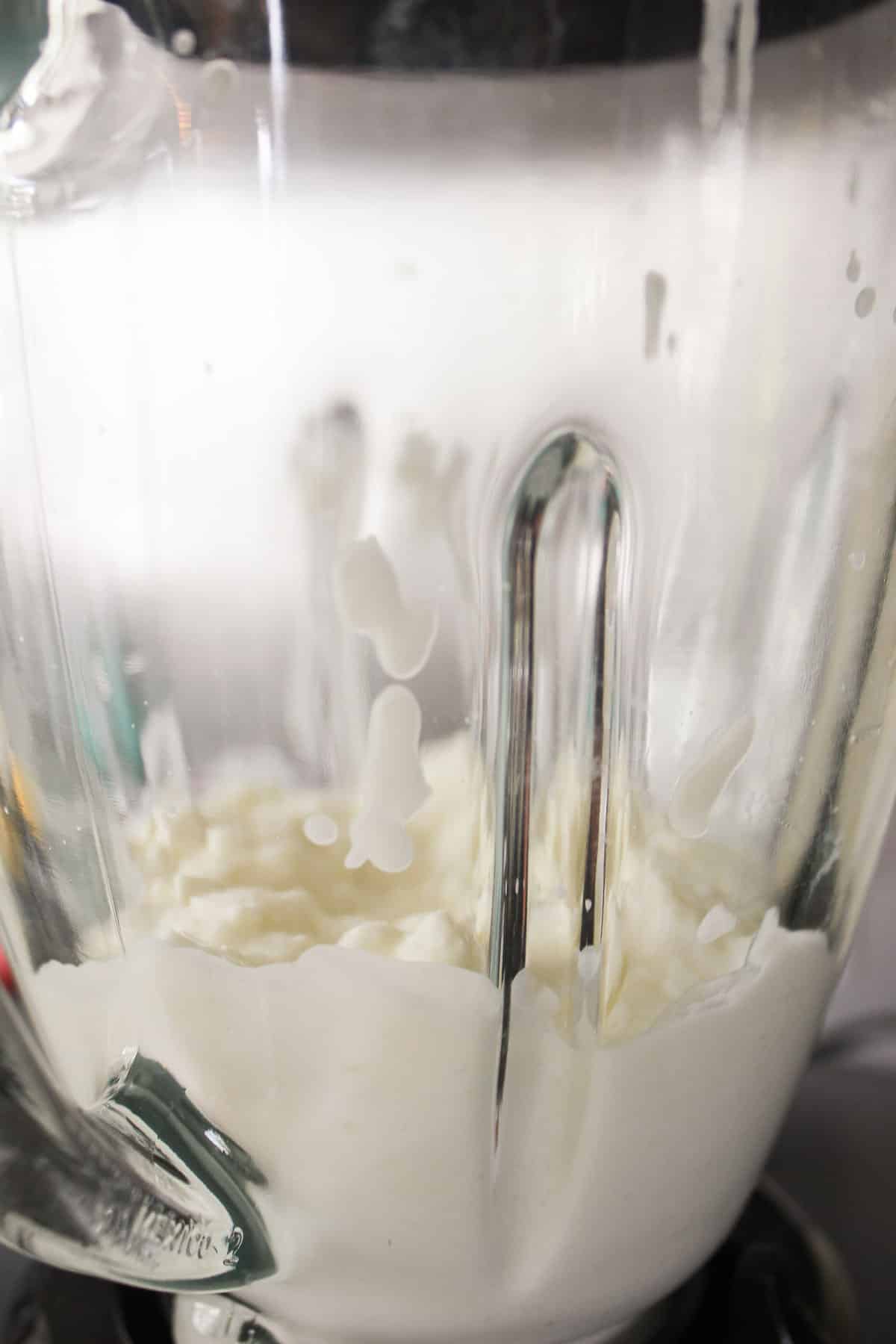 Start by whipping your cottage cheese. This is the basis of the super creamy smoothie you're going to make.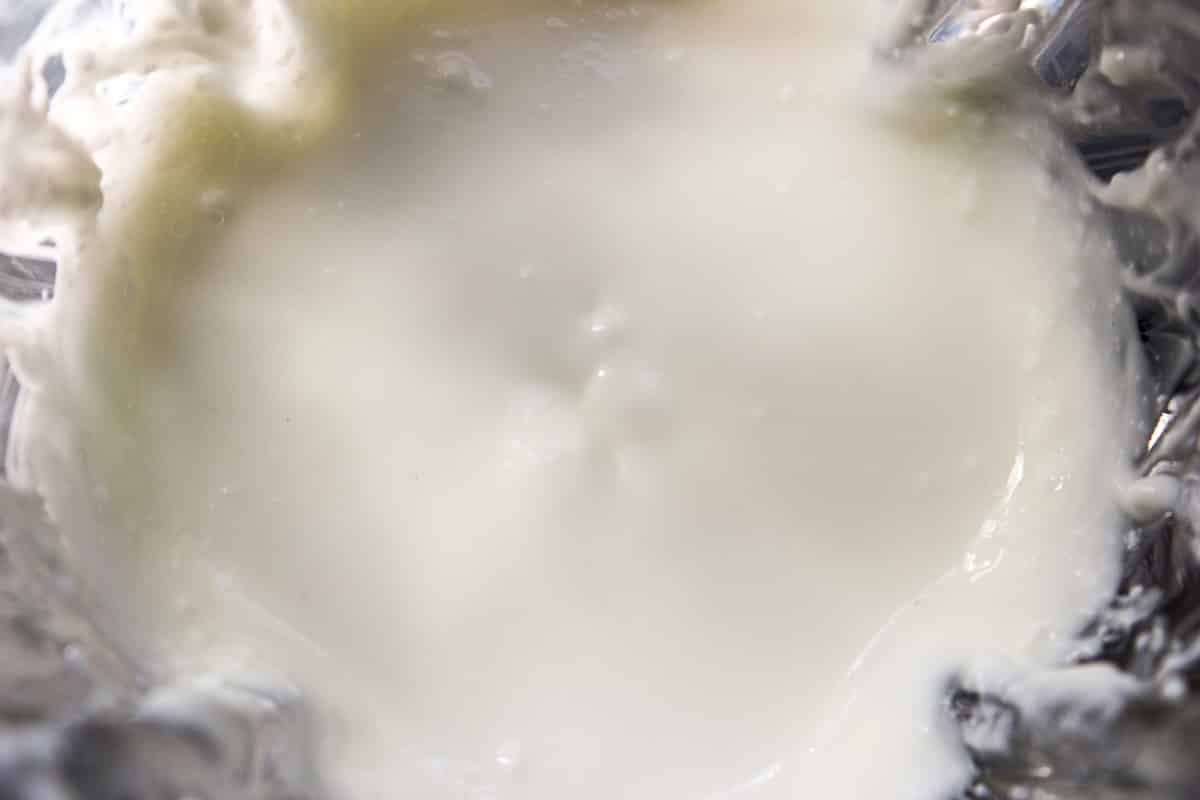 Make sure you whip it completely until all the graininess is gone (in this photo you can see that it's still a little grainy). It will probably take a minute or two of blending.
Tip: you can make it easier by mixing with a spatula or adding a small splash of water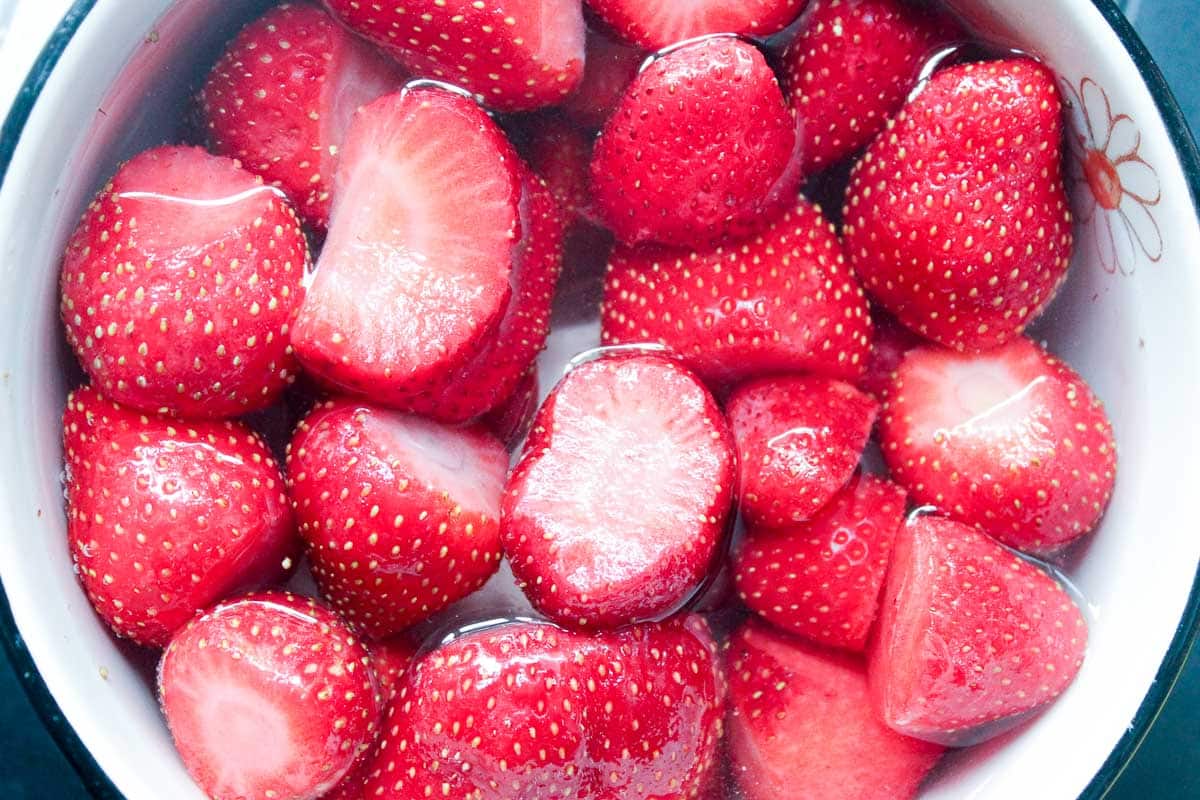 Get your strawberries ready. If you like a really thick smoothie, you can throw them in frozen. Personally I like a slightly thinner smoothie.
Tip: If you also like a thinner smoothie you can put your frozen berries in a bowl and cover them with hot water. Let sit for 10-20 seconds and then drain.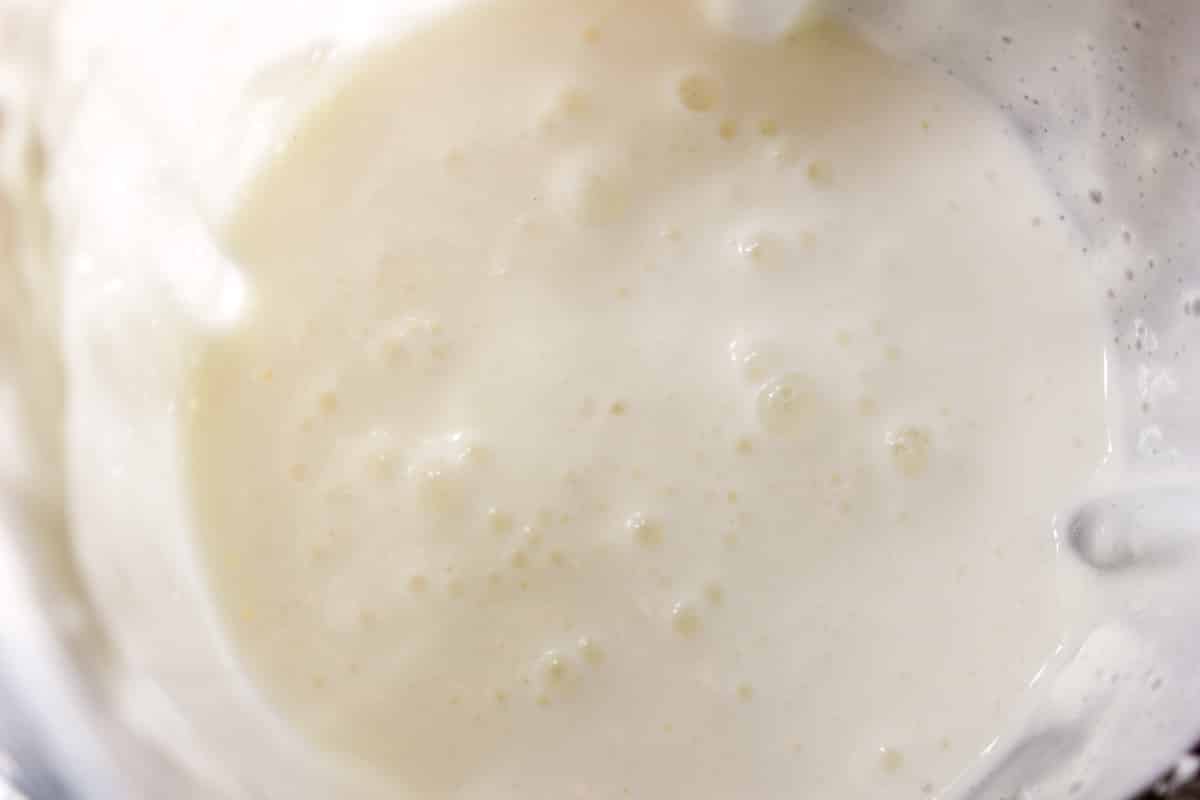 Add your plain yogurt. Blending makes it a lot more liquidy, so everything should start to get nice and creamy.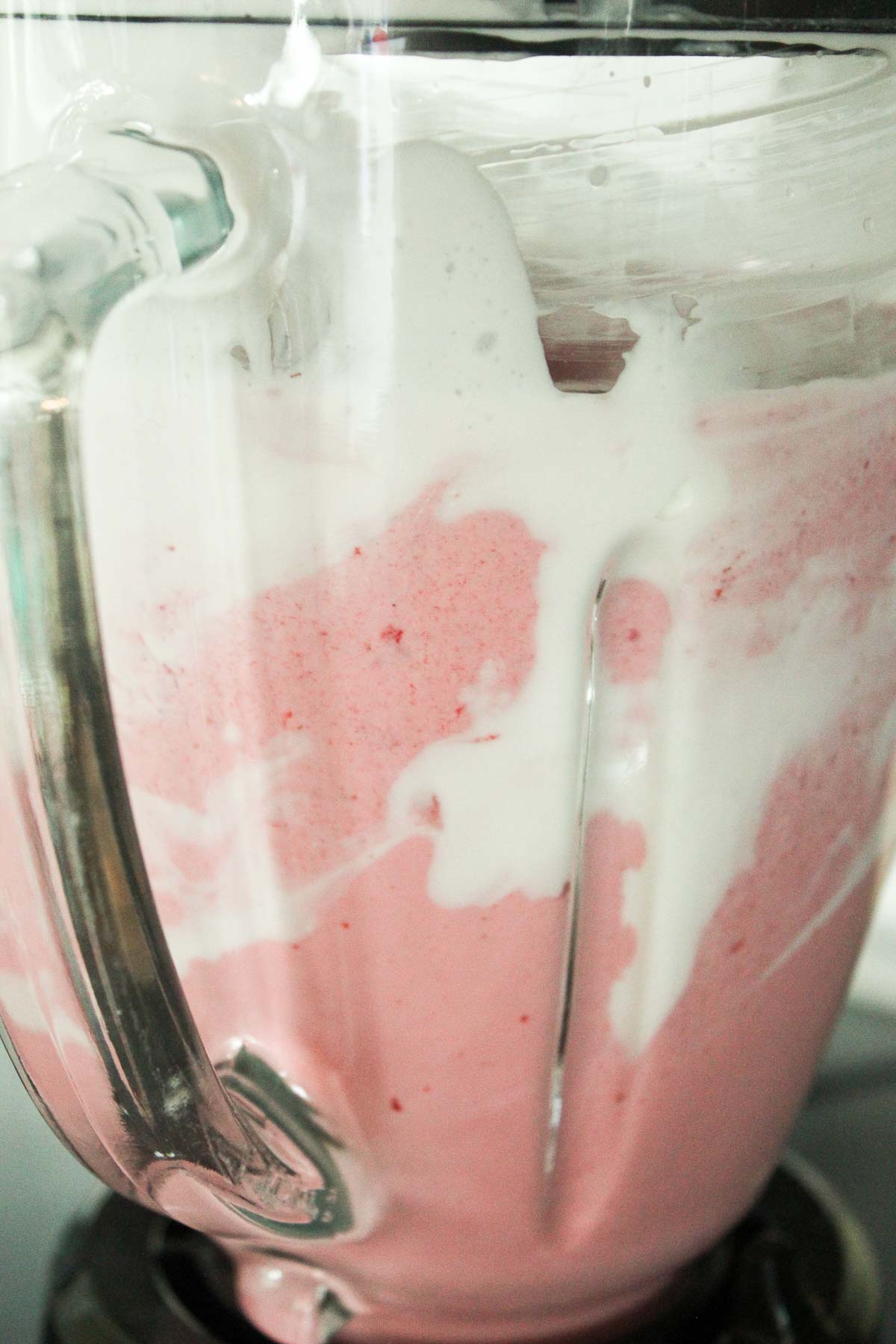 Add your strawberries and orange juice concentrate and blend well to combine. Use a spatula to scrape down the sides, so everything is well combined.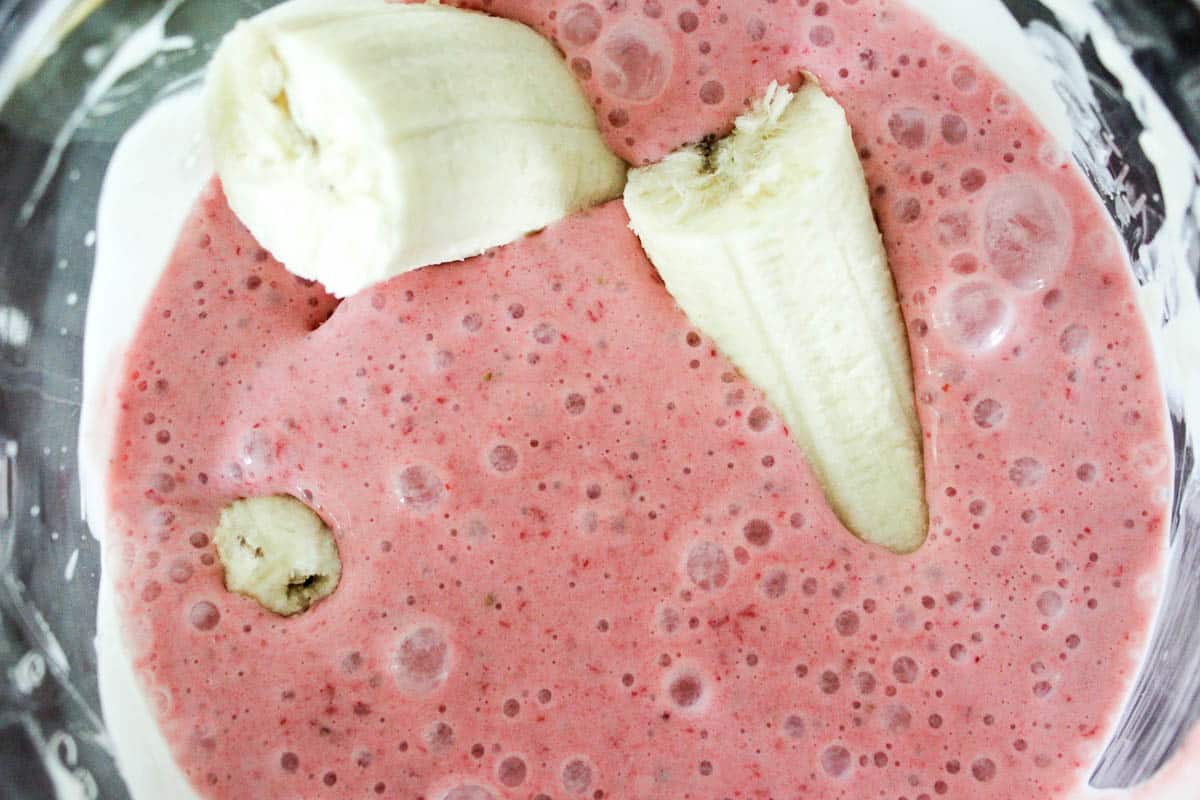 I like to add the bananas last, so that I can judge whether I should use more or less based on how much smoothie I want to make.
Tip: If your smoothie is too thick, add a splash of water to thin it down. The flavor shouldn't suffer because of the orange juice concentrate. If you accidentally add too much water, you can add more flavor with a bit more orange juice concentrate.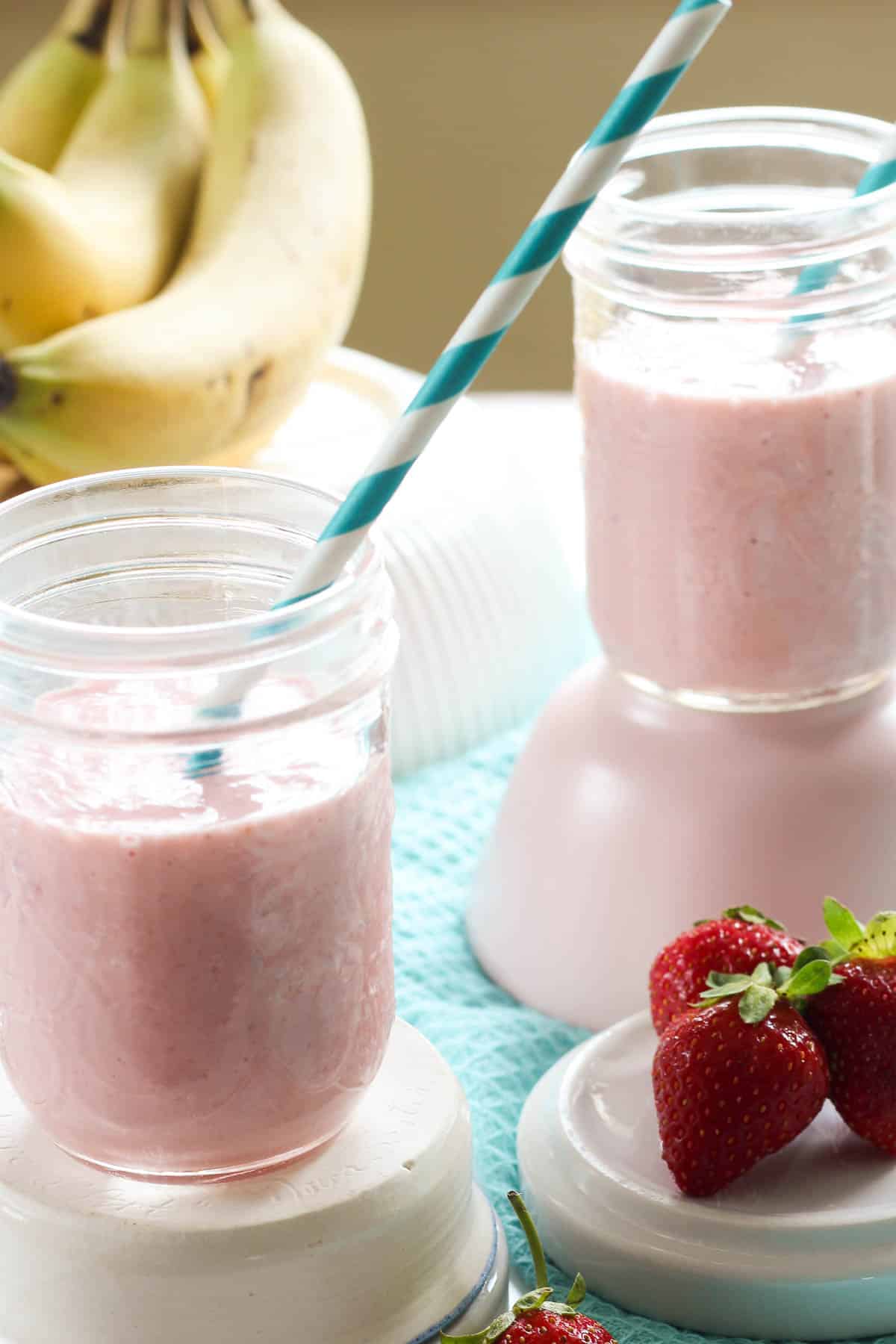 Serving & Storage
Serve immediately.
I always give our kids smoothies in small mason jars with these awesome lids and these straws. I just find it SO helpful to contain the mess and highly recommend the lids, especially.
Tip: If you use reusable straws with smoothies you HAVE to make sure you clean them really well with something like this. Otherwise it's very hard to get all the smoothie out of the inside.
If you have smoothie leftovers, store them in a sealed jar or container in the fridge for up to two days.
You can also use this high protein smoothie as a delicious and filling base for a smoothie bowl, if that's your thing!
FAQs & Expert Tips for this recipe
Can I blend cottage cheese?

Yup! And it's a game-changer! Even as a person who likes cottage cheese as-is, I was amazed by how creamy, rich and versatile it becomes after a few minutes in a blender or food processor! It's like a different ingredient! I highly recommend it!
Are protein smoothies good for you?

Protein is an important part of helping your body feel satisfied with the food you eat. Personally if I have a regular fruit smoothie I'm hungry again in no time.

However, I wanted to make a protein smoothie without protein powder, because: (1) I honestly don't know much about it, (2) I know that the quality of protein powder can vary wildly, (3) it sometimes contains added sugar and (4) it can make drinks chalky.

I'm a big fan of using whole foods whenever possible (ESPECIALLY when feeding my kiddos!) so I stated experimenting with cottage cheese and plain yogurt and I love the result! This article from Healthline also mentions that this can be a good strategy for weight loss.
What's a good cheap blender to make smoothies?

We had this blender for years. It was VERY affordable and the quality of it was great! It made lots of great smoothies and worked well very consistently.

We recently got a new blender, ONLY because we wanted to make larger smoothies! Our kids love them so much and we do to – so we wanted to make a larger quantity. This new blender was a little bit more expensive but still reasonable for the amount of use we get out of it! So far it works great!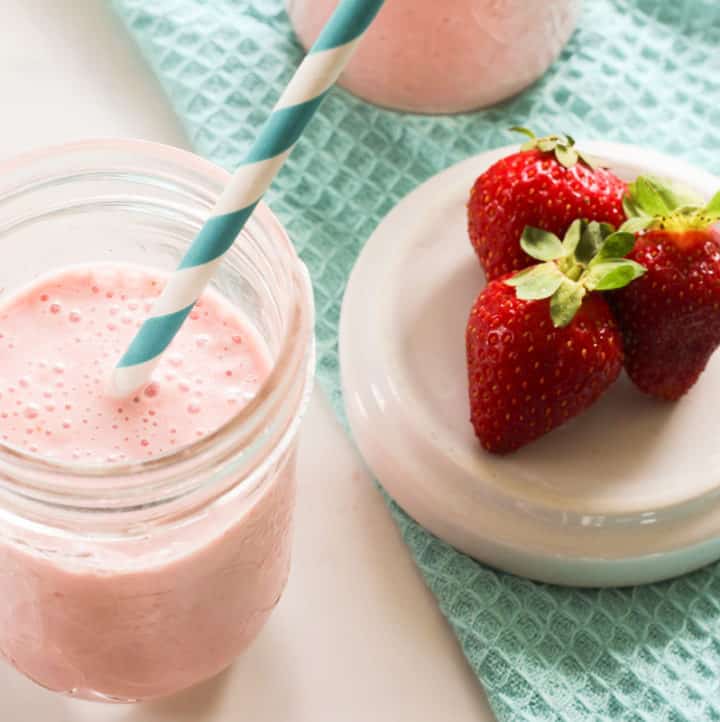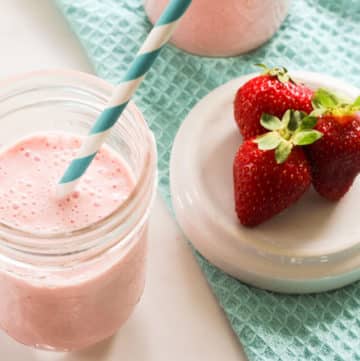 Ingredients
1

cup

cottage cheese

1

cup

plain yogurt

2

cups

frozen strawberries

3

bananas

(medium sized)

1

tbsp

frozen orange juice concentrate

water

(as needed)
Instructions
Put cottage cheese in blender with a small splash of water and blend until it is smooth, creamy and no longer grainy (look closely) – about 2 minutes. (Note 1)

Add plain yogurt to blender and blend for 30 seconds to liquify.

Soak frozen strawberries for a moment in a bowl of hot water to soften, add to blender and puree.

Add bananas and orange juice concentrate and blend to combine. Scrape down sides of blender with a spatula.

If mixture is too thick add a splash of water to thin it out to desired consistency (Note2)
Notes
Note 1:  In my experience it takes a couple of minutes to get the cottage cheese completely smooth and all the graininess gone, but it's worth it for the texture of the end result.
Note 2: Adding a splash of water shouldn't water down the flavor of the smoothie, because of the orange juice concentrate.  If you accidentally add too much water and find the taste suffers, add a bit more orange juice concentrate to balance it out.
Nutrition
Calories:
186
kcal
|
Carbohydrates:
34
g
|
Protein:
10
g
|
Fat:
3
g
|
Saturated Fat:
1
g
|
Cholesterol:
12
mg
|
Sodium:
216
mg
|
Potassium:
624
mg
|
Fiber:
4
g
|
Sugar:
20
g
|
Vitamin A:
144
IU
|
Vitamin C:
55
mg
|
Calcium:
140
mg
|
Iron:
1
mg
You might also like: