These Vegetarian Dan Dan (-ish) Noodles are easy to make and can be packed with vegetables to suit what you like and have on hand. The creamy peanut sauce gives the dish some weight, even if you keep it vegetarian (which is optional)!

Once a year we travel two hours to see an ophthalmologist, who checks Laurier's eyes. He had a sports injury several years ago and, while everything is thankfully fine, needs regular checkups.
On our most recent trip (to New Glasgow, for those of you who live near us), we discovered a little gem of a restaurant called Mamatsu Fresh Asian Kitchen.
What. A. Gift.
We had such a fantastic meal there I've been thinking about it ever since (and it was months ago).
We had dumplings, firecracker pork and dan dan noodles and they were all fantastic. But the dan dan noodles have been haunting my dreams and I need them in my life again. Preferably on a regular basis, and two hours is just too far to drive for a food craving. I have my limits 🙂
We had to try to recreate the noodles at home. I want to say, upfront, that I'm in no way claiming that these are authentic dan dan noodles. That's why they're called dan dan (-ish) noodles. And I'm okay with that.
But ya know what? It's a tasty noodle dish and it's easy to whip up once you have the ingredients. It has already become a regular meal around our house when we need a quick supper.
I've also made it vegetarian, since we try to eat meatless meals a couple of times a week, and I find noodle dishes are a great way to pack in the veggies.
A word about the ingredients
First of all, I use udon noodles but I feel pretty certain that you could use spaghetti noodles if that's all you have on hand. Once again, we're not aiming for authenticity here, just deliciousness. You can go ahead and use what you have on hand. I live in a rural area – I get it!
This recipe also calls for several ingredients that you might not have in your pantry/fridge. But I will say, they're inexpensive and will open up a world of asian-inspired cooking options, if that's your thang. It's my thang, for sure.
There also some easy substitutions you can make and I'll mention those in the recipe. I would probably make it a point to get my hands on some sesame oil though (available at any large grocery store). As of late it has gotten more expensive (boo) but you only use a small amount of it at a time and it lasts quite a long time in the fridge.
Personally I'm also a fan of rice vinegar, but you could probably work around this one.
That's it! Nothing else too crazy here. We used sriracha for some heat but if you don't have any I would use a small amount of crushed red chilies or cayenne pepper.
It's all about finding a way to work with what you have!
Vegetarian Dan Dan (-ish) Noodles – Step-By-Step Instructions

Vegetarian Dan Dan (-ish) Noodles – Ingredients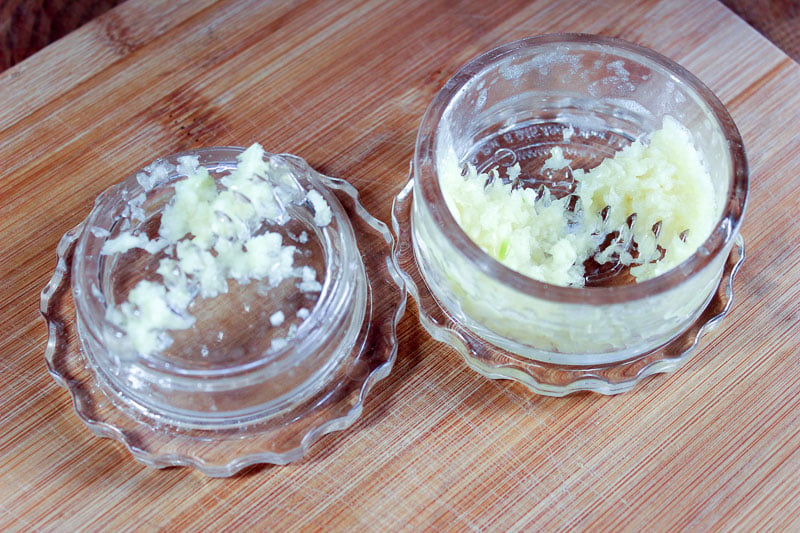 Crush or mince 5 cloves of garlic.

Peel several inches of fresh ginger. I find the easiest way to peel ginger, by far, is using a spoon! Grate ginger using a rasp or other small grater, until you have around 2 tablespoons.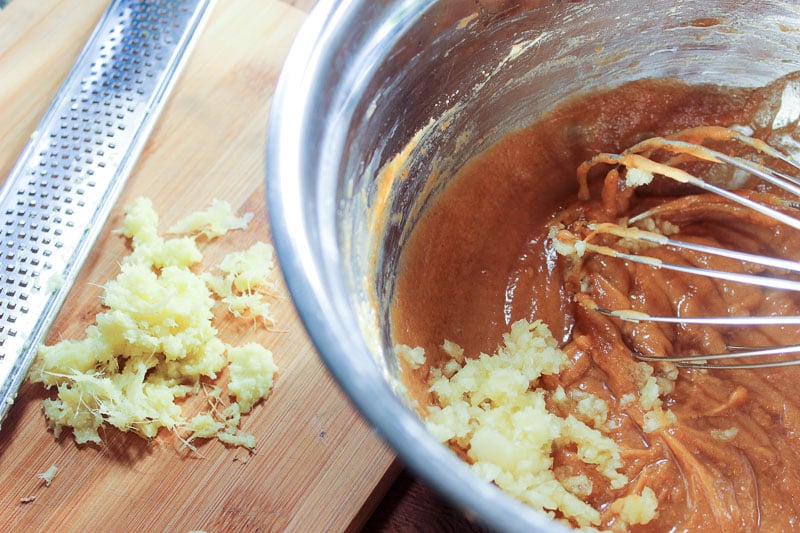 In a small bowl, mix together 1/3 cup of peanut butter, 2 tablespoons of soy sauce, 1 tablespoon of brown sugar, 1 tablespoon of sesame oil, 1 tablespoon of rice vinegar, 1/4 teaspoon sriracha (or crushed chillies or cayenne), 1/2 cup of vegetable broth (or chicken broth, if you don't need it to be vegetarian), crushed garlic and grated ginger. Whisk well to combine.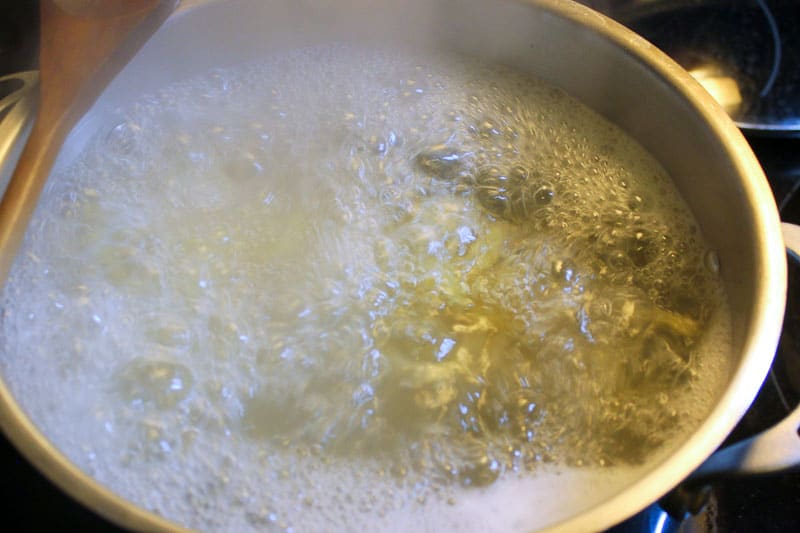 Meanwhile, cook 8 ounces of noodles according to the directions on the package.
Tip: Note that for asian style noodles the cooking time will probably only be 1-3 minutes. For spaghetti it will be longer.
Drain, toss with about 1 tablespoon of oil to stop them from sticking, and set aside.

Chop whatever vegetables you want to use into bite-sized pieces. If you plan to use meat, it's best to have it cut into bite-sized pieces and pre-cooked. This recipe comes together fast.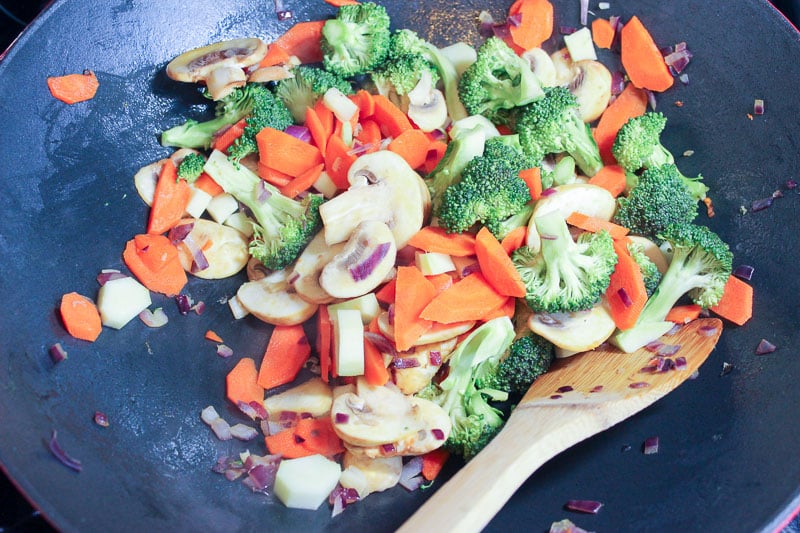 Heat a wok or very large frying pan over medium-high heat. Add 2 tablespoons of oil. Start stir-frying vegetables, beginning with the firmest ones. I started with the onions and carrots. After a few minutes I added the broccoli and mushrooms.
I like vegetables still crunchy, so for me this step doesn't take super long – probably just 5-10 minutes total. Cook them to suit your taste.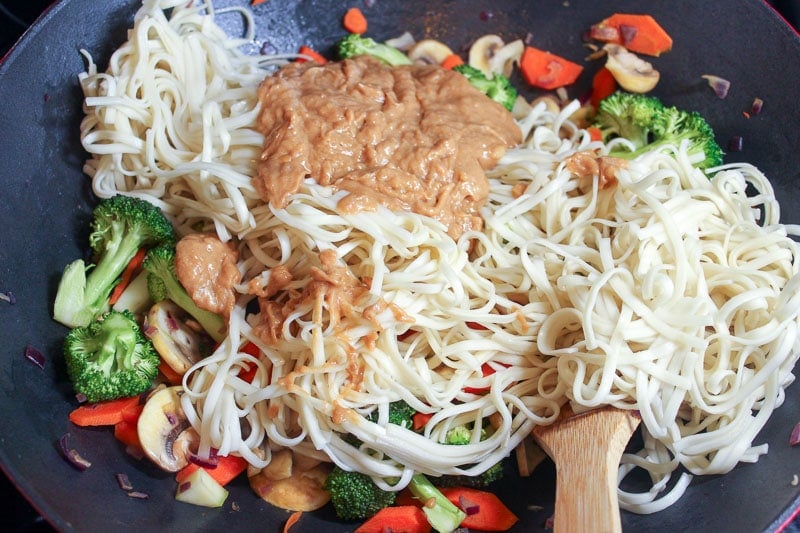 Add pre-cooked noodles and sauce. Toss well to combine.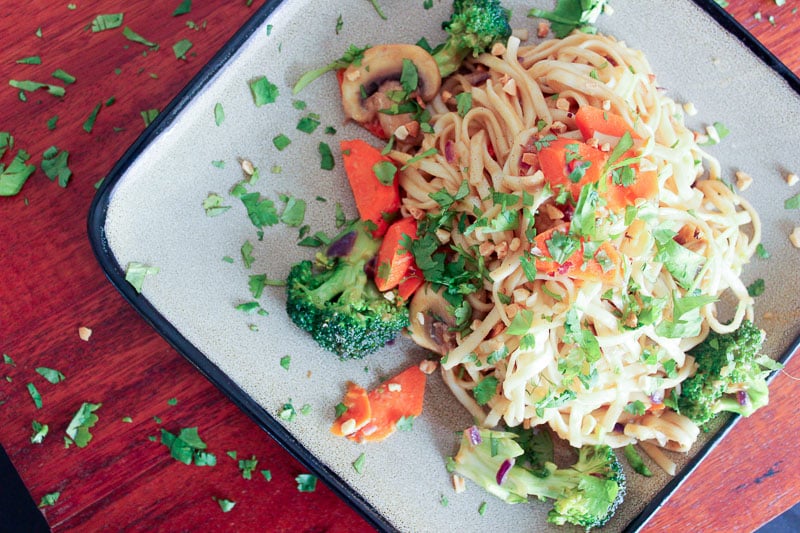 Serve hot. Enjoy! 🙂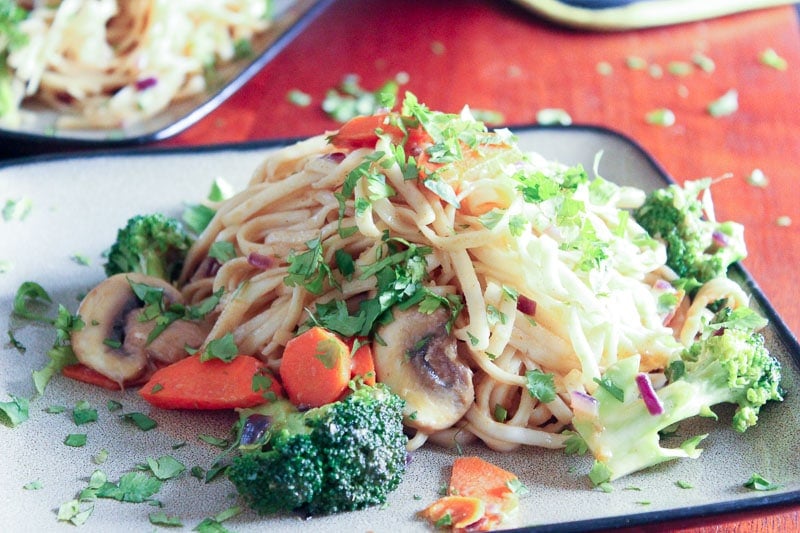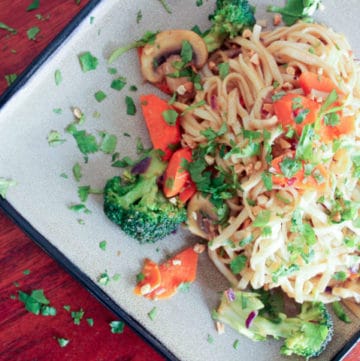 Ingredients
5

cloves

garlic

minced or crushed

2

tbsp

ginger

peeled and grated

1/3

cup

peanut butter

you can use creamy or crunchy

1/2

cup

vegetable broth

can use chicken broth if you don't need it to be vegetarian

2

tbsp

soy sauce

1

tbsp

brown sugar

1

tbsp

rice vinegar

1

tbsp

sesame oil

1/4

tsp

sriracha

can use crushed chillies or cayenne pepper instead

8

oz

noodles

(I like rice noodles for this recipe (gluten free!), but you can use spaghetti if that's all you have)

3

tbsp

oil

(divided) I used canola but peanut oil would work very well

vegetables

you can use whatever you like or have on hand. I used carrot, red onion, broccoli and mushrooms

meat

optional, but you should have it pre-cooked if you use it

cilantro

for garnish (optional)
Instructions
Crush or mince garlic.

Peel several inches of fresh ginger. I find the easiest way to peel ginger, by far, is using a spoon! Grate ginger using a rasp or other small grater.

In a small bowl, mix together vegetable broth (or chicken broth, if you don't need it to be vegetarian), peanut butter, soy sauce, brown sugar, rice vinegar, sesame oil, sriracha (or crushed chillies or cayenne), crushed garlic and grated ginger. Whisk well to combine.

Meanwhile, cook noodles according to the directions on the package. Note that for asian style noodles the cooking time will probably only be 1-3 minutes. For spaghetti it will be longer. Drain, toss with about 1 tablespoon of oil to stop them from sticking, and set aside.

Chop whatever vegetables you want to use into bite-sized pieces. If you plan to use meat, it's best to have it cut into bite-sized pieces and pre-cooked. This recipe comes together quickly.

Heat a wok or very large frying pan over medium-high heat. Add 2 tablespoons of oil. Start stir-frying vegetables, beginning with the firmest ones. I started with the onions and carrots. After a few minutes I added the broccoli and mushrooms. I like vegetables still crunchy, so for me this step doesn't take super long - probably just 5-10 minutes total. Cook them to suit your taste.

Add pre-cooked noodles and sauce. Toss well to combine.

Serve hot. Enjoy! 🙂
You might also like: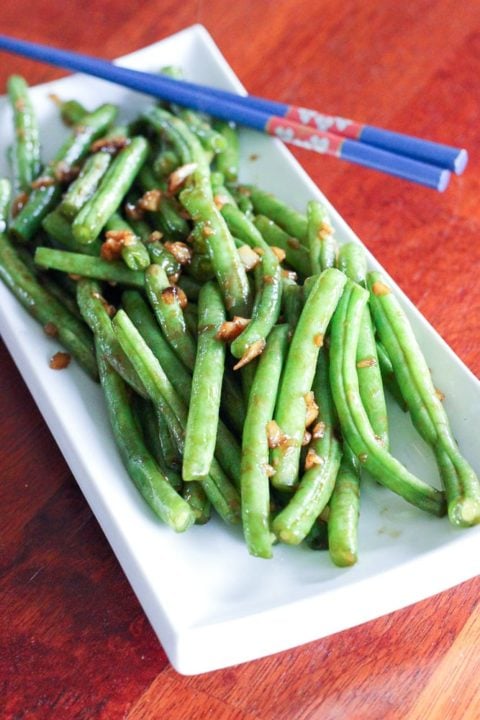 Save
Save
Save
Save
Save