This easy pasta carbonara is rich, creamy, savory comfort food at its best. Dress it up for a romantic dinner or dress it down for a cozy dinner and a movie.
Ready in 25 minutes – it's even easy enough for a quick weeknight supper!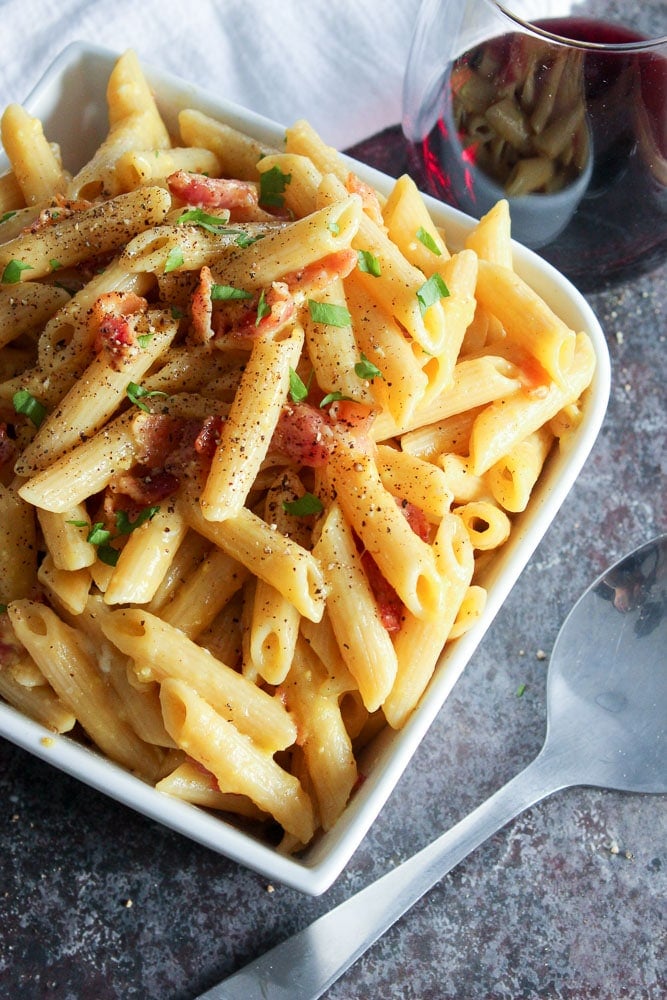 This post contains affiliate links.
Before we had kids, Laurier and I were lucky enough to take a trip of a lifetime to Europe. We had actually been trying to have a baby for a long, emotional and frustrating 18 months and were at the end of our ropes. So we threw (fiscal) caution to the wind and took off for Europe. Incidentally, just before we came home, we found out that I was pregnant 🙂
Anyway. One night in Rome, we wandered into a small restaurant in the verrrry untouristy neighbourhood we were staying in, called Ferazza. It was packed with Italians. The waiter didn't speak English. There was no menu.
Through a variety of hand gestures and finger kissing, the waiter managed to communicate to us that the food was amazing. We put our trust in him, and he did NOT disappoint.
We dined on pasta carbonara, saltimbocca, tartufo and wine.
It was the best meal of our entire trip, the kind of meal that started by leaving us speechless, and moved on to us saying over and over again how incredible everything was.
Also great: it cost us a fraction of what we expected (remember, no menu=no prices).
Everything we ate was amazing, but that was the beginning of my love affair with pasta carbonara.
This recipe is fairly authentic in some ways (no cream, no peas, etc). The sauce in this pasta carbonara is almost entirely made up of eggs and fresh parmesan cheese, which from what I understand, is very authentic too. However, in order to save money we'll be using bacon.
I've made this before with the more authentic pancetta and it was also delicious. I've never made it with the even more authentic guanciale (not even sure if I could find that in Nova Scotia). The bottom line is I don't believe it matters all that much. Yes, those more expensive options are probably better. No, bacon is not strictly authentic. But it's reasonably close, and either way, it's DELICIOUS. And in my little house, thousands of miles away from Italy and my sweet, sweet Ferazza, I'm very happy with this alternative.
There is one thing I think is non-negotiable, and you might not like it:
The Parmesan has to be REAL Parmesan cheese.
Don't try to make this with the stuff in a shaker container and expect it to be just as good. I'll be honest with you, I've never tried it with the container cheese, but I VERY strongly suspect it won't be up to the challenge.
BUT fear not, my budget conscious friends, I have a solution.
The canister of cheese contains 250 grams of Parmesan cheese product. Where I've priced it it costs anywhere from $7-8.50.
The big block of Parmesan cheese I bought at Costco weighs 826 grams and cost $20.64.
Do you know what that means?
THE GIANT BLOCK OF AMAZING PARMESAN CHEESE IS ACTUALLY CHEAPER.
Also, after a lengthy science-y debate with Laurier, I feel confident saying this:
If you took the big block of amazing Parmesan cheese and grated the entire block with a microplane (which is what we use) I am almost 100% certain you would end up with WAY more cheese than you would in an equivalent number of the containers.
(The weight would be the same, but the volume would be bigger because of the air introduced to the cheese and the fineness of the grating). I also believe this because I've seen time and time again what an incredibly long time the block lasts us. It only takes a tiny portion of the block to grate a cup of cheese.
ANYWAY, enough rambling.
I know $20 is a LOT to drop on a block of cheese. But it lasts a long time if you store it properly, and maybe you know someone who would go splits with you on it.
Make this pasta carbonara. It's easy and delicious and you'll love it. Valentine's Day is right around the corner – make it for your sweetie if you have one. Make it for yourself. Make it to curl up on the couch with on a quiet Sunday night. I know I will 🙂
Easy Pasta Carbonara – Step-by-Step Instructions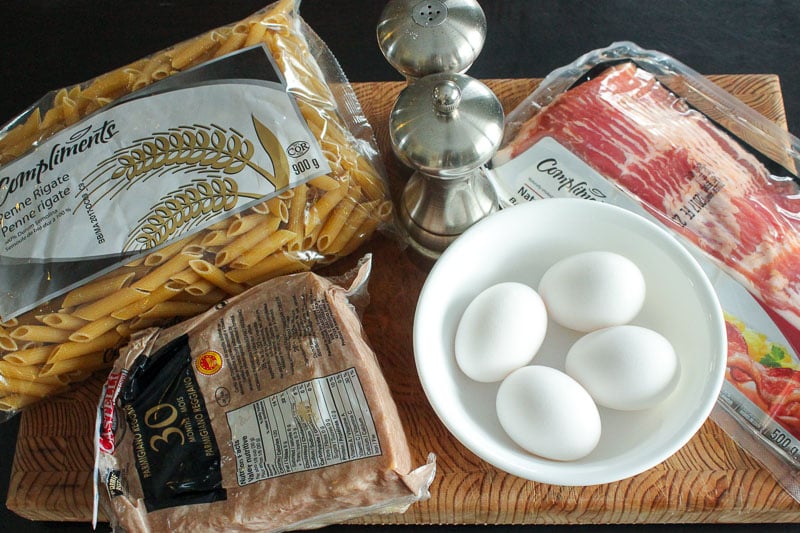 Ingredients for Easy Pasta Carbonara (Urgent note: do not attempt to use maple bacon for this recipe. Maple bacon has no place in pasta carbonara.)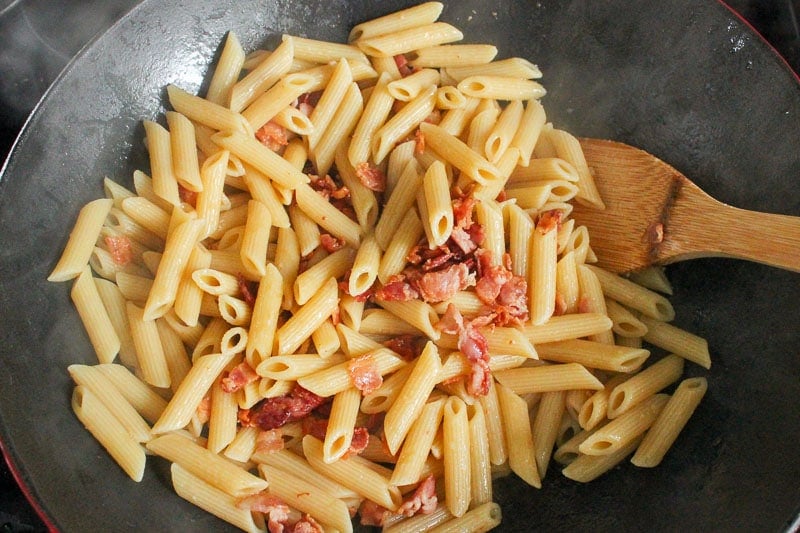 First, bring a large pot of water to a boil. Add 1 tablespoon of salt to it and cook 1 pound of penne (or pasta of your choice) until al dente, according to package directions. (Not pictured).
Chop bacon into bite-sized pieces. And for the love of all that is delicious, don't cut the fat off the bacon (I'm talking to you, Mom). In a large frying pan, pot or wok, saute it until it's cooked.
Note: I used a cast iron wok for this, but I don't think the cast iron was a good choice – it retained the heat a little too well.
When pasta is cooked, drain it and add it to the bacon (don't drain the bacon grease). Toss them really well together, so that all the pasta is coated with the bacon drippings.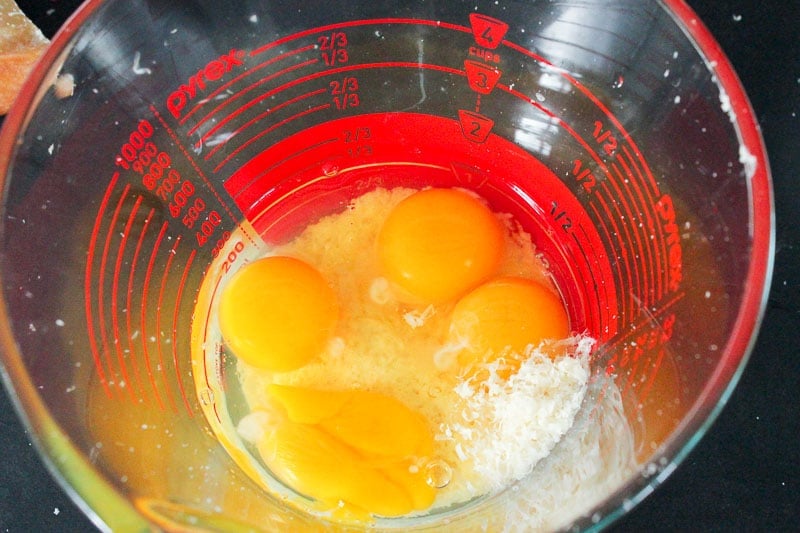 Meanwhile (or even ahead of time), grate 1 cup of Parmesan cheese with a microplane/zester. Add 4 whole eggs to the cheese.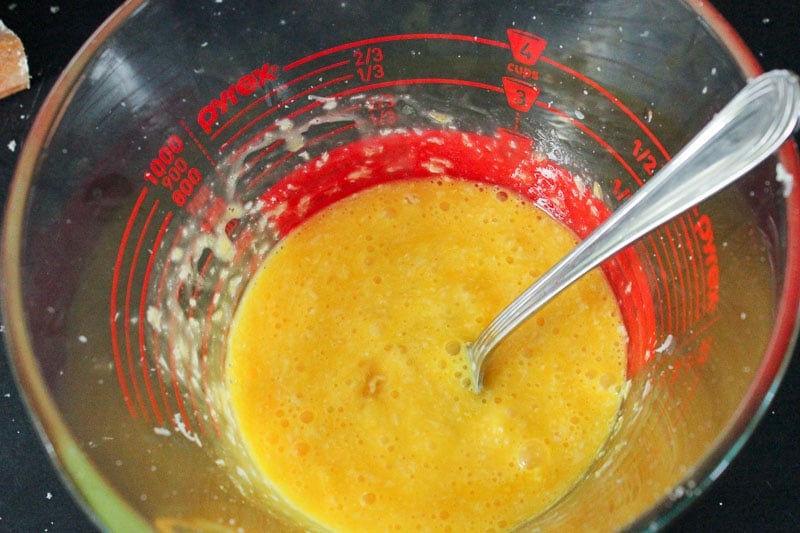 Mix it well with a fork. Set aside for a few minutes, until pasta/bacon mixture is ready.

Okay, here's the most important part:
Once the pasta/bacon mixture has been tossed together, take it OFF the heat.
Immediately pour in the Parmesan/egg mixture, stirring VIGOROUSLY the entire time.
If the egg heats up too quickly or sits in one place it will slightly scramble.
You want it to cook, but gently, from the residual bacon/pasta heat. This way it turns into a quick, creamy, AMAZING sauce.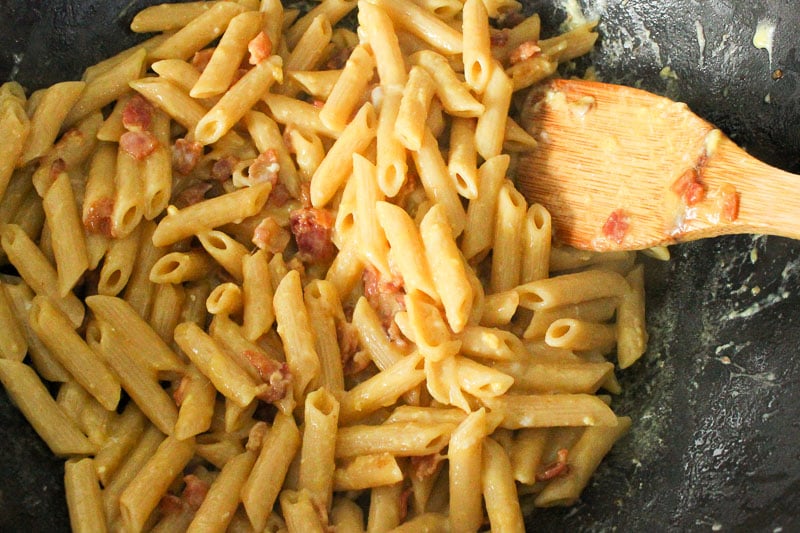 You can see if you look closely that some of my egg scrambled very slightly. I'm okay with that. You really don't even notice and it still tastes amazing.
That's it. You're done.
Seriously.
Taste for salt and add some if it needs more. Dish it out onto plates or bowls (pre-warmed, if you're feeling fancy), top with fresh-ground pepper, and enjoy! 🙂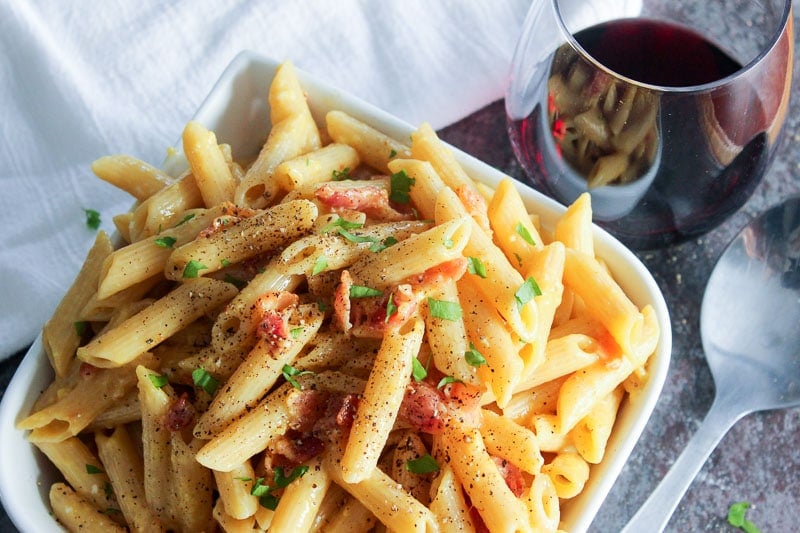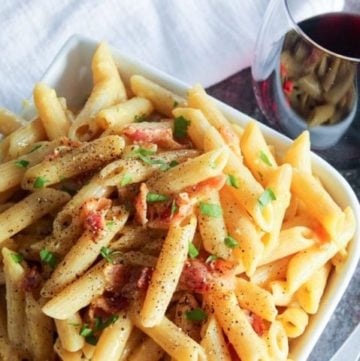 Ingredients
1

lb

pasta

1/2

package

bacon

whether your package is a whole pound or not, it will be fine. DO NOT, under any circumstances, attempt to use maple bacon for this recipe. Maple bacon has no place in carbonara.

1

cup

grated fresh Parmesan cheese

4

eggs

salt

freshly ground pepper
Instructions
Bring a large pot of water to a boil. Add 1 tablespoon of salt and cook 1 pound of pasta until al dente, accoring to package directions. (I used penne.)

Chop bacon into bite-sized pieces. Don't cut the fat off the bacon (I'm talking to you, Mom). It's an important part of this recipe. In a large frying pan, pot or wok, sautee it until it's cooked. Note: I used a cast iron wok for this, but I don't think the cast iron was a good choice - it retained the heat a little too well.

Meanwhile (or even ahead of time), grate 1 cup of Parmesan cheese with a microplane/zester*. Add 4 whole eggs to the cheese. Mix it well with a fork. Set aside for a few minutes, until pasta/bacon mixture is ready.

When pasta is cooked, drain it and add it to the bacon (don't drain the bacon grease). Toss them really well together, so that all the pasta is coated with the bacon drippings.

Okay, here's the most important part. Once the pasta/bacon mixture has been tossed together, take it OFF the heat. Immediately pour in the Parmesan/egg mixture, stirring VIGOROUSLY the entire time. If the egg heats up too quickly or sits in one place it will slightly scramble. You want it to cook, but gently, from the residual bacon/pasta heat. This way it turns into a quick, creamy, AMAZING sauce.

Taste for salt and add some if it needs more. Dish it out onto plates or bowls (pre-warmed, if you're feeling fancy), top with fresh-ground pepper, and enjoy! 🙂
You might also like: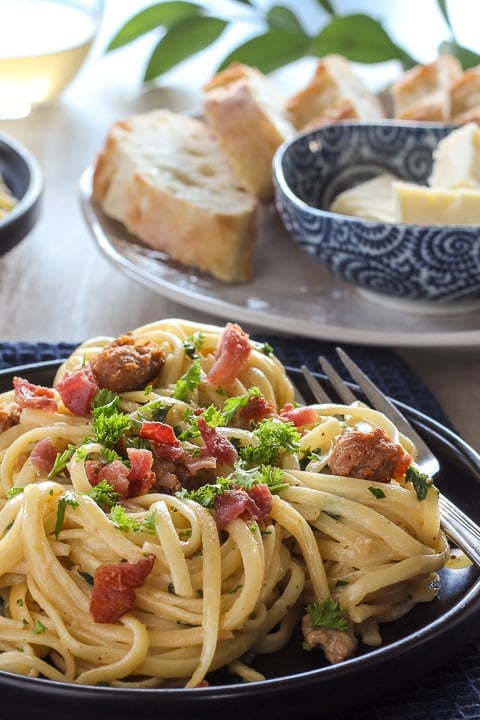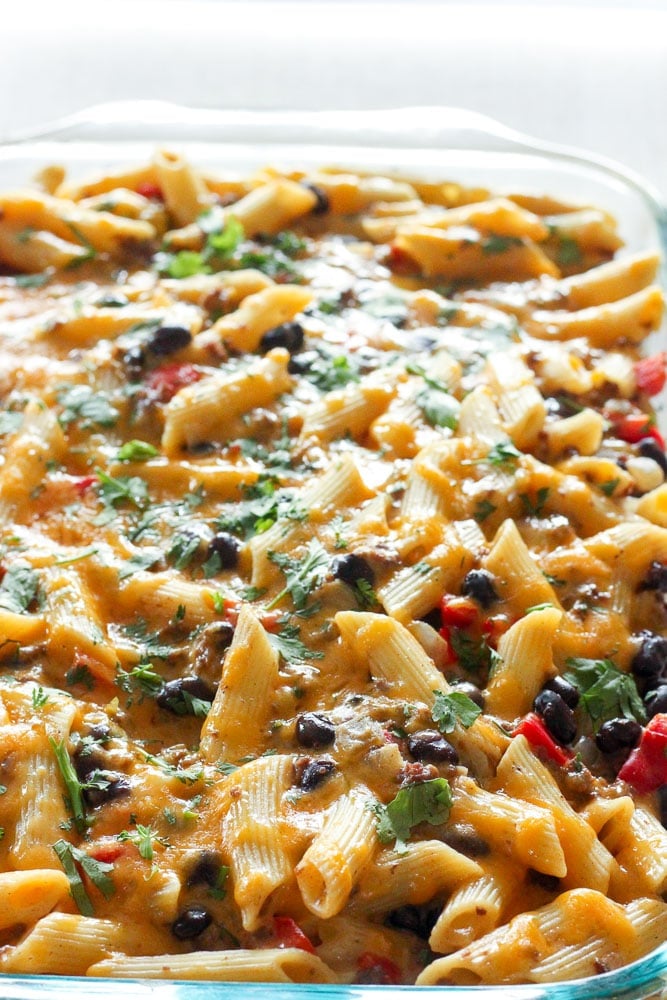 Save
Save
Save
Save
Save
Save
Save
Save
Save
Save
Save
Save