Why "Food Writing" isn't a niche in bookstores, I'll never know! Books about food are one of my favorite kinds of books to read! If you're a foodie and you love to read, you're sure to find something delightful in this list .
This post contains affiliate links.
I love to read. Big time. And I looooooove food. So, naturally, I love to read books about food.
I read all kinds of books about food, from textbooks, to cookbooks (cover to cover), memoirs to novels, histories to mysteries. You name it, I probably like to read it.
In light of the fact that it's FINALLY summer where I live, I thought I'd round up a nice little list of fantastic summer reads for all my fellow foodies out there.
These books are the fun ones from my list. There's nothing heavy or textbooky here. Just inspiring, delightful, funny and engaging reads, perfect for a lounge in a hammock or a breezy afternoon nap. I've read most of these multiple times, and they only get better each time.
Note: I had to stop myself at 10 books, but I can't help but note that many of these are travel literature as well as food literature. So they might appeal to anyone who, like me, loves to travel AND eat! 🙂
Enjoy, my friends.
10 Fabulous Reads for Foodies Who Love Food Writing
Animal, Vegetable, Miracle, by Barbara Kingsolver- I've mentioned this book before on the blog. I've both read it and listened to the audiobook. I found it inspirational both ways.
Kingsolver's soft southern drawl floats through your consciousness in the audiobook, explaining how her family spent a year eating only what they could grow themselves or source within a hundred miles of their home.
The written format really lets you take the time to process what she's talking about. A fascinating read. Includes recipes.
Under the Tuscan Sun, by Frances Mayes – Don't tell me you've seen the movie. They're not the same.
The book is a lovely, meandering visit to the Italian countryside, narrated by a woman who has fallen, completely, for Italy, and has the narrative skills to pay tribute to such a beautiful, complex country, people and food. Includes recipes.
Garlic and Sapphires, by Ruth Reichl – Reichl was the restaurant critic for the New York Times for a decade, and in this memoir she recounts the lengths she went to in order not to be recognized at restaurants, as well as the amazing food she ate in New York's best restaurants.
Chocolat, by Joanne Harris – This novel is a beautiful example of a genre I love – magical realism, which introduces magical elements into an otherwise plausible story.
In Chocolat, a woman and her young daughter turn up in a small French village, where she opens a chocolaterie. The chocolaterie divides the pious town, but the woman manages to win over most people with her beautiful confections and gentle but mysterious manner.
An Embarrassment of Mangoes, by Ann Vanderhoof – a beautifully written Canadian memoir about a couple who quit their jobs, buy a sailboat and sail the Caribbean for a year.
They visit 16 countries, eat amazing local food, shop in island markets and live a beautiful, sun drenched sailing life. Includes recipes.
Heat: An Amateur's Adventures as Kitchen Slave, Line Cook, Pasta-Maker, and Apprentice to a Dante-Quoting Butcher in Tuscany, by Bill Buford – a funny and fascinating recounting of Buford's days in the kitchen of Mario Batali's New York restaurant, Babbo, as well as his apprenticeship in Italy.

Ferran: The Inside Story of El Bulli and the Man Who Reinvented Food, by Colman Andrews – this is a super fascinating read about Adria Ferran – the father of molecular gastronomy.
(If you're not sure what that is, picture spheres that look almost like caviar, but when you put it in your mouth, bursts with the flavor of whatever it's made of – like olives or tea. Cooking meets science. That's just one example.)
This is a fascinating biography of this Spanish chef and his restaurant, El Bulli, which was considered by many to be the best restaurant in the world.


A Moveable Feast, Lonely Planet Travel Literature – this is a great
collection of stories from travel/food writers around the world, with special attention to the ways that food brings people together.
A Year in Provence, by Peter Mayle – this is such a classic, and with good reason. I just can't leave it off the list. A beautiful description of life in southern France – the land, the culture, the people, and yes, the amazing food.
Bon Bon Voyage, by Nancy Fairbanks – I love a little light reading sometimes, and this was the first culinary mystery I ever discovered. Now I've read tons of them. I like this series by Fairbanks because the books are often set in different places (hello travelbug).
The main character can be a bit… peculiar, but I'm assuming that's intentional. I really love any type of food writing, and the 'mystery' part of most culinary mysteries drives the story along in a pleasant, lighthearted way. Includes recipes.
In researching this list, I found that some of these books are out of print now. I probably bought most of mine second hand, which is always a great option. But another fantastic option is to borrow them for FREE from your local library! I've done that with lots of these, and was even able to request them from other libraries through inter-library loans. And don't forget the fun and convenience of downloadable e-books!
Have you read any fabulous food writing? Leave me suggestions in the comment section! Just compiling this list made me want to read more!
Pin this post or share it with a friend who loves to read!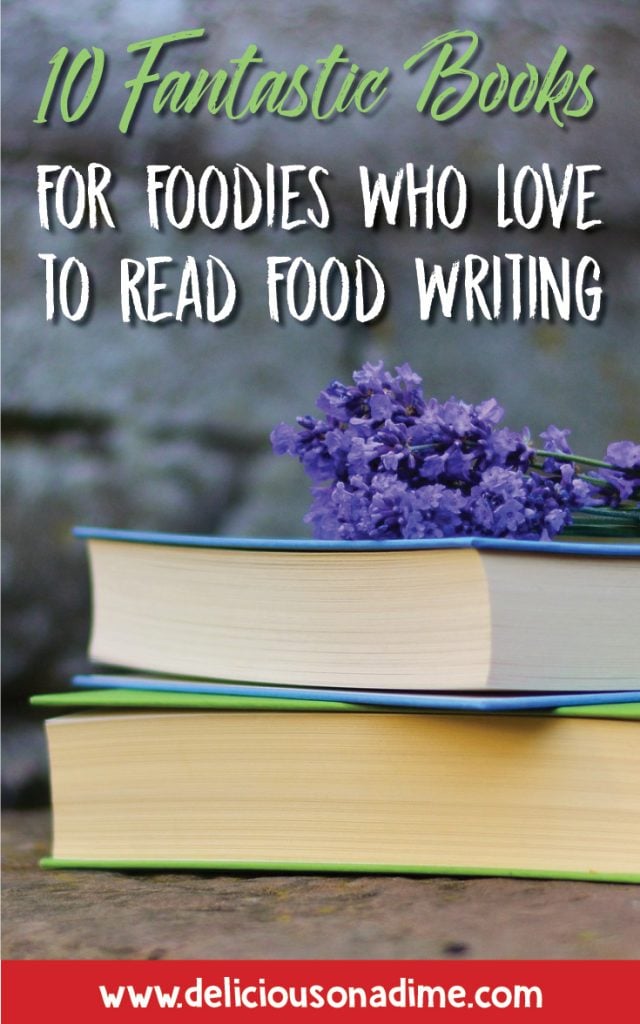 Save
Save
Save
Save
Save
Save
Save
Save
Save
Save
Save
Save
Save